These delicious Baked Eggs En Cocotte are so easy to make and the perfect dish to serve for a brunch or for breakfast. I add delicious bacon and cheese.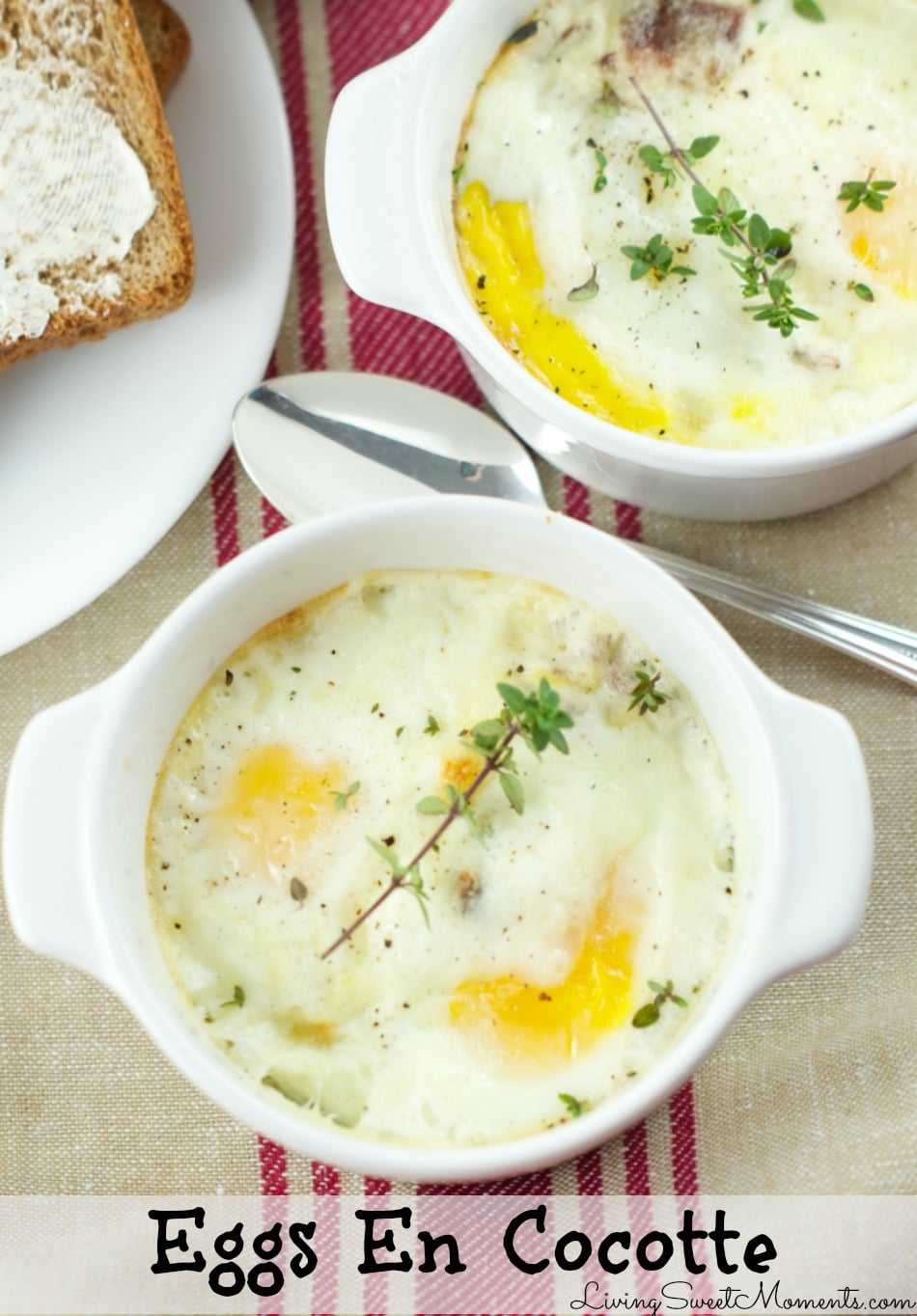 Baked Eggs En Cocotte
My favorite meal of the day has definitely got to be breakfast. In my personal opinion, it should be served throughout the day instead of being confined to morning times. There's so much to choose from, sweet, savory, crunchy, soft, etc. These Baked Eggs En Cocotte are very easy to make and are perfect for entertaining or for breakfast in bed.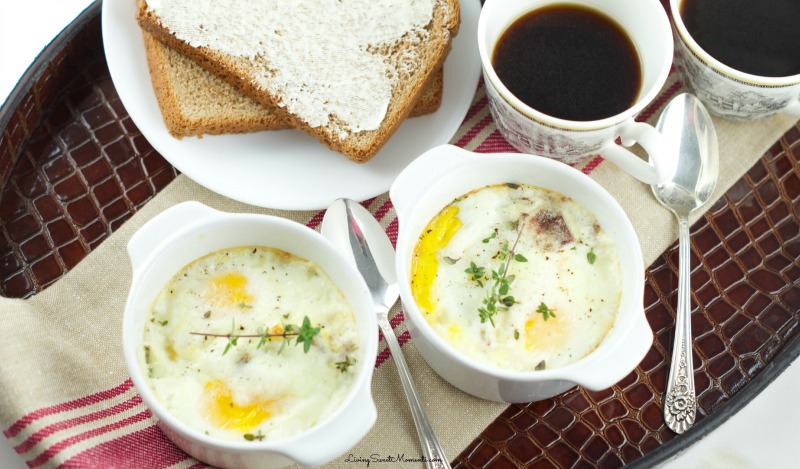 Cocotte sounds very fancy but in reality it's just a french word for a dish or container that can be baked in the oven and used for serving. It's a great way to serve and cook eggs and excellent for entertaining since you don't have to stand in front of the stove cooking them while your guests are enjoying the party.
I add bacon and cheese at the bottom of the ramekins for extra flavor and taste. Every spoonful will have delicious soft eggs, bacon and Gruyere cheese. Yum! You can add anything you want to yours. Veggies, meats and cheeses. The possiblities are endless. These eggs are creamy, savory and oh so delicious. I add a splash of cream on top for extra richness.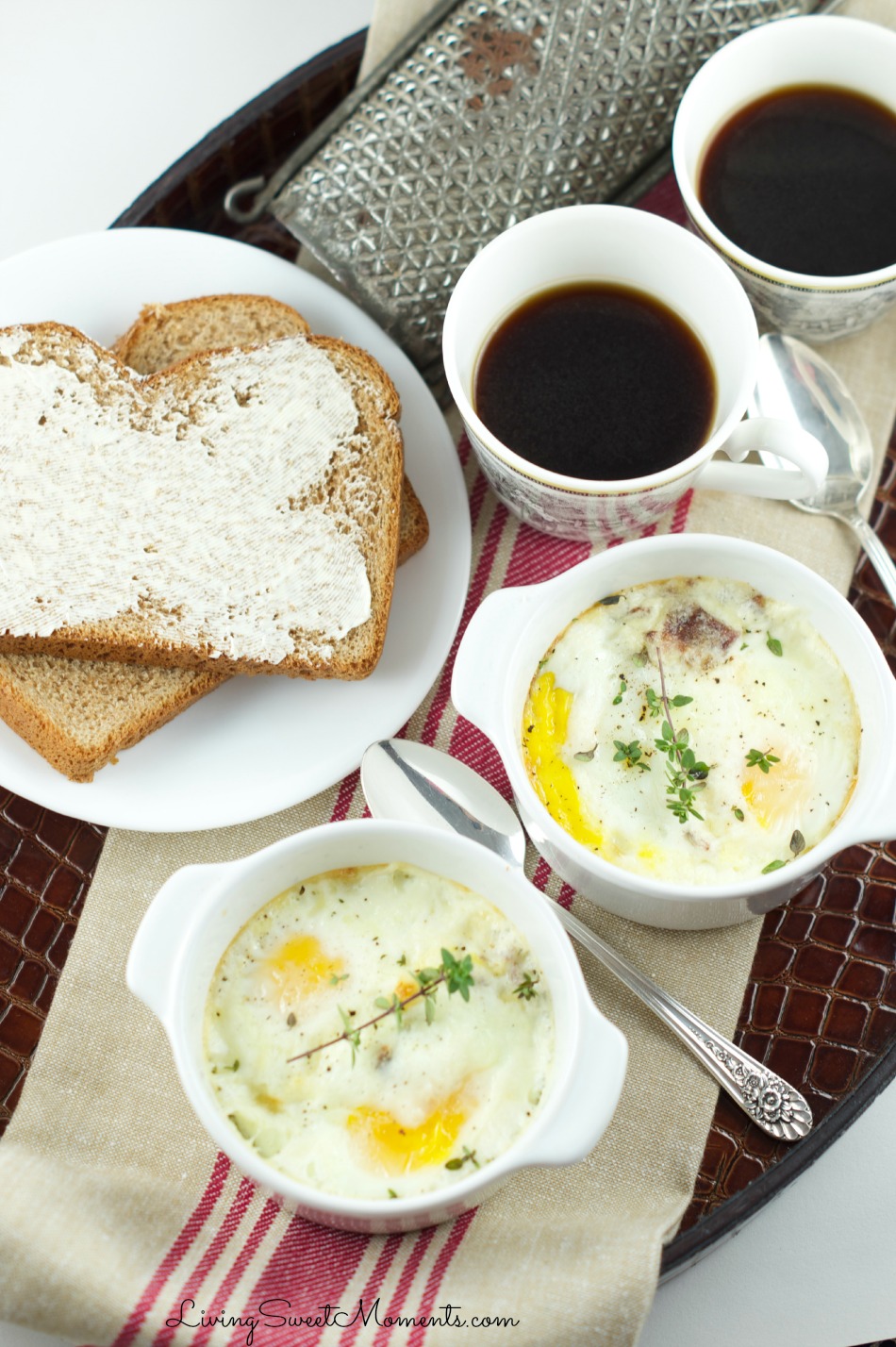 If you want to surprise your loved one on a lazy morning, serve a tray with Baked Eggs En Cocotte, buttered toast and some coffee.. They will love you forever. I know I would.
My husband is away this weekend but I will make him a tray for next weekend. I can't wait to see the look on his face when he tries them. He loves this kind of dishes.
If you prefer, you can do a huge casserole full of eggs instead of individual servings. Just adjust your baking times accordingly. Choose from runny eggs yolks, soft egg yolks or firm yolks. I personally love the soft yolks mixed in with the cheese and bacon. Here's how I do it: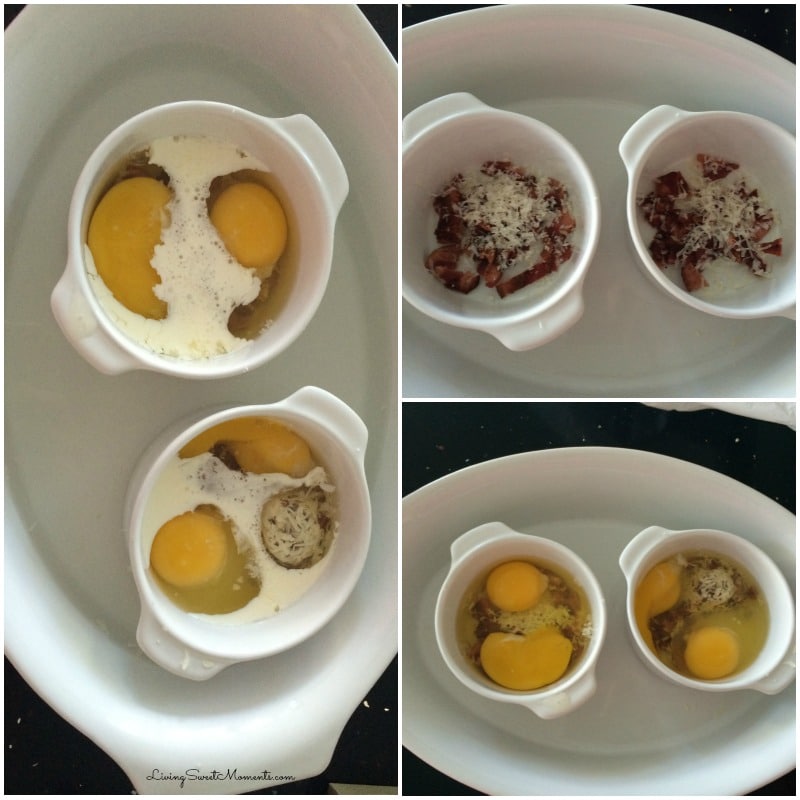 I hope you can try these delicious at home baked Eggs En Cocotte at home. If you try it, post it on Instagram, tag LivingSweetMoments and use the hashtag #LivingSweetMoments so I can repost it!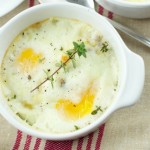 Baked Eggs En Cocotte
Ingredients
4

Eggs

1/4

Cup

of Shredded Gruyere Cheese

you may substitute with any hard cheese

2

Strips of Bacon

cooked and chopped

Splash of Cream

may substitute with milk

Salt & Pepper to taste

2

Sprigs of Thyme

for garnish

Non-stick spray
Instructions
Preheat oven to 375 Degrees Fahrenheit

Spray non-stick spray into 2 oven proof ramekins, fill the bottom with cooked bacon pieces and cheese

Break 2 eggs into each ramekin making sure you do not break the yolk

Top each dish with a splash of cream, salt and pepper

Bake ramekins inside a larger casserole pan filled with 1 inch of boiling water

Bake 12-15 minutes for runny yolks

-18 minutes for soft yolks

-20 minutes for hard yolks

Top with thyme springs and serve immediately