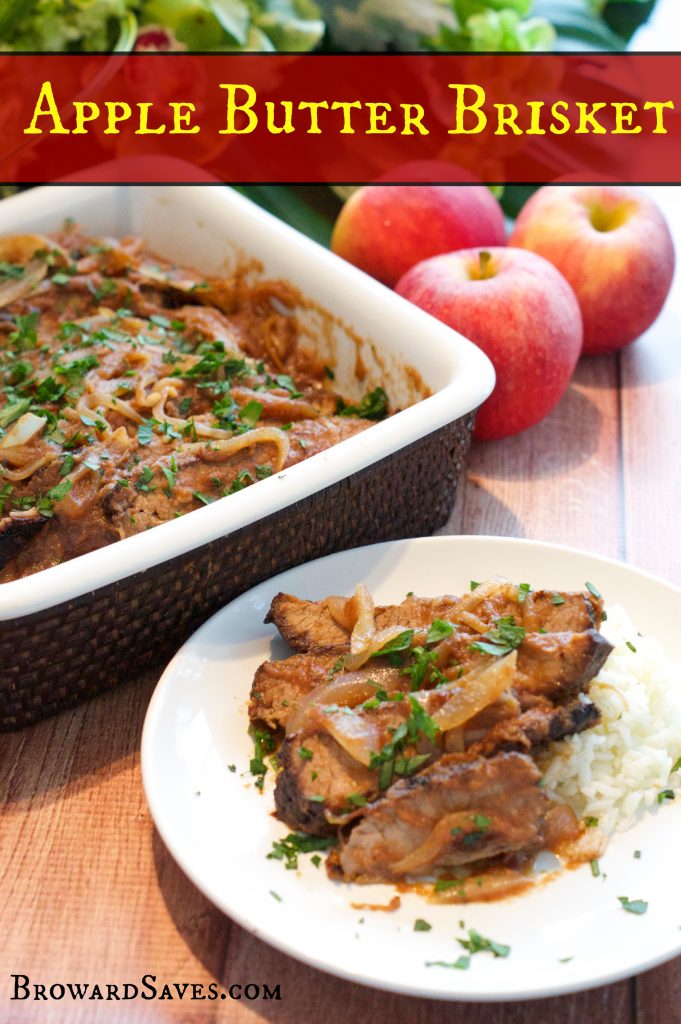 Better Than Your Grandma's Brisket Recipe
I know the title of this dish will offend many Jewish grandmas out there BUT that's because they haven't tried this one, even Howard Wolowitz's mom would agree. I've made and tried many Brisket recipes out there but the Apple Butter in this particular recipe combined with the other ingredients gives off a very specific sweet and yummy melt in your mouth flavor.
For Passover, I made this exact Brisket recipe but used Apricot Jam, 2 weeks ago I had a surplus of Apple Butter from making this recipe so I decided to substitute the Apple Butter with the Apricot Jam.. Now I am not going back. if you're looking for a Rosh Hashanah Recipe – YOU'VE FOUND IT!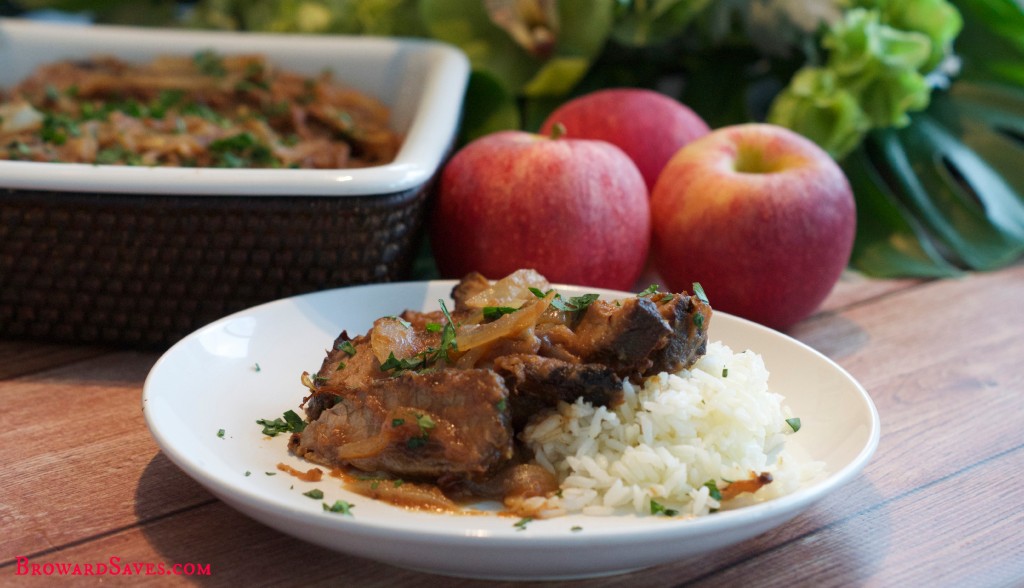 The beauty of this recipe is that you can make it up to 4 days in advance and heat it up at the last minute. If you're strapped for time and choose not to marinate it, its fine! – I won't tell 😉  So it's versatile and forgiving. I have yet to try this on a slow cooker, so if you do, please let me know how it comes out.
If you've never had Brisket before, where have you been? It's the perfect cut of beef that will feed an army, or your average jewish family. It's usually braised and after it's cooked it comes out so soft that almost melts in your mouth. Weirdly enough, my Grandma never made Brisket when I was growing up so I tried it as an adult.
This Apple Butter Brisket recipe is formulated for 10-12 people but you can adjust it by just doubling/halving the sauce ingredients. Rule of thumb when it comes to beef: 1 lb. feeds 2 people so 6 lbs. makes 12 servings.
Enough with the chit chat, here's what you will need: – Full recipe below
– Apple Butter (either homemade or store bought)
– A huge Brisket, of course
– Olive Oil
– Dark Beer
– Onions
– Garlic
– Lipton Onion Soup Mix
– Parsley
– Beef Stock
That's it..
You won't believe how easy it is to make.
Better Than Your Grandma's Brisket Recipe
Author:
Prep time:
Cook time:
Total time:
Ingredients
5-6 Lbs. of Brisket – Fat trimmer
9 oz jar of Apple Butter (or 1 cup Homemade)
3/4 Cup of Beef Stock
2 Large Onions, sliced (or 3 Medium ones)
1 Packet of Lipton Onion Soup Mix
1 Bottle of Dark Beer
3 Cloves of Garlic, chopped finely
1/4 Cup. of Chopped Parsley, to garnish
Salt + Pepper to taste
2 Tb. of Olive Oil
Instructions
In a large bag combine the Brisket, the onion soup mix and the apple butter. Move the bag around so the butter and onion soup covers the entire brisket. Let it marinate overnight (optional)
Preheat oven to 350 Degrees F.
Season the beef with salt and Pepper
In a large skillet, heat 1 Tb. of Olive Oil over Medium High heat. Add the meat and marinade and let it brown on both sides for about 4-5 minutes on each side.
Remove Brisket from heat and place on a large baking dish
Lower the heat to medium, using the same skillet add another TB. of Olive Oil and cook the onions until they soften up (about 5 minutes). Add in the chopped garlic and let it cook for 1-2 minutes more. Be careful not to burn the garlic.
With a wooden spoon scrape the bottom of the skillet to release the browned pieces of meat.
Add the beer and stock to the onions and let it come to a boil.
Empty the sauce on top of the beef in the baking dish and move it around so the entire sauce has spread on top and at the bottom of the Brisket. Cover with foil
Roast in the oven for at least 2:30 to 3 hours. Turning the beef once. Be careful that the sauce doesn't dry up. Meat should be tender.
Remove from oven and slice it thinly against the grain. Top with sauce and chopped parsley
Enjoy!
To make in advance:
When Brisket comes out of the oven wrap it uncut with aluminum foil. Pour the sauce in a plastic container and refrigerate both until ready to use
To serve simply preheat oven to 350 Degrees F. Slice the beef thinly against the grain, top with sauce and onions and bake for approximately 30-35 minutes.
Hope you can try it at home and let me know if this Brisket is better than your grandma's.