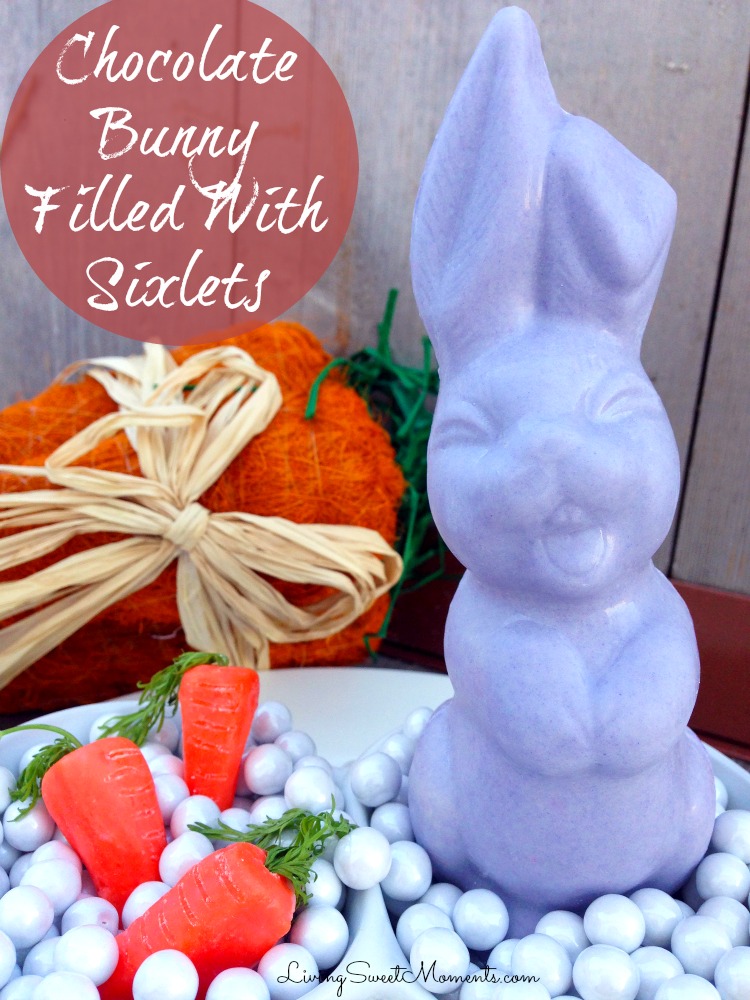 Cute Chocolate Bunny Filled With Sixlets
Ins't this guy adorable? He's all made out of chocolate will a hollow interior, perfect for filling him out with your child's favorite candy. Don't worry, making them is very easy! I will guide you with a step by step guide so you can see exactly how everything is made.  Your Easter celebration will look so pretty with a Cute Chocolate Bunny Filled With Sixlets.
Now that you learn this technique, you can make any chocolate hollow shape you may like and fill it out with candy, treats or even little chocolate bom-boms inside. YUM! These would make beautiful decorations for a party or even favors.
Here's what you need to get started: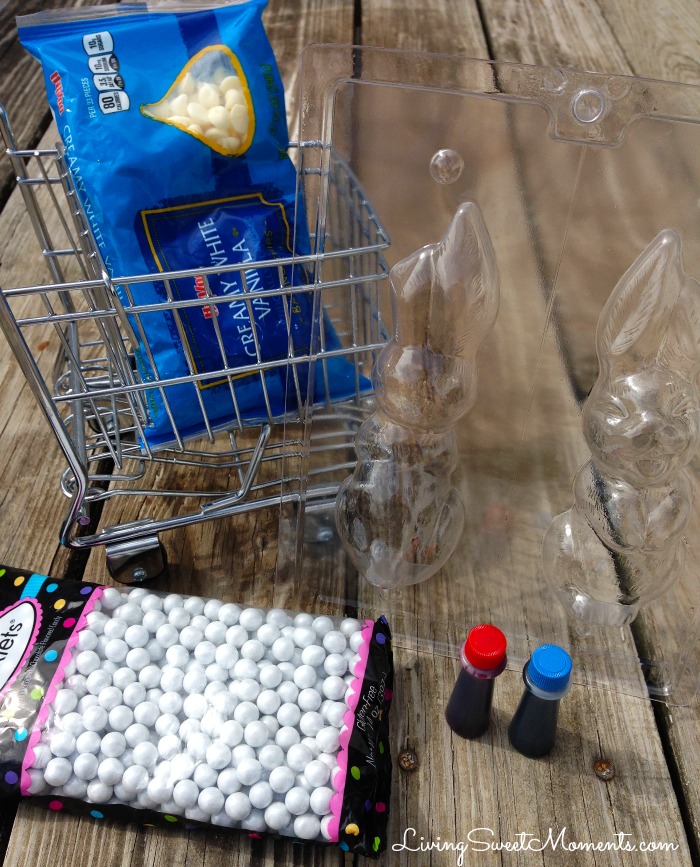 White Chocolate Chips, Sixlets, Purple food coloring (or red and blue to make purple) and a 2 sided plastic bunny mold.
To start, all you need to do is melt the white chocolate chips and color it with the food coloring little by little to achieve your desired purple hue. Or any color of your choice.
Then, with the use of a spoon or a small spatula, spread the chocolate all over the mold on both sides. You will be working with 2 molds that will come together when dry: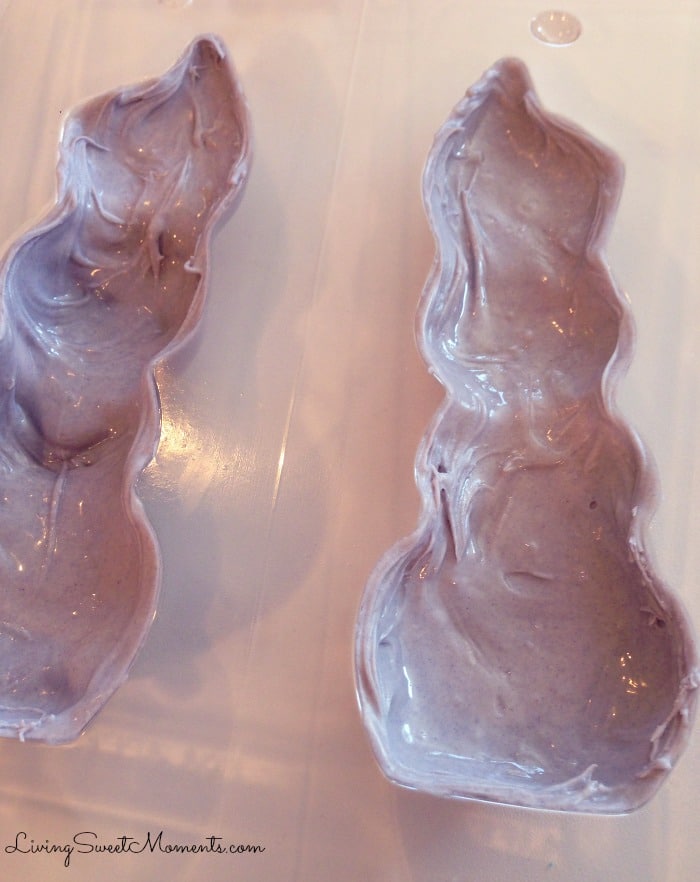 Do not fill the mold to the top, because you want to leave room for your pearl sixlets. The idea is to create a hollow bunny so we can later fill with candy.
Tap the mold against your countertop to ensure any visible air bubbles at the front of each mold are eliminated. Lift the mold above your head to check for air bubbles.  Once all of the air bubbles are removed, tilt the mold back and forth in order to allow
the chocolate to spread evenly and along the sides. Next, take a small spoon or unused paintbrush and distribute the chocolate evenly onto the sides of the bunny.Ensure that the sides are not too thin or they will break upon removal from the mold.
Freeze for 20 to 30 minutes or until the chocolate inside the bunnies have set. Place it on the countertop and gently pop the front and back molds from the plastic. Place them onto a baking sheet or a large plate.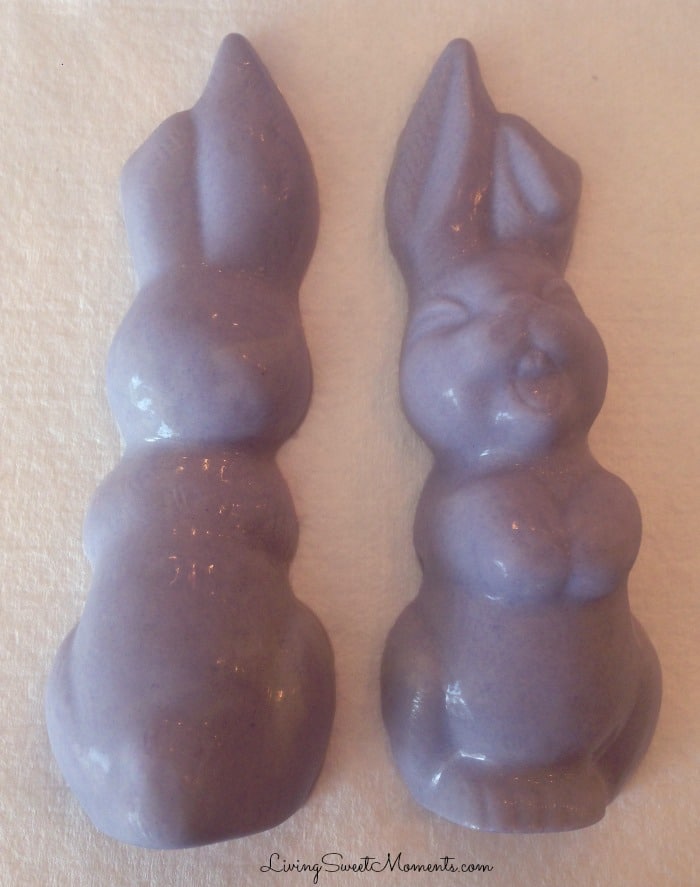 See how cute and shiny they look? Now the best part! Let's fill them up with some sixlets: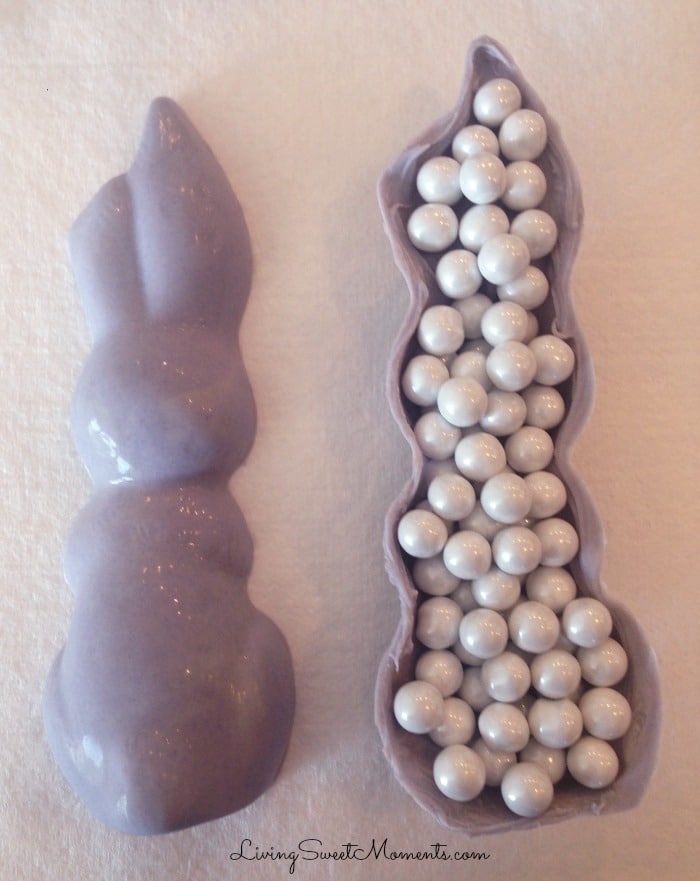 We are almost done! All we need to do is to put the front and back together.
To glue the 2 sides, you need to melt a little more of the chocolate chips and tint them in the same purple hue. Then use a small paintbrush or a pastry bag with a small hole and gently spread the glue on the edges of the bunny. Then place the other part of the back part over the front part ensuring that the sides align perfectly.
Freeze for a few minutes and enjoy!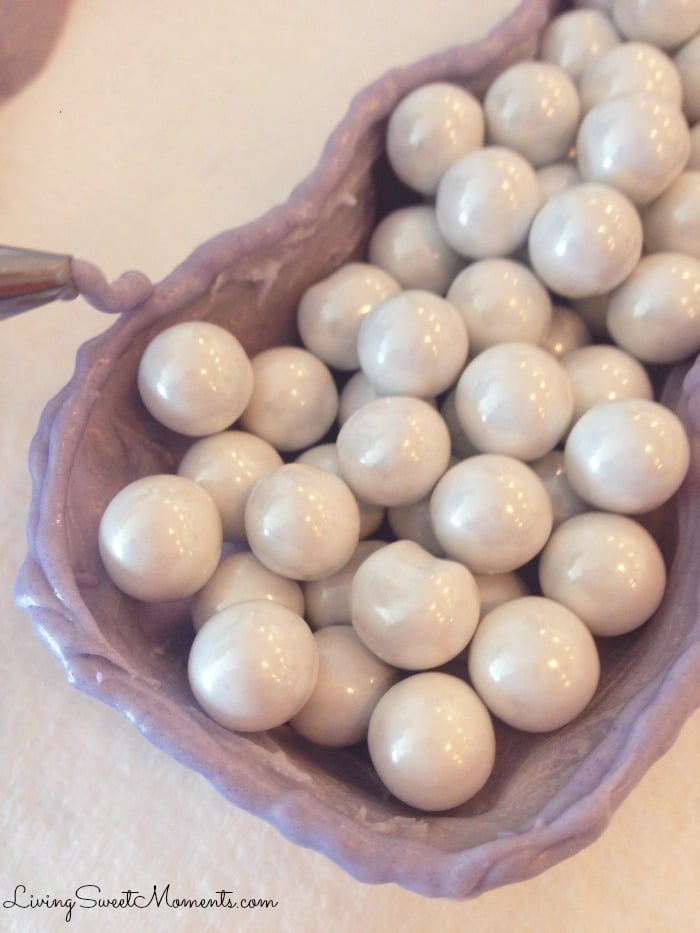 See? easy! Once you make one, the second and third you will be an expert bunny maker.
[amd-zlrecipe-recipe:170]