Disclosure This shop has been compensated by Collective Bias, Inc. and its advertiser. All opinions are mine alone. #NuestroSabor #CollectiveBias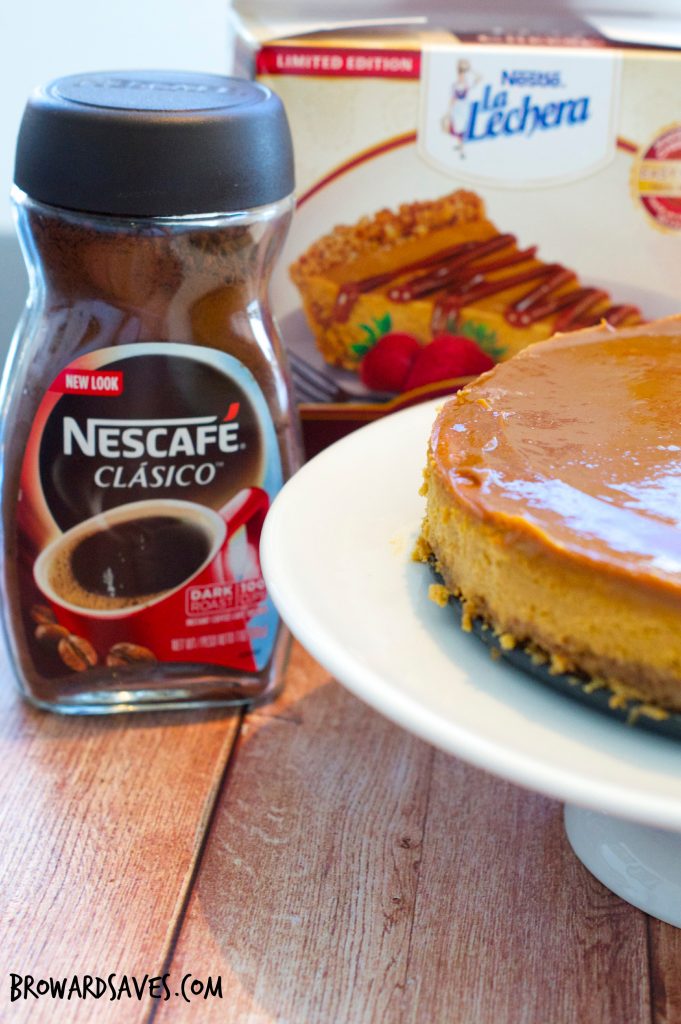 Dulce De Leche Cheesecake Recipe
I loved growing up in a multicultural household. My parents were born in Venezuela but my grandparents on my mom's side came from Romania.
My grandmother is the best cook I know and I am not saying that because she's my grandma, she's a published cookbook author and her books have sold out many times in Venezuela. Today she's my inspiration in my Dulce De Leche Cheesecake Recipe.
Ever since I was little I was fascinated by watching her cook. You would go in her house and 3 KitchenAid mixers were on at full speed at the same time. Someone was always getting married or there was a Jewish holiday coming up. She did not need an excuse to bake.
Her love was always been felt by her wonderful dishes and desserts. I hope that one day I can teach my girls the same. Making a dish together as a family is an experience on its own. A few months ago, my grandmother traveled to Miami and came into my kitchen and taught me how to make Fluden, which is a very complicated dessert usually made for weddings.
I was honored to be her pupil because it's more than just a dish or a dessert. It's love, tradition, teaching for future generations and keeping the flavors alive. This is a picture of that day: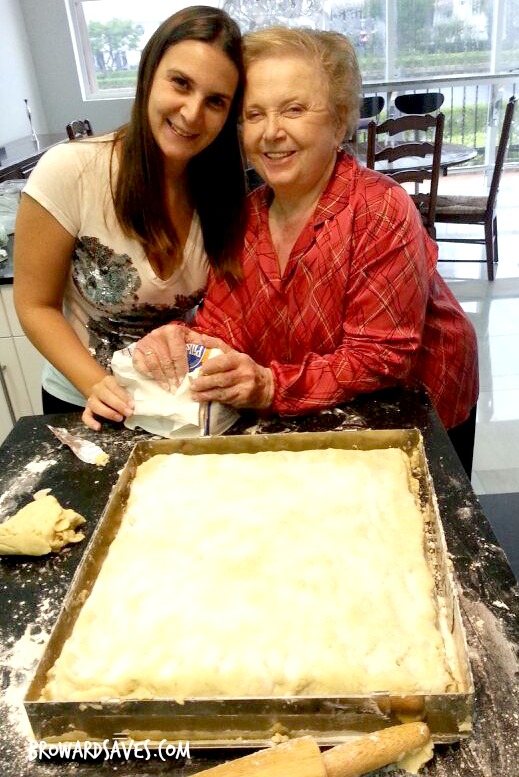 N
I of course, never follow the recipe iinstructionsand I use the box to make my own version of Dulce De Leche Cheesecake Recipe . With this kit I didn't have to ground my crackers or measure salt and flour so it really did save me time and cleanup! You can find this kit at Walmart right at the Baking section.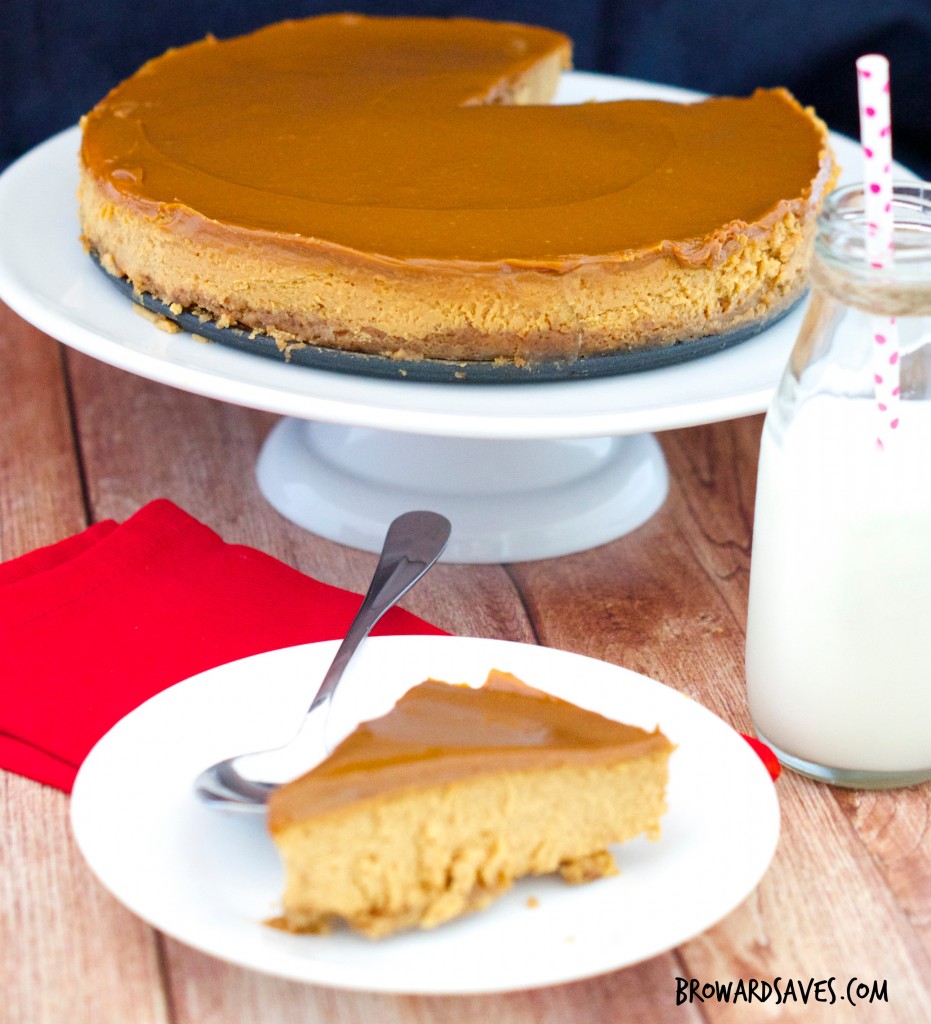 Doesn't it look amazing? I can tell ya'.. There's nothing like Dulce De Leche and combined with the tangy cream cheese, it's like heaven on earth. Oh and who can forget about that cracker crust? I bake it before adding the filling so it has a nice crunch and texture. The topping you ask? It's Dulce De Leche, a whole layer.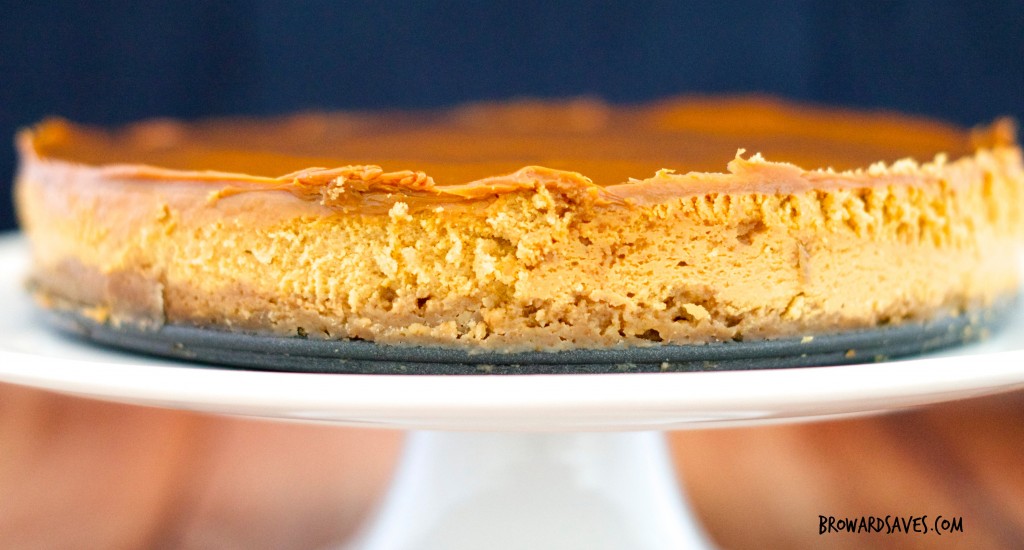 Dulce De Leche Cheesecake Recipe
Author:
Prep time:
Cook time:
Total time:
For Crust
1 1/2 cup maria cookies
6 tablespoons melted butter
For Filling
1 – Can of Dulce De Leche
3 tablespoons flour
2 – Packs of Cream Cheese, 8 oz at Room Temperature
2 eggs plus 1 egg yolk, at room temperature
4 tb. of Butter, melted
Instructions
Preheat Oven to 350 degrees F
Cover the outside of a 8″ Springform pan with Aluminum Foil
Combine the melted butter and the crumb mixture to make the base of the Cheesecake. Using your fingertips, press the wet crumbs in the bottom of the Springform Pan.
Bake for 10 minutes
Remove from oven and let it cool down in the fridge while you make the filling
Reduce oven temperature to 300 degrees F
In the bowl of a stand mixer on high speed, mix the cream cheese for 2-3 minutes until creamy. Using a spatula, clean the sides of the bowl
Add the eggs one at a time, beating well after each addition. Don't forget to scrape down the sides of the bowl
Add the flour
Add an entire can of Dulce De Leche. Mix well (and don't link the spoon 🙂 )
Pour the entire filling inside the Springform pan
The cheesecake needs to be baked in a water bath. So grab a bigger pan (I use a roaster), insert the foil lined cheesecake springform pan inside the roaster and add boiling water to the sides (not inside the cheesecake) to cover about 2-3 inches
Bake for 50-51 minutes. The center should be a little jiggly
Let it cool for 10 minutes
Empty a Dulce De Leche can on a small saucepan and heat until it becomes runny. Do not boil it, the Dulce de Leche should be warm, not hot
Spread the entire Dulce de Leche on top of the cheesecake
Let it cool for about 2 hours and insert in the fridge for 6 hours or overnight.
Enjoy!!
Here's a little video demonstration of the process:
Hope you can make it at home and let me know how it comes out!