Print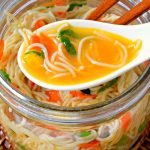 DIY Cup Of Noodles
DIY Cup Of Noodles: Here's a DIY way to get your noodles fix while also upgrading it to be more delicious and packed with fresh ingredients. Easy and delish
Rice Noodles

or any noodles you'd like

1/2

cup

cube or 1 of Chicken broth

1

tsp

of sesame oil

1

tsp

of ginger powder

1

tsp

of chili pepper

1/4

cup

grated carrot

1/3

cup

of corn

1/3

cup

of peas

1

hard boiled egg

1/3

cup

of chopped spinach

Dry seaweed

Soy sauce

salt/pepper to taste
First, bring a small pot with water to a boil. Cook the noodles in the boiling water until they have come apart and are still very al dente. Do not cook them all the way!

Put the noodles in a glass container. Next, add the 1/2 cube of chicken broth (if using the liquid version don't add at this time). Add the ginger, chili pepper and sesame oil. Mix all the vegetables together and arrange it over the noodles. Slice egg in half and put them over the vegetables.

When it's time to prepare your cup of noodles, remove the hard boiled egg first, then bring 2/3 cup of water to a boil (or the broth) and pour inside the jar. Stir. Close lid and allow to steep for 8 minutes or until the noodles are soft.

Add some soy sauce and season with salt and pepper to your taste.