DIY Cup Of Noodles: Here's a DIY way to get your noodles fix while also upgrading it to be more delicious and packed with fresh ingredients. Easy and delish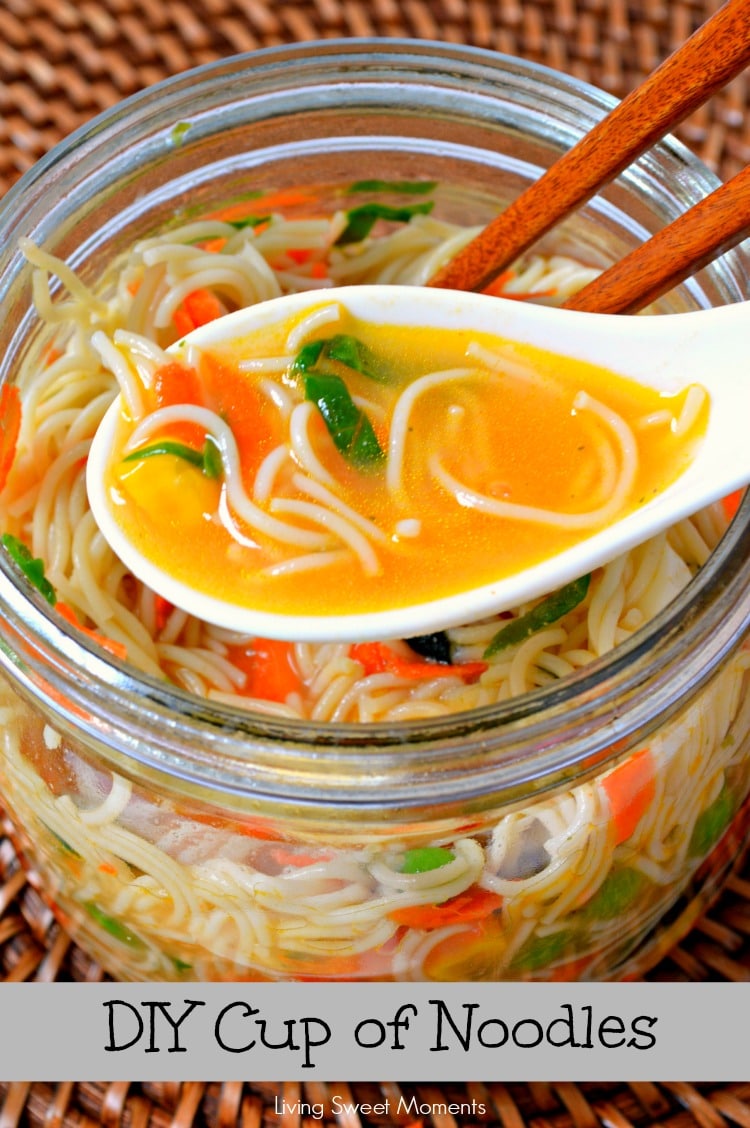 DIY Cup Of Noodles
If you take your food to work or have to sometimes eat near your kid's school then this DIY Cup of Noodles is for you! Enjoy the ease and convenience of the store bought the version in a healthier and fresher way. It's easy, delicious and convenient. My kind of meal!
Being a food blogger one would think that I eat gourmet meals daily. On the contrary, If I'm lucky I sometimes I get a full meal near the computer. Life gets so busy that I hardly have time to sit down and eat something hot. To avoid eating the same thing every day, I came out with this easy, delicious and filling DIY Cup of Noodles.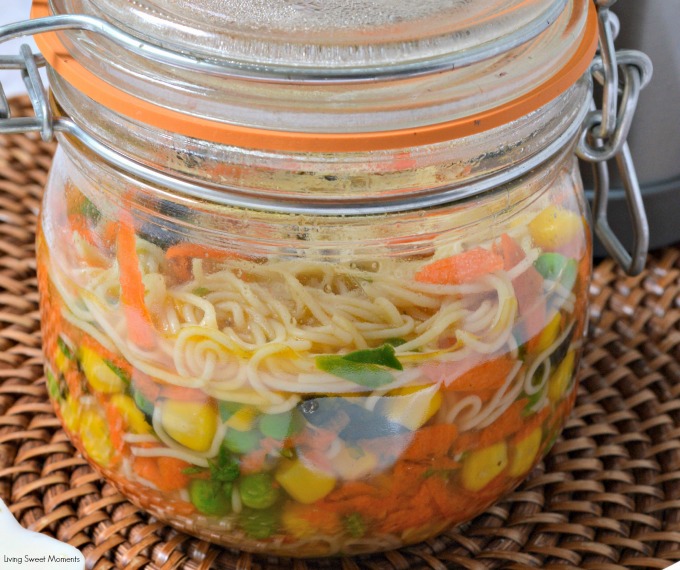 To start, you need the following ingredients: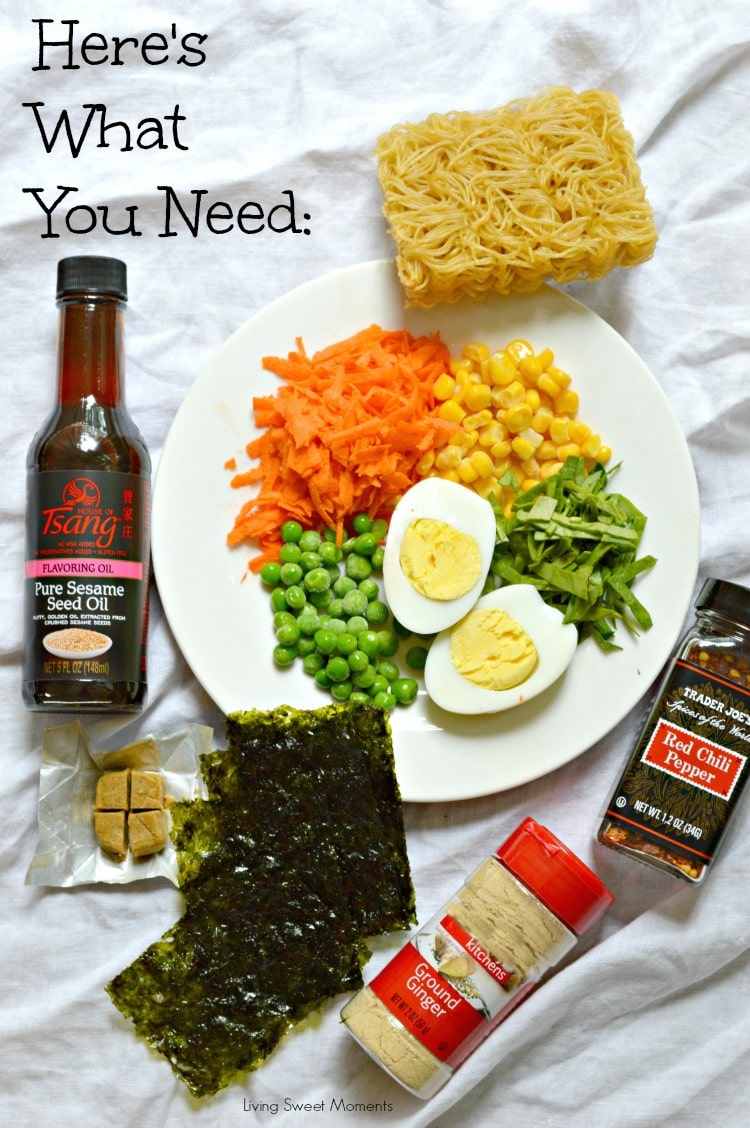 Bouillon,  sesame oil, ginger, chili, carrot, corn, peas, boiled egg, spinach, seaweed, soy, ramen, and seasonings. If you don't like the ingredients just change them up. You assemble them together and voila… Instant DIY Cup Of Noodles. See? easy!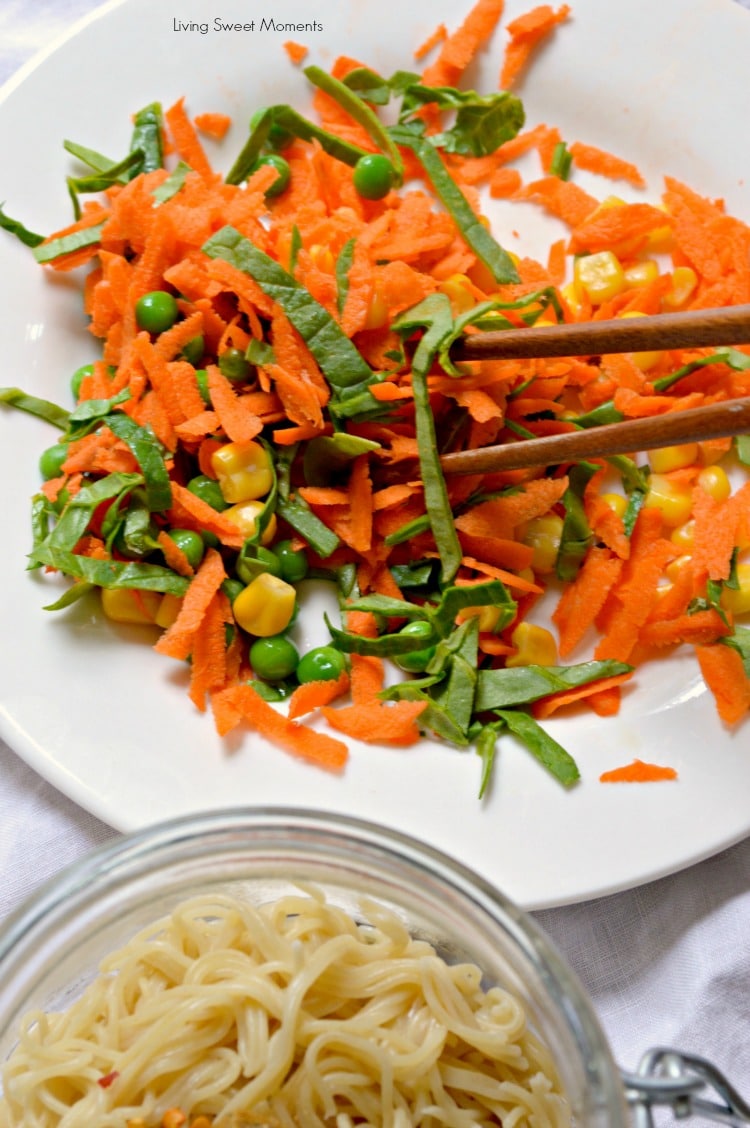 I love adding the sesame oil to the noodles. It gives off a nice deep flavor.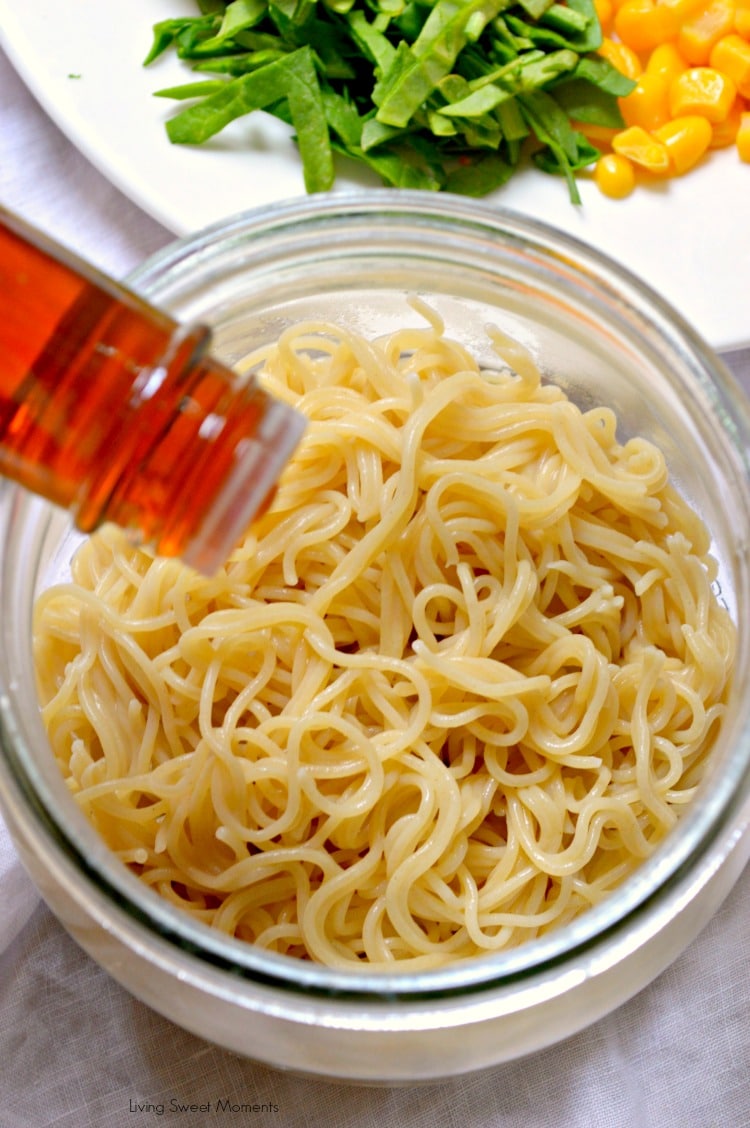 Doesn't this look much more delicious than the dehydrated version? Less sodium, more nutritious and super easy to make. You can also add some chicken pieces or even cooked shrimp.
The great thing about this method is that you can customize it to suit your taste and needs. I usually grab whatever is about to go bad in the fridge.
I hope you can try this delicious DIY Cup Of Noodles at home. If you do, please upload a pic on Instagram and tag me @Livingsweetmoments or use the hashtag #LivingSweet. I promise to repost it.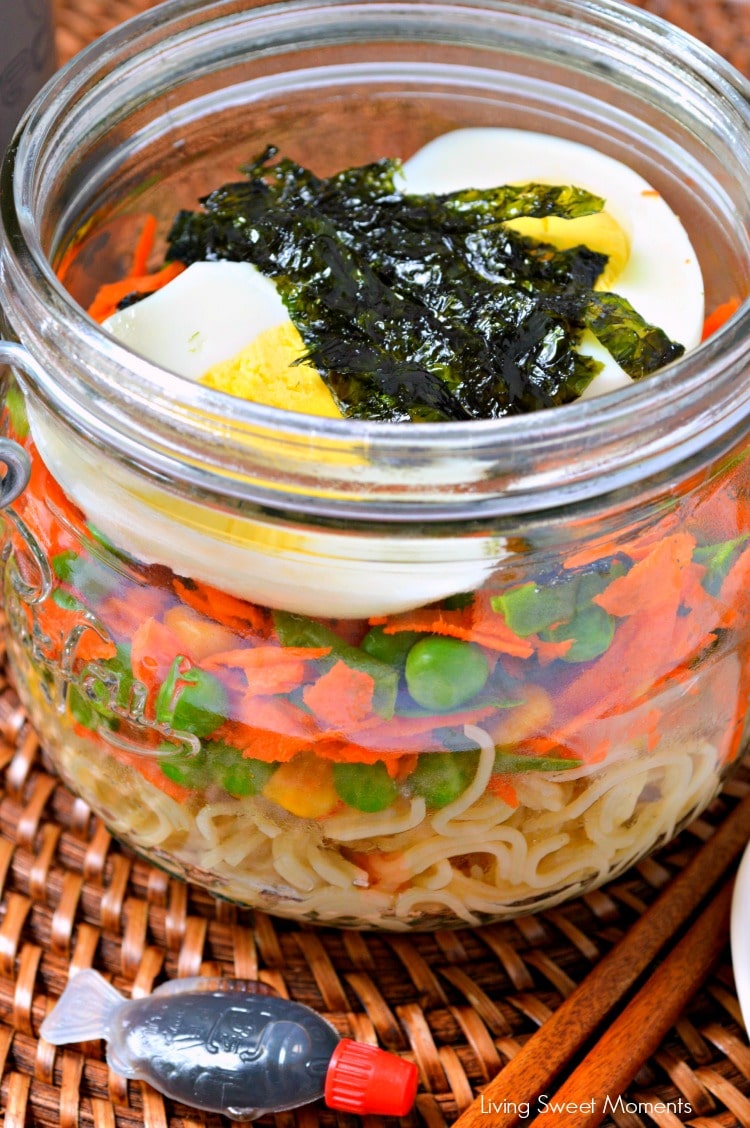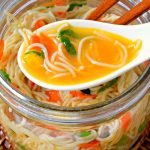 DIY Cup Of Noodles
DIY Cup Of Noodles: Here's a DIY way to get your noodles fix while also upgrading it to be more delicious and packed with fresh ingredients. Easy and delish
Ingredients
Rice Noodles

or any noodles you'd like

1

cup

Chicken broth

1

tsp

sesame oil

1

tsp

ginger powder

1

tsp

chili pepper

1/4

cup

grated carrot

1/3

cup

corn

1/3

cup

peas

1

egg

hard boiled

1/3

cup

chopped spinach

Dry seaweed

1

teaspoon

Soy sauce

or more to taste

salt/pepper to taste
Instructions
First, bring a small pot with water to a boil. Cook the noodles in the boiling water until they have come apart and are still very al dente. Do not cook them all the way!

Put the noodles in a glass container. Next, add the 1/2 cube of chicken broth (if using the liquid version don't add at this time). Add the ginger, chili pepper and sesame oil. Mix all the vegetables together and arrange it over the noodles. Slice egg in half and put them over the vegetables.

When it's time to prepare your cup of noodles, remove the hard boiled egg first, then bring 2/3 cup of water to a boil (or the broth) and pour inside the jar. Stir. Close lid and allow to steep for 8 minutes or until the noodles are soft.

Add some soy sauce and season with salt and pepper to your taste.
Nutrition Facts
DIY Cup Of Noodles
Amount Per Serving
Calories 224
Calories from Fat 90
% Daily Value*
Fat 10g15%
Cholesterol 164mg55%
Sodium 1284mg56%
Potassium 636mg18%
Carbohydrates 24g8%
Protein 12g24%
Vitamin A 6141IU123%
Vitamin C 48mg58%
Calcium 67mg7%
Iron 3mg17%
* Percent Daily Values are based on a 2000 calorie diet.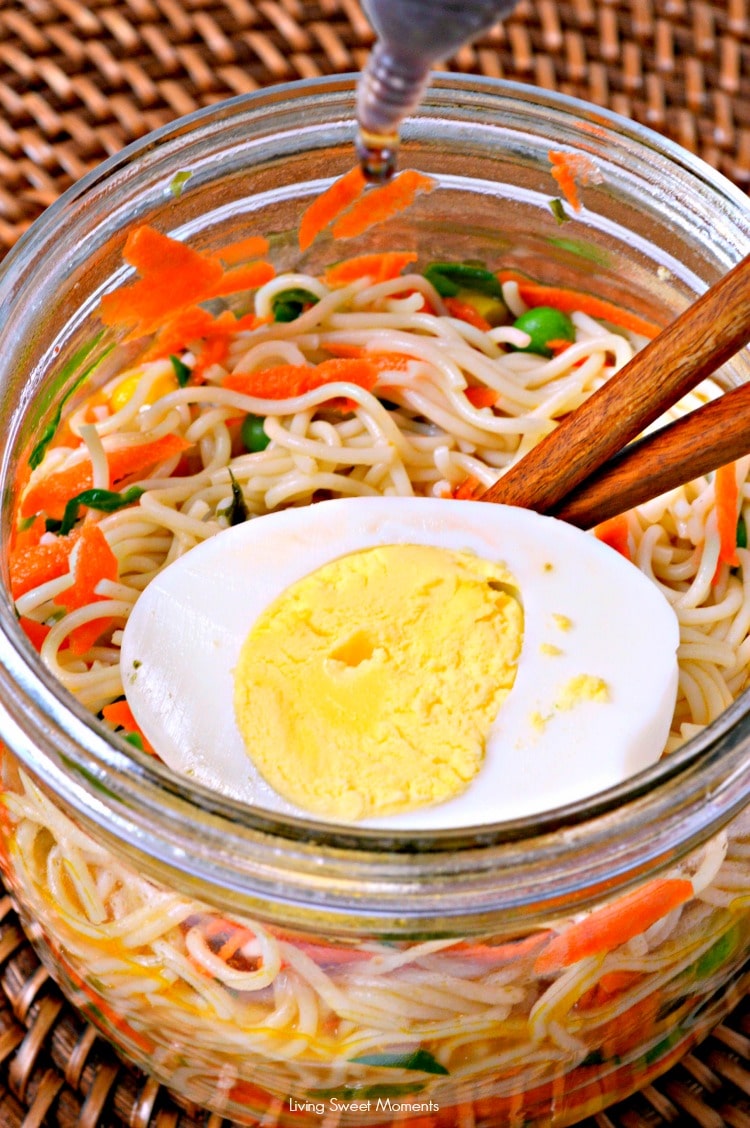 You may also like: