Print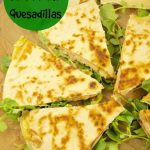 Turkey Brie Quesadillas With Pears
These delicious Turkey Brie Quesadillas have a touch of pear and are perfect for a quick weeknight dinner idea under 10 minutes or as a party appetizer. Yummy!!
4

oz

of Slow Roasted Turkey Breast slices

2 -

g

< class="gr_ gr_75 gr-alert gr_spell gr_disable_anim_appear undefined ContextualSpelling multiReplace" id="75" data-gr-id="75">10 inch</g> tortillas

1

g

Anjou < class="gr_ gr_74 gr-alert gr_gramm gr_disable_anim_appear undefined Punctuation only-del replaceWithoutSep" id="74" data-gr-id="74">Pear

</g> cut into 1/8" thin slices

4-5

slices

of French Brie cheese

sliced thinly

1/4

cup

of fresh watercress

Salt and Pepper

Nonstick Spray
Place a nonstick skillet on medium heat. Add with nonstick spray

On one tortilla arrange half of the brie slices

On another tortilla add the other half of the brie slices, watercress, turkey bread slices, salt and pepper

Cook the tortillas on the nonstick until they are golden brown and the cheese has fully melted

Once both tortillas have cooked, combine them together and press lightly so that the melty cheese spreads all over the tortilla

Slice into wedges and serve immediately

Enjoy!