Print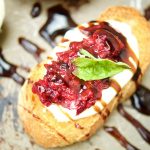 Roasted Raspberry Crostini
This delicious Roasted Raspberry Crostini recipe is made with balsamic vinegar, mascarpone cheese on top of a baguette. The perfect summer appetizer.
Preheat oven to 350 degrees Fahrenheit

In a bowl mix the raspberries, sugar, and balsamic vinegar

Place this mixture on a sheet pan and bake for 15 minutes or until the raspberries are tender and the balsamic vinegar has evaporated

Toast the baguette in the oven for 5-8 minutes

Place the baguette slices on a platter, top with mascarpone cheese, roasted raspberries, basil leaves and a bit of balsamic glaze.