These irresistible Fruitcake Cookies will blow your mind with incredible flavor & soft texture. The perfect Christmas cookie recipe for exchanges & parties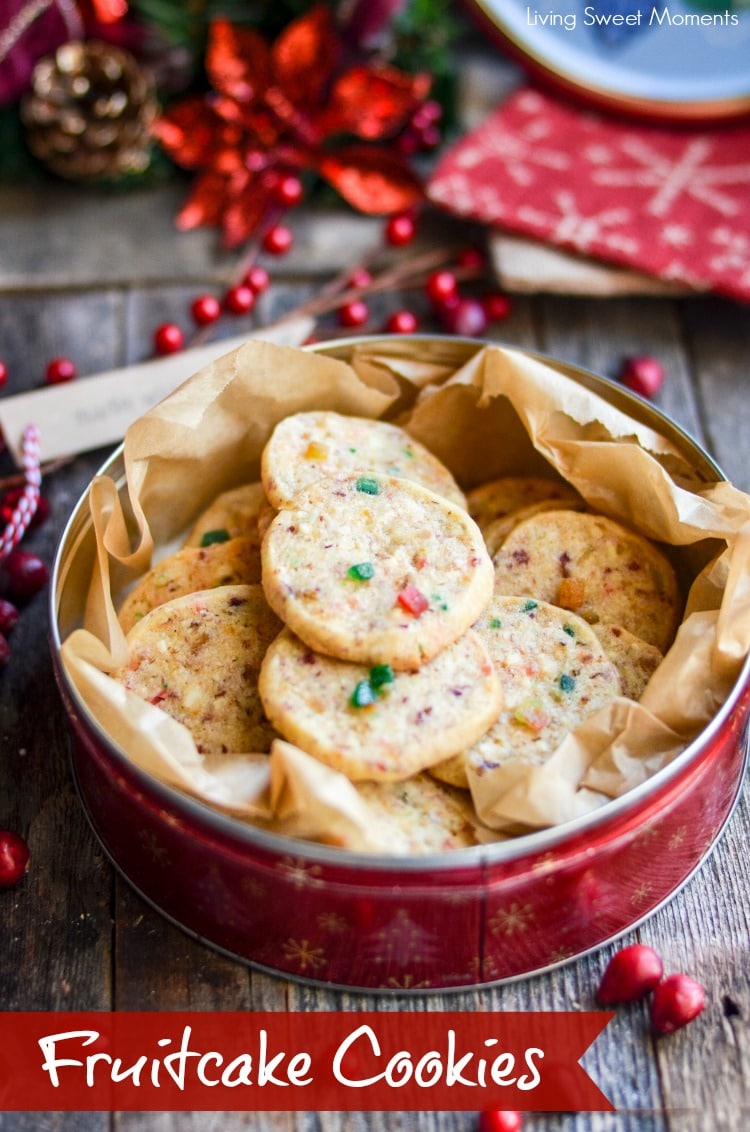 Irresistible Fruitcake Cookies
I know what you're thinking, fruitcake: yuck!. The worst Christmas gift ever. But wait! Don't go! These Fruitcake Cookies are amazing. Not dry, drunk, or lumpy. Enjoy delicious Holiday flavor with an awesome crisp and chewy texture.
Place these Christmas cookies in a cute tin with some tissue paper and you have got yourself a beautiful gift to give out to family and friends. They're also perfect for cookie exchanges and secret Santa packages.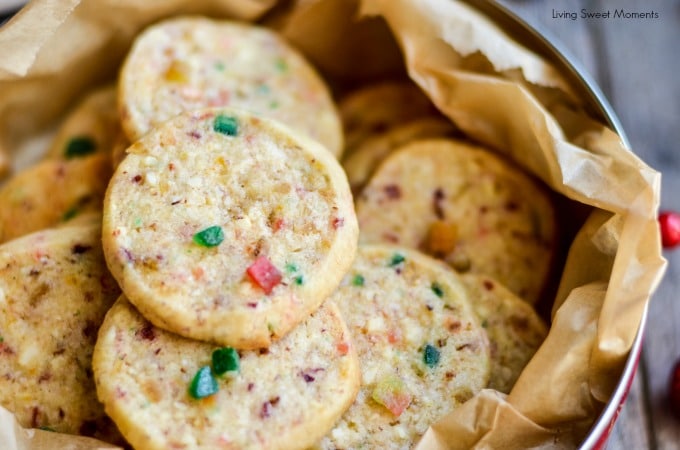 I LOVE this season because it gives me an excuse to bake all kinds of cakes, cookies, and sweets. My daughters get to help me out by rolling, decorating and coming up with original ideas. It's messy, crazy, but a great way to bond with them.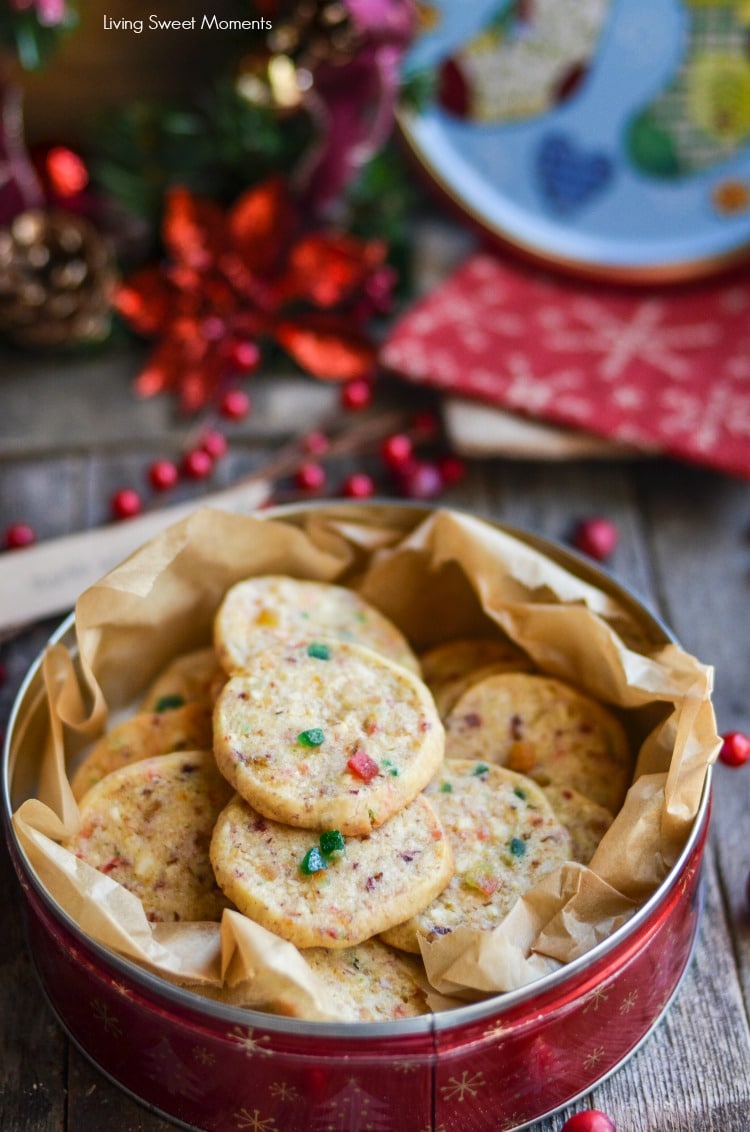 I remember the time my oldest girl was beating up egg whites and she lifted the mixer off the bowl without turning it off. My whole kitchen was covered with meringue, including our clothing. She was mortified but at the end, we laughed it off and always remember that day.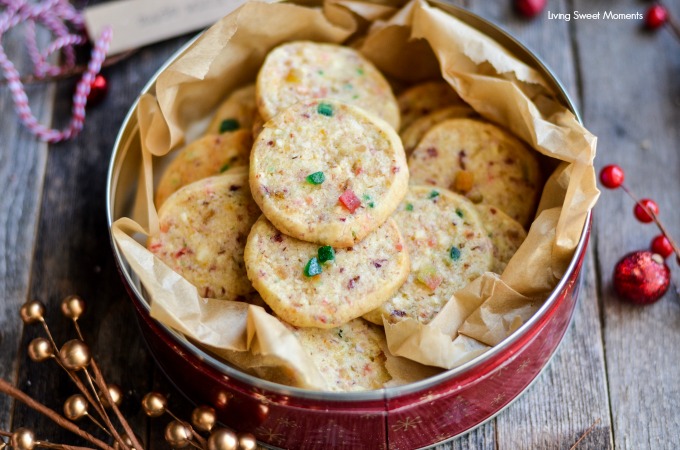 What I love about these Fruitcake Cookies is the use of seasonal ingredients that I crave for all year long. Especially the combination of nuts, dried fruits, and glazed cherries. They're so colorful, festive, and sweet.
The secret ingredient for this recipe is the use of orange juice and orange zest. They give it a tangy yet fresh flavor that compliments the rest of the ingredients.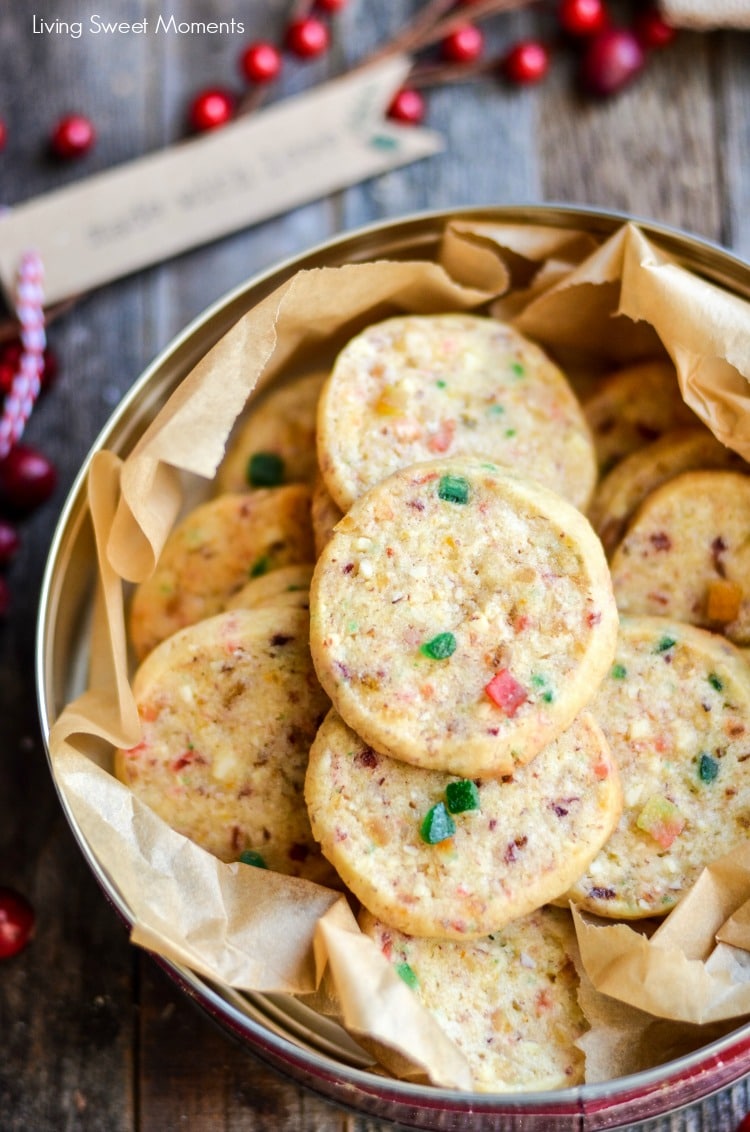 You can freeze the dough for up to 6 months if you're planning on making a double batch.
I hope you can try this delicious Fruitcake Cookies at home. If you do, please upload a pic on Instagram and tag me @Livingsweetmoments or use the hashtag #LivingSweet. I promise to repost it.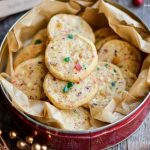 Fruitcake Cookies
These irresistible Fruitcake Cookies will blow your mind with incredible flavor & soft texture. The perfect Christmas cookie recipe for exchanges & parties
Ingredients
1

cup

All Purpose Flour

1

teaspoon

Baking Powder

1/2

cup

Granulated Sugar

1/4

teaspoon

salt

1/2

cup (1 stick)

butter

chilled and cut into cubes

1

teaspoon

orange zest

1

tablespoon

orange juice

1/4

cup

glazed cherries

chopped

1/4

cup

chopped dried fruit

apricot, cranberries, figs

3

tablespoons

chopped nuts

use pecans/walnuts/almonds
Instructions
Preheat oven to 350 F. Line 2 cookie sheets with parchment paper

Chop the nuts and fried fruits

Add all the dry ingredients in the food processor few pulses. Add the butter and give the food processor several pulses till it turns into a crumbly mixture. Add nuts, dried fruits and glace cherries and tablespoon of orange juice and give one final pulse

Transfer to a floured surface and knead and shape into a log, cling wrap, and chill for an hour

Cut it into 1/4 inch discs and arrange on the cookie sheets

Bake for 14-16 minutes till the cookies are baked through and turns golden brown on the edges

Let the cookies cool down completely on a baking rack

Store leftovers in airtight container for 4-5days
You may also like: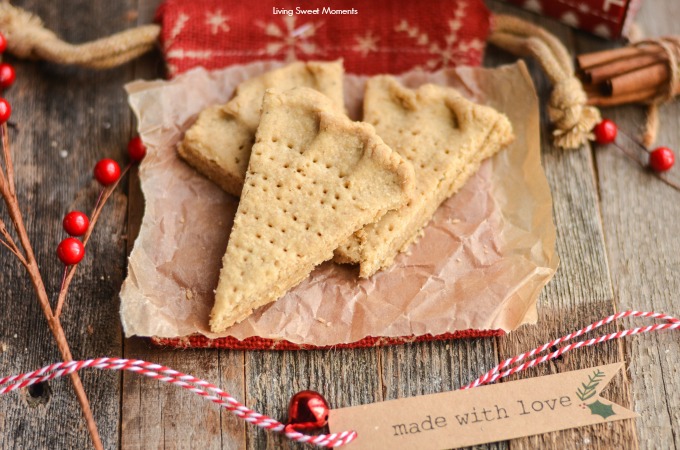 Crumbly Walnut Crescent Cookies