Delicious strawberry macarons that are easy to make and kid friendly. The perfect crunchy cookie filled with strawberry buttercream. My fave french dessert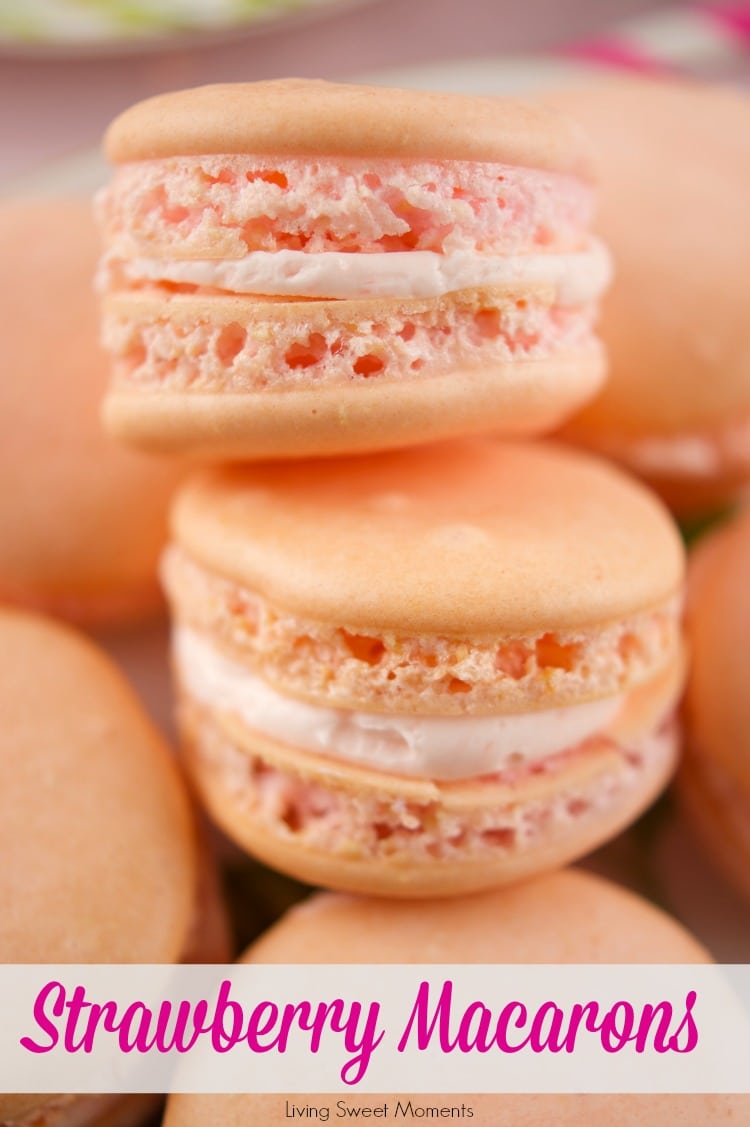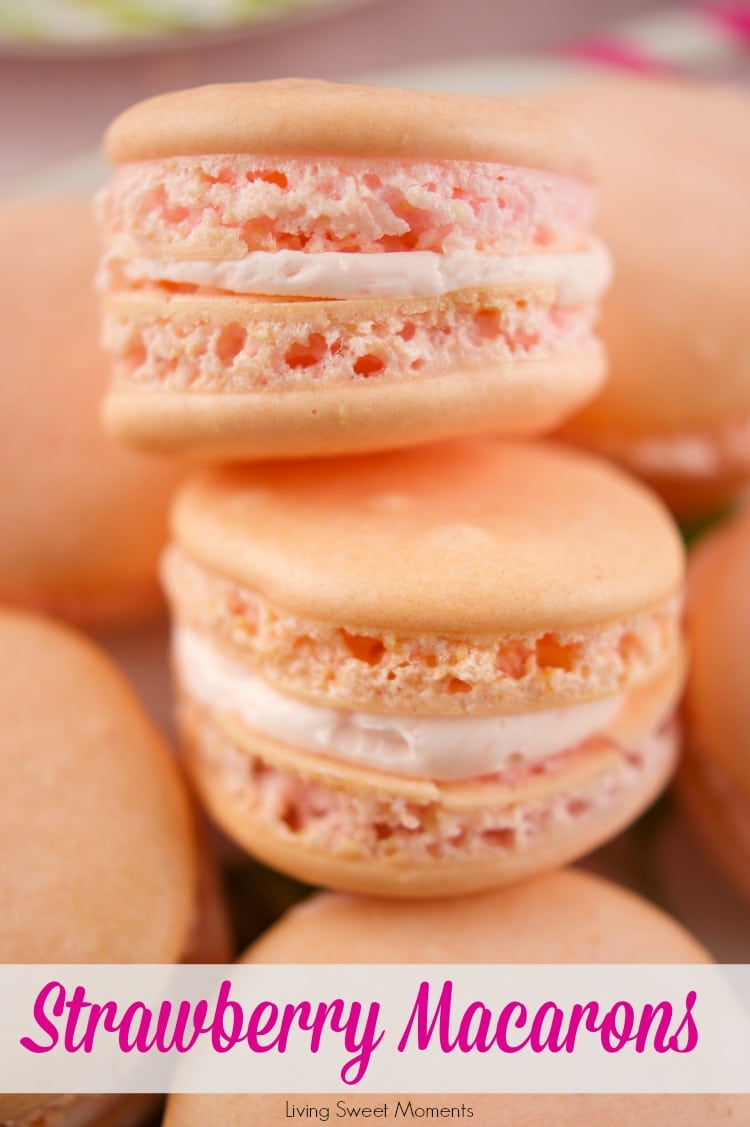 Strawberry Macarons
Last week, we went strawberry picking and since we had so much fun, we accidentally picked up 10 lbs of strawberries. When we came home, my husband instantly wanted to freeze them for his morning smoothies. My daughters protested and he agreed to let us have a couple of pounds. Now their lunchboxes have been filled with strawberries every day.
So with those, I got to make strawberry macarons. These delicate macarons are crunchy on the outside, soft on the inside and filled with a creamy strawberry buttercream in the center. I made it less sweet to accentuate the berry flavor.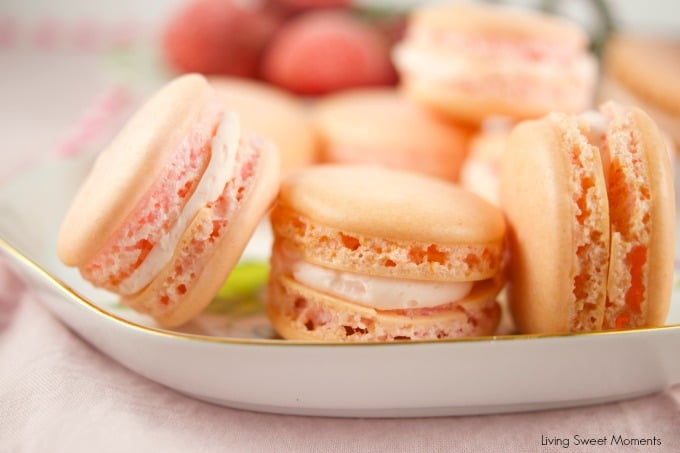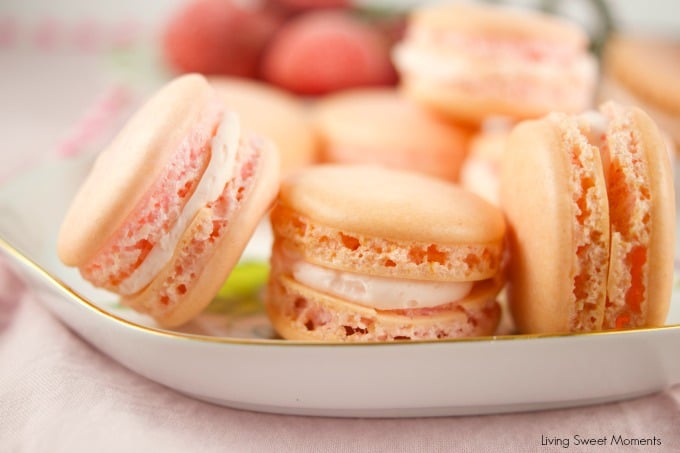 Ever since I started baking, french patisserie has always been my favorite things to make. Granted, they are 100000x times more complicated than regular desserts but they are definitely worth it. These strawberry macarons are very easy to make. Don't worry, below are a few tricks to ensure your macaron success.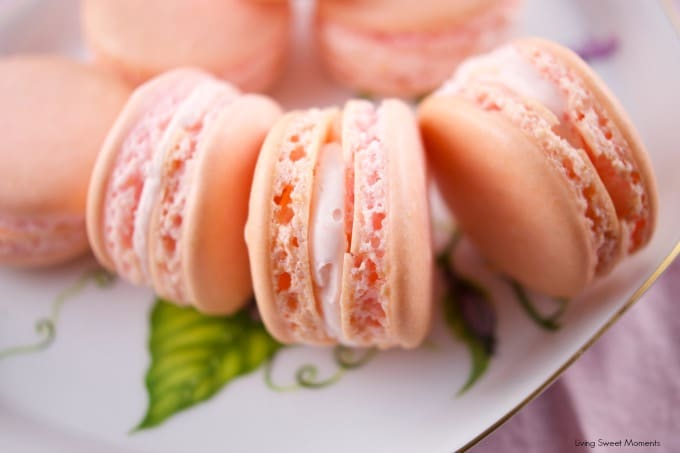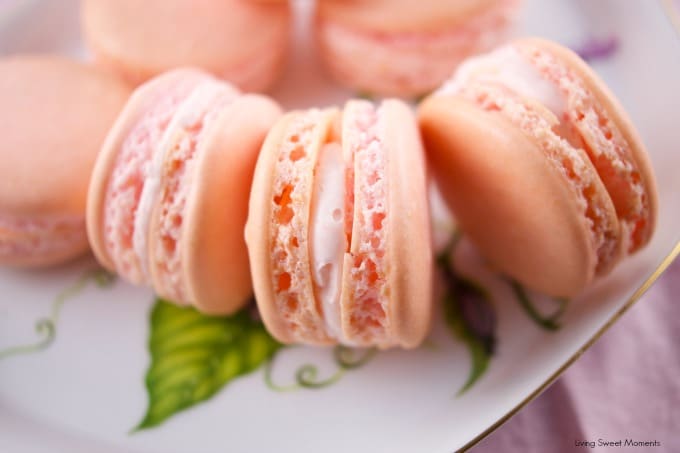 Now that Valentine's Day is less than a week away, take them to work, school and place them in a nice box for your valentine. My husband already ate half of them so I guess I'll need to find a new gift for him. The rest I will give it to my daughter's teachers (if my husband doesn't finish them by Friday).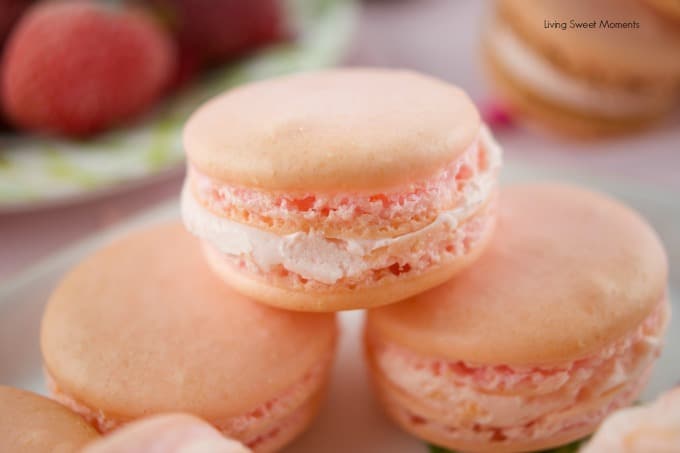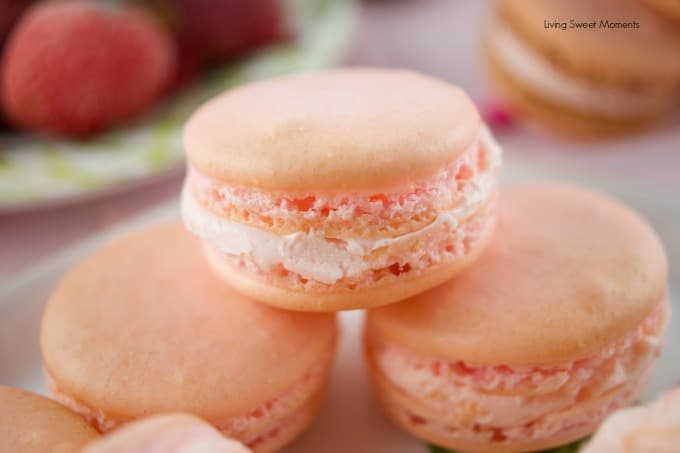 These Strawberry Macarons are perfect to make with kids. My 8-year-old piped the cookies and then frosted them. She had so much fun that next weekend she asked to make them again. I'll think of new flavors to fill them with.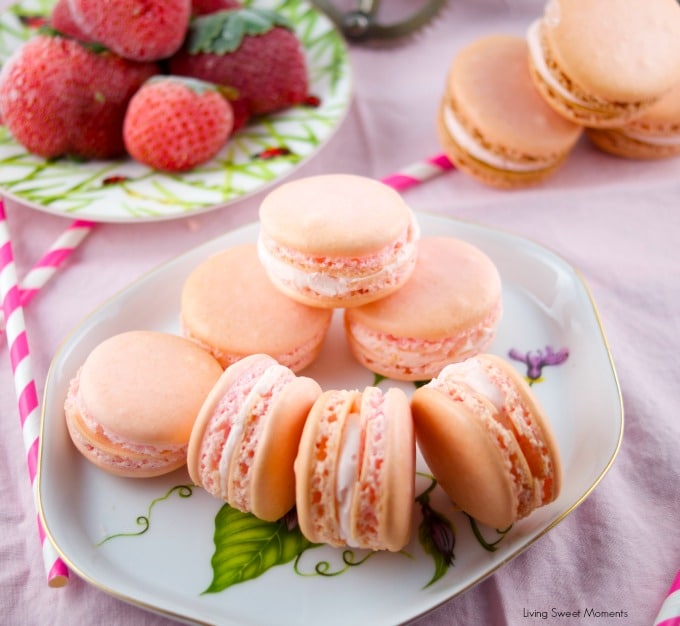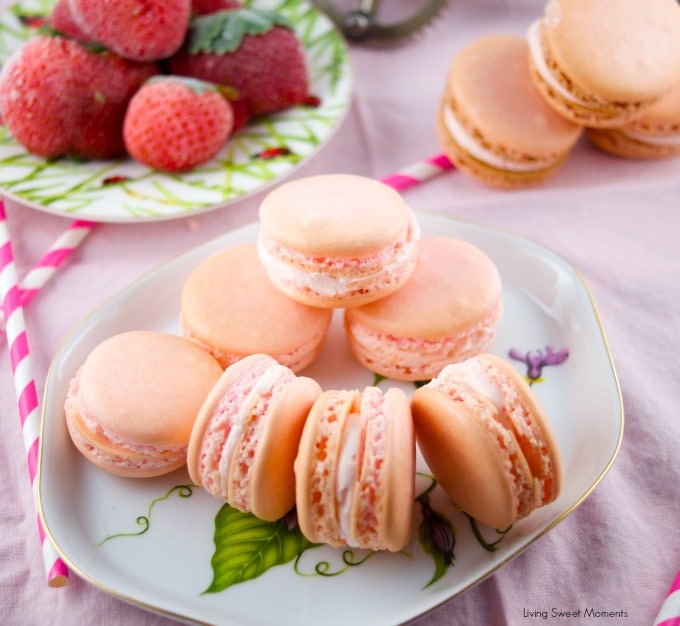 I hope you can try these delicious Strawberry Macarons at home. If you do, please upload a pic on Instagram and tag me @Livingsweetmoments or use the hashtag #LivingSweet. I promise to repost it.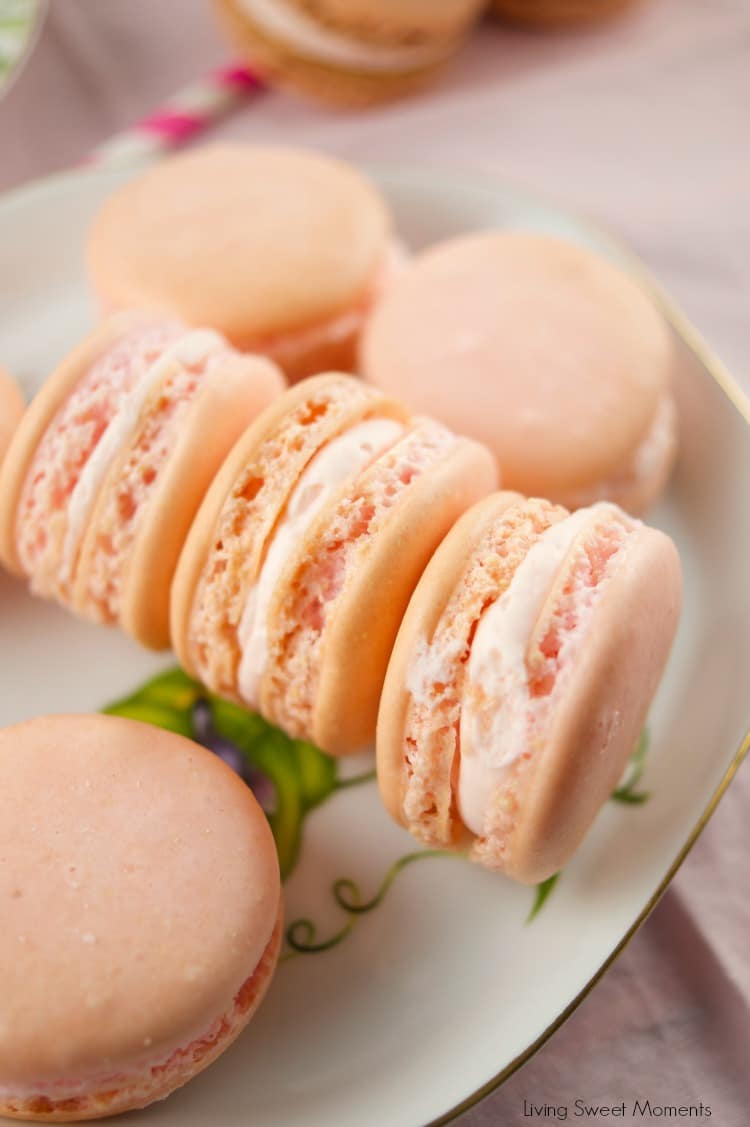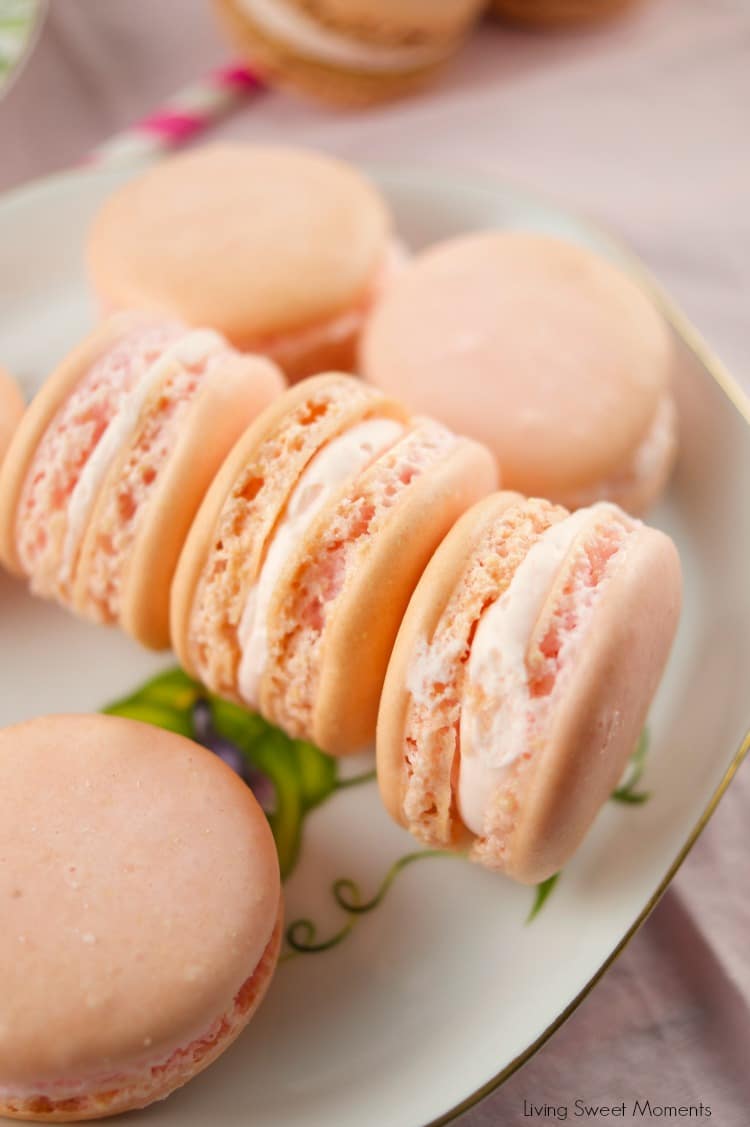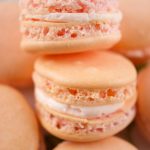 Strawberry Macarons
Delicious strawberry macarons that are easy to make and kid friendly. The perfect crunchy cookie filled with strawberry buttercream. My fave french dessert
Ingredients
For Macarons
3

Large Egg Whites at room temperature*

1/4

cup

granulated sugar

1/4

tsp

cream of tartar

2

cups

confectioners sugar

1

cup

almond meal

2-3

Drops of gel red food coloring

optional
For Strawberry Buttercream
2

sticks of unsalted butter

softened

3/4

cups

of confectioners sugar

more if needed

1/4

cup

+ 2 tablespoons of fresh strawberry juice

strained
Instructions
Line 2 cookie sheet pans with parchment paper

Sift almond meal and confectioners sugar together. Discard the bigger bits of almond leftover on the strainer

On the bowl of a mixer, add the egg whites and cream of tartar. Mix using the whisk attachment on medium speed for 5 minutes or until soft peaks form

Slowly add the granulated sugar and the food coloring. Mix on high speed until hard peaks form

Gently fold in the dry ingredients into the egg whites with a spatula. Make sure batter is completely incorporated but do not OVERMIX

Place batter into the piping bag and spoon equal mounds of batter that resemble a circular shape

Let the macarons rest UNBAKED for 30-40 minutes

Preheat oven to 300 degrees Farenheit

Bang the cookie sheets 3-4 times against the counter. This will release the air bubbles inside the cookies

After the macarons have rested, bake for 15-20 minutes or until tops are solid

Remove from oven and let them cool

For Strawberry Buttercream

Mix the butter and confectioners sugar together until creamy

Add the strawberry juice and mix until combined and creamy. Test for flavor, if sweetness is needed, add 1-2 tablespoons of confectioners sugar

Assembly

Place buttercream in a piping bag

Spoon mounds of cream into the center of half of the cookies

Sandwich the other cookie halves into the cookies with the cream

Store in an airtight container in the refrigerator
Recipe Notes
*Tips for macaron success:
- Eggs absolutely have to be at room temperature
- Macarons can discolor slightly during the baking process, so add 1-2 extra drops of food coloring
- Let the macarons rest for a minimum of 30-40 minutes BEFORE baking
- It's important no to overmix the batter
You may also like: