This creamy Butternut Squash Mac And Cheese recipe is inspired by fall featuring butternut squash, peas, sage, and walnuts. The perfect easy 30-minute weeknight dinner idea. Vegetarian too!Â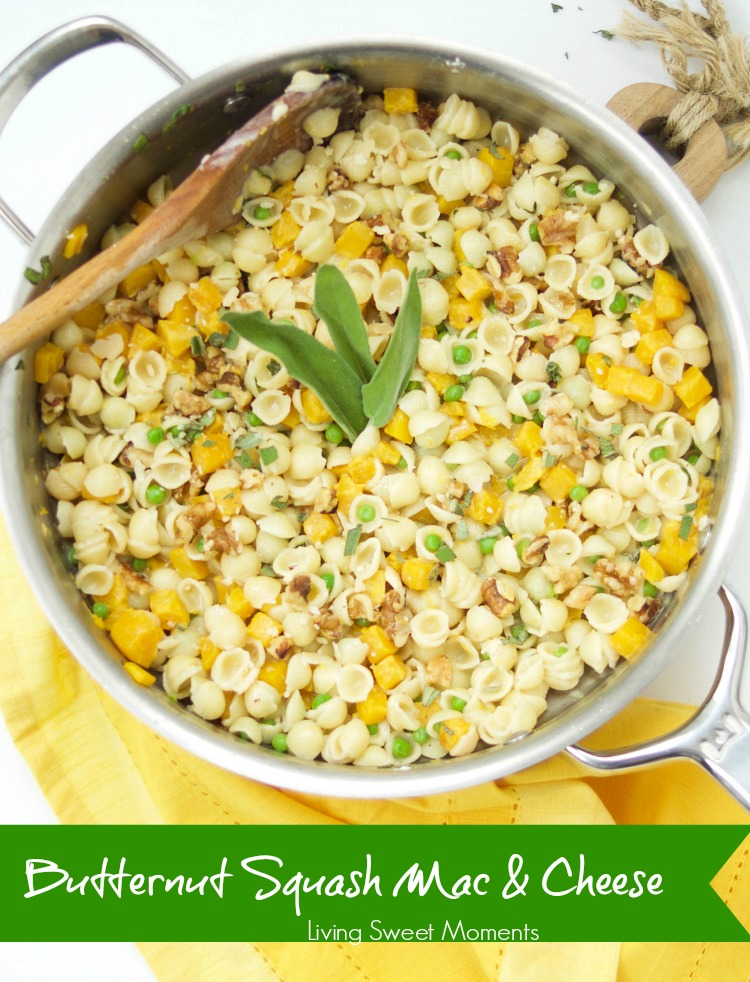 Butternut Squash Mac And Cheese
Cooking with seasonal flavors is something I love because recipes taste new and exciting every time. Forget the regular boring mac & cheese. This one gets an Autumn makeover by adding yummy butternut squash, sage, and walnuts.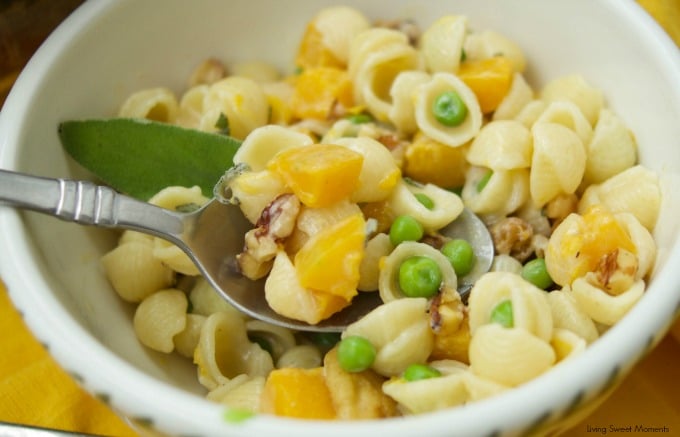 My 30-minute vegetarian dish is one that the flavor is sweet and savory at the same time. Unexpected to say the least. Not only is it perfect for a quick weeknight dinner idea, it's also great for entertaining a large crowd. To do so, simply double or triple the recipe ingredients.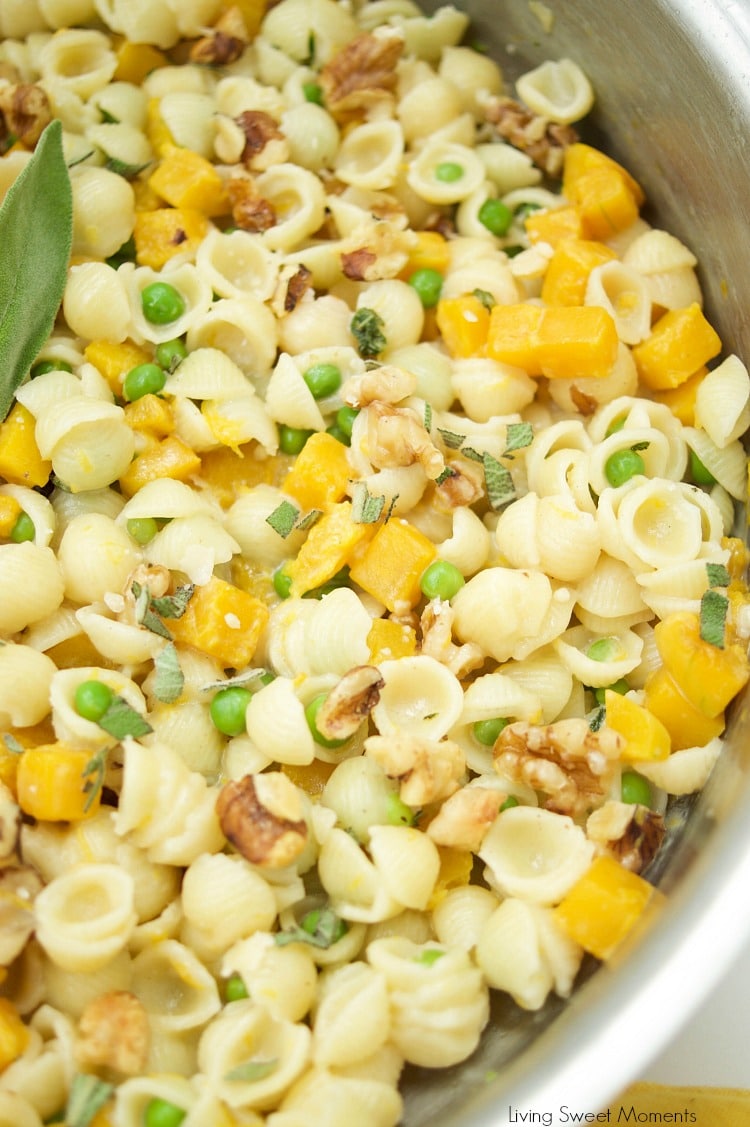 Every element of my Butternut Squash Mac And Cheese has a huge role in flavor and texture. The walnuts give it a much-needed crunch that pairs perfectly with the earthy flavor of sage.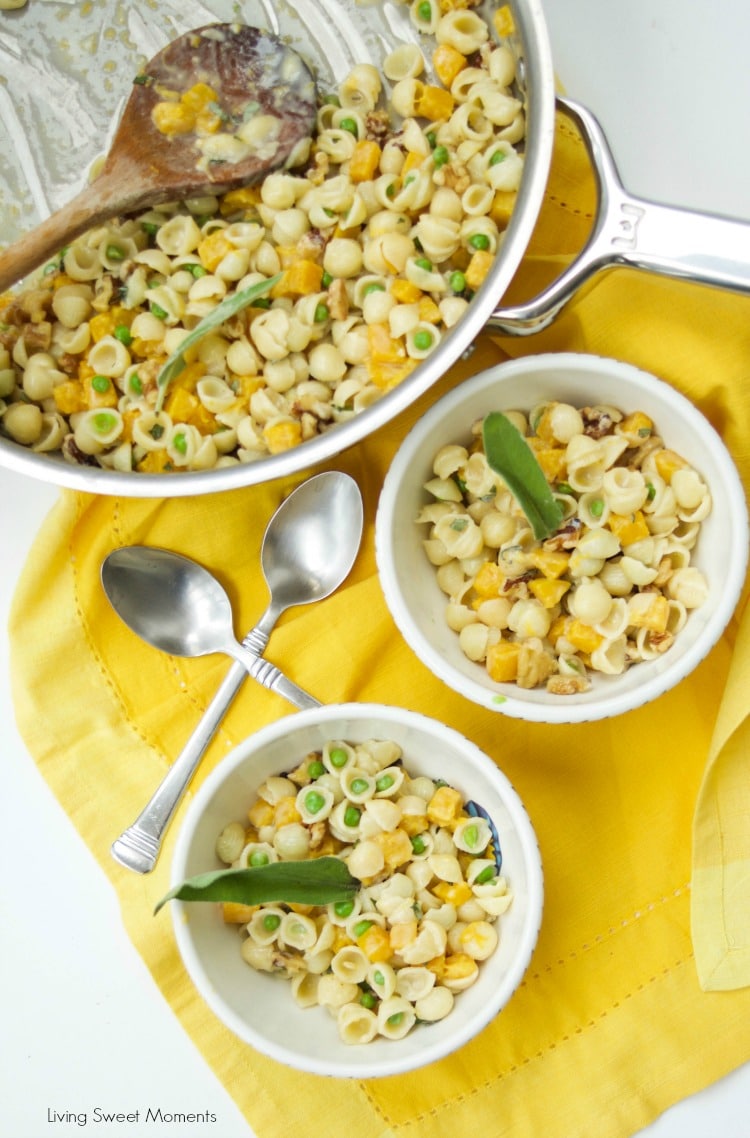 The squash provides the softness and sweetness that contrasts with the cheesy sauce.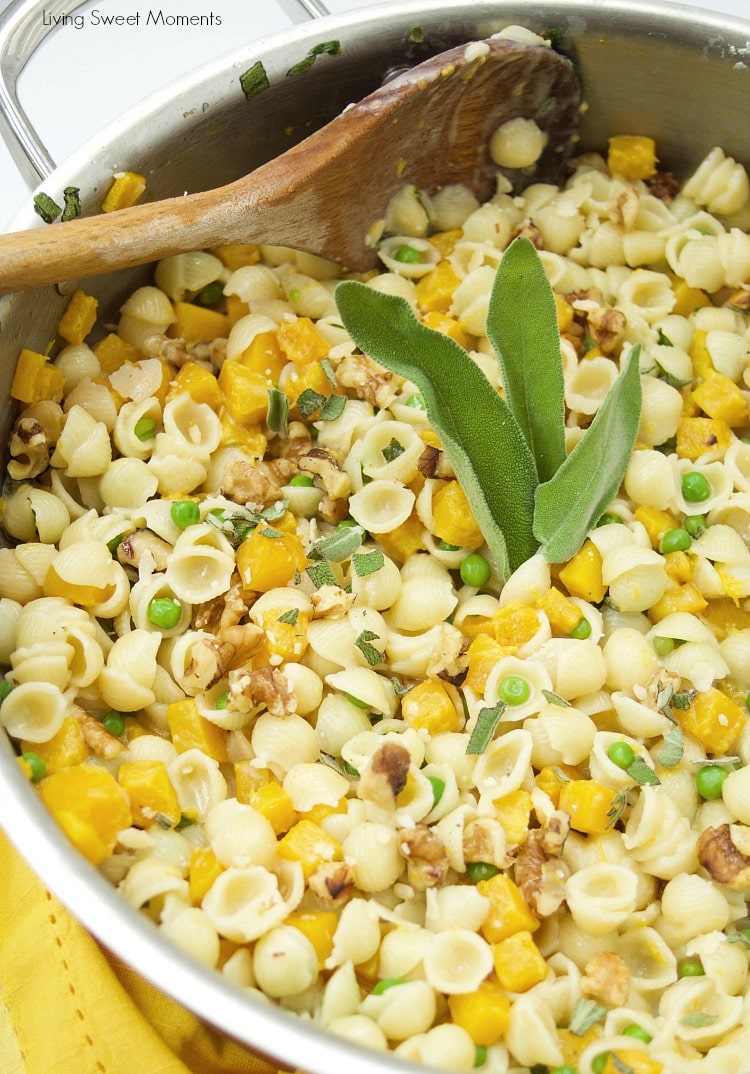 My older daughter is super picky when it comes to food, so my job is to get ultra creative in terms of color and overall appeal of the dish. She loved it as soon as she tried it.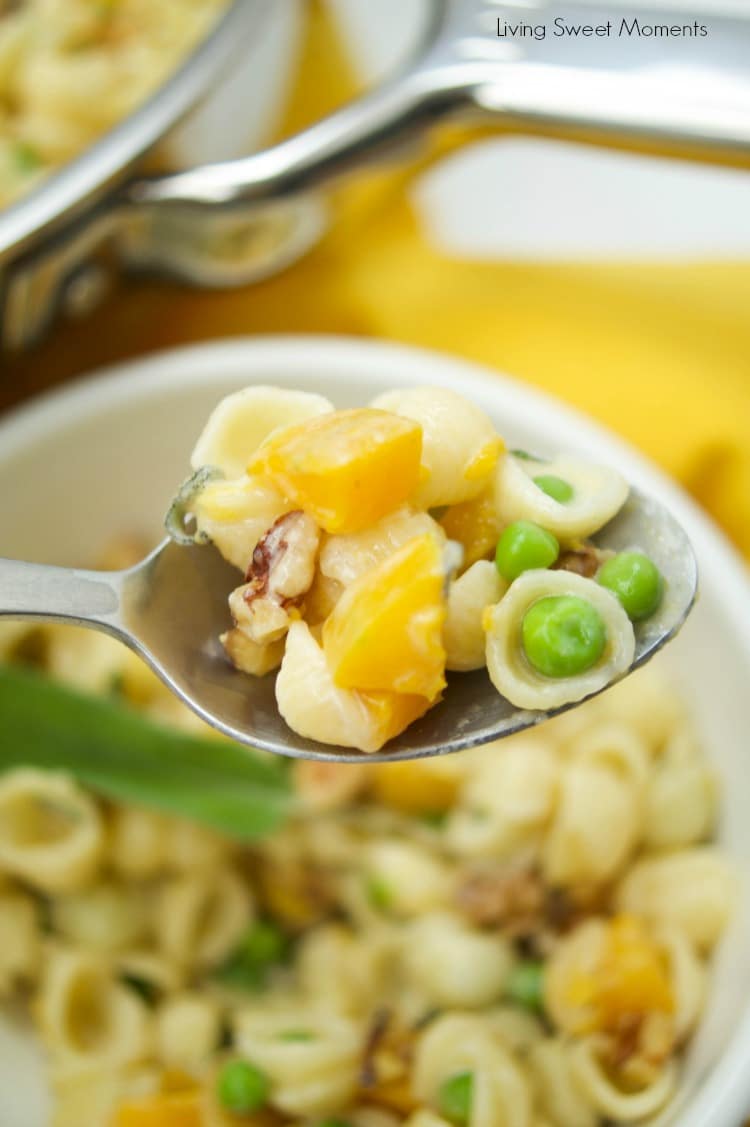 No kid can say no to a colorful mac and cheese.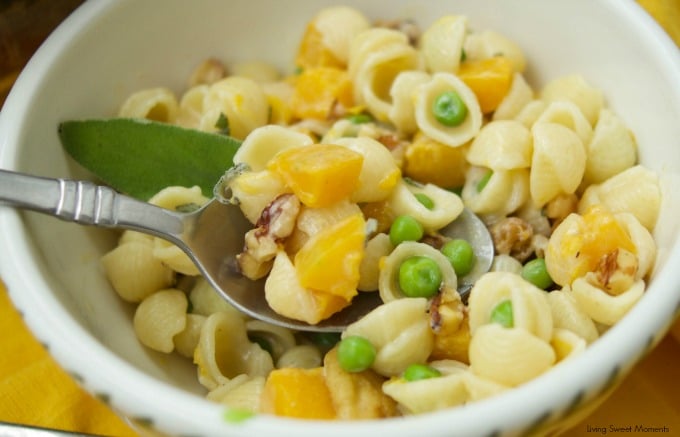 You can, of course, omit or substitute the ingredients to suit your taste buds. If you don't have walnuts available, try some hazelnuts or cashews. For the butternut squash, you can use pumpkin or regular squash. If you're not a huge fan of sage, swap it out for mint or rosemary.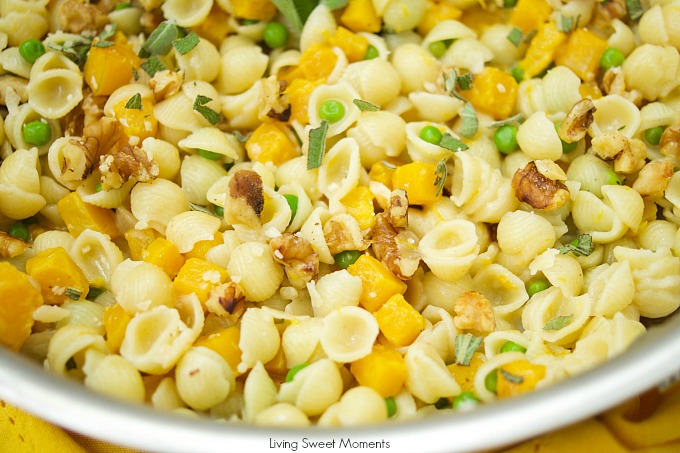 Now, my Mac and cheese is not only delicious but organic too. I took a shortcut and bought Annie's Organic Shells & White Cheddar Mac & Cheese. It's tasty and is made with natural ingredients.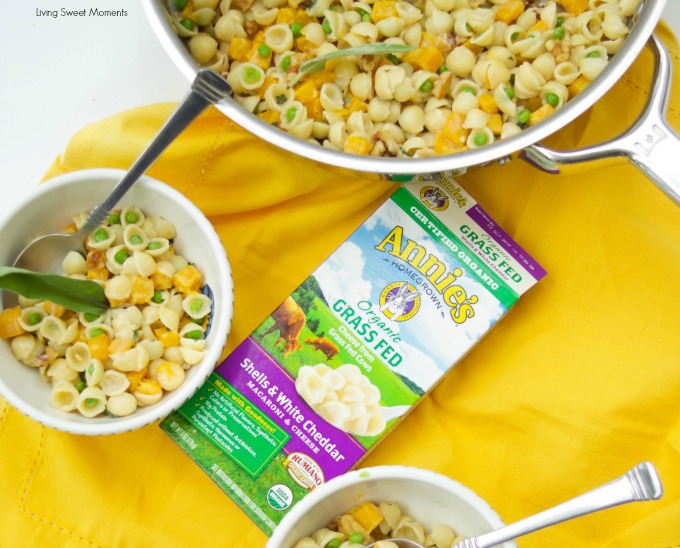 Here's a video on how I made my Butternut Squash Mac And Cheese. You can clearly see that is so easy to make:
I hope you can try this delicious Butternut Squash Mac And Cheese at home. If you do, please upload a pic on Instagram and tag me @Livingsweetmoments or use the hashtag #LivingSweet. I promise to repost it.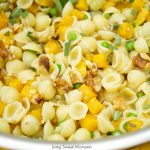 Butternut Squash Mac And Cheese
This creamy Mac And Cheese recipe is inspired by fall featuring butternut squash, peas, sage, and walnuts. The perfect easy 30-minute weeknight dinner idea. Vegetarian too!
Ingredients
1

box

Mac & Cheese

1/2

Butternut Squash

peeled and cubed

3/4

cup

frozen peas

3/4

cup

toasted walnuts

chopped

3

leaves

sage

chopped (more if you'd like)

1

cup

Pasta water

see below in instructions

3

tablespoons

milk

1

tablespoon

lime juice

from 1/2 lime

1/4

cup

parmesan cheese

Salt + Pepper

1

teaspoon

olive oil

1

tablespoon

butter
Instructions
Boil water in a pot

Cook the noodles for 8 minutes

Reserve

1 cup of the cooking pasta water

before draining

In a large skillet heat the olive oil and butter on medium heat

Add the diced butternut squash and cook until tender. About 5-6 minutes

Add the sage and cook for 1-2 minutes

Throw in the cooked noodles and mix well

Add the milk and reserved pasta water

Sprinkle the Mac & Cheese packet

Add the frozen peas, lemon juice, cheese, and walnuts

Mix well and serve!
You may also like:
Pumpkin Ravioli With Butter Sage Sauce