This delicious vanilla latte recipe tastes just like the coffeehouse and is actually made from scratch.  Enjoy coffee with a splash of vanilla syrup & frothy milk. 
Thank you, Folgers for Sponsoring this post.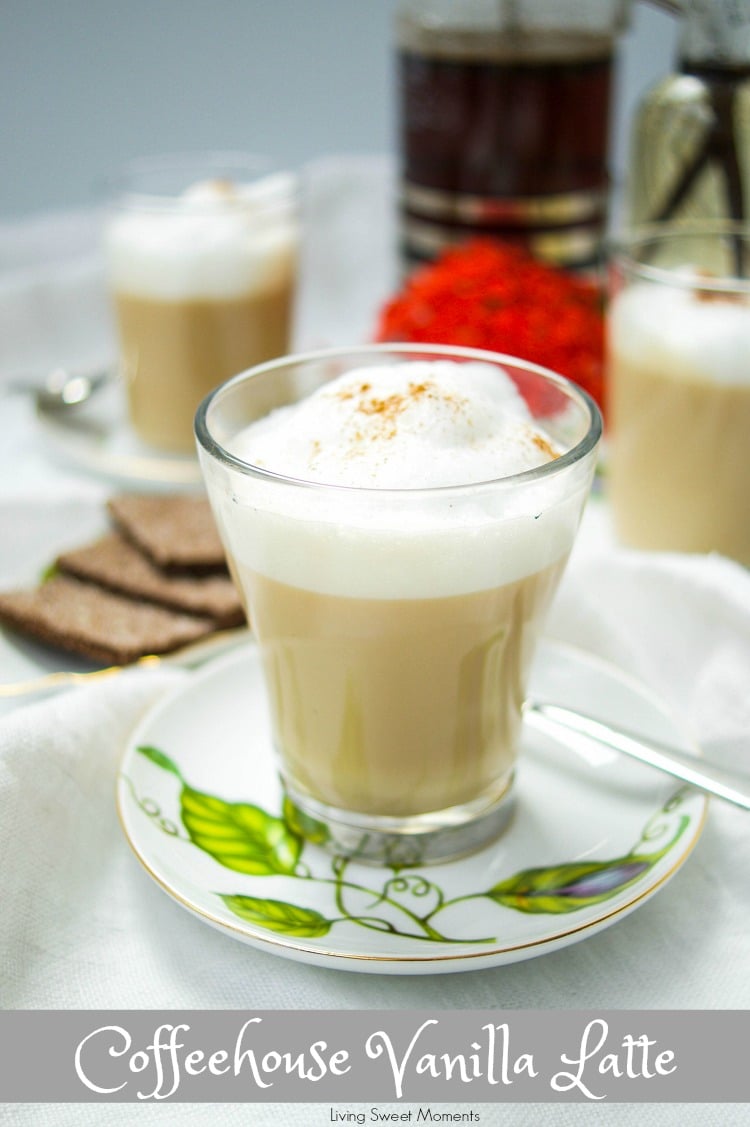 Coffeehouse Vanilla Latte
Whenever I am down or preoccupied, my husband brings me home my favorite: vanilla latte. To me, it's soothing, warm, and a spirit lifter.
Everybody drinks coffee for different reasons. In the morning, it is imperative that I have a hot cup of coffee in my hand before I head out the door and interact with other humans for other people, it's just the caffeine.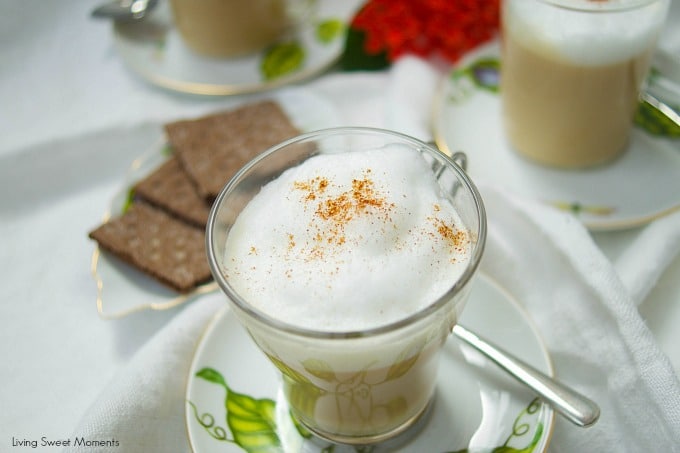 In the afternoon when a pick me up is needed, I head for either an iced blended cappuccino or a latte. Depending on how hot the weather is.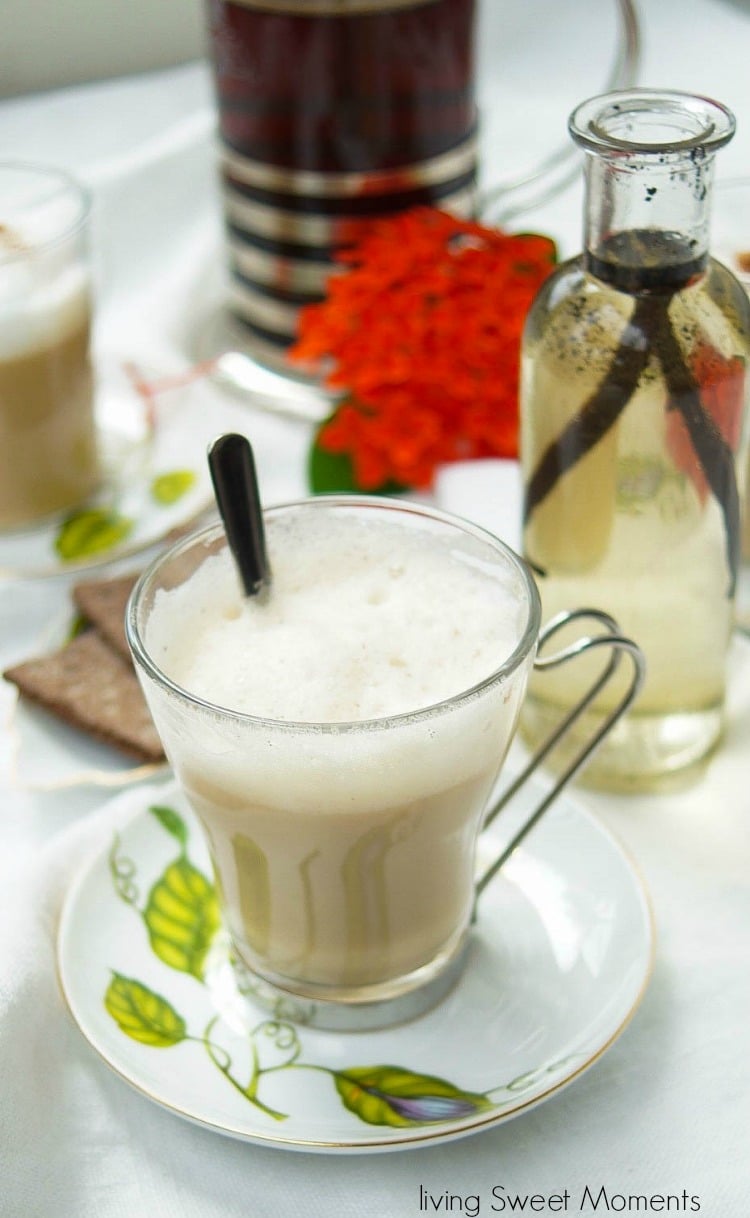 Along with this awesome Vanilla Latte recipe, you will have the exact coffeehouse taste without ever leaving your home. No thousand dollar Italian espresso machine required. In fact, you don't even need an electric coffee machine. You can use an inexpensive french press.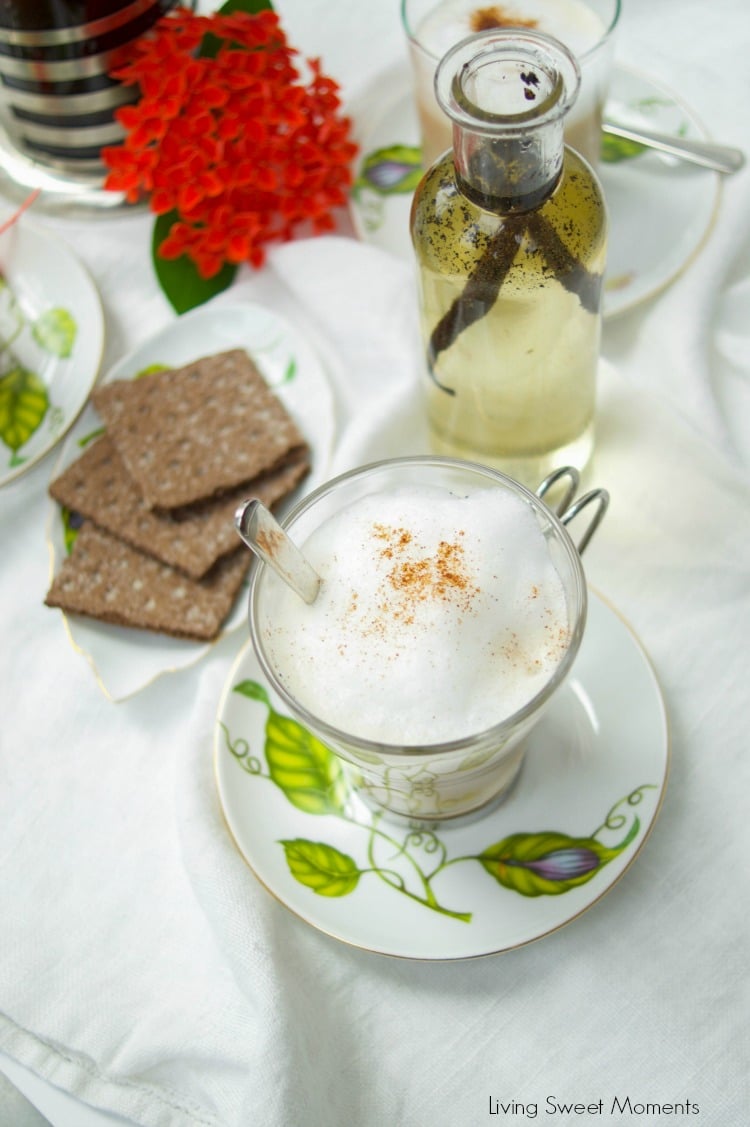 Coffeehouse coffees are known for their strong black coffee taste and aroma that won't wither down when cream or sugar is added.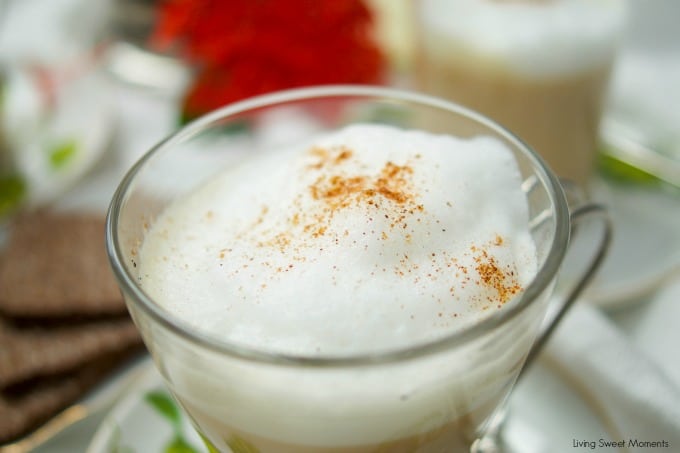 Before, the coffee I used to make at home was no good before. My mom called it "agua sucia" aka dirty water because it would look like coffee and taste so weak.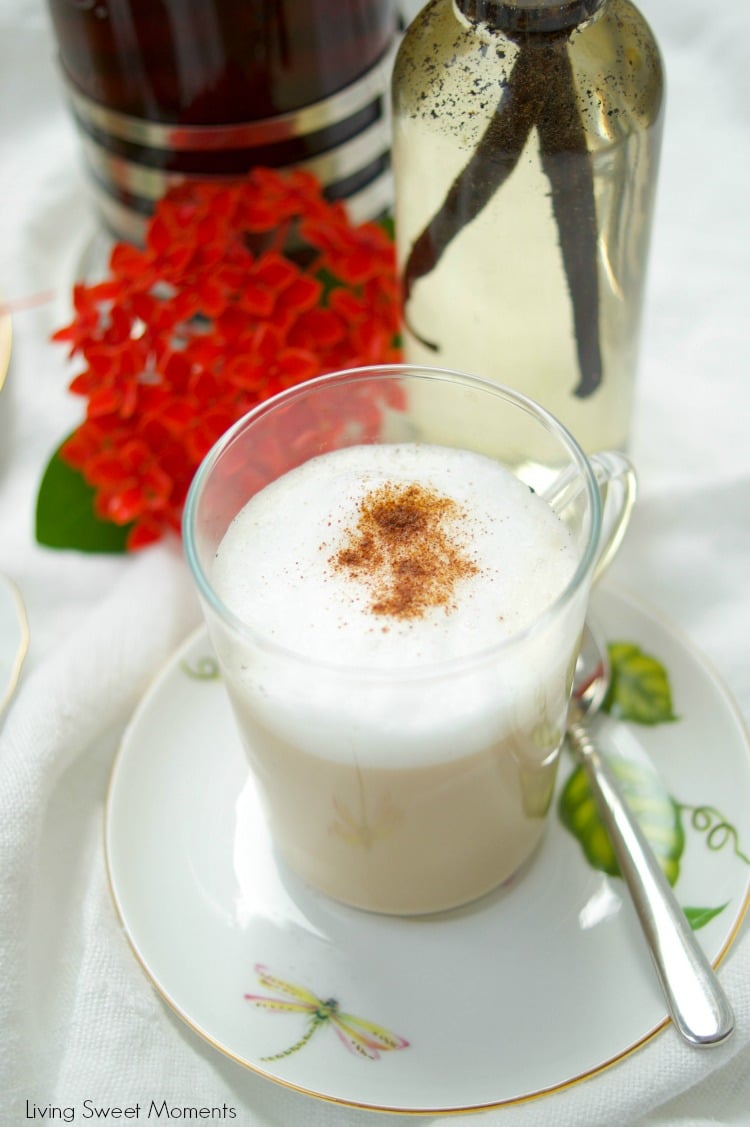 Now that I learned how to brew it properly and make delicious coffeehouse drinks at home, there's nothing holding me back.
But first things first. Let's talk about the Cawfee (as they say in Brooklyn). I used the new Folgers Coffeehouse Blend.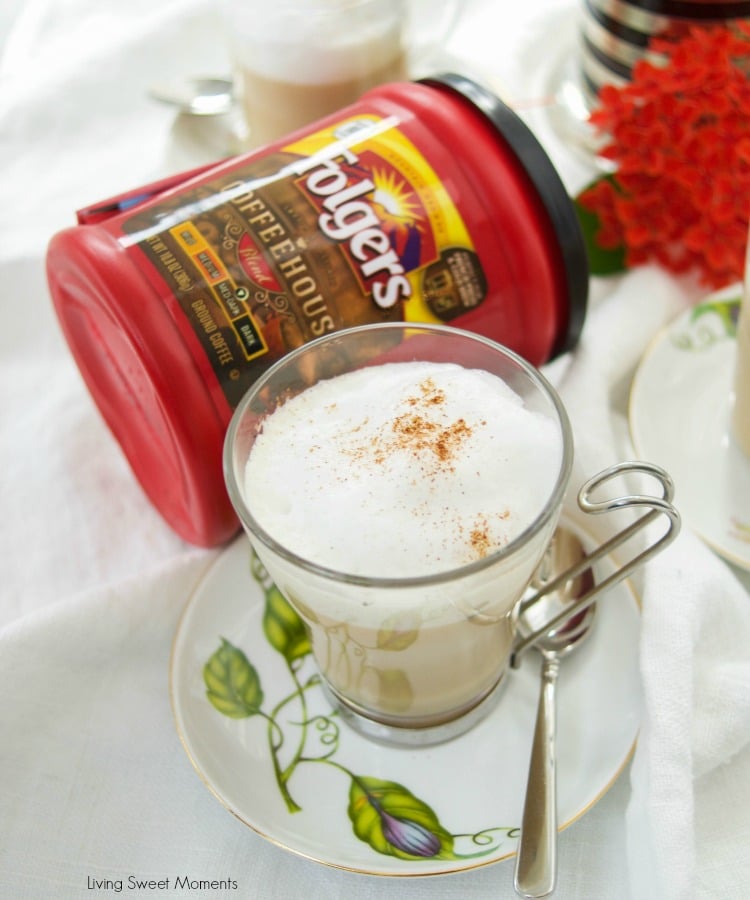 Folgers Coffeehouse has a bold distinct and flavorful blend that can be used in your favorite brewing methods: french press, traditional coffee makers, cold brew, K-Cup, and so on.  Just open a jar and you will literally be delighted with the fresh roasted aroma.
Believe me, this bold coffee can withstand the vanilla syrup and the milk. It will still taste like strong coffee and not like agua sucia (I promise mom). I rather have this beverage than the store bought version.
The next step is the vanilla syrup. You can easily make it at home and it only requires 3 ingredients. Yes 3. It's easy, peasy, lemon squeezy. Heck if you don't like vanilla, substitute for almond, hazelnut, peppermint, etc. One method= thousands of syrups.
And finally, the milk. I love the warm milk with all that stiff froth on top. I love eating it with my spoon. To make it you can just heat up the milk and use a whisk or a fork. In this case, check out the little specs of cinnamon and vanilla in mine.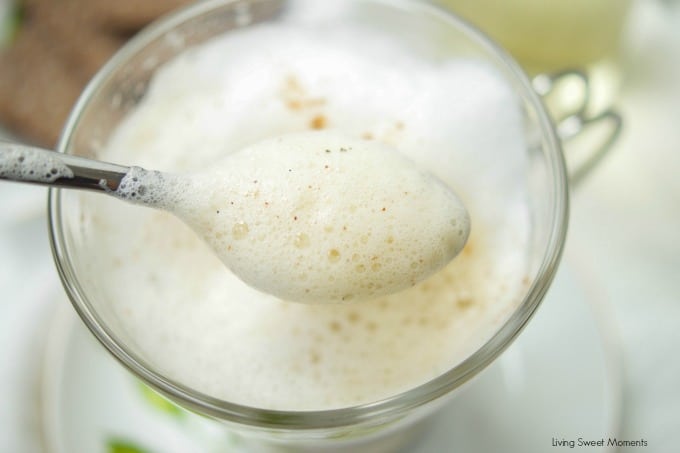 There's an inexpensive handheld frother that works like magic but it's certainly not a requirement.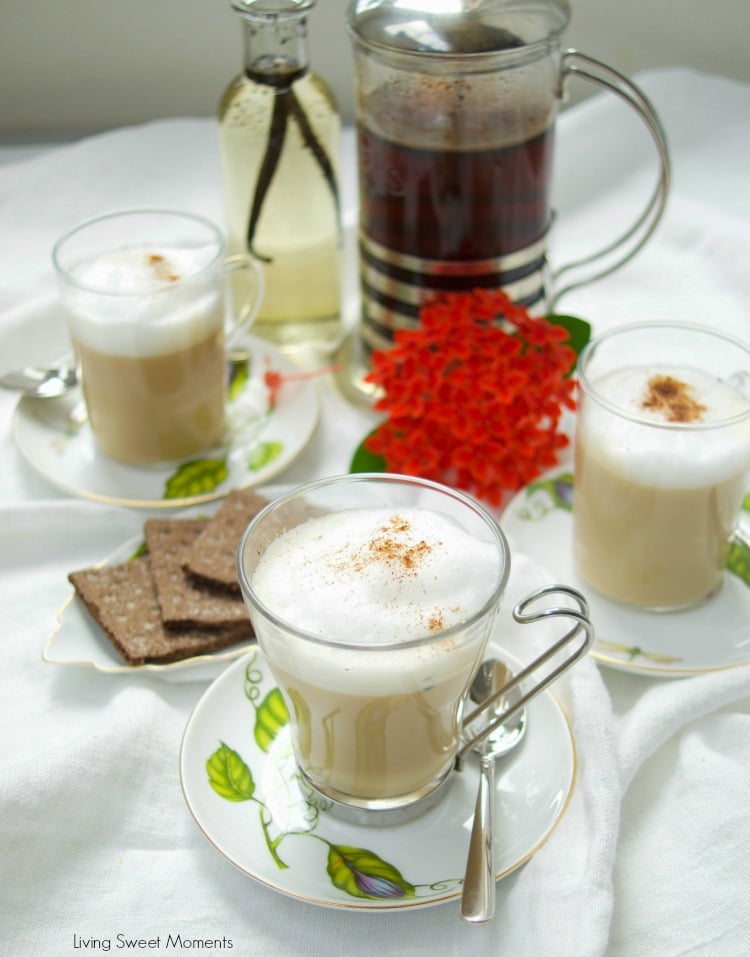 I hope you can try this delicious Coffeehouse Vanilla Latte at home. If you do, please upload a pic on Instagram and tag me @Livingsweetmoments or use the hashtag #LivingSweet. I promise to repost it.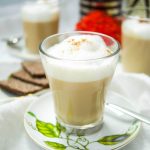 Coffeehouse Vanilla Latte
This delicious vanilla latte recipe tastes just like the coffeehouse and is actually made from scratch. Enjoy coffee with a splash of vanilla syrup & frothy milk.
Ingredients
For Vanilla Syrup*
1

cup

water

1

cup

sugar

1

Vanilla Bean**
For Coffee
4

cups

Freshly brewed Coffee

I used a french press
Instructions
For Vanilla Syrup
With a knife, making a long incision lengthwise to the vanilla bean

Scrape out all the seeds and place into a saucepan. Add the vanilla bean as well

Pour the water and sugar into the saucepan

Heat on high heat while stirring until the sugar completely dissolves

When mixture boils, remove from the heat, pour into a bottle and let it cool completely
For Milk
Heat milk in a saucepan and mix using a fork or a whisk
Assembly
Pour Freshly brewed Folgers Coffeehouse Coffee to fill 1/3 of the mug

Add 1 teaspoon of vanilla syrup (or more)

Pour frothed milk to fill the mug

Sprinkle some cinnamon on top (optional)

Enjoy!
Recipe Notes
*This syrup makes plenty of lattes. Keep it the fridge covered until ready to use.
**You may substitute vanilla bean with pure vanilla extract. Add it to syrup at the end after it is out of the heat.
Nutrition Facts
Coffeehouse Vanilla Latte
Amount Per Serving
Calories 141
% Daily Value*
Cholesterol 2mg1%
Sodium 55mg2%
Potassium 249mg7%
Carbohydrates 31g10%
Protein 4g8%
Vitamin A 250IU5%
Calcium 152mg15%
* Percent Daily Values are based on a 2000 calorie diet.
You may also like:
Copycat Starbucks Pumpkin Spice Latte