This delicious Spaghetti Carbonara Recipe made with peas, is easy to make and is ready in 20 minutes or less. The perfect quick weeknight dinner idea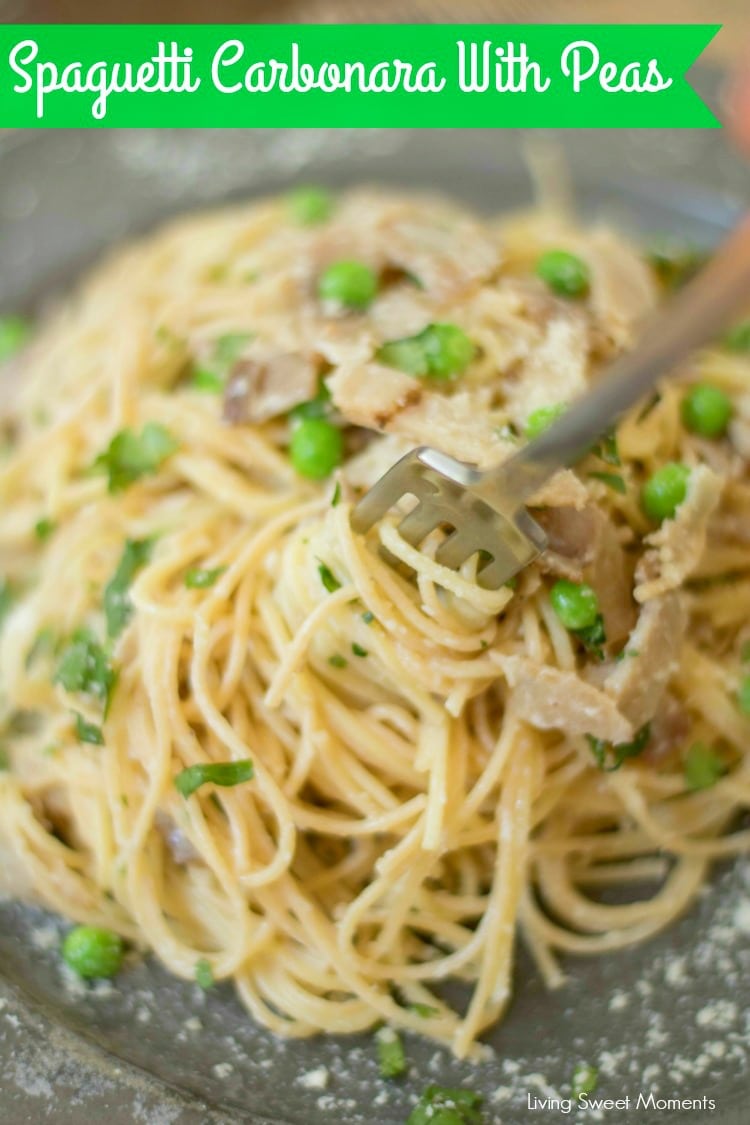 Spaghetti Carbonara Recipe With Peas
Sometimes, the less ingredients you use in a dish, the better it will taste. This Spaghetti Carbonara Recipe With Peas only needs 7 ingredients and 20 minutes to create amazing flavor. It's the perfect go-to recipe to make at the last minute. It doesn't need a lot of prep and chopping as well.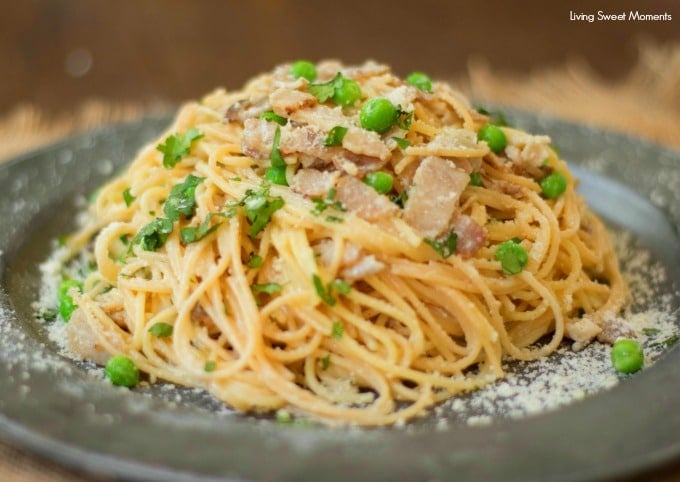 Peas add some color and round up the flavors very nicely. I tried it once in a restaurant and now I'm hooked. In fact, this Spaghetti Carbonara Recipe is one of my favorite Italian dishes. The smokiness of the bacon, the creaminess of the sauce and the fresh flavor from the peas, makes this plate taste like a million bucks.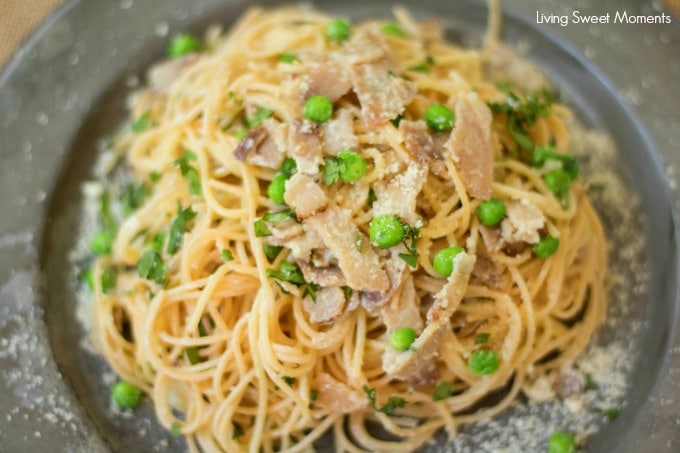 This Spaghetti Carbonara Recipe With Peas is the perfect meal to start off your week. We are resting up since my girls are on Spring Break. Boy, I needed the vacation, it's been kinda hectic around here. Homework, projects, tests, piano classes, swimming, art, etc. It's a lot on my plate and for them as well, so this week we are taking it slow and enjoying waking up late, watching Netflix and playing outside.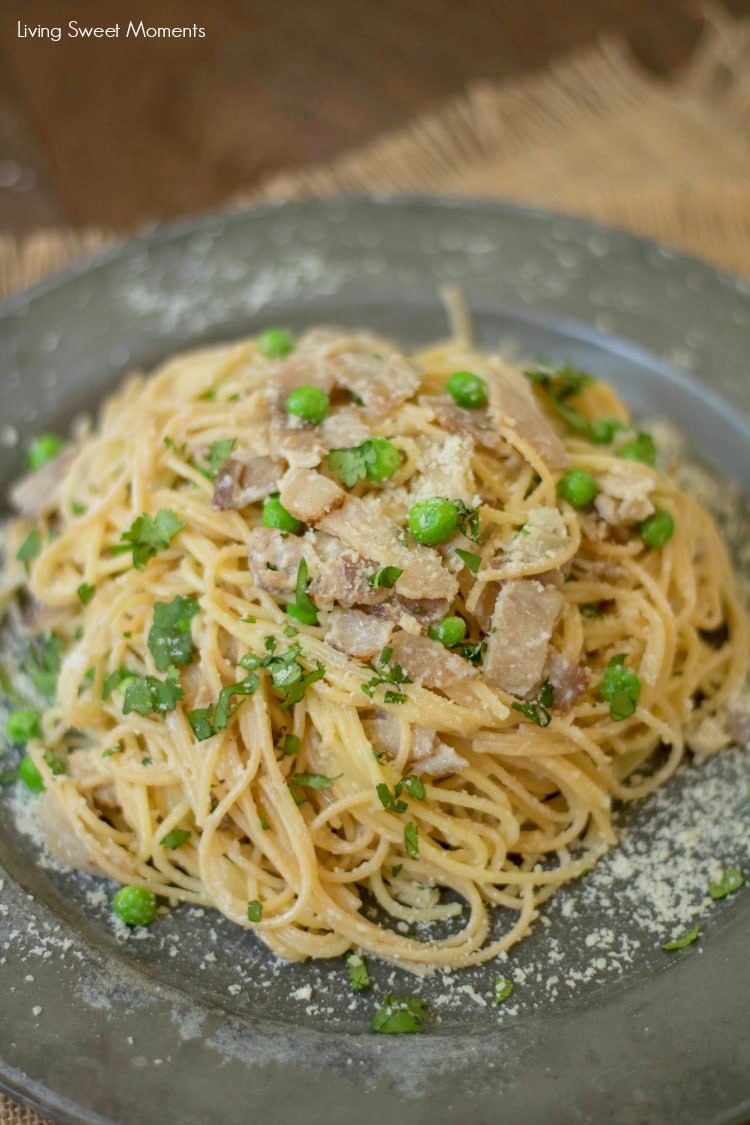 I am the kind of mom that gets happy when kids are on Vacation. I love having them at home and playing with them. It's great when they're in their room playing with their toys and creating wonderful projects of art. I am sure this week they'll paint a lot of masterpieces.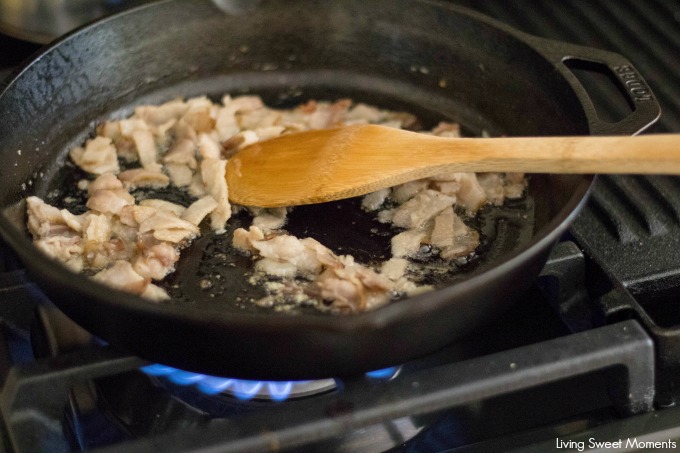 My 8-year-old was so impressed when I showed her how to make a bracelet out of glue. Didn't you rub some glue on the palm of your hands and wait for it to dry off and then create jewelry? That's what we use to do in Venezuela when we were bored in class.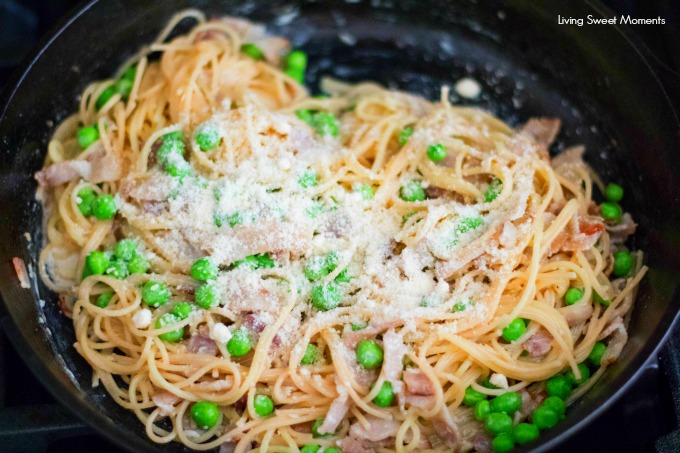 Anyway, I hope you can try this delicious Spaghetti Carbonara Recipe at home. If you do, please upload a pic on Instagram and tag me @Livingsweetmoments or use the hashtag #LivingSweet. I promise to repost it.
Spaghetti Carbonara Recipe With Peas
This delicious Spaghetti Carbonara Recipe made with peas, is easy to make and is ready in 20 minutes or less. The perfect quick weeknight dinner idea
Ingredients
6

slices

of bacon

cut up

2

cloves

garlic

minced

1/2

lbs

of thin spaghetti noodles

1/2

cup

parmesan cheese

1/4

cup

peas

thawed

1/2

cup

heavy cream

parsley for garnish

salt/pepper to taste
Instructions
Start cooking the noodles in a large pot of salted water. Don't over cook them.

While the noodles are cooking, in a large saute pan in a medium to low heat start cooking the bacon

Once it's brown, add the garlic and stir it a few times

You may need to lower heat so the garlic doesn't burn. Check on the pasta, it should be al-dente.

Strain the pasta, but reserve about 1/4 cup of the hot water

Immediately add the pasta to the pan with the bacon and toss gently - keep heat source at low

Add the cream, peas and parmesan cheese and toss until everything is well combined and cream thickens a little. IF the noodles are becoming a little too "glued" together, add a little bit of that reserved hot water

Remove from heat

Season with salt and pepper. Garnish with some chopped parsley and extra parmesan cheese. Enjoy while it's warm!