This creamy Potato Dumpling Soup recipe is the perfect hearty vegetarian soup for winter. Enjoy homemade dumplings, veggies, dill, topped with sour cream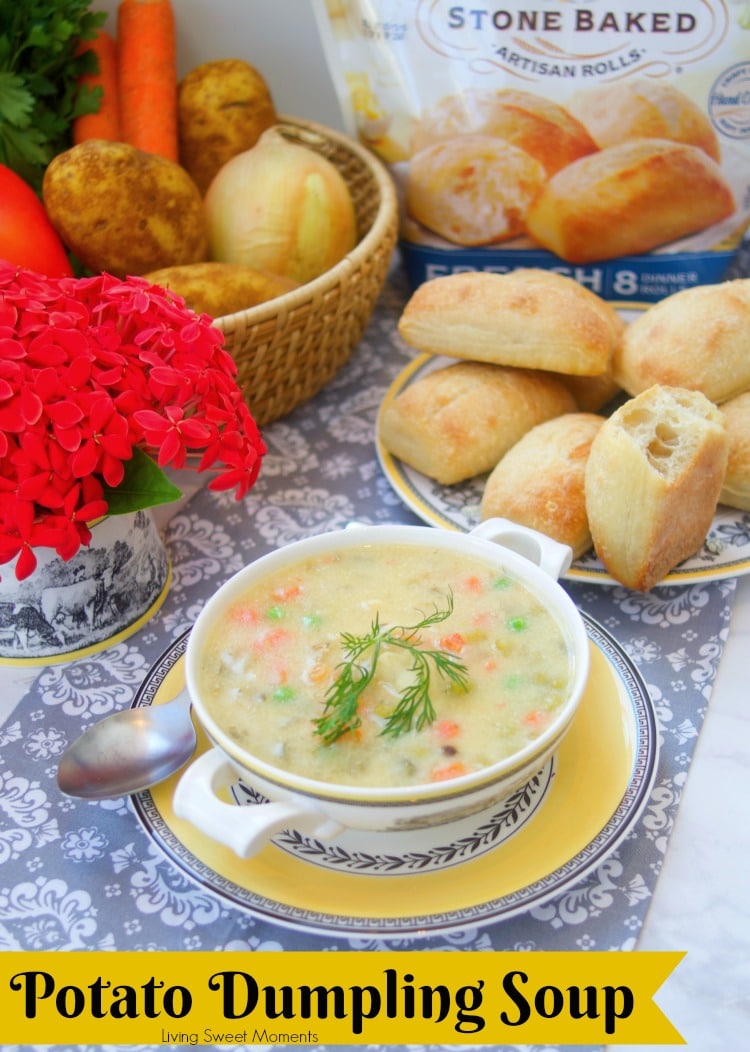 Homemade Potato Dumpling Soup
Are you still recouping from all the Halloween candy you ate last night? I know I am.. Those fun size chocolates are so tiny that I accidentally ate more than I should've.
Oh well, it's once a year. 😉
Good thing I made some yummy Potato Dumpling Soup for lunch today. It's the perfect dish that will fill you up without the feeling of heaviness and sleepiness that happens when you eat chili or a bean soup.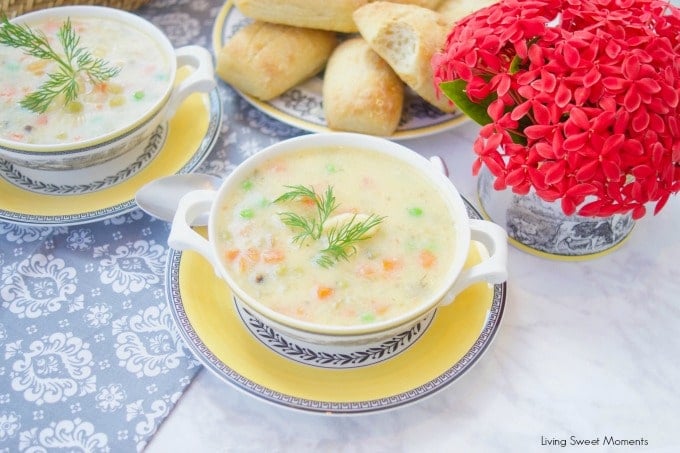 Tons of veggies, homemade dumplings, fresh herbs, mixed in with sour cream that gives this soup a deliciously tangy and unique taste that the whole family will love.
Don't worry about the prep! this Homemade Potato Dumpling Soup is super easy to make and is ready in 45 minutes or less.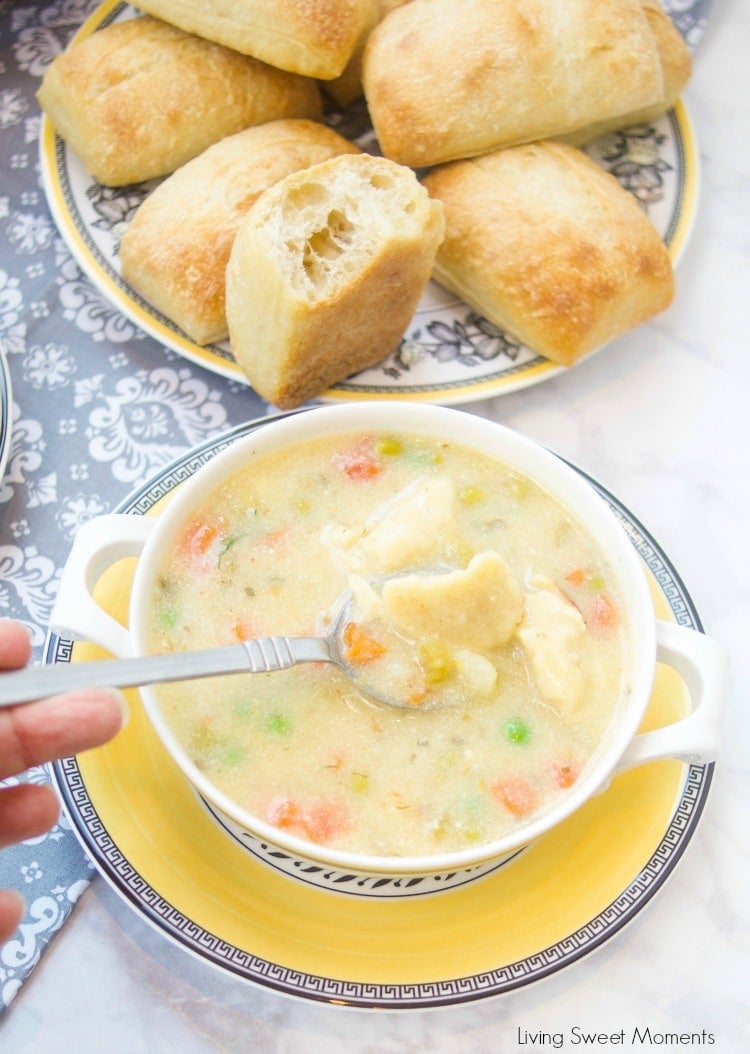 If you're in a rush, buy some pre-cut veggies at the supermarket. You can also add additional veggies that you have leftover in your fridge.
The creaminess of this soup goes perfectly with freshly baked rolls. Dip it in your soup and you'll be wondering where has this recipe been your whole life.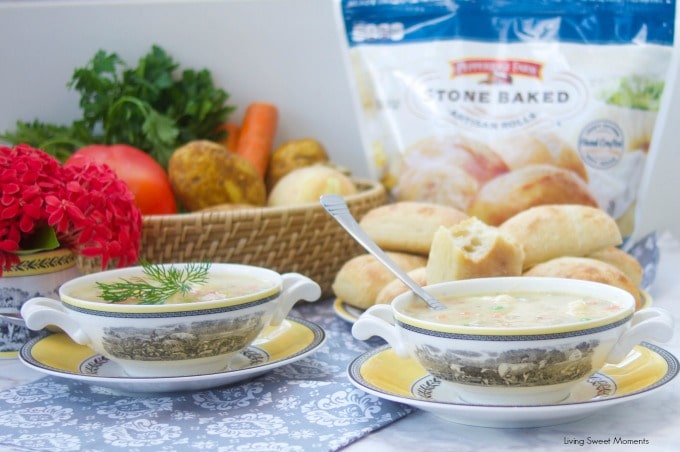 I'm not exaggerating, it's that good.
But honestly, I can't take the credit for this one.
It's my grandma's recipe. She's from Romania and this soup is a specialty from the Bucovina region. I searched online and the correct name is "Radauti Soup"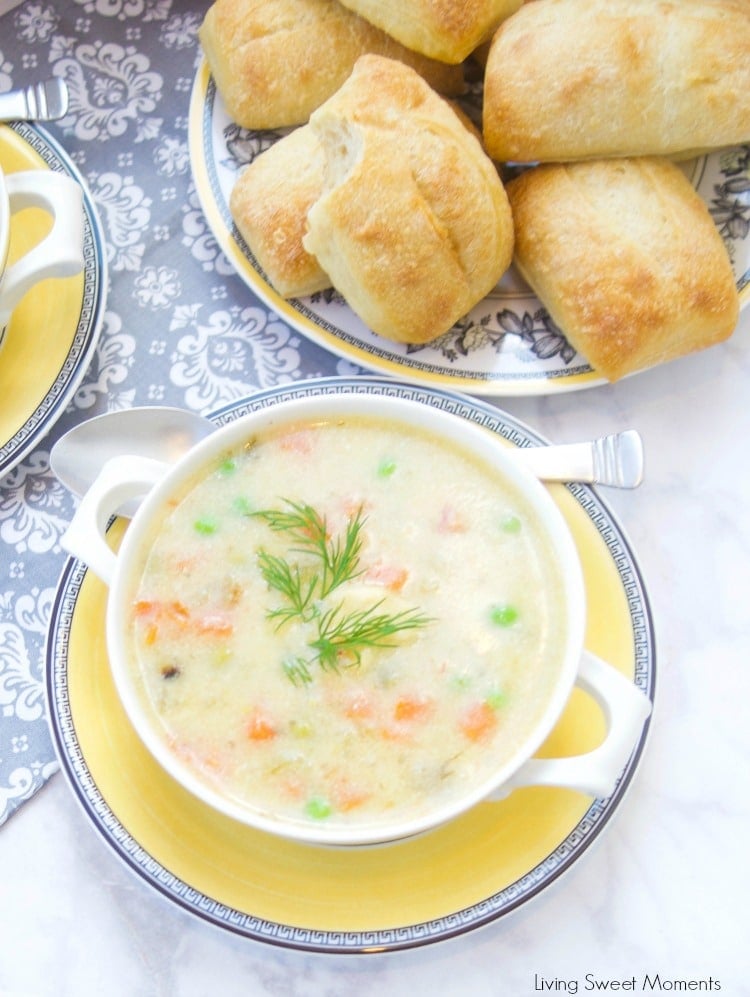 If you're vegetarian or inviting a vegetarian to your dinner, this soup will definitely count as an entree. Serve with some warm bread on the side and for a complete meal.
Here's a video on how to make it:

For the bread portion, I used yummy Pepperidge Farm Stone Baked Artisan Rolls. They are stone baked bread with the finest ingredients.
Each roll is hand-scored and baked on traditional a baking stone, giving you a wonderfully textured, crisp, golden crust and a light airy inside.
Best part aside from the taste: it's ready in 10 minutes. So when the soup is almost ready, pop 'em in the oven.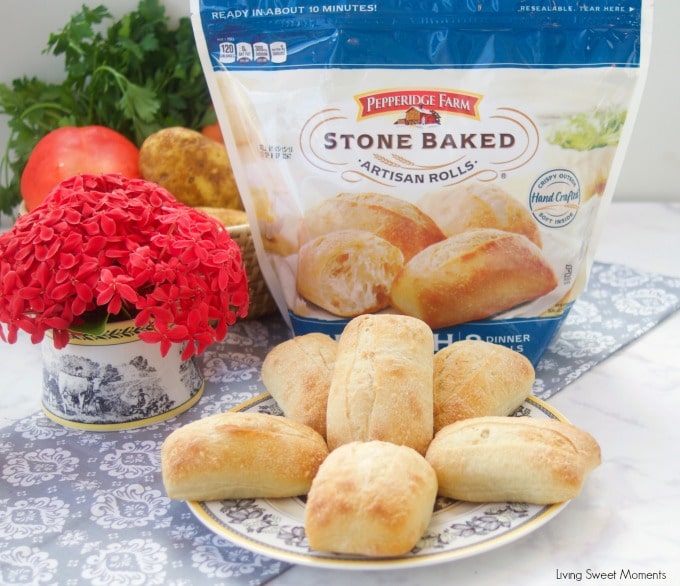 Comfort food at its finest.
I hope you can try this delicious Homemade Potato Dumpling Soup at home. If you do, please upload a pic on Instagram and tag me @Livingsweetmoments or use the hashtag #LivingSweet. I promise to repost it.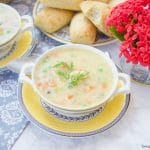 Potato Dumpling Soup
This creamy Potato Dumpling Soup recipe is the perfect hearty vegetarian soup for winter. Enjoy homemade dumplings, veggies, dill, topped with sour cream
Ingredients
For Dumplings
1/2

cup

Flour

1

Egg

1

tablespoon

Milk

1/2

teaspoon

Salt

1/4

teaspoon

White pepper

1/4

teaspoon

Nutmeg
For Soup
10

cups

Vegetable Stock

2

Carrots

peeled and diced

2

Celery Stalks

diced

1/2

Red Pepper

chopped

1/2

Green Pepper

chopped

1/2

Onion

chopped

2

lbs

Potatoes

peeled and diced

1 1/2

cups

Peas

frozen

2

teaspoons

Celery leaves

chopped

1

tablespoon

Parsley

chopped

1

tablespoon

Dill

chopped

1

cup

Sour Cream

Salt + Pepper

to taste
Instructions
For Dumplings
Place the flour in a bowl, add the rest of the ingredients and mix with a fork or small whisk until incorporated. Set aside
For Soup
Bring the vegetable stock to a boil in a large soup pot. Lower the heat until the soup simmers

Add the carrots, onions, celery, green and red peppers. Cook for 5 minutes

Dip a spoon in the soup to moisten it. Then use that spoon to drop small portions of the dumpling dough into the simmering soup. Let them cook for 10 minutes

Add the potatoes and cook until they are fork tender. About 10-15 minutes. Season with salt and pepper

Add the peas, parsley, dill, and celery leaves. Stir

Remove from the heat and let the soup cool down for 5 minutes

Place the sour cream in a bowl and using a ladle, add some of the soup to the sour cream. Mix the sour cream with the bit of soup to "temper it" (will prevent from breaking)

Place the diluted sour cream in the cooled soup and mix. Check for seasoning and correct if needed
Nutrition Facts
Potato Dumpling Soup
Amount Per Serving
Calories 280
Calories from Fat 72
% Daily Value*
Fat 8g12%
Cholesterol 47mg16%
Sodium 1847mg80%
Potassium 939mg27%
Carbohydrates 42g14%
Protein 9g18%
Vitamin A 5250IU105%
Vitamin C 55.9mg68%
Calcium 118mg12%
Iron 6.3mg35%
* Percent Daily Values are based on a 2000 calorie diet.