Delicious and juicy oven-roasted Cornish hens recipe with Roasted Veggies. The perfect fancy dinner idea to serve on Easter or any other Holiday. My favorite!Â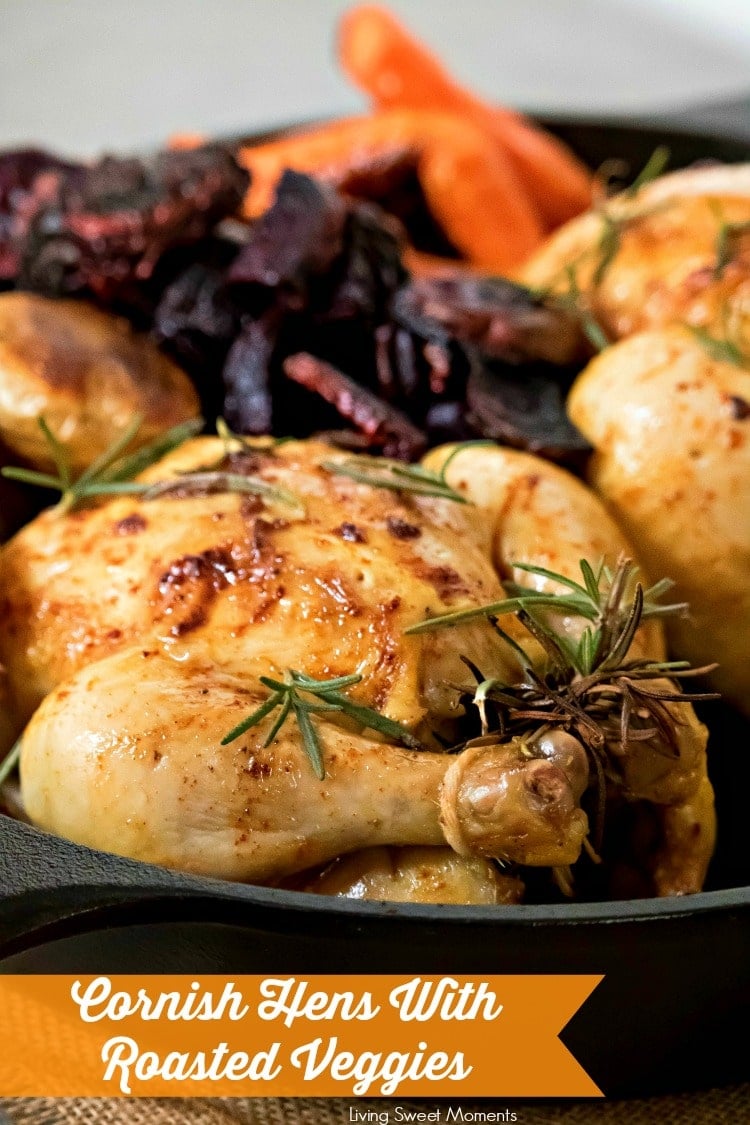 Cornish Hens With Roasted Veggies
Spring is upon us, and so is our craving for seasonal food items. These delicious and juicy cornish hens are herb roasted and served with potatoes, beets and carrots to create a colorful and flavorful meal that your family and friends will enjoy.
Since cornish hens are much smaller than chickens, it has a more pronounced flavor and cooks a whole lot faster. They are are perfect to serve at a small fancy dinner or as a weeknight meal with your family.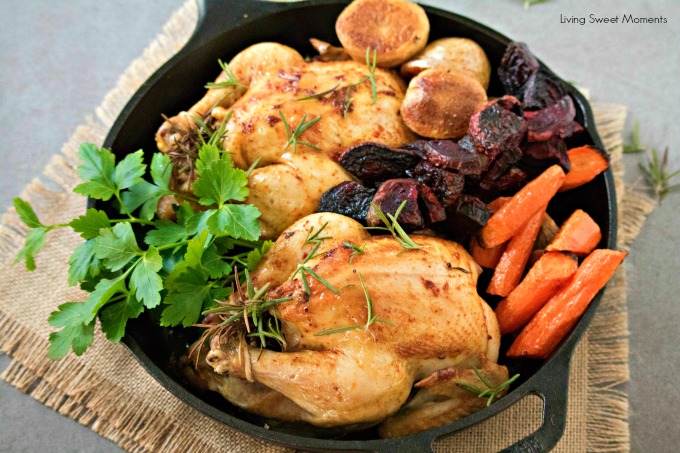 I remember when I was little, my mom used to serve boiled cornish eggs in toothpicks during parties. I just thought they were super cute!
I bought them last week for my daughters and spent an hour peeling them. Yeah, never doing that again. But the meat is a delight to work with.
If you're still thinking about what to cook during Easter, these Cornish Hens With Roasted Veggies would go great with a fresh salad and  a side of rice.
It's easy to prepare and it's one of those meals that are memorable. Once you try it and see how delicious and easy they are, you will surely want to make them again.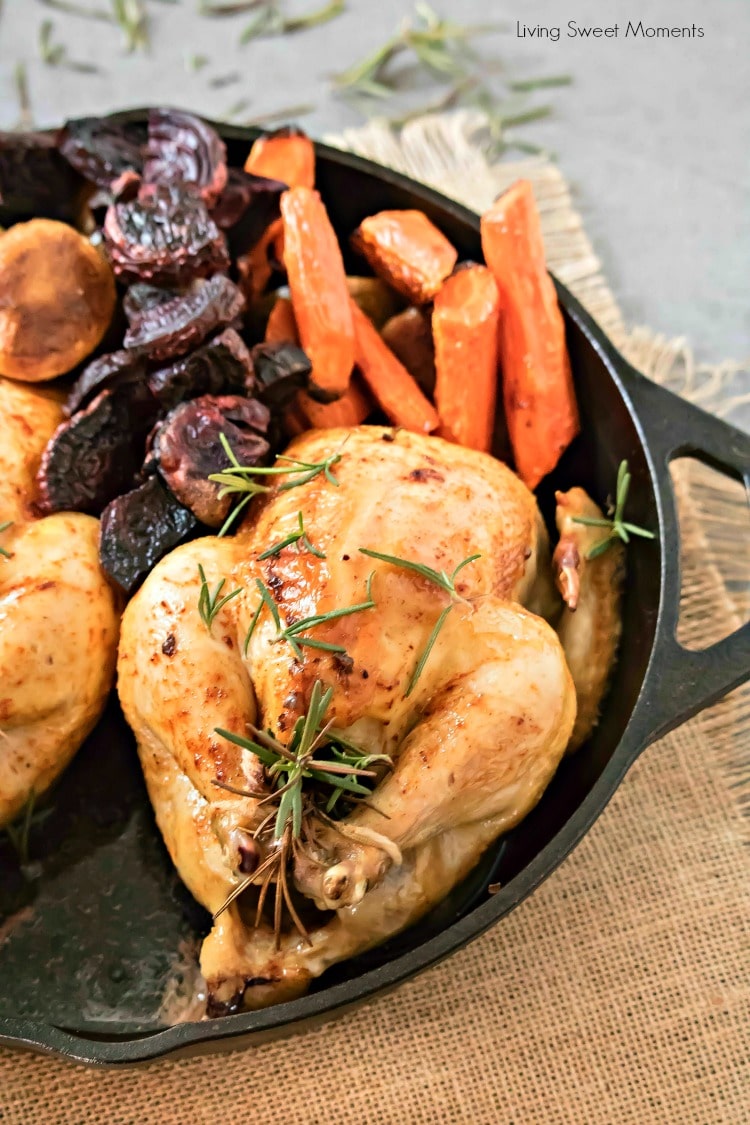 The herbs really elevate the flavors and aroma of this dish. I used rosemary which is fragrant and marry well with the cornish hens and the veggies as well.
My husband got me a big rosemary plant last winter, and it's still alive, so I'm using it as much as I can before it dies.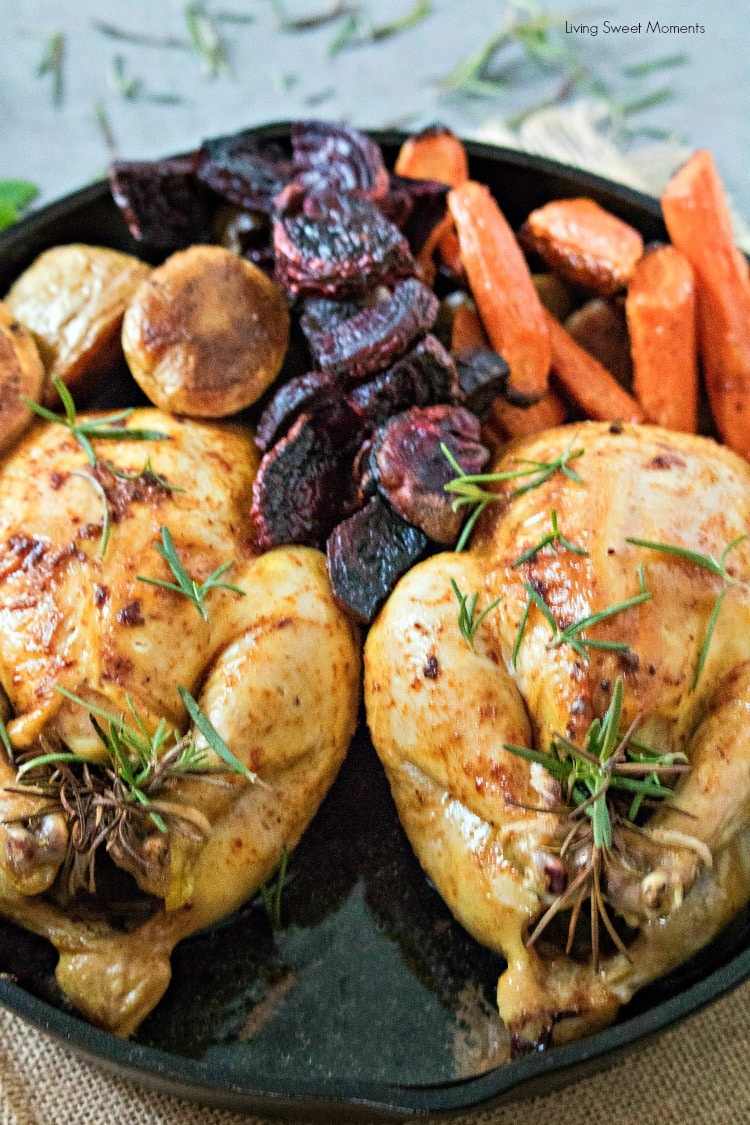 I hope you can try this delicious Cornish Hens With Roasted Veggies at home. If you do, please upload a pic on Instagram and tag me @Livingsweetmoments or use the hashtag #LivingSweet. I promise to repost it.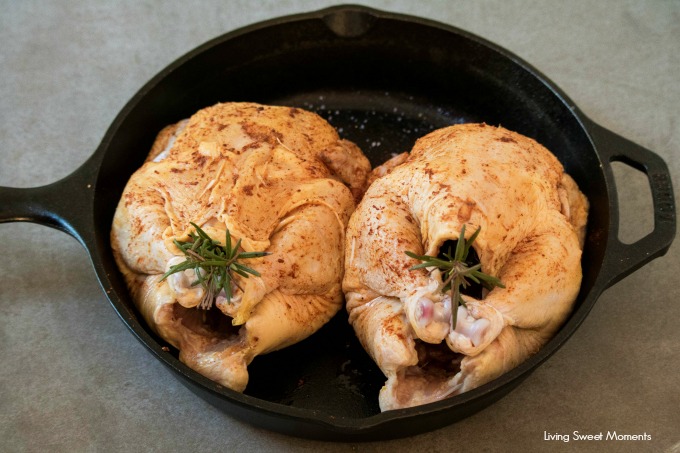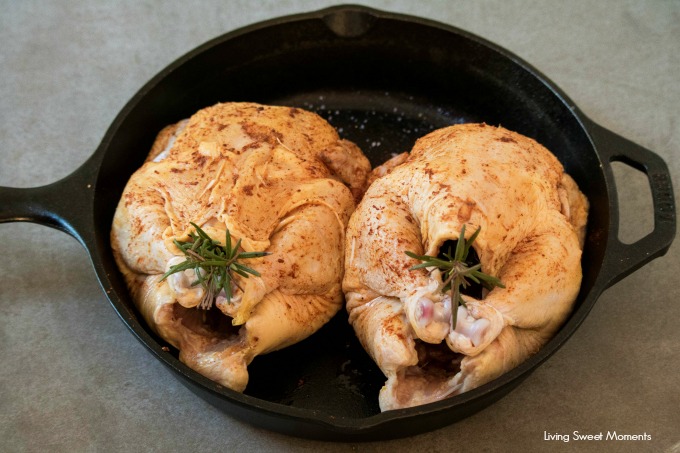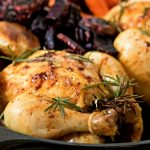 Cornish Hens With Roasted Veggies
Delicious and juicy oven roasted cornish hens recipe with baked Veggies. The perfect fancy dinner idea to serve on Easter or any other Holiday. My favorite!
Ingredients
For game hens:
4

game hens

1/2

cup

olive oil

4

tbsp

of paprika

2

tbs

chili powder

4

cloves

garlic

finely minced

salt/pepper

4

springs rosemary
For Veggies
2

Potatoes

2

Beets

2

Carrots

Olive oil

Salt/pepper
Instructions
For Hens

Mix all the ingredients, except the rosemary and the hens, until well combined.

Preheat oven to 375

Pat dry the hens with a paper towel

Season the inside and outside of each hen with salt and pepper

Brush the hens with the olive oil mixture. Save some oil for the inside cavity in between the breast and the skin

Put a rosemary spring inside each one.

Cover the hens with foil

Cut the veggies into 1-inch pieces.

Place them in a separate baking dish, drizzle with olive oil, season with salt and pepper.

Toss with your hands until each piece is evenly coated. Spread them on the baking dish in a single layer

Roast the vegetables and Cornish hens at the same time. Within 15 minutes check on your vegetables, they should be close to being done. Flip them over so they don't burn on one side

Do the toothpick test. If the potatoes aren't soft yet roast for another 10 minutes. And check again.

The hens cook in about 45 minutes. After that remove foil, and allow the skin to brown a little for 8 minutes.

Remove from oven and let them sit for 10 minutes before carving. Use some of those juices over the pieces after carved

Enjoy
You may also like:
Ranch Potatoes Sheet Pan Dinner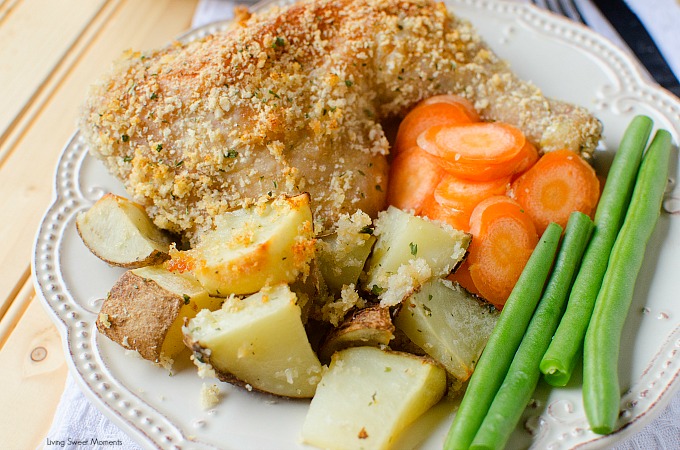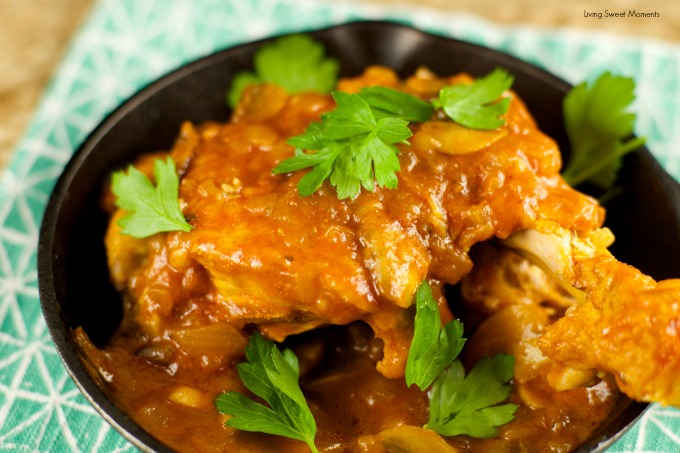 Rosemary Roasted Chicken with Applesauce