Traveling on a budget? No worries! Here's a list of 10 Free Things to See in Amsterdam, ranging from free transportation to movies and concerts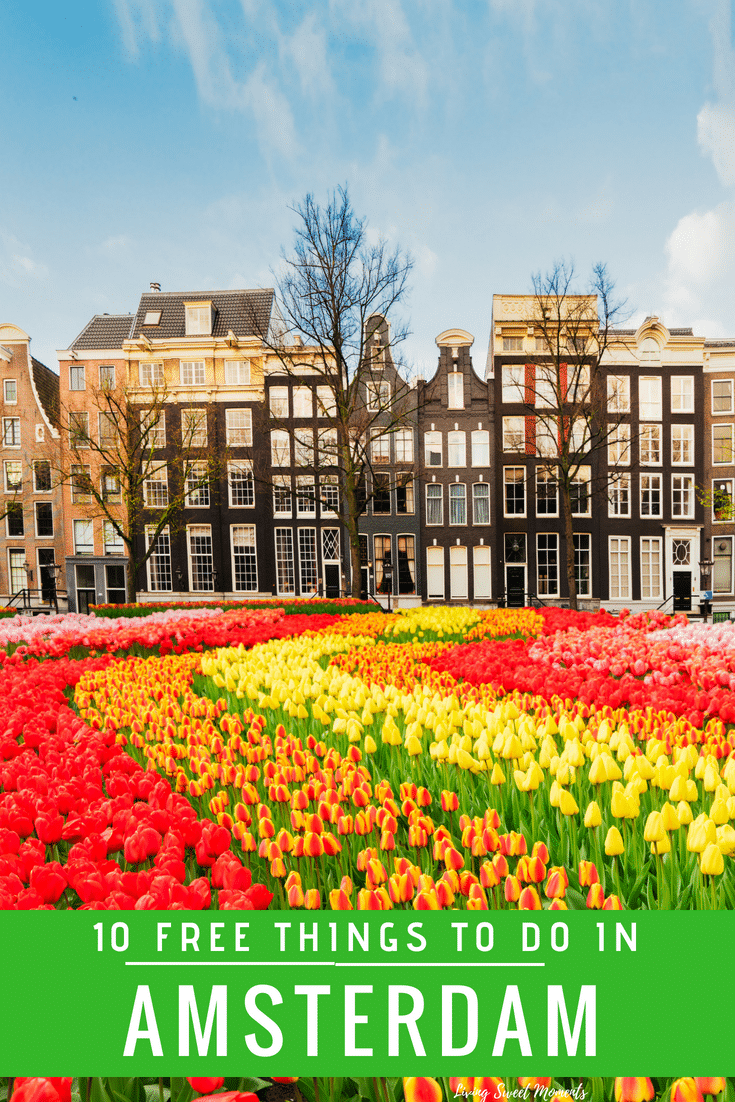 10 Free Things to See in Amsterdam
Known for its picturesque canals, vibrant nightlife, and abundant bicycles, Amsterdam is a top destination on many travelers' itineraries.
It isn't the most affordable city in Europe, but there are plenty of ways to experience the city that won't cost you a cent if you're looking to save some cash.
Here are some of my favorite fee-free things to see and do in Amsterdam:
Relax in Vondelpark. Vondelpark is Amsterdam's most popular park, and it's a hot spot for tourists and locals alike, especially during the warmer months. Bring a picnic and enjoy a snack on the lawn or sprawl out and spend some time sunbathing near one of the park's lakes or ponds.
Take the free ferry. Amsterdam runs a public ferry service across the IJ that offers a different perspective of the city. There are a few free options, so check their website and plan your trip accordingly. For a special treat, time your trip with the sunset for a wonderful photo opportunity.
Experience the Red Light District. Amsterdam is pretty well known for its legal sex industry, which is centered in the Red Light District.
You'll find everything from coffeeshops and brothels to peep shows and prostitutes in this area of town, and for many, it's an interesting sight to behold.
Stop and smell the flowers at the world's only floating flower market. The Amsterdam Flower Market is perched on a canal and is filled with flowers of all shapes, sizes and colors for indoor and outdoor use.
Open year-round, the market offers seasonal items like Christmas trees during the winter months. While it'll cost you to leave with some flowers, the market is free to visit.
Tour Gassan Diamonds. Amsterdam is known as one of the premiere cities in the world for trading diamonds and gemstones.
If you're interested in learning more about the process of transforming diamonds from raw stones into beautiful jewelry, you can sign up for a free tour offered by Gassan Diamonds.
Visit Dam Square. Constructed in the 13th century, this square has been a popular gathering place ever since.
You'll find lots of shopping opportunities here, from food stalls to local souvenir vendors, and you'll enjoy yourself as you watch the street performers and mimes entertain the crowds.
Take a free walking tour. Amsterdam is a city best seen by foot, so lace up your walking shoes and experience what the city has to offer. The best part? Walking doesn't cost a thing!.
You can join a free guided tour at 11:15 am each day at the National Monument in Dam Square, map your own route, or allow yourself to wander along the canals to see what you can find.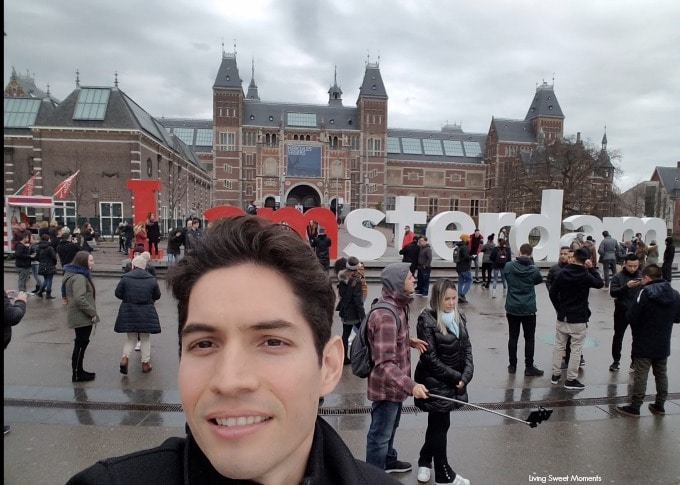 Snap a selfie in Museumplein. This square is home to one of Amsterdam's most iconic signs – the "I amsterdam" sign, situated in front of the Rijksmuseum.
While you'll need to pay to visit the museum, it's free to take a photo or two with this landmark or explore the surrounding gardens. And yes, that is my husband take a selfie 😉
Explore the Nine Little Streets. Nine alleys between Reestraat to Wijde Heisteeg comprise this area, which many consider to be one of the nicest neighborhoods to check out in Amsterdam.
The area is populated with lots of cafes and pubs, but you'll also find lots of boutiques and locally-owned shops to explore.
Catch a free outdoor concert or movie. During the warmer months, many of the parks and squares throughout Amsterdam host free open-air concerts or play movies outdoors.
A quick Google search will show you what's happening when you're in town!
Do you know of any fun, free ways to experience Amsterdam we didn't mention here? Leave a comment and let me know!
You may also like: