These Ferrero stuffed hazelnut cookies are topped with melted chocolate. The perfect crispy cookie recipe that will wow a crowd. Best dessert ever! Yum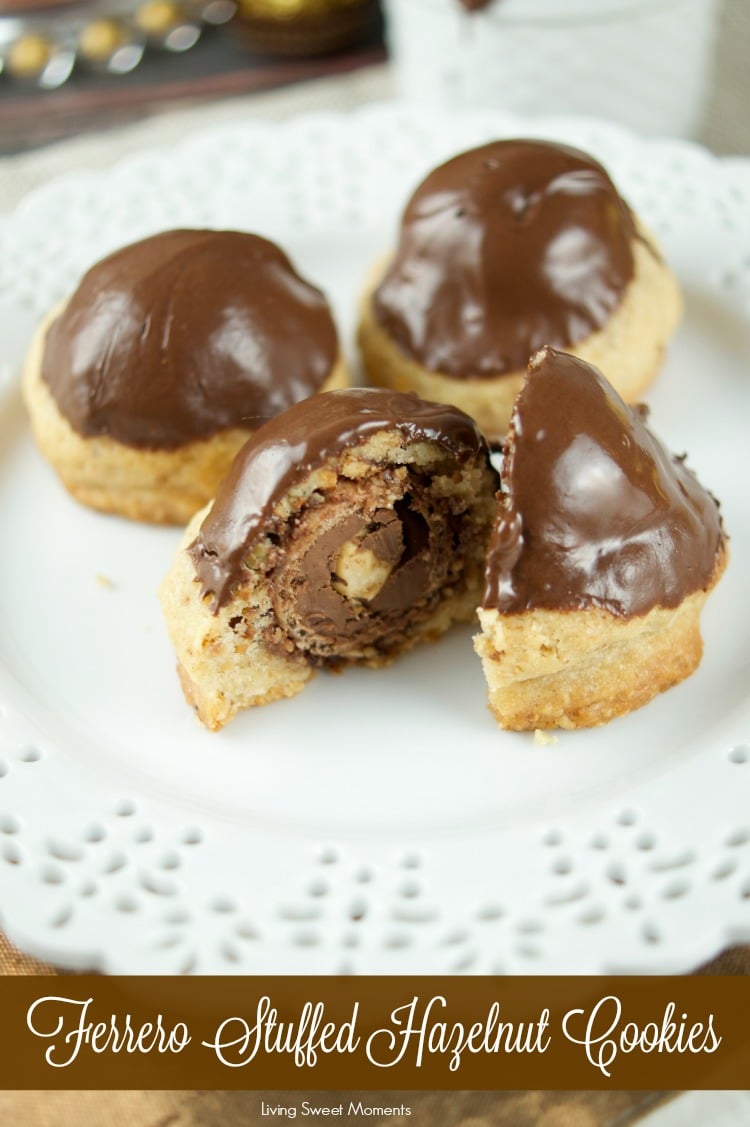 Ferrero Stuffed Hazelnut Cookies
Don't you just love when your experiments turn out successful? I am! Honestly,  a lot of my weird ideas turn out to be disasters and never make it into the blog. Yesterday was the exception: this Ferrero stuffed hazelnut cookies are crispy with a surprise center and a chocolaty top.
The crumbly cookie uses a hazelnut shortbread base and is filled with a Ferrero Rocher truffle. I then added some melted chocolate on top for a festive look.
These stuffed hazelnut cookies are easy to make and are definitely a different and refined flavor. My grandmother loves using ground nuts in her cookie bases and they turn out delicious.
Normally she grounds walnuts and almonds, but since it's the holidays I used hazelnuts. They are definitely more festive.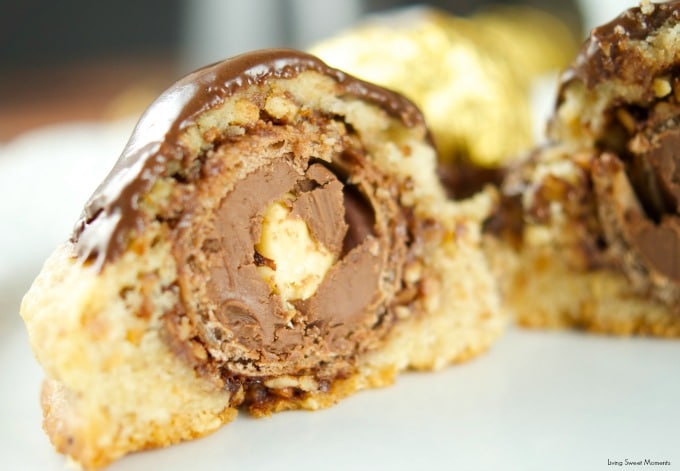 You can make the hazelnut cookie base in advance and freeze. You can also refrigerate until ready to use. Perfect for the busy time of the holidays. You get to plan ahead without stressing over at the last minute.
My kids are doing cookie exchanges in their respective schools, I will send these over and hopefully, they will definitely be a success.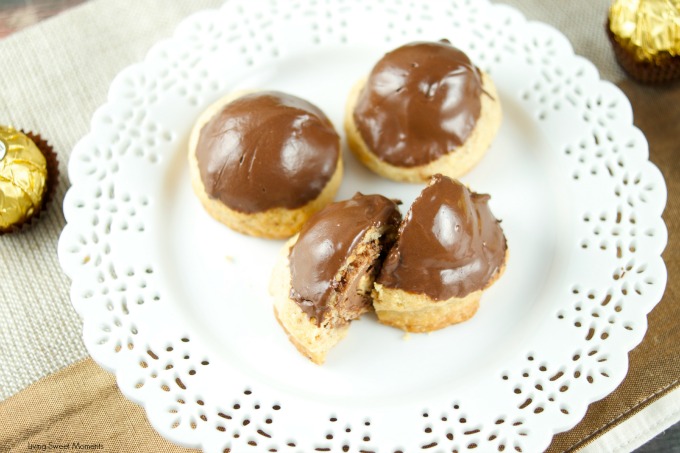 I have a few suggestions for making these stuffed hazelnut cookies: you can add some chopped hazelnuts on top of the melted chocolate, I wanted to do this but ran out of nuts.
If you have a bigger budget, add some edible gold flakes on top. They will look and taste like a million bucks.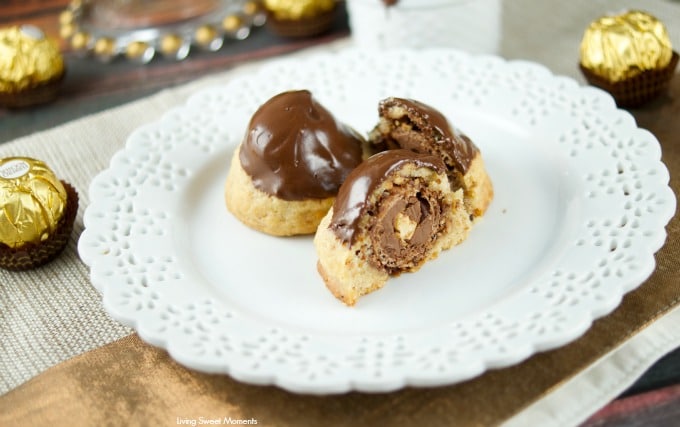 At the end of the day, just have fun making them your own. All I can say is that the flavor is amazing. In fact, today I am making another visit to the grocery store to get some more hazelnuts.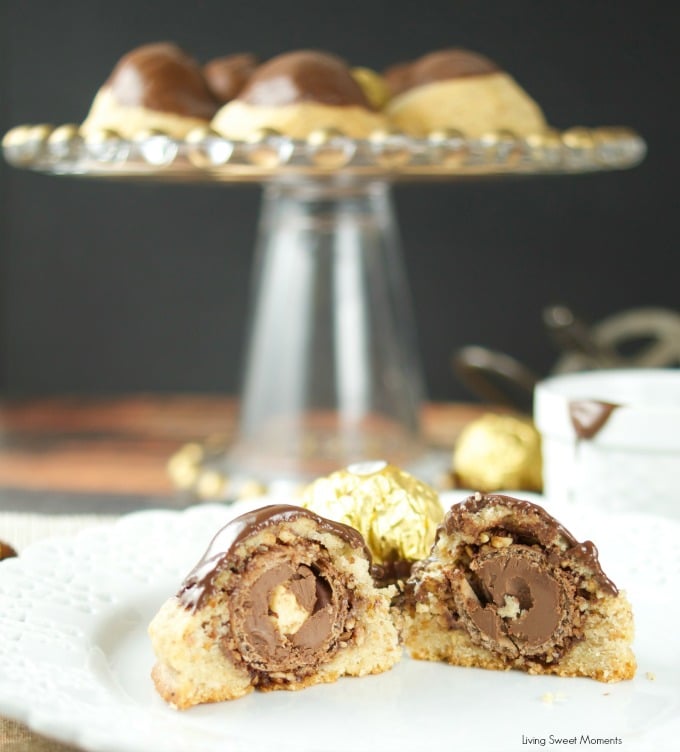 I hope you can try these Ferrero stuffed hazelnut cookies at home. If you do, please upload a pic on Instagram and tag me @Livingsweetmoments or use the hashtag #LivingSweet. I promise to repost it.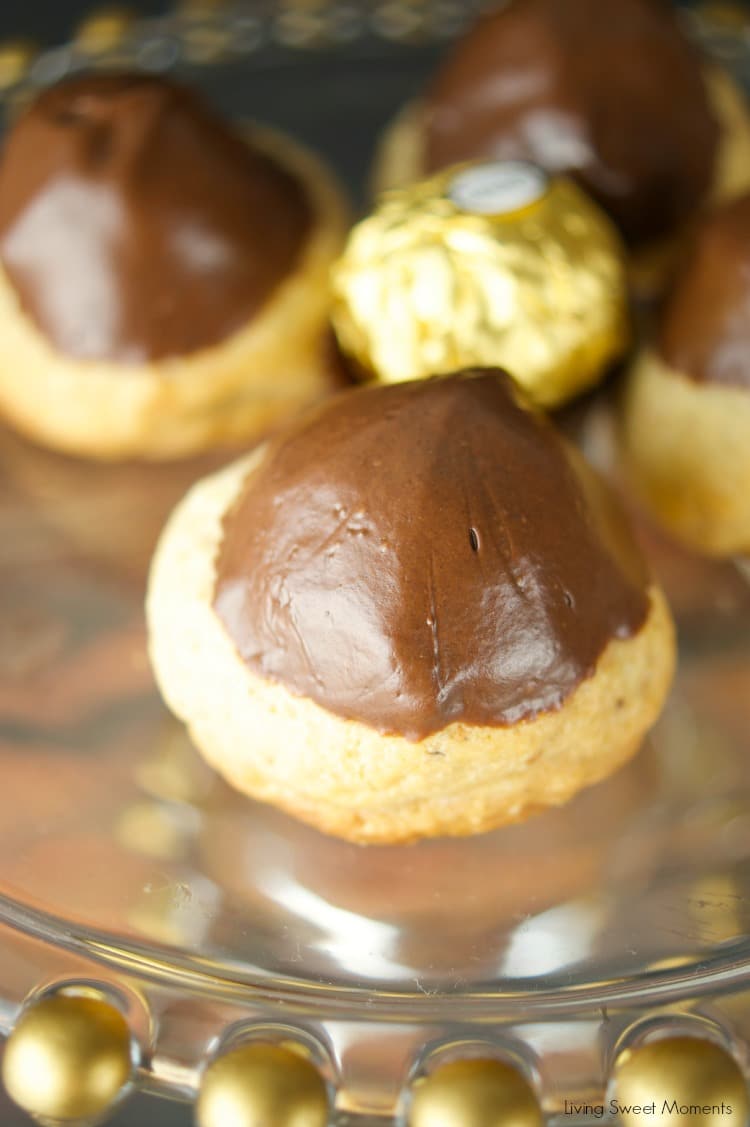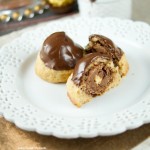 Ferrero Stuffed Hazelnut Cookies
TheseFerrero stuffed hazelnut cookies are topped with melted chocolate. The perfect crispy cookie recipe that will wow a crowd. Best dessert ever! Yum
Ingredients
1

Cup

Hazelnuts

1

Cup

all purpose Flour

1/2

cup

unsalted butter ( 1 stick)

softened

1/2

Teaspoon

baking powder

1/2

Teaspoon

salt

1/4

cup

ugar

1

teaspoon

Hazelnut coffee creamer

1

large egg

18

Ferrero Rocher chocolates

unwrapped
For Chocolate Topping
1

cup

Chocolate Chips

1

Teaspoon

Oil
Instructions
Preheat oven to 400 degrees F.

Place hazelnuts on a sheet pan

Bake for 10-15 minutes or until hazelnuts becomes aromatic and skin begins to break

Remove from oven and place the hazelnuts inside a kitchen towel

Rub the hazelnuts together to remove the skin off them

Place the hazelnuts on a food processor and ground them

Place butter and sugar on a mixer with a paddle attachment. Mix until creamy, 2-3 minutes

Meanwhile in an another bowl, mix the flour, salt, baking powder and hazelnuts

To the butter add the eggs and hazelnut coffee creamer. Mix

Finally, add the flour mixture slowly until the whole mixture is incorporated

Lower the oven to 325 degrees F.

Line a 2 sheet pans with parchment paper

Grab a small dollop of cookie dough, about the size of the Ferrero and flatten it with your hands*. Place the Ferrero in the middle and roll with your hands until the truffle is totally encased inside the cookie dough

Place the cookie balls on the sheet pan separated

Bake for 12-15 minutes or until browned

Remove from heat and place on a cooling rack to cool

For melted chocolate: place chocolate chips in a bowl with the oil. Microwave for 30 seconds and remove from heat. Mix. If the chocolate isn't melted enough place in the microwave for 15 more seconds

Dip each top of cookie into the melted chocolate. Place on cooling rack until the chocolate sets

Store in a cookie tin or a Tupperware at room temperature
Recipe Notes
*dough will be sticky, rolling it with your hands will help to shape them
Nutrition Facts
Ferrero Stuffed Hazelnut Cookies
Amount Per Serving (1 cookie)
Calories 184
Calories from Fat 108
% Daily Value*
Fat 12g18%
Cholesterol 24mg8%
Sodium 76mg3%
Potassium 67mg2%
Carbohydrates 16g5%
Protein 2g4%
Vitamin A 195IU4%
Vitamin C 0.5mg1%
Calcium 30mg3%
Iron 0.8mg4%
* Percent Daily Values are based on a 2000 calorie diet.
You may also like:
Truffle Stuffed Chocolate Chip Cookies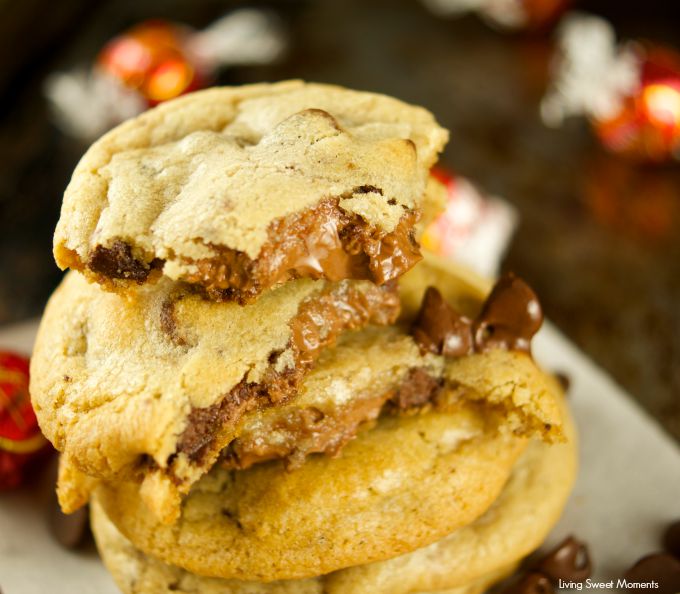 Nutella Stuffed Chocolate Chip Cookies