Truffle Stuffed Chocolate Chip Cookies – these chewy chocolate chip cookies are ooey gooey and stuffed with a chocolate truffle. The best cookie recipe! Yum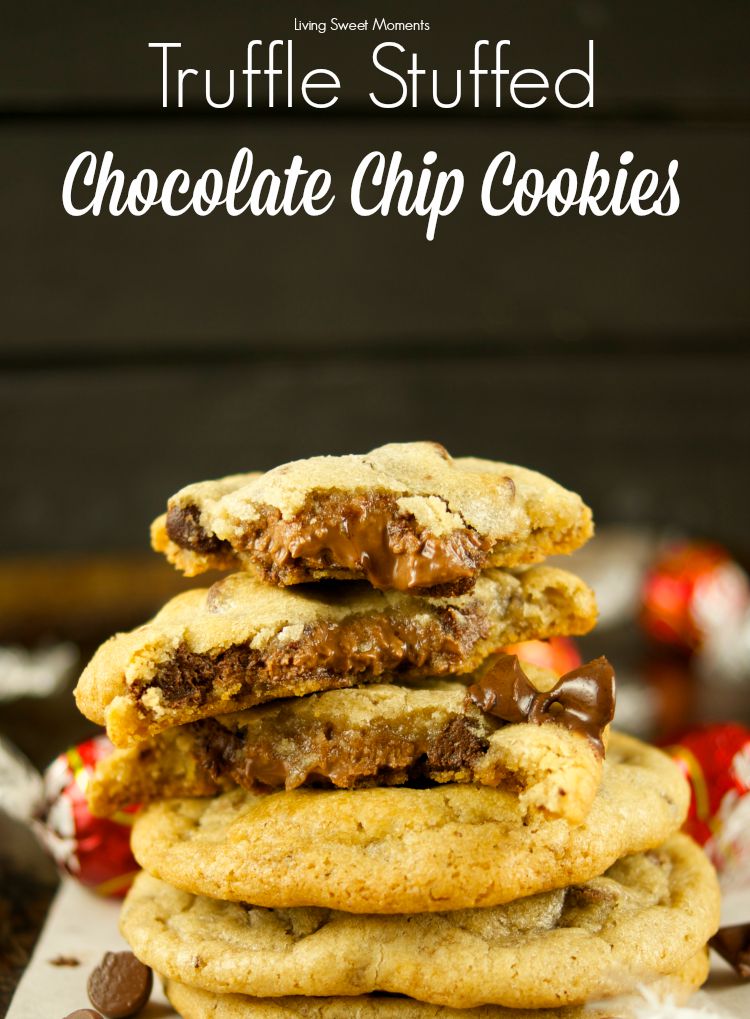 Truffle Stuffed Chocolate Chip Cookies
Welcome to heaven! These cookies are chewy, ooey gooey, chocolatey, buttery and amazingly delicious. Of all the cookies I made, this has got to be my favorite. This is the chocolate chip cookie recipe that makes the other ones look bad. Give it a bite and you'll see what I mean.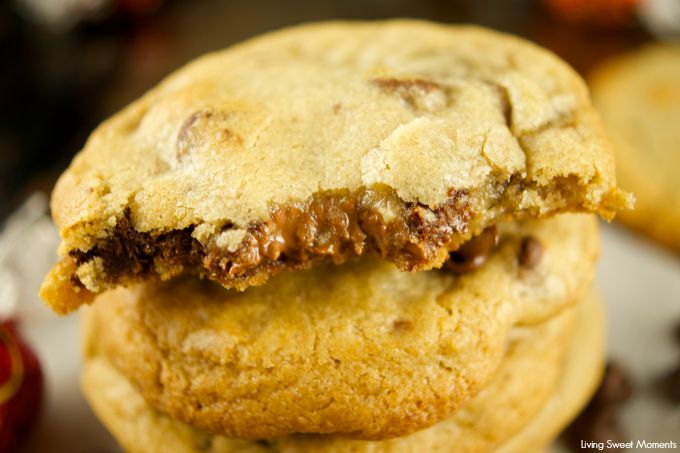 Oh and don't worry, they are super easy to make! I've been perfecting my chocolate chip cookie for a long time and now it is ready to take in some companions. This summer I made Nutella Chocolate Chip cookies – they were amazing! But now they have some serious competition with chocolate truffles.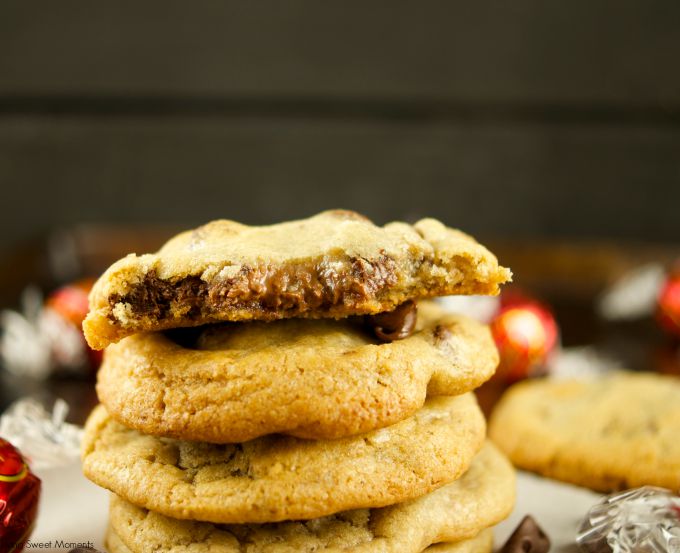 One of my favorite truffle brands is Lindt. I used the milk chocolate one but you can use any brand or flavor you may like. It melts beautifully in the oven and stays fudgy on the inside combined with the regular semi-sweet chocolate chips. Perfection!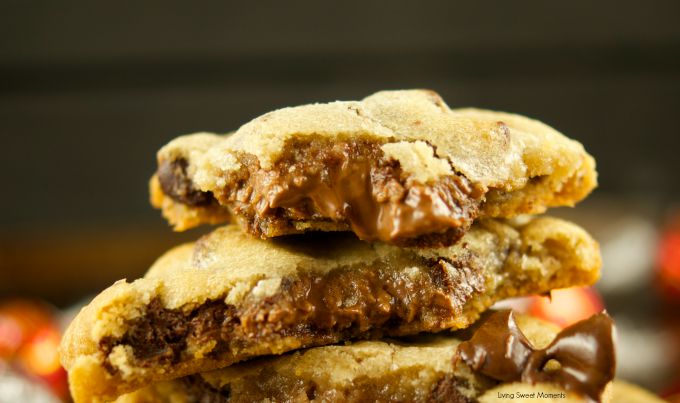 This Truffle Stuffed Chocolate Chip Cookies idea come to me in bed last night. I've been waiting to come up with a good cookie idea and finally, I had an AHA Moment!
Why don't I stuff a chocolate filled truffle inside chocolate chip cookie dough. I was afraid it would seep out in the oven and become a big mess. Thankfully it worked! The cookies browned beautifully on the outside and the center stayed ooey gooey and chewy.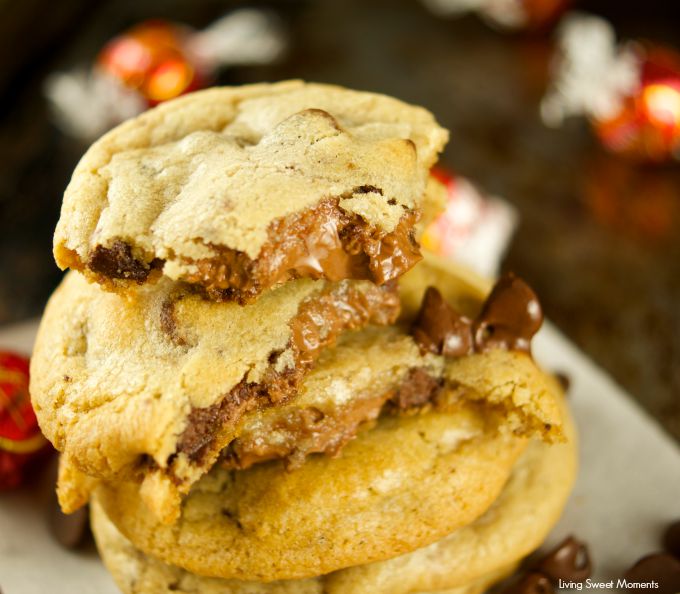 So here's what I did: I grabbed a tablespoon of my chocolate cookie dough and flattened with the palms of my hands. Then I placed a chocolate truffle in the middle. Finally, I rolled it up so the truffle stays sealed inside the dough.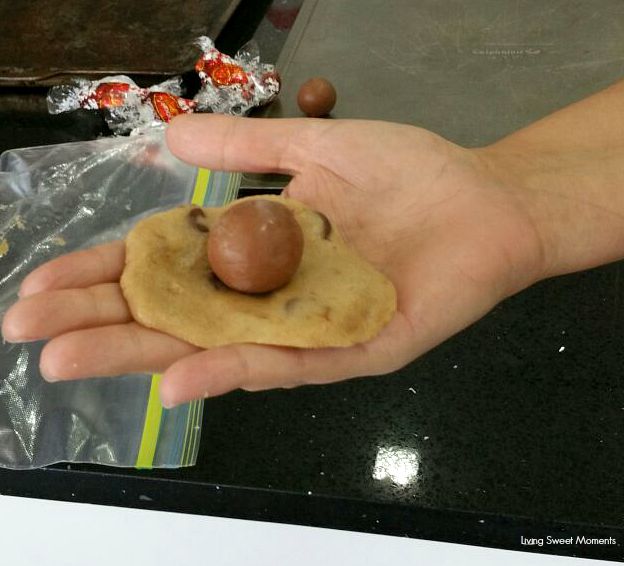 Then I place the stuffed cookies on a sheet pan and in the oven, they go for just 10 minutes. See how they look like balls. The aroma in your house will even draw the neighbors to your home. Consider yourself warned. 😉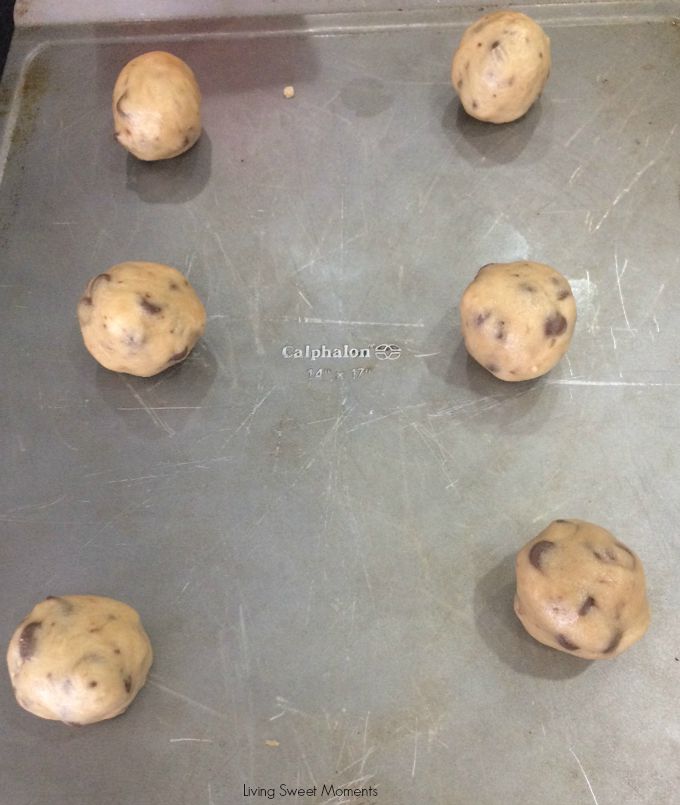 Make these Truffle Stuffed Chocolate Chip Cookies for your local bake sale and you'll sell out in seconds!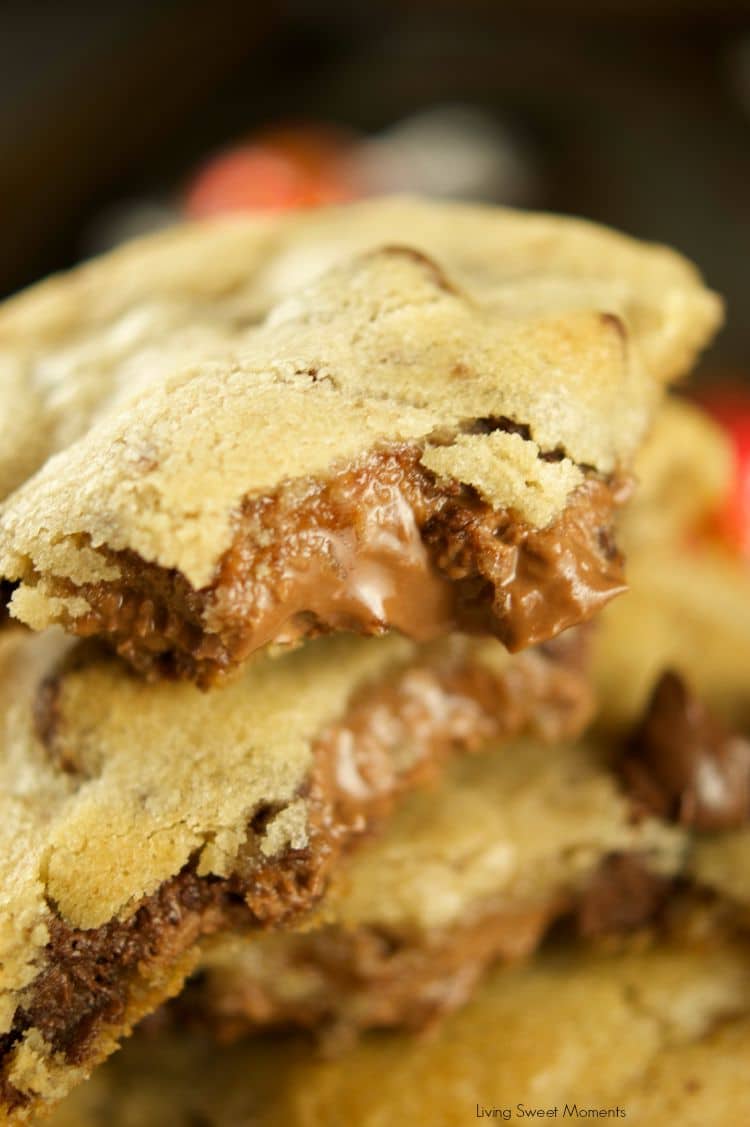 I hope you can try this delicious Truffle Stuffed Chocolate Chip Cookies at home. If you do, please upload a pic on Instagram and tag me @Livingsweetmoments or use the hashtag #LivingSweet. I promise to repost it.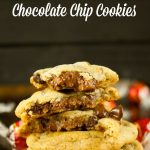 Truffle Stuffed Chocolate Chip Cookies
Truffle Stuffed Chocolate Chip Cookies - these chewy chocolate chip cookies are ooey gooey and stuffed with a chocolate truffle. The best cookie recipe! Yum
Ingredients
3

cups

of all purpose flour

1

cup

of unsalted butter

softened (2 sticks)

1 1/2

cups

of brown sugar

1

cup

granulated sugar

2

eggs

1

teaspoon

pure vanilla extract

1

teaspoon

baking soda

1

teaspoon

salt

2

cups

of semi-sweet chocolate chips

24

Chocolate Truffles

I used Lindt milk chocolate truffles but you can use any brand
Instructions
Preheat Oven to 350 degrees Fahrenheit

Remove truffles from their paper wrapping

Line 2 - 3 cookie sheets with parchment paper

In a bowl, combine the flour, baking soda and salt

In a mixer bowl, add the butter, brown sugar and granulated sugar. Mix on medium-high speed until completely creamy. About 3-4 minutes

Lower the mixer speed and add the eggs, one at a time beating well after each addition. Add the vanilla

Slowly add the flour to the mixer a little bit a time. Do not overmix

Finally add the chocolate chips and combine with a wooden spoon

Take a tablespoon of cookie dough and flatten it with your hands

Place a chocolate truffle in the middle of the flattened cookie dough

With the tip of your fingers cover the truffle completely with the cookie dough. Roll it in with your hands in a circular motion

Place the cookies separately on the cookie sheet

Bake for 9-11 minutes (mine took 10 minutes)

Remove from the oven and let the cool on a rack

Enjoy!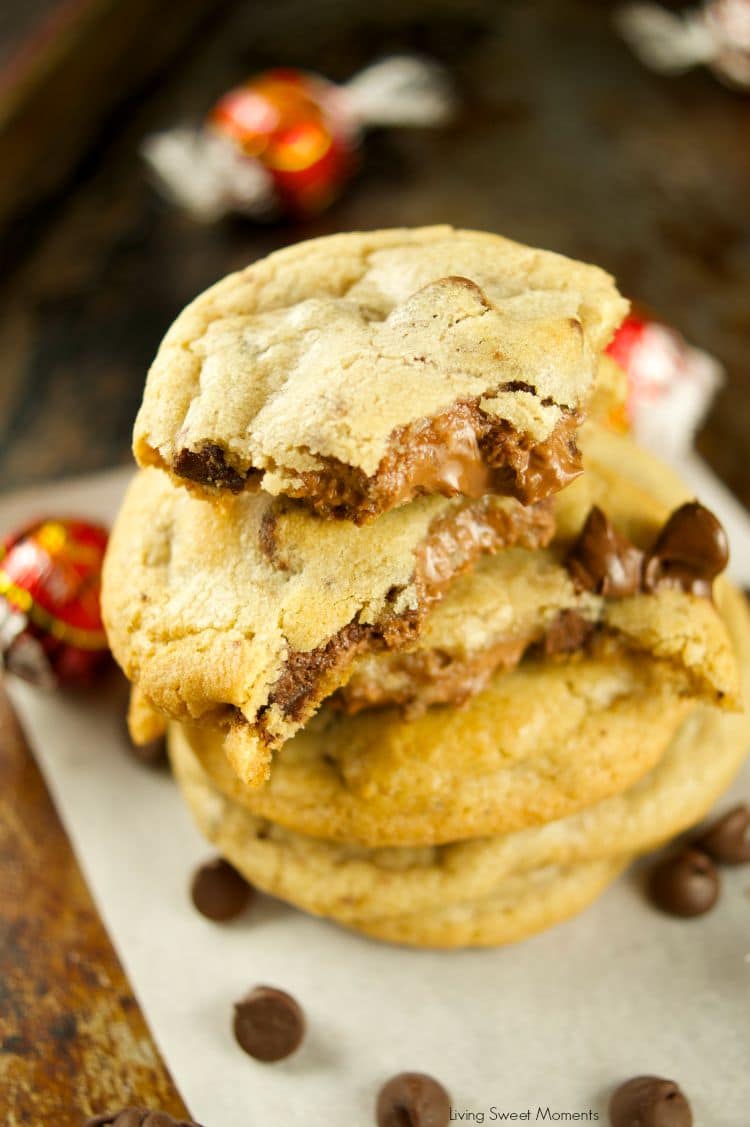 You may also like:
Chewy Brown Butter Chocolate Chip Cookies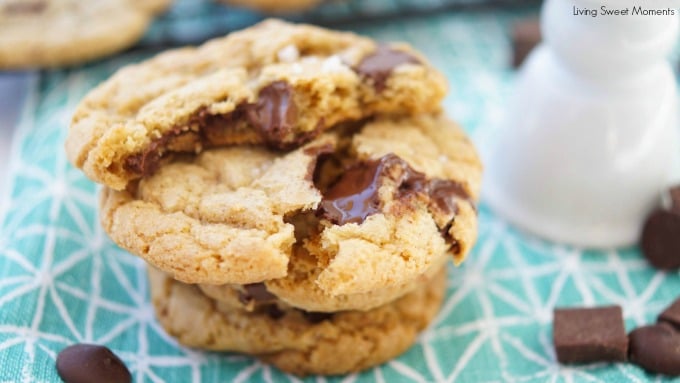 Nutella Stuffed Chocolate Chip Cookies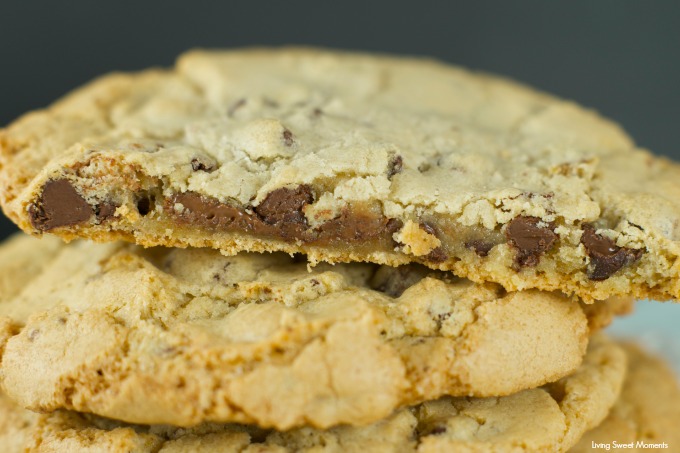 World's Best Chocolate Chip Cookies
Mini Crunchy Chocolate Chip Cookies