Melt in your mouth Homemade Hazelnut Gianduja Squares are made w/ tempered chocolate & praline paste. Enjoy these confections at home with this easy recipe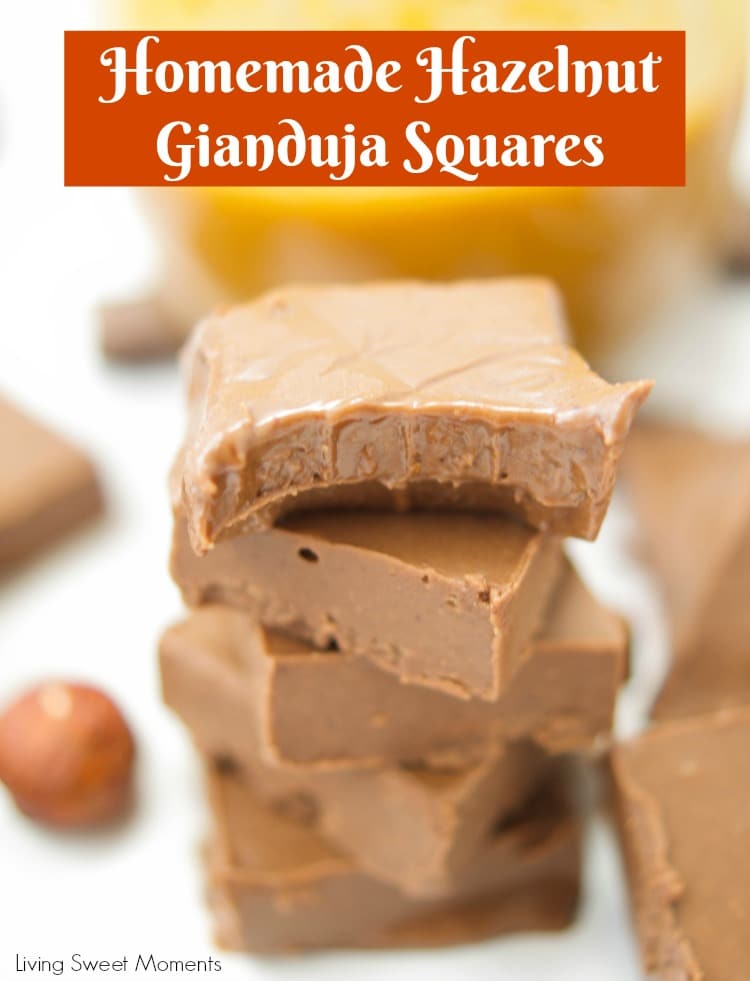 Homemade Hazelnut Gianduja Squares
Welcome to chocolate heaven, with this post I invite you to learn how to make your own confections at home and become a master chocolatier.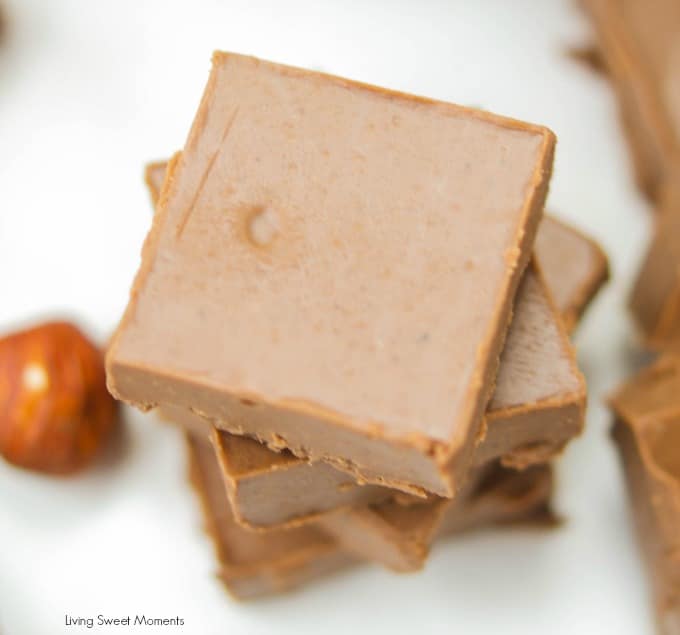 Ok, not exactly. I got too excited, for a minute.
Down below I will show you how easy it is to temper your own chocolate without the need of a sophisticated machine. By learning that, you can make bonbons and beautiful shiny chocolate treats.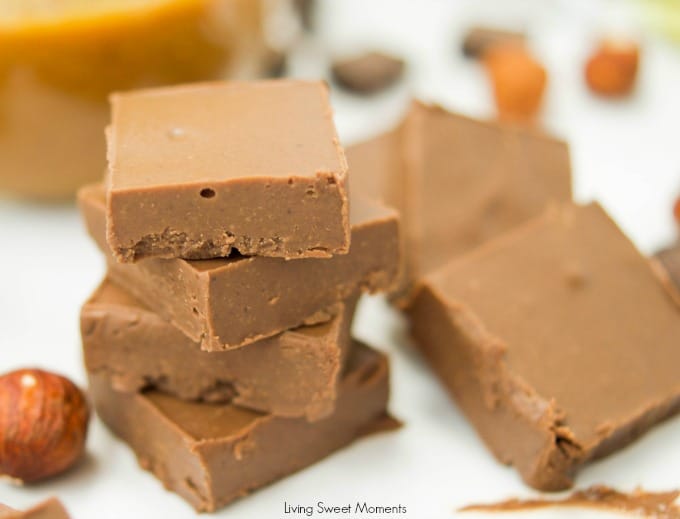 In this case, I made amazing Hazelnut Gianduja Squares. They are little morsels of goodness that melt in your mouth. The taste is similar to the inside of a Ferrero Rocher. Hazelnut and chocolate make the best combination.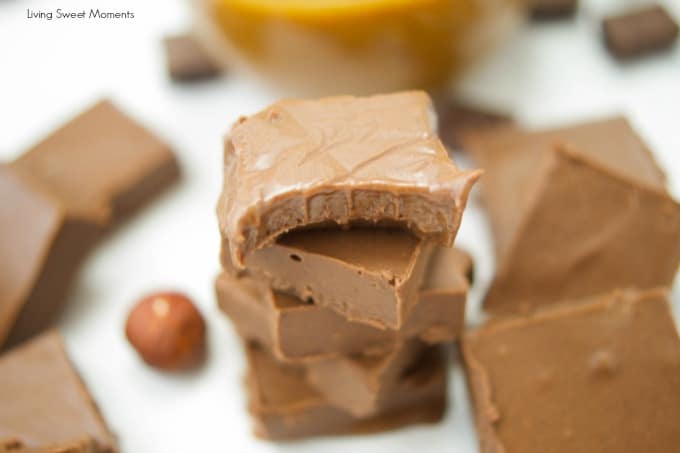 You can serve them in paper cups or in a rectangular dessert tray. They will definitely be gone in minutes. They're just so indulgent and rich.
Why did I cut them into squares? – It was easy, you can cut them in triangles, use silicone molds, etc.
Wanna make these Hazelnut Gianduja Squares better? < —– Dip them in melted chocolate and let them set. Now you're ready to open up your own candy store!
Ok, so what exactly is Gianduja? See the answer below: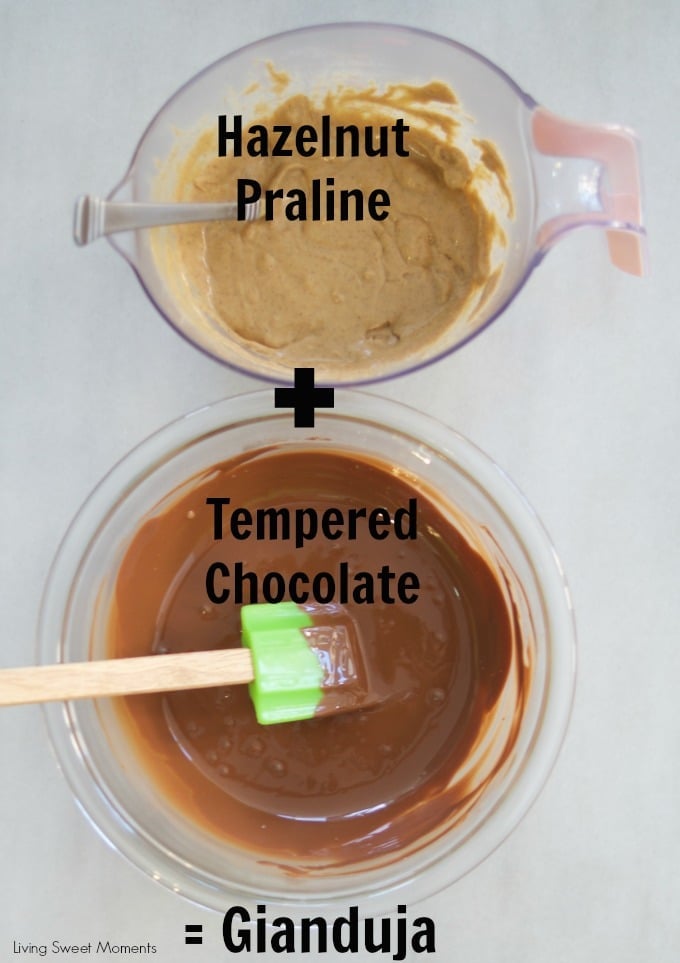 Take the Hazelnut Praline Paste we made last week and combine it with Tempered Chocolate. That's it. You can add some chopped nuts or dried fruits to give it some extra taste and texture.
Not a fan of hazelnuts? No worries! Substitute with peanut butter, almond butter or cashew butter.
Before we start with the tutorial, here are a few things to keep in mind.
Chocolate needs to be tempered, otherwise, your dessert will turn out cloudy, with white streaks around it. I am not going to get technical and bore you by technicalities and explaining the process of cocoa crystals, just know that this is the way to achieve a beautiful chocolate confection.
Tempered chocolate involves heating up the chocolate to a certain temperature and cooling it down quickly.
Use GOOD QUALITY chocolate with at least 55% cocoa butter. I like Lindt, Ghirardelli, Valrhona, and Guittard. I used the latter.
For this recipe, choose your favorite kind of chocolate: milk or dark. White works as well.
Make sure all your bowls, hands, and tools are completely dry. A single drop of water can ruin your melted chocolate <— I learned this the hard way, unfortunately.
Lastly, if you DO NOT WANT to go through all the trouble of tempering, substitute for candy melts or Ghirardelli Melting Chocolate. They do not have cocoa butter, instead, they have oil.
A thermometer will ensure that you get most accurate results when tempering. If you don't have one, you can still make this recipe. I recommend this one.
Now that I've scared you with so much information, let's get started:
HOW TO TEMPER CHOCOLATE USING THE MICROWAVE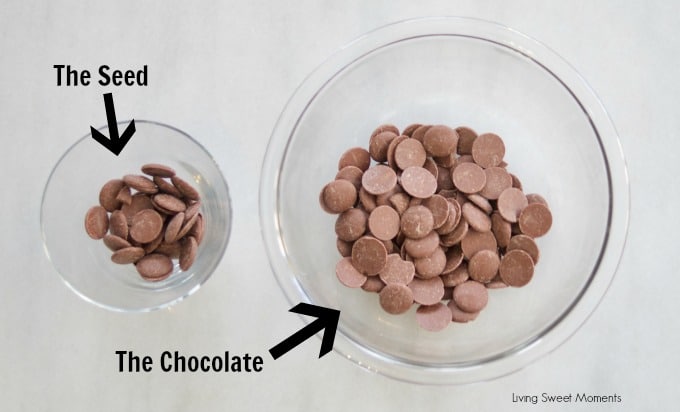 Chop your chocolate into pieces. For this recipe, we're using 8 ounces. Place 2/3 of the chocolate in a big bowl, and reserve 1/3 in a smaller bowl. The latter is what we'll use to quickly reduce the temperature of the chocolate once it's melted. Chefs call it "the seed".
Microwave your chocolate, the one in the big bowl, for 30-45 seconds. It'll look like this, all shiny but not melted.
But, as soon as you stir it you realize that it's starting to melt. Still, it needs some more heating.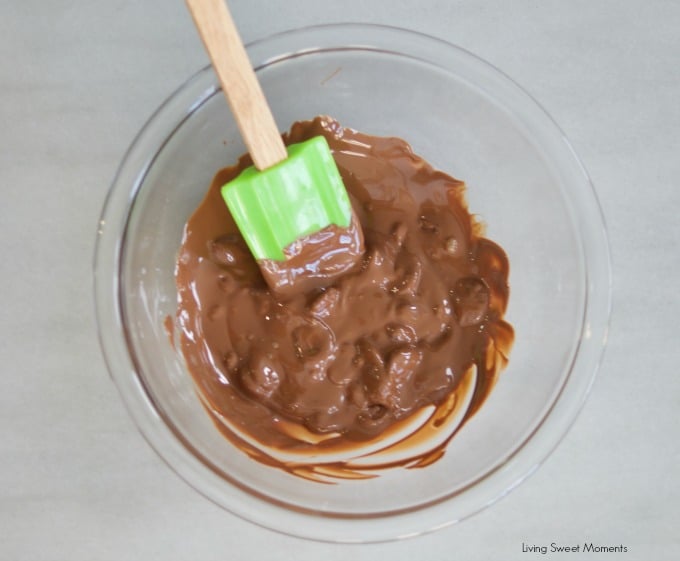 We pop it in the microwave in 15 to 20-second intervals and stir until the chocolate has completely melted. If you have a thermometer: aim at 115-120°F for dark chocolate and milk/white chocolate at 105°F.
If you don't have a thermometer, you may need to use your dry finger. When the melted chocolate feels very hot to the touch it's ready.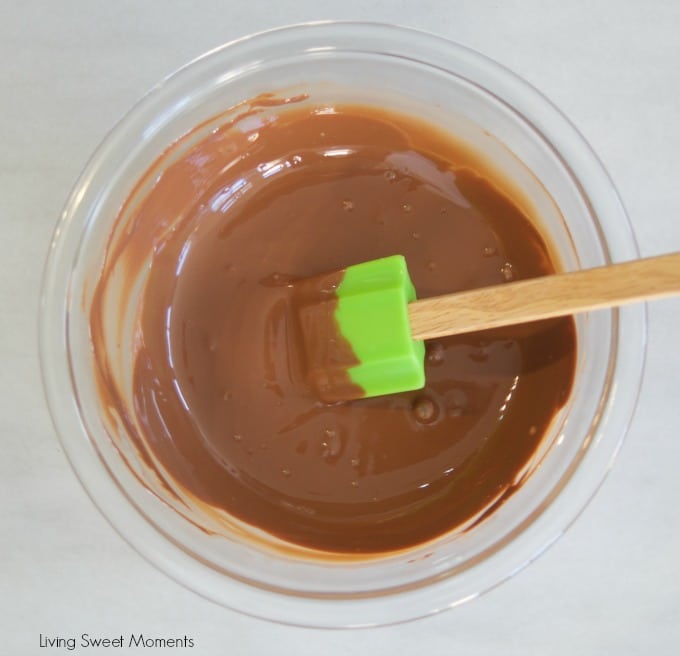 Now we add "the seed" or the remaining 1/3 of chocolate that you reserved at the beginning.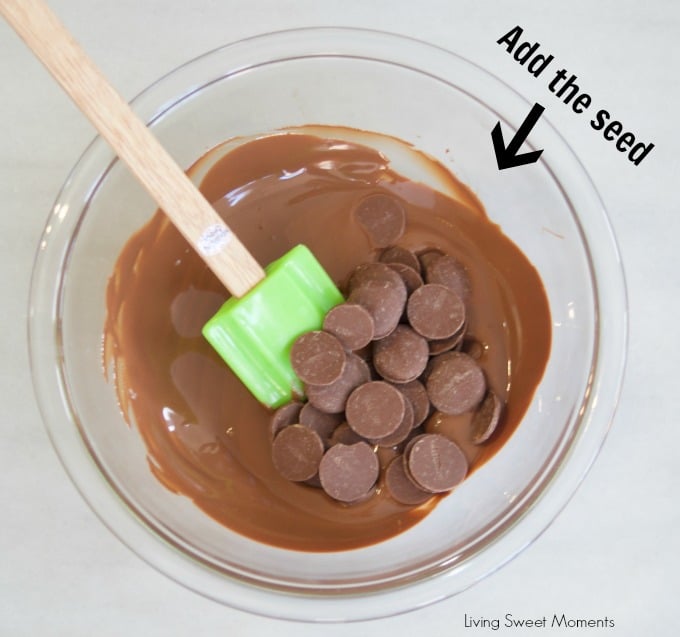 Stir vigorously until the seed has completely melted. Mixing will help the chocolate cool faster. The chocolate will be warm, not cold.
If the seed didn't melt completely, do not reheat the entire mixture. Simply take remove with a spoon.
Your chocolate mixture now should be around 86-88 °F.
Congratulations! You just tempered chocolate! 
Doesn't it look amazing? Smooth, silky, and ready to be used.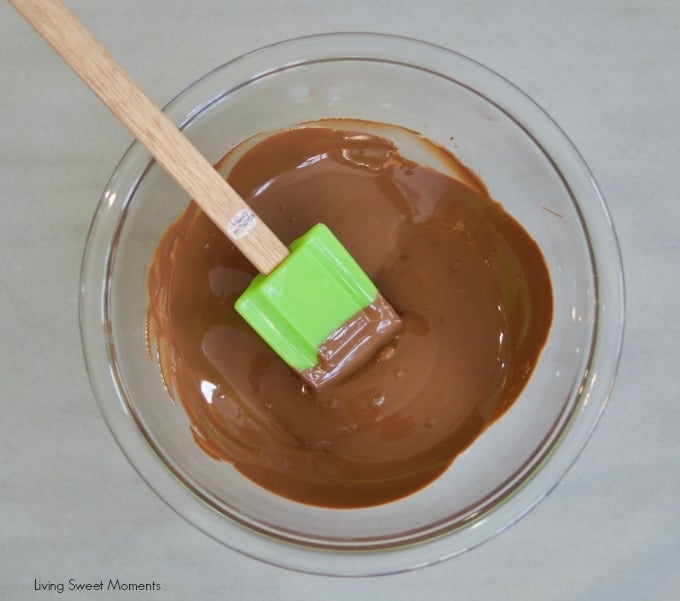 MAKING THE GIANDUJA
As I mentioned earlier, Gianduja is just a mixture of tempered chocolate and praline paste. Keep in mind that the hazelnut praline paste must be AT ROOM TEMPERATURE. If it's hot or cold it'll mess with the tempering process that you've worked so hard to achieve.
For this recipe, we'll be using 1 cup of praline. Homemade or Store Bought.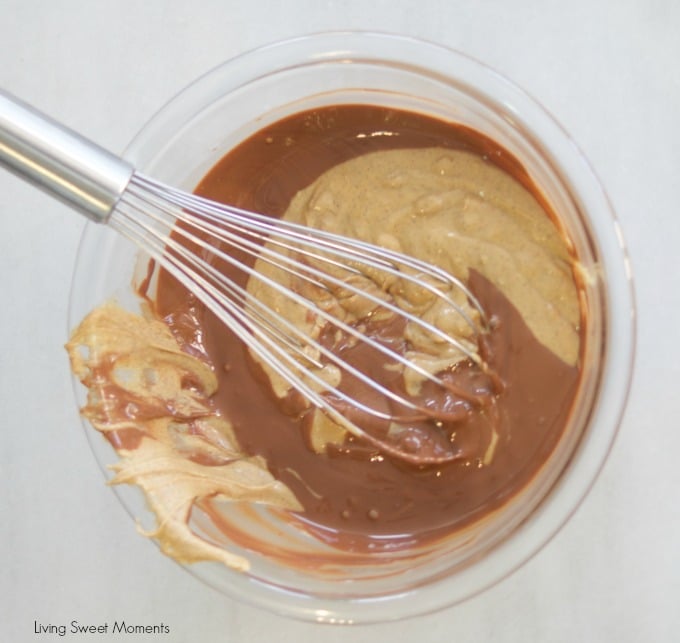 Yum Yum
Remember, you can add chopped nuts or dried fruit to this mixture.
Line an 8×8″ square baking pan with plastic wrap and pour your mixture in. You can also use molds like this one to create different shapes.
Let this mixture set up at room temperature for a few hours. Then cut into squares. Do not refrigerate to speed the process. It'll mess with the tempering.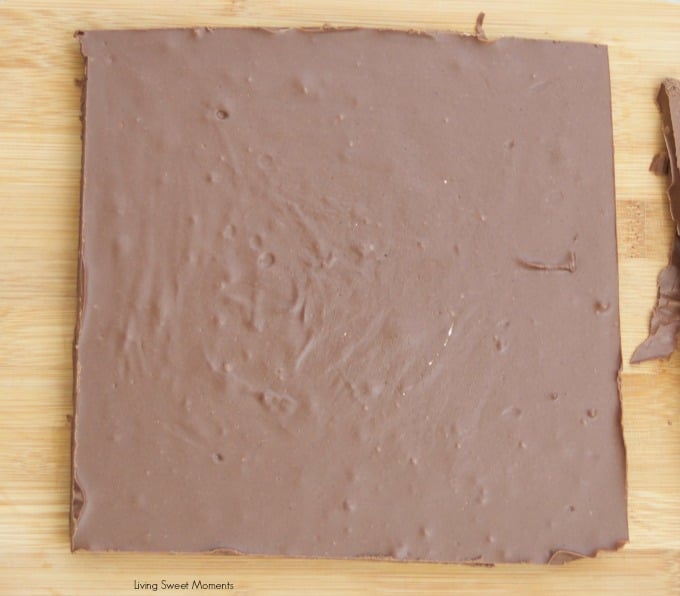 If your mixture DOES NOT SET UP, it's because there was a problem with the tempering process. Only in this case refrigerate, unmold, and eat them fast.
That's it!
Phew! this was a long post… My fingers hurt.
I hope you can try this delicious Homemade Hazelnut Gianduja Squares at home. If you do, please upload a pic on Instagram and tag me @Livingsweetmoments or use the hashtag #LivingSweet. I promise to repost it.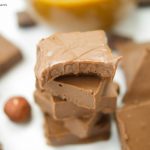 Homemade Hazelnut Gianduja Squares
Melt in your mouth Homemade Hazelnut Gianduja Squares are made w/ tempered chocolate & praline paste. Enjoy these confections at home with this easy recipe
Ingredients
8

oz

Tempered Chocolate

1

cup

Hazelnut Praline Paste

at room temperature
Instructions
Line an 8x8" square baking pan with plastic wrap

Mix the tempered chocolate with the hazelnut praline paste until completely combined

Pour this mixture into the prepared pan. Leave it on the counter for a few hours until it sets up and becomes firm. Do not refrigerate

When Gianduja is set up cut into squares or your desired shape

Optional: Dip the squares in tempered chocolate, shake off the excess and place them on a sheet pan lined with parchment paper to set up