Here's an easy recipe on How To Make Praline Paste. It works for hazelnuts, almonds, cashews, etc. And is the base for Gianduja and Homemade Nutella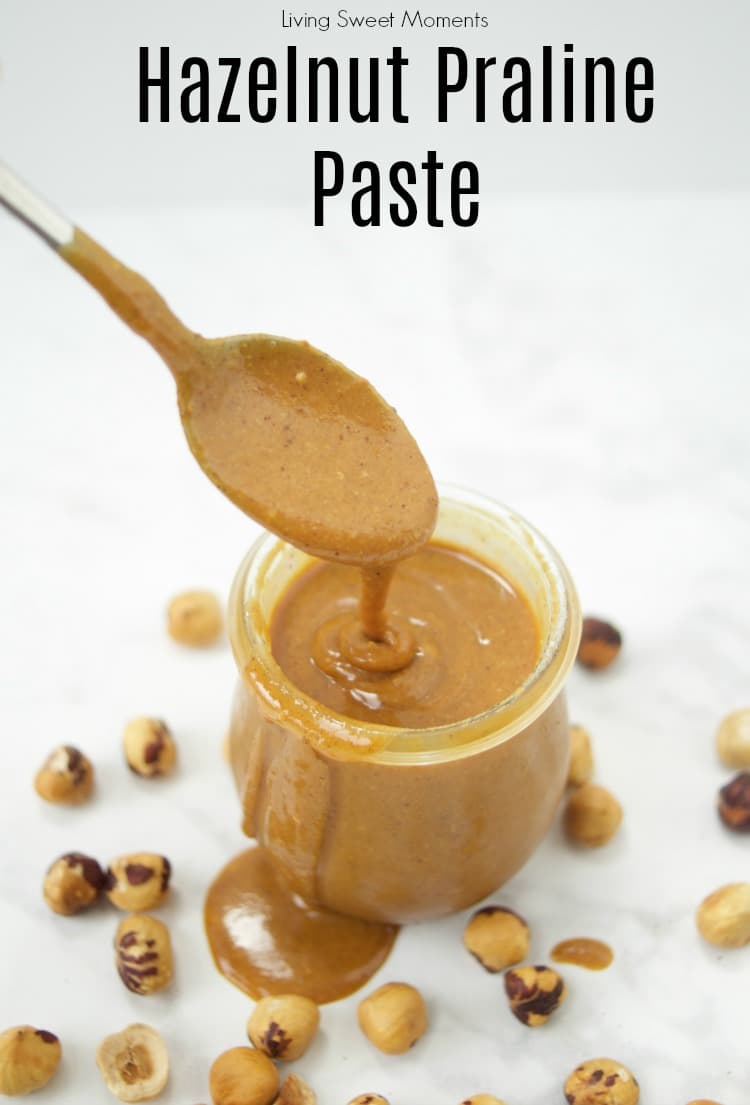 How To Make Praline Paste
Doesn't this spread look amazing? Not only it is delicious and easy to make. It is the base for TONS of high-end pastry recipes. Think buttercreams, ice cream, filled chocolates, entremets, mousses, etc.
Usually, pastry chefs buy this product already canned (you can find it HERE at Amazon). But in my opinion, hazelnut praline paste is easy to make at home and it can be frozen and defrosted when needed.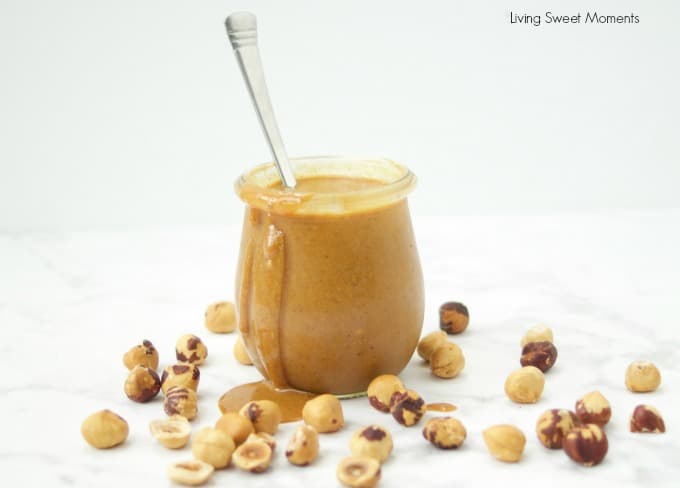 You can make praline paste with blanched almonds, hazelnuts, cashews, etc. You can also combine half almonds and half hazelnuts.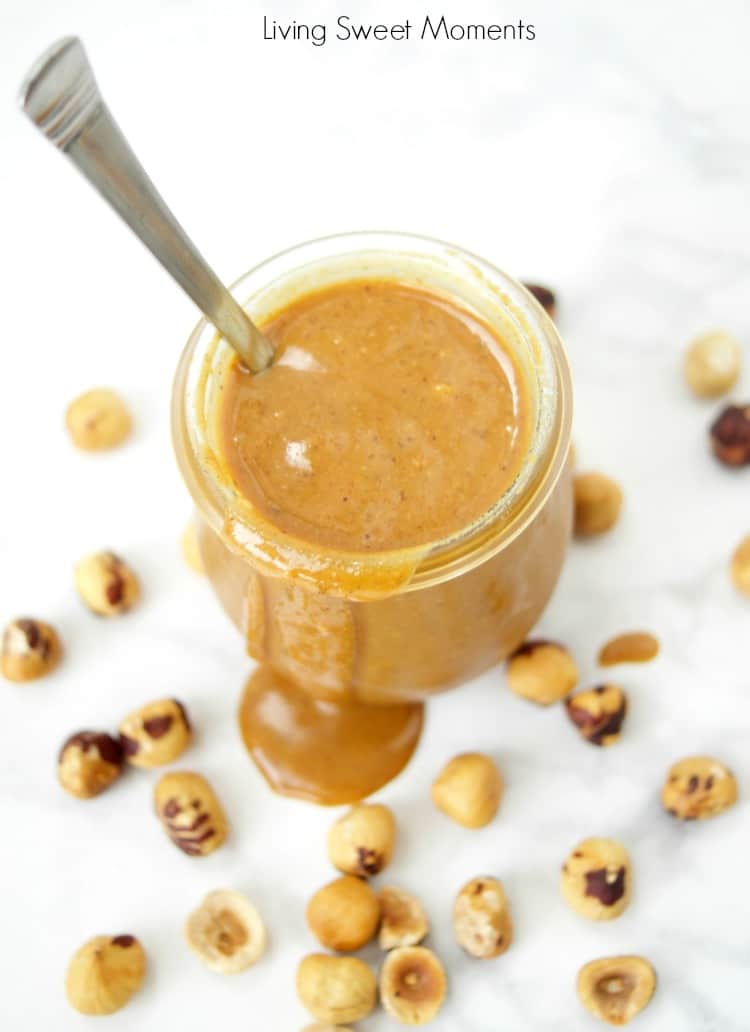 Praline paste is basically caramelized nuts that have been ground. It is originally from France although here in the States it has been adapted and some ingredients have been added like brown sugar, corn syrup, etc.
Check out my Pecan Praline Cheesecakes and White Pecan Praline Fudge as American examples.
Here's the original version.
Ready? Let's get started!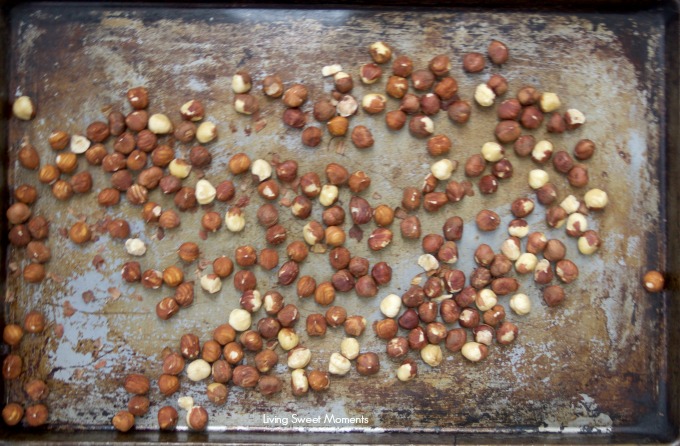 First, we toast our Hazelnuts in order to release their full flavor and to make their skins easier to remove. 375 degrees F. for 15-20 minutes.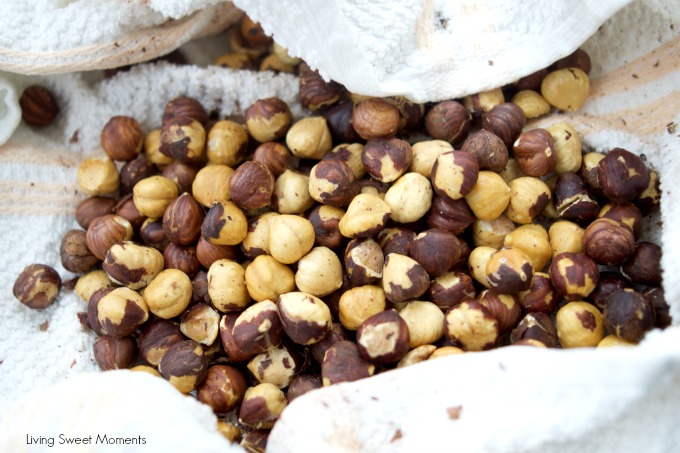 After baking, we place the hazelnuts on a clean kitchen towel and rub them together to help peel their skin off. This process does not need to be perfect, it's ok if some of the skins remain.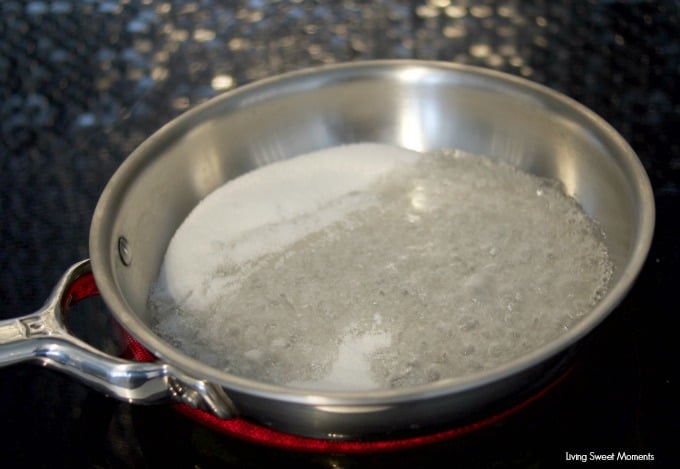 Now we cook our sugar with a little water on medium-low heat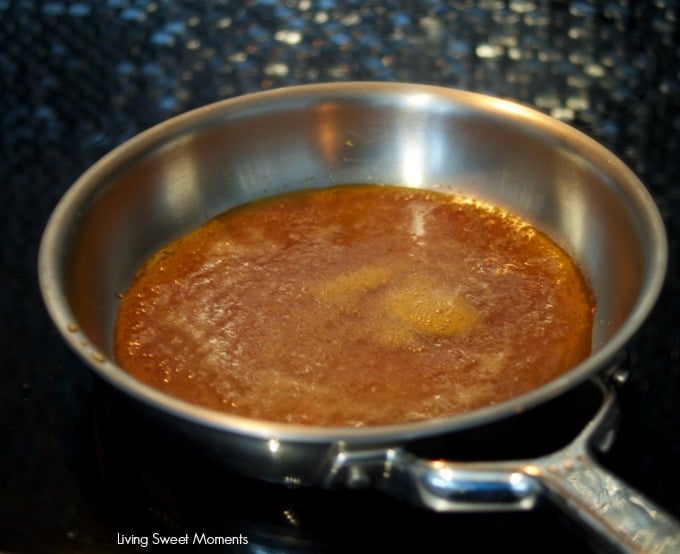 When the sugar mixture melts and becomes amber in color we add our peeled and toasted hazelnuts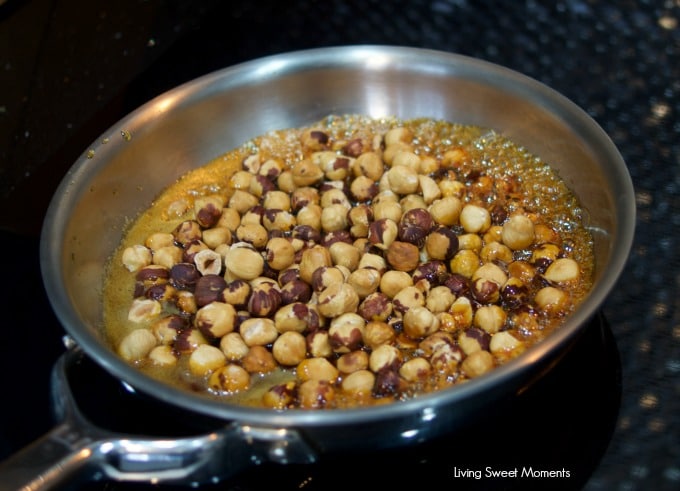 Whirl the pan around so all the nuts get coated in the caramel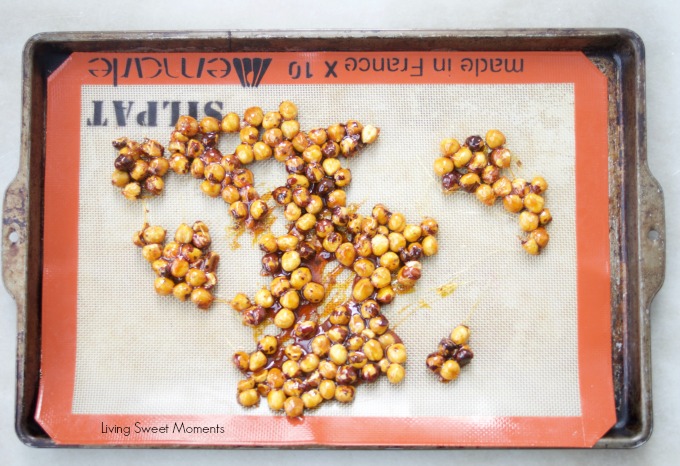 Place this mixture on a sheet pan lined with either a silicone liner or parchment paper. Let the praline cool and harden for 2-3 hours.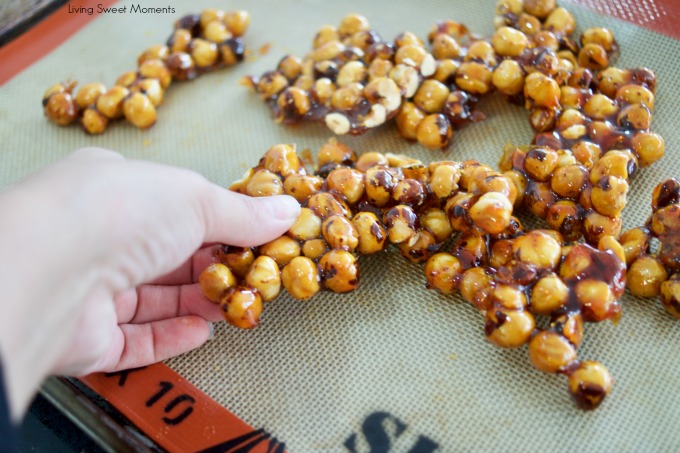 After the mixture has cooled, break off into smaller pieces using your hand or a knife.
Place the pieces in a food processor or high-speed blender. If the mixture does not come together add 1 teaspoon of vegetable oil. This will help you achieve a creamy paste.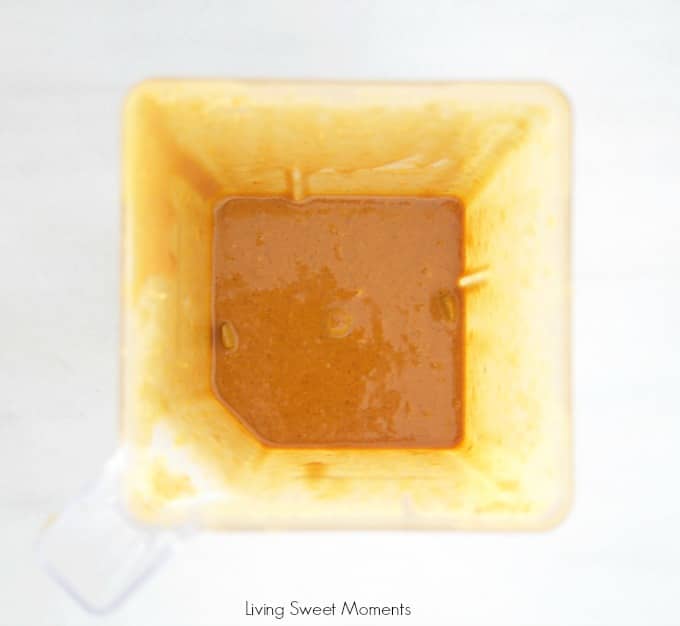 Use, refrigerate, or freeze until ready to use.
See how easy that was?
I will keep updating this post by adding recipes that require praline paste as an ingredient.
Like this AMAZING Hazelnut Chocolate Ice Cream – does not require an ice cream machine. It is made with hazelnut praline and bittersweet chocolate and topped with candied hazelnuts. Perfect for any ocassion.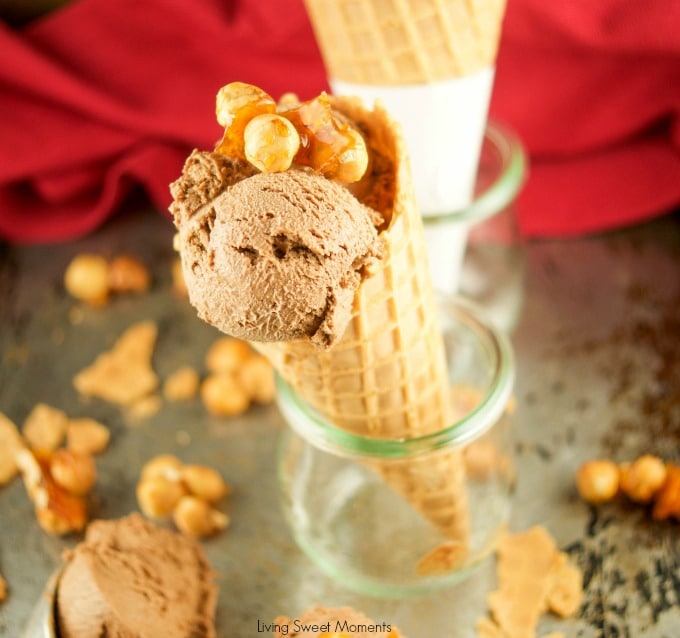 Homemade Hazelnut Gianduja Squares – Melt in your mouth Homemade Hazelnut Gianduja Squares are made w/ tempered chocolate & praline paste.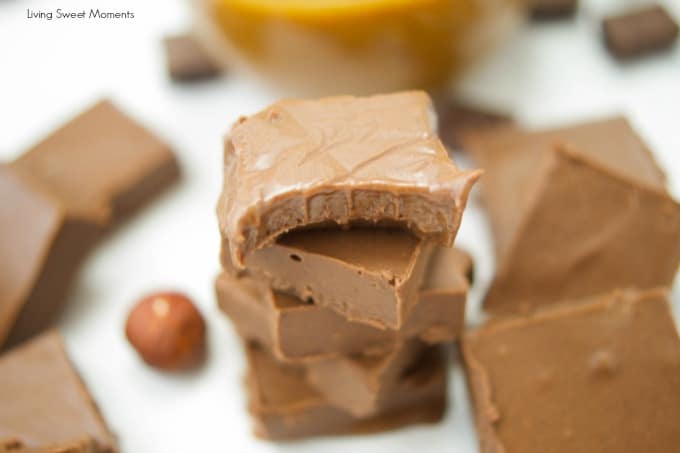 I hope you can try and learn How To Make Praline Paste at home. If you do, please upload a pic on Instagram and tag me @Livingsweetmoments or use the hashtag #LivingSweet. I promise to repost it.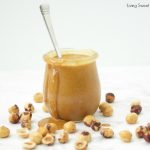 Praline Paste
Here's an easy recipe on How To Make Praline Paste. It works for hazelnuts, almonds, cashews, etc. And is the base for Gianduja and Homemade Nutella
Ingredients
3

cups

Raw Hazelnuts

1 1/2

cups

Granulated Sugar

2

tablespoons

Water

1

teaspoon

Vegetable Oil

optional
Instructions
Preheat oven to 375 degrees F.

Place hazelnuts on a sheet pan


Bake for 15-20 minutes or until hazelnuts becomes aromatic and skin begins to break


Remove from oven and place the hazelnuts on a clean kitchen towel. Rub the hazelnuts together to remove the skin off them. Set aside

Place sugar and water in a pan over medium-low heat. Do not stir. When sugar starts turning an amber color and turns into caramel, add the hazelnuts and whirl the pan around so hazelnuts get coated in the caramel. DO NOT OVERCOOK CARAMEL

Place this mixture on a silicon or a parchment lined sheet pan. Spread it with a spoon until hazelnuts are all in a single layer and cool for 2-3 hours

When mixture hardens and cools, break it into little pieces using your hands, mallet, or knife

Place pieces in a food processor or high-speed blender. Process until the mixture turns into a paste. If the mixture does not come together, add the vegetable oil

Pour this mixture into a bottle. If can be used right away, frozen or refrigerated.
Nutrition Facts
Praline Paste
Amount Per Serving
Calories 432
Calories from Fat 243
% Daily Value*
Fat 27g42%
Potassium 306mg9%
Carbohydrates 45g15%
Protein 6g12%
Vitamin A 10IU0%
Vitamin C 2.8mg3%
Calcium 51mg5%
Iron 2.1mg12%
* Percent Daily Values are based on a 2000 calorie diet.