Disclosure: This shop has been compensated by Collective Bias, Inc. and its advertiser. All opinions are mine alone. #TaiPeiGoodFortune #CollectiveBias
Host An Asian Themed New Year Celebration
2015 is quickly approaching and it feels like yesterday that I was celebrating the beginning of 2014. I've learned in these 365 days and that's why I am hosting a no fuss Asian Themed New Year Celebration. The last 2 months of the year is always a blur, there's parties, dinners, gift giving, etc. Instead of hosting another stuffy sit down dinner, I am focusing on finger food and libations. That's my kind of celebration .
My family and friends will come over, eat, drink and be merry and I won't be spend all day cooped up inside a kitchen. I really want to enjoy the party and ring in the New Year relaxed and happy.
Personally I am both excited and nostalgic when it comes to The New Year. On one hand I am excited to start out fresh and on the other it's sad not only that the year is ending but it also means that the Holiday season is over. No more songs, get togethers, huge meals where we don't have to worry about the calories, no more trees. January 2nd rolls along and we're back to reality.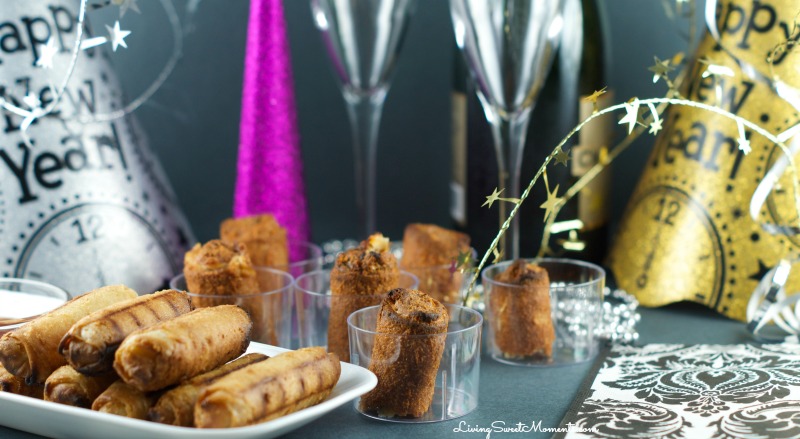 Thanksgiving and Christmas has left us with our bellies full and our energies low. So I am planning on serving excellent restaurant-inspired food that people would never think I got it in the freezer section at Walmart. It will be our little secret.
For my Asian Themed New Year celebration I am using frozen Tai Pei Egg rolls and Spring Rolls. They are crispy on the outside, soft on the inside and I serve them with a spicy and sweet guava glaze. If you're not a fan of Guava you can certainly use the dipping sauces that are already included in the box. They are simply made with delicious crispy wrappers filled fresh cut veggies and hearty chicken seasoned to perfection.  Here's the ones I bought:
Just stick them in the oven at 450 Degrees F for about 15 minutes and they will turn out delicious. I bake them on top of a cooling rack so the air can circulate between the egg rolls and the pan, that way they become crispier.
The dipping sauce is just heated Guava Jam mixed with a few dashes of hot sauce. The sweetness and spiciness flavors go perfect with the ginger and asian flavors in the Rolls.
For the chicken egg rolls I just cut them up in half and placed them on a cute plastic cup. That way people can each get their own and can add some dipping sauce to the bottom. You can place them with the cut side facing up to better appreciate all the vegetables and chicken contained in the filling.
The Mini Spring Rolls I leave them whole since they are little. The idea is that people hold their Champagne Glasses on one hand and their finger food on the other. The sweetness of the champagne meshes well with the asian flavors of Tai Pei.
I added some chopsticks for those guests who are not keen of finger food. Also the spring rolls are vegetarian to accommodate my vegetarian family members.
As you can see, you too can throw a beautiful party without spending hours cooking in the kitchen. The idea of a party is to ENJOY it and mingle. The only worry of the night would be to not forget to eat the 12 grapes and to have enough Champagne, because I am coming over!