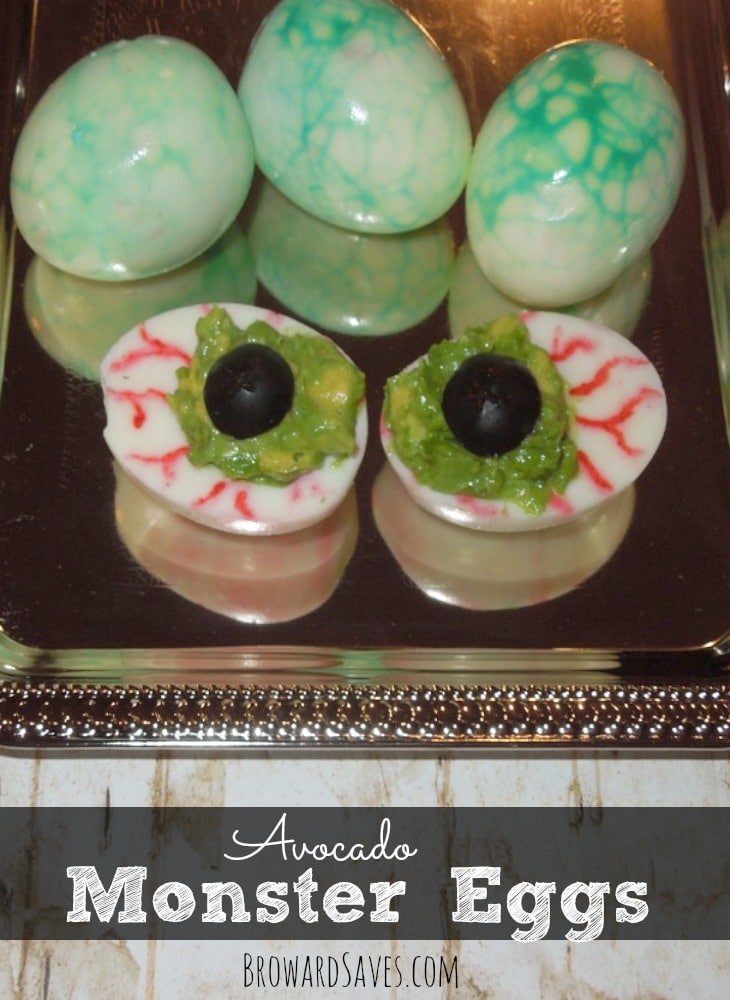 Need a fun ghoulish Halloween Treat to your party? I bet this Avocado Monster Eggs will surely captivate your guest attention! Not only they are delicious but fun to make too. Perfect dish to cook with kids! If you love eggs then check out my Spider Deviled Eggs Too. Who would've thought that bloody eyes could be so delicious? I am going to show you how easy this technique of creating the bloody eye effect. You can make it in different colors and play around.
My daughters LOVE hard boiled eggs and avocado as well so imagine their faces when I put the 2 together. At least they didn't think it was creepy enough to eat. Serve these on a silver platter or in a flat surface so people can see the full effect of this dish.
If you're looking for a healthier Halloween Treat then these Avocado Monster Eggs hits the spot. Easy way to sneak in Vegetables to your kids without them even noticing.
Here's how it's done: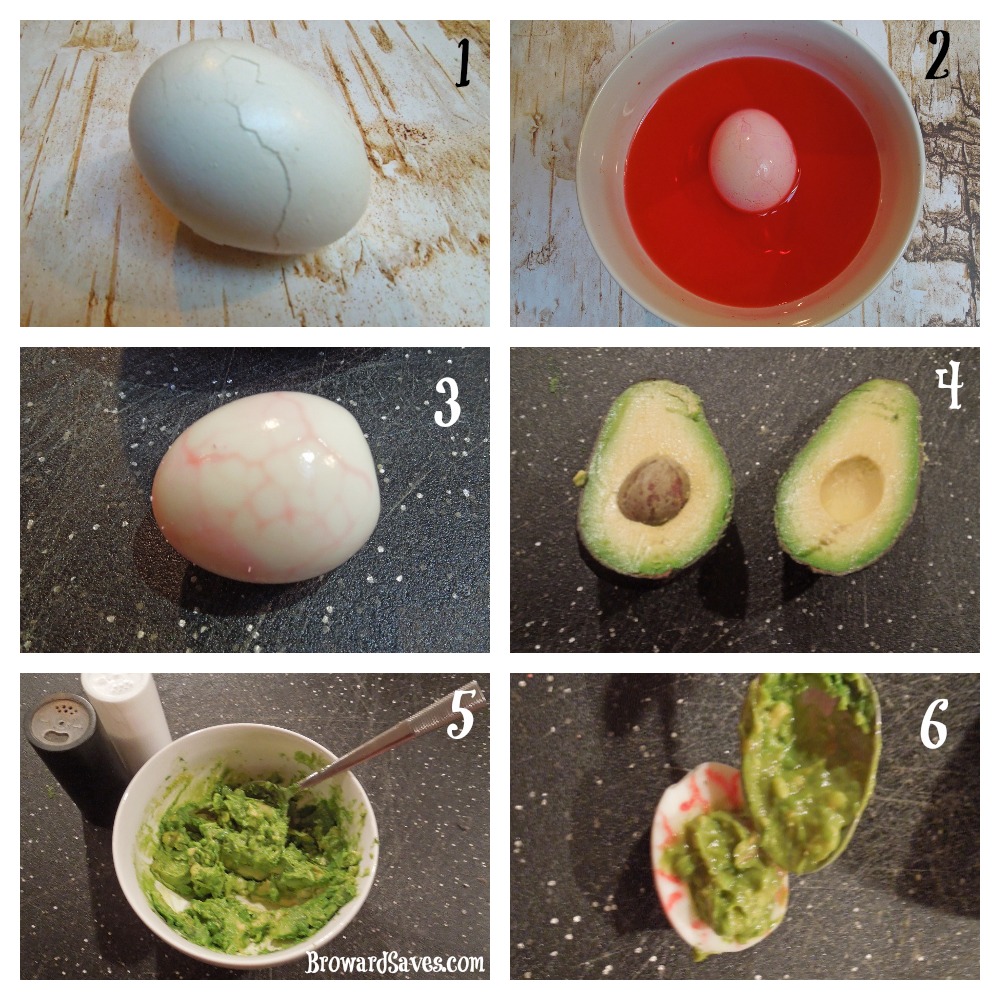 Mix hot water, vinegar, and 10-12 drops of red food coloring in a small bowl.
Roll hardboiled eggs on a counter top with gentle pressure to crack the egg shells.
Place cracked eggs into the red food coloring water for 3-4 minutes.
Remove eggs from water and let dry on paper towels or in egg carton.
Carefully peel eggs and cut in half.
Remove yolk from the egg halves and discard.
Using a toothpick, draw squiggly lines on the cut side of egg halves for a bloodshot eyeball effect.
Cut 2 avocados in half, removed the pit and spoon the inside from outer peel into a medium size mixing bowl.
Add a pinch of salt and pepper to the avocado and mix thoroughly.
Add hot sauce to avocado mix for a little bit of spice (optional)
Place a spoonful of avocado mixture into the egg
Cut a black olive into small slices and place on top of avocado to finish the monsters eyeball.
See? Told you it was easy!!
Halloween Treat: Avocado Monster Egg Recipe
Author:
Prep time:
Cook time:
Total time:
Ingredients
1 dozen hardboiled eggs
2 avocados
1 can black olives
Salt
Pepper
Red food coloring
1 cup hot water
1 tablespoon vinager
Hot sauce (optional)
Instructions
Mix hot water, vinegar, and 10-12 drops of red food coloring in a small bowl.
Roll hardboiled eggs on a counter top with gentle pressure to crack the egg shells.
Place cracked eggs into the red food coloring water for 3-4 minutes.
Remove eggs from water and let dry on paper towels or in egg carton.
Carefully peel eggs and cut in half.
Remove yolk from the egg halves and discard.
Using a toothpick, draw squiggly lines on the cut side of egg halves for a bloodshot eyeball effect.
Cut 2 avocados in half, removed the pit and spoon the inside from outer peel into a medium size mixing bowl.
Add a pinch of salt and pepper to the avocado and mix thoroughly.
Add hot sauce to avocado mix for a little bit of spice (optional)
Place a spoonful of avocado mixture into the egg
Cut a black olive into small slices and place on top of avocado to finish the monsters eyeball.
Serve and enjoy
Notes
Steps 1-4 are optional
LOVE HALLOWEEN? Then try out these recipes too:
Healthy Candy Corn Bars Recipe