Get in the Holiday spirit with this creamy and flavorful Chai Tea Eggnog Cocktail served on a martini glass and garnished with fresh whipped cream
Thank you, Mirum for sponsoring this post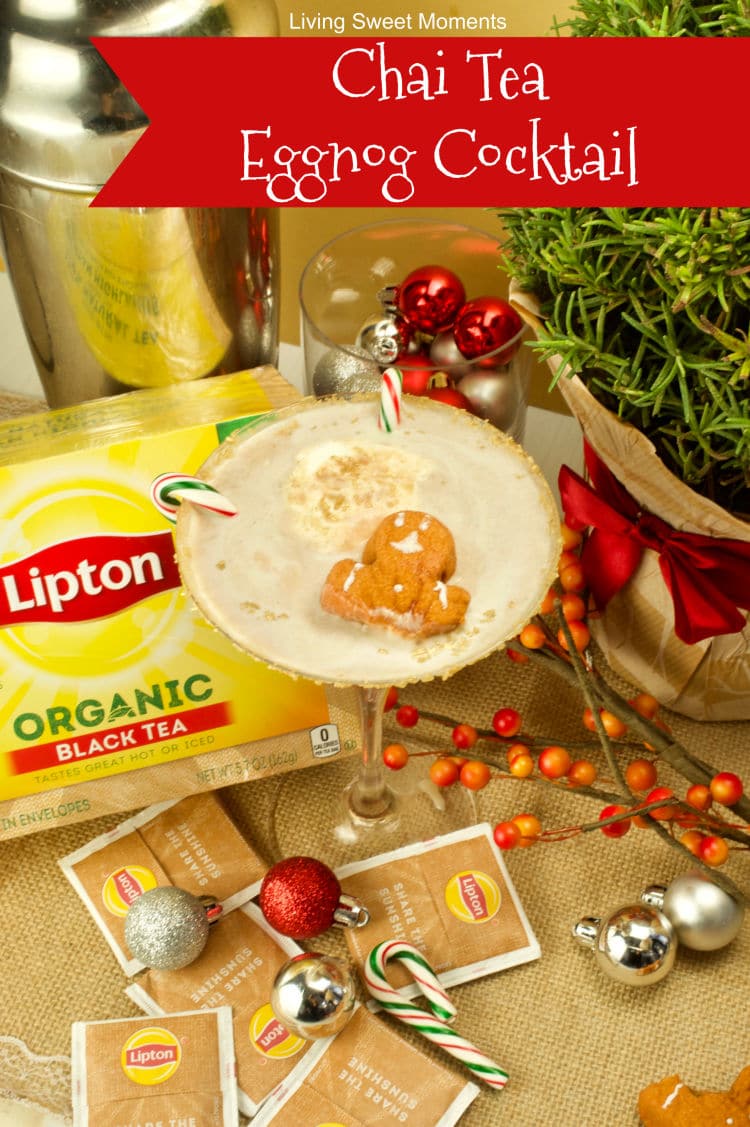 Irresistible Chai Tea Eggnog Cocktail
'Tis the season for the celebrations to begin.
Holidays are not only the most beautiful part of the year but they also give you an opportunity to taste some amazing flavors and spices.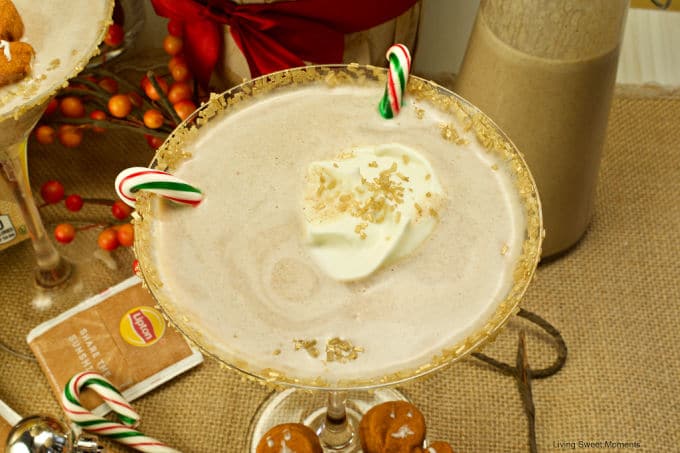 The addition of nutmeg, ginger, cardamom, cloves, allspice and cinnamon just screams Holidays to me. Now steep black tea into those spices with some milk and you got a delicious and creamy eggnog.
Eggnog normally to me just tastes like creamy alcohol.
Not much flavor in the "creamy" part.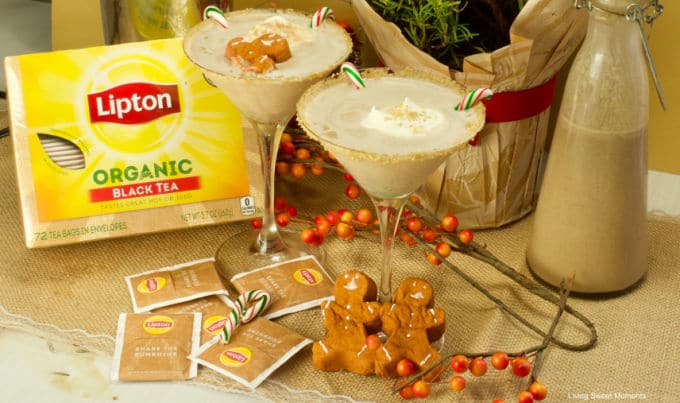 Now with this Chai Tea Eggnog Cocktail, I've punched up the flavor and took the famous Christmas cocktail to a whole new level. You can choose to serve it with or without rum. It's up to you and your guests preferences.
But, even if you're serving it as a "mocktail" don't forget to use your shaker to chill and shake your drink before pouring it into your martini glasses.
For the Black Tea, I chose Lipton Organic Black Tea.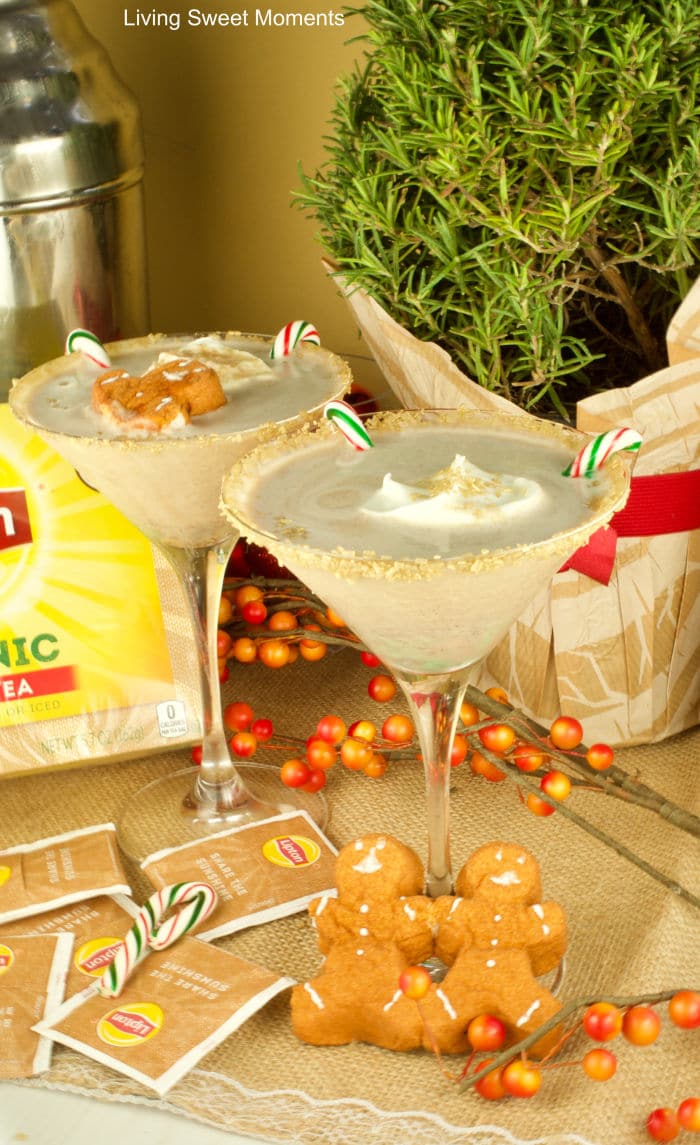 Lipton Organic Black Tea is 100% natural, Rain forest Alliance-certified, and can be served hot or iced.
Daily consumption of at least 400 mg of flavonoids helps maintain a healthy heart. A cup of Lipton black tea contains approx. 175 mg of flavonoids. So, if you needed an excuse to make this spiked eggnog, now you have one.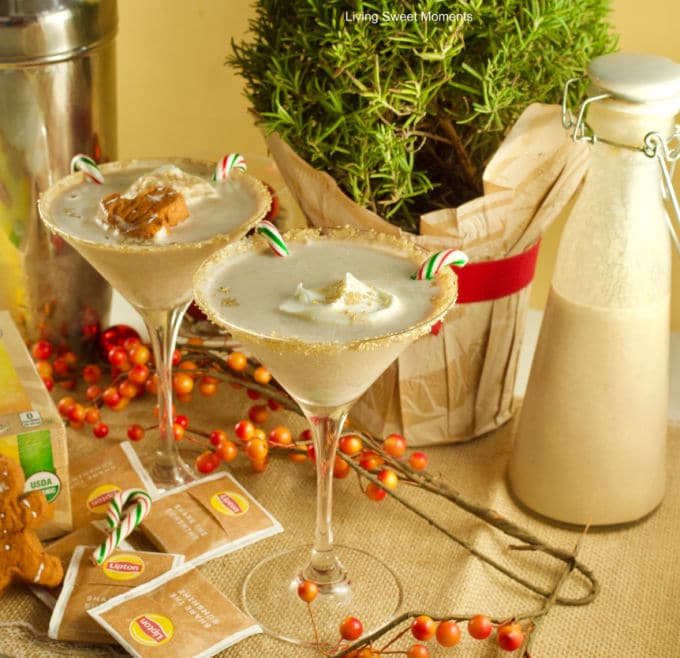 PLUS, if you shop at Publix, don't miss this printable coupon:
2 Lipton Tea for only $4 (excludes ready to drink tea). Valid 12/8/18 -12/21/18.
So stock up on a few boxes and add some black tea to your daily routine.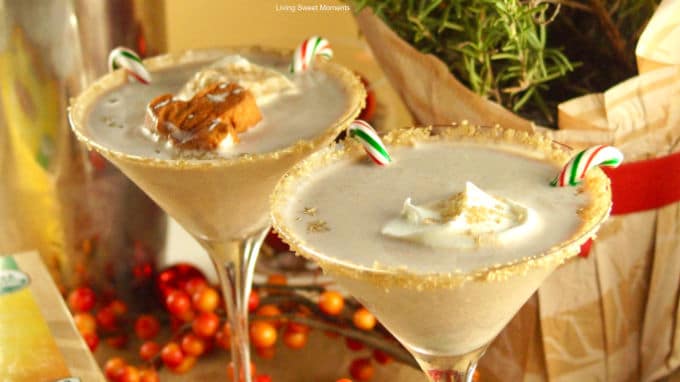 Here's how I made my yummy Chai Tea Eggnog Cocktail:
First I steeped my milk in Lipton black tea, cinnamon, cloves, nutmeg, allspice, ginger and cardamom.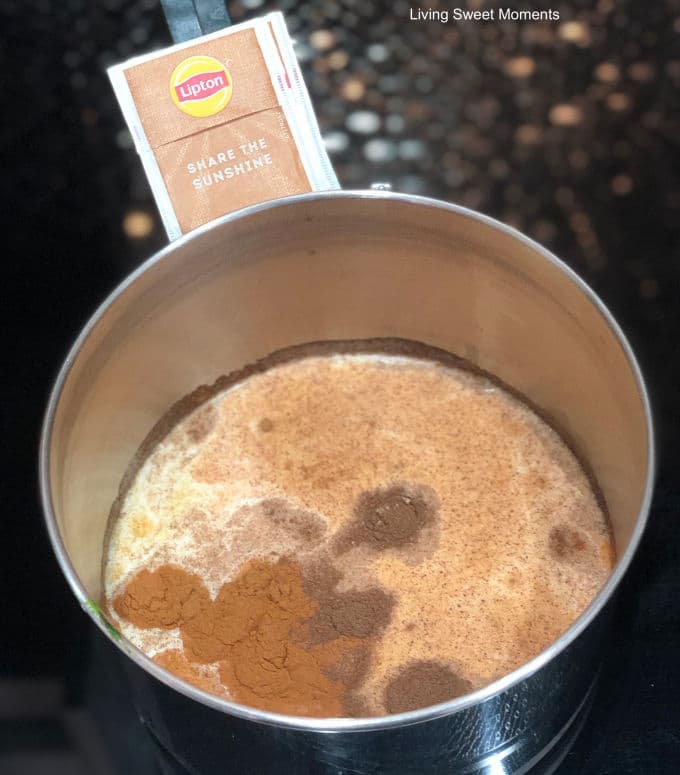 While the milk was steeping I grabbed another bowl and whisked some eggs, cornstarch, and sugar.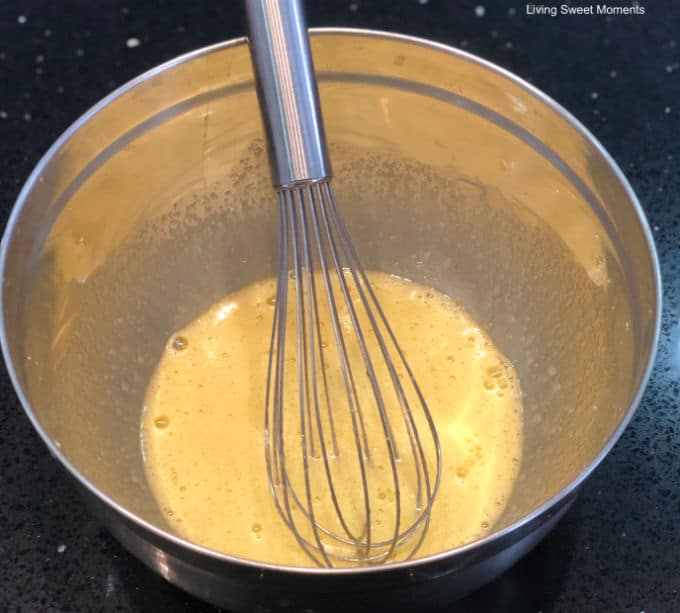 I carefully and slowly added the hot milk into the eggs while whisking vigorously. This process is called tempering and it prevents the eggs from cooking.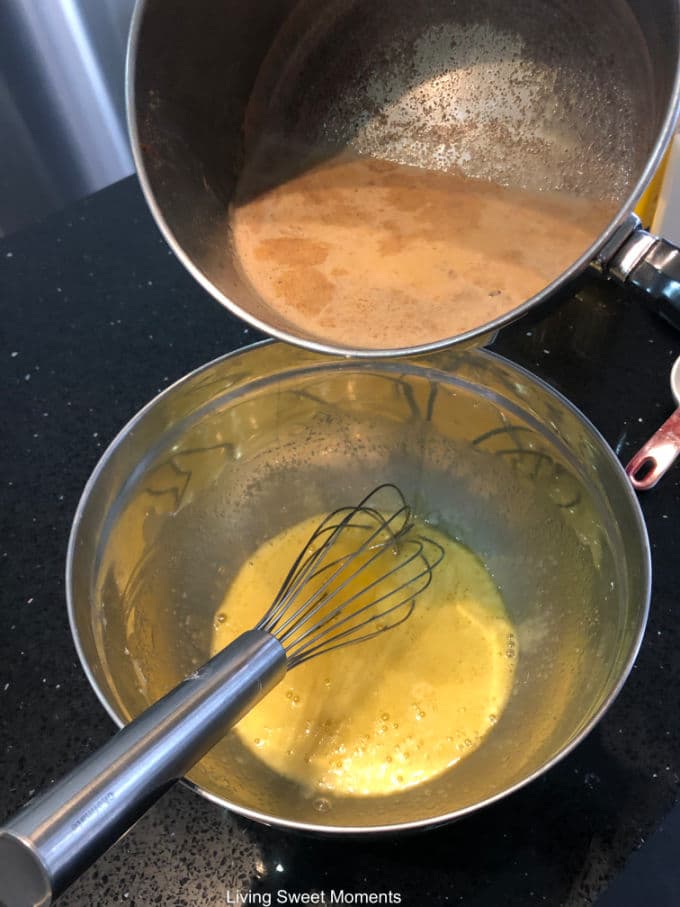 I returned the mixture back in the pot over low heat and cooked until the eggnog thickened up to the point that it coated the back of a spoon.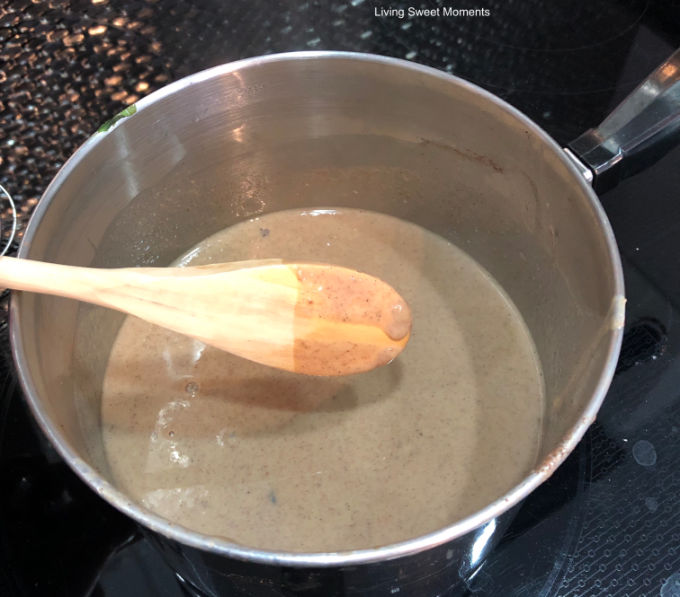 This mixture gets strained and a cup of chilled half & half is mixed it.
The eggnog gets chilled for a couple of hours or until the party starts.
When ready to serve simply place some of the eggnog mixture with lots of ice in a shaker bottle, add some rum, shake and pour.
Use whipped cream as a garnish or replace it with a cinnamon stick.
Is that easy!
Tell me, what is your favorite Holiday drink?
I hope you can try this delicious Chai Tea Eggnog Cocktail at home. If you do, please upload a pic on Instagram and tag me @Livingsweetmoments or use the hashtag #LivingSweet.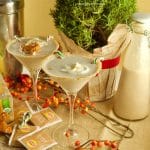 Chai Tea Eggnog Cocktail
Get in the Holiday spirit with this creamy and flavorful Chai Tea Eggnog Cocktail served on a martini glass and garnished with fresh whipped cream
Ingredients
For Eggnog Base
2

cups

Milk

2

bags

Lipton Organic Black Tea

2

teaspoons

Cornstarch

1/2

cup

Sugar

3

Eggs

1

teaspoon

Ground Cinnamon

1/2

teaspoon

Ground Cardamon

1/2

teaspoon

Whole Cloves

1/2

teaspoon

Ground Ginger

1/2

teaspoon

Allspice

1/2

teaspoon

Ground Ginger

1

cup

Half & Half
For Cocktail
3

cups

Eggnog Base

3/4

cup

Dark Rum

more if you'd like

Ice
Instructions
In a pot, mix in the milk, tea bags and spices over medium heat until the mixture boils.

When milk boils, remove from heat and let the tea bags steep for 3 minutes. After the three minutes discard the tea bags and boil the mixture again

In the meantime whisk the eggs, sugar, and cornstarch in a bowl

Carefully, temper the eggs, that means to bring up the temperature of the eggs without cooking. To do that, add a bit of the hot milk mixture into the eggs while whisking vigorously. Then slowly add the rest of the milk mixture. Do not stop whisking

Pour the whole mixture back into the pot and cook over low heat until the mixture thickens and covers the back of the spoon. DO NOT LET THE MIXTURE BOIL

Remove from heat and strain into a clean bowl. Whisk in the half & half, cover and chill for a minimum of 2 hours
For Chai Eggnog Cocktail
In a shaker add the chilled eggnog mixture, rum, and lot's of ice. Shake and pour into Martini Glasses
O