Come home to a delicious and comforting meal. This hearty Slow Cooker Sausage Puttanesca is served with zoodles. The perfect low-carb weeknight dinner idea.
"This post is sponsored by Mirum, but opinions expressed are my own."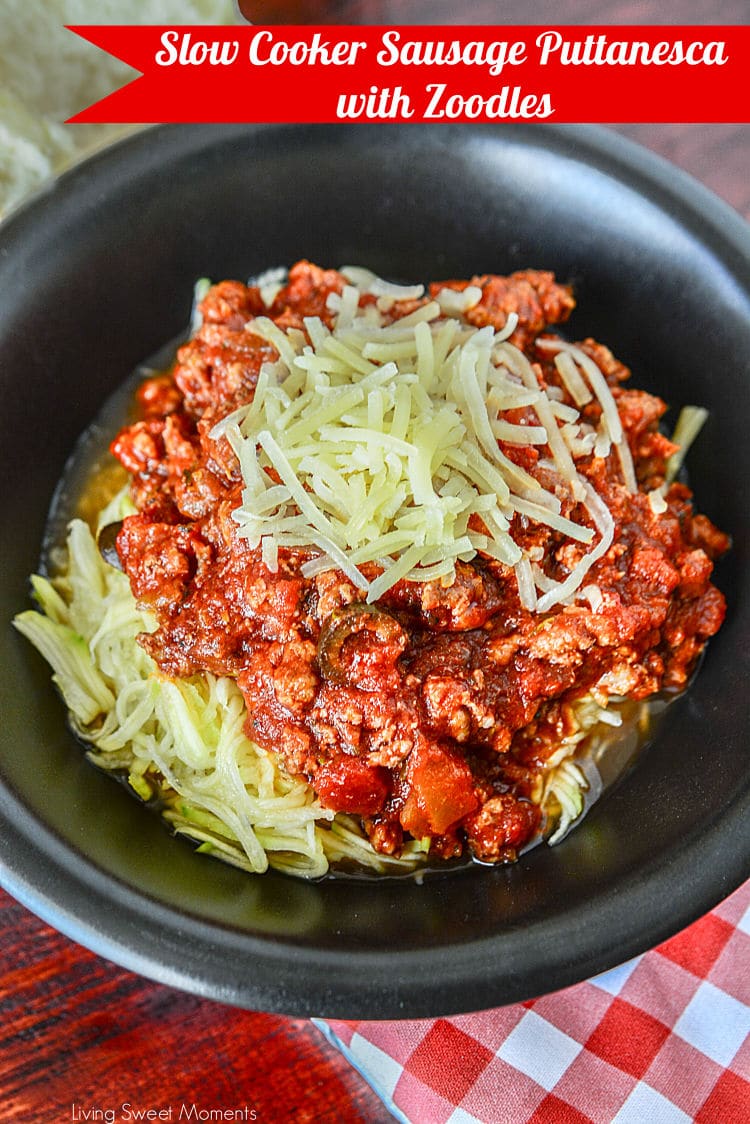 Slow Cooker Sausage Puttanesca With Zoodles
Don't you just love this season?
There's a chill in the air that I surely missed. Here in Miami, I've been avoiding the outdoors for quite some time.
Now that fall is here, I can finally go outside and enjoy dining al fresco again.
Personally, comfort food always needs to be served in a bowl: soup, stew, chili, pasta, etc.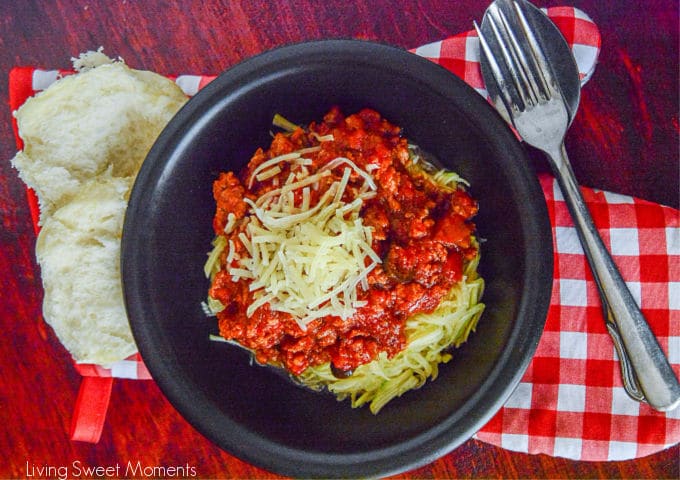 This hearty puttanesca is no exception. The thick flavorful sauce coats every zoodle. Served with shaved cheese on top and you got a top-notch meal without a lot of effort.
You know why? Because the slow cooker does the hard work while I go around town driving my daughters to their after-school activities.
If you're not familiar with zoodles, they are basically noodles made out of zucchini.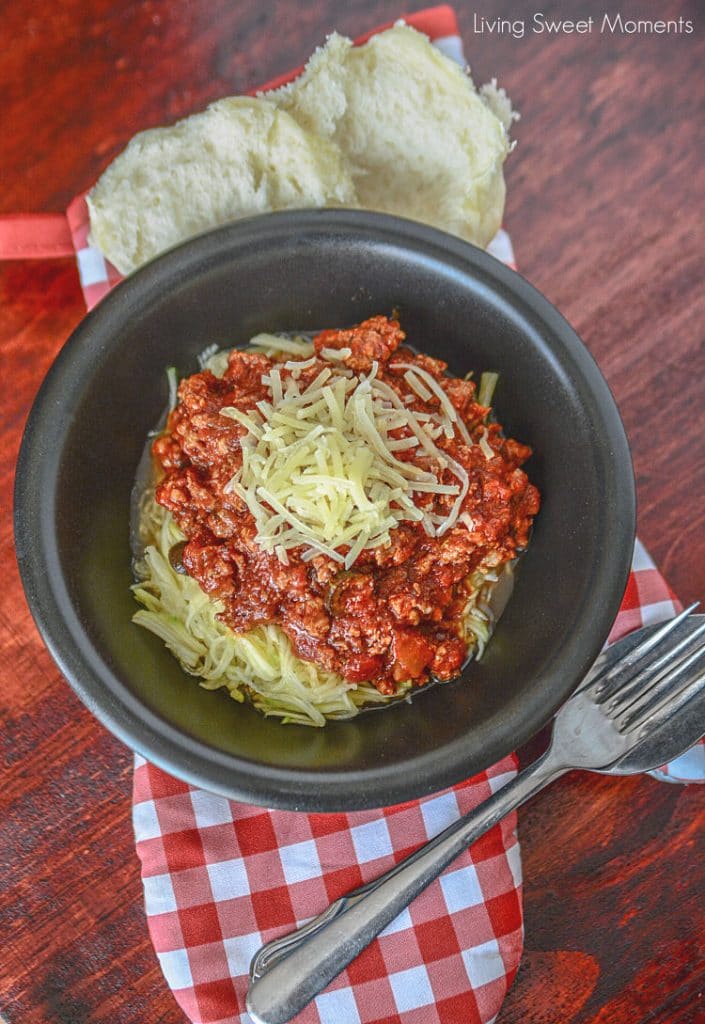 When cooked al-dente they are an amazing substitute for spaghetti keeping y0ur meal low carb and gluten free.
Normally, I wouldn't be excited to have a sausage for dinner. Even if it's the turkey kind.
You see, all through my twenties, I ate whatever I wanted, whenever I wanted and my digestive system complied.
Unfortunately, those lucky days are long gone.
I suffer from heartburn often and from colon inflammation.
What a pain to cut down all kinds of food from my diet. I missed the days where garlic, meats, and spices weren't the "enemy"
But…
Not all is lost…
Finally, I found the perfect solution to my problem: Walgreens Omeprazole Orally Disintegrating Tablet (also referred to as ODT).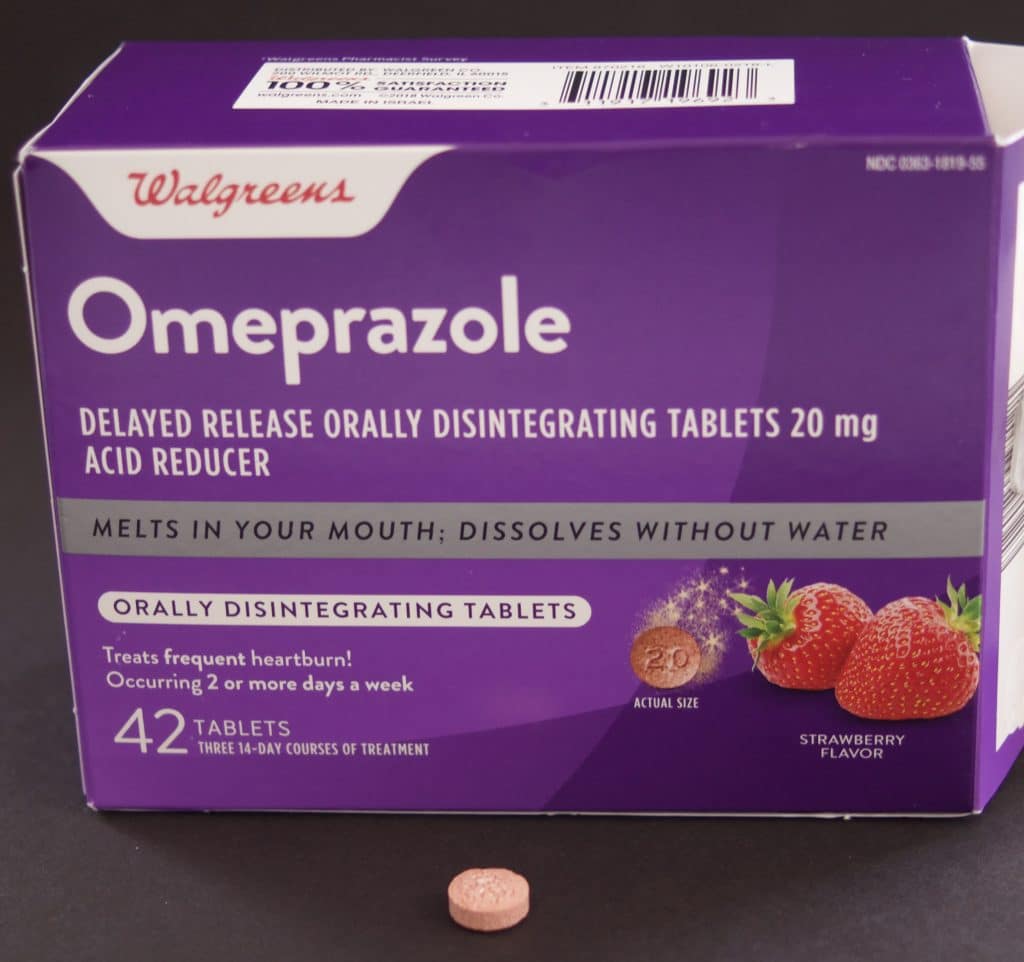 You have no idea the relief I felt after a few days and the effect lasted a full 24 hours.
I love that the tablet disintegrates in your mouth without the need for water. That means that you can take it wherever you are and plan for lots of Slow Cooker Sausage Puttanesca without missing a beat.
You can get this product at your local Walgreens. They have excellent prices, discounts, and promotions. Right now, you can score the Walgreens Omeprazole ODT online at Buy One, Get One 50% off. There's free shipping when you spend $35 or more.
Buying from the comfort of my own bed, priceless.
And don't forget to use as directed for 14 days to treat frequent heartburn (occurring 2 or more days a week). It may take 1-4 days for full effect. Not intended for immediate relief. Always adhere to the label specifications (Drug Facts) and ensure content published about the usage of the product comply with the labeling.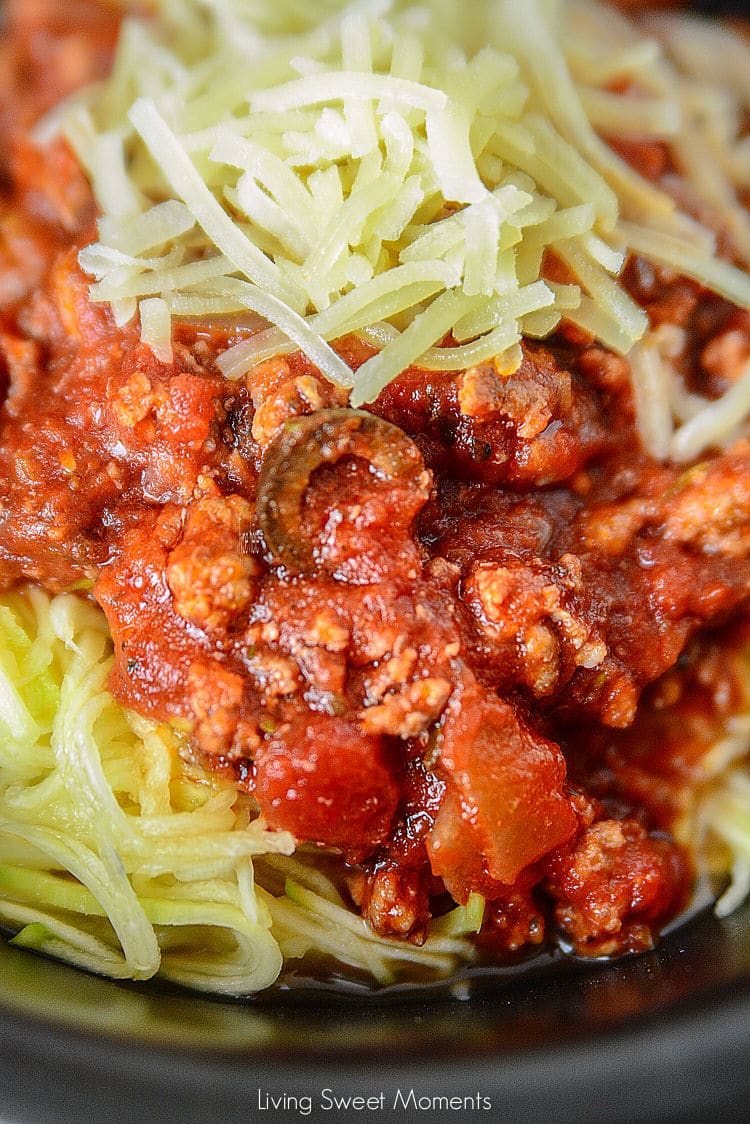 I hope you can try this delicious Slow Cooker Sausage Puttanesca With Zoodles at home. If you do, please upload a pic on Instagram and tag me @Livingsweetmoments or use the hashtag #LivingSweet.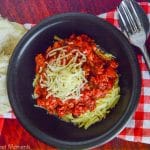 Slow Cooker Sausage Puttanesca
Come home to a delicious and comforting meal. This hearty Slow Cooker Sausage Puttanesca is served with zoodles. The perfect low-carb weeknight dinner idea.
Keyword:
italian pasta sauce, pasta sauce, slow cooker meals, slow cooker recipes
Ingredients
1

lb

sausage meat, loose

*see notes below


2

teaspoons

garlic

minced

1/2

onion

chopped

6

cups

Tomato Sauce

jarred

1

tin

flat anchovy fillets

drained

20

olives

sliced

3

tablespoons

capers

drained

5

zucchini

end removed and peeled


2

teaspoons

butter

2

tablespoons

parmesan cheese

1

teaspoon

salt
Instructions
In a frying pan, begin to sauté the onions, garlic, and anchovies with the butter.

When they are translucent, add the sausage meat. Brown, and cook through.


Add the sausage meat to the slow cooker insert



Add the tomato sauce
, capers, and olives. Close the lid


Cook on low for 4 hours, or high for 2



Approximately an hour before serving, spiralize the zucchini


Salt the zucchini noodles over a colander and mix them up. Let them rest for 10 – 15 minutes to release their liquid. 



Using a clean tea towel, line it with kitchen towel and lay the zoodles onto the paper. Gently blot the extra moisture off them. Get them as dry as possible. 



Put them in a bowl and heat them in the microwave for 3 – 4 minutes on high. You don't want to cook them too long as they will get mushy.


Serve them onto plates, and add the sausage puttanesca sauce on top. Garnish with parmesan cheese.


Recipe Notes
If you cannot find loose sausage in the trays in the grocers, then buy regular sausage in the casings and split them open and remove the inside sausage meat. Alternatively, you can cook the sausages whole, and then slice in medallions and add them to the sauce in the slow cooker if you prefer. Cooking time in the slow cooker will be the same.
If you do not have a spiralizer, you can easily make your own zoodles using a vegetable peeler.
Directions: After removing the ends and the peel, use the peeler to peel long thin noodles off the zucchini. Rotate the vegetable as you go, slowly turning it with each "peel". Do not make noodles with the inner seeds, as they won't peel nicely and they will fall apart. (plus there's a lot of moisture in the inner center seeds of the zucchini). Continue on with the salting as usual.
Nutrition Facts
Slow Cooker Sausage Puttanesca
Amount Per Serving
Calories 558
Calories from Fat 342
% Daily Value*
Fat 38g58%
Cholesterol 96mg32%
Sodium 3798mg165%
Potassium 2209mg63%
Carbohydrates 30g10%
Protein 29g58%
Vitamin A 2325IU47%
Vitamin C 72.1mg87%
Calcium 163mg16%
Iron 6.6mg37%
* Percent Daily Values are based on a 2000 calorie diet.