Check out the new JCPenney 2017 Back To School Styles for girls. Mix & Match tops and bottoms to suit your child's personality. From the cool to romantic #SoWorthIt​  #HazValerTusPenneys
Thank you, JCPenney for sponsoring this fun post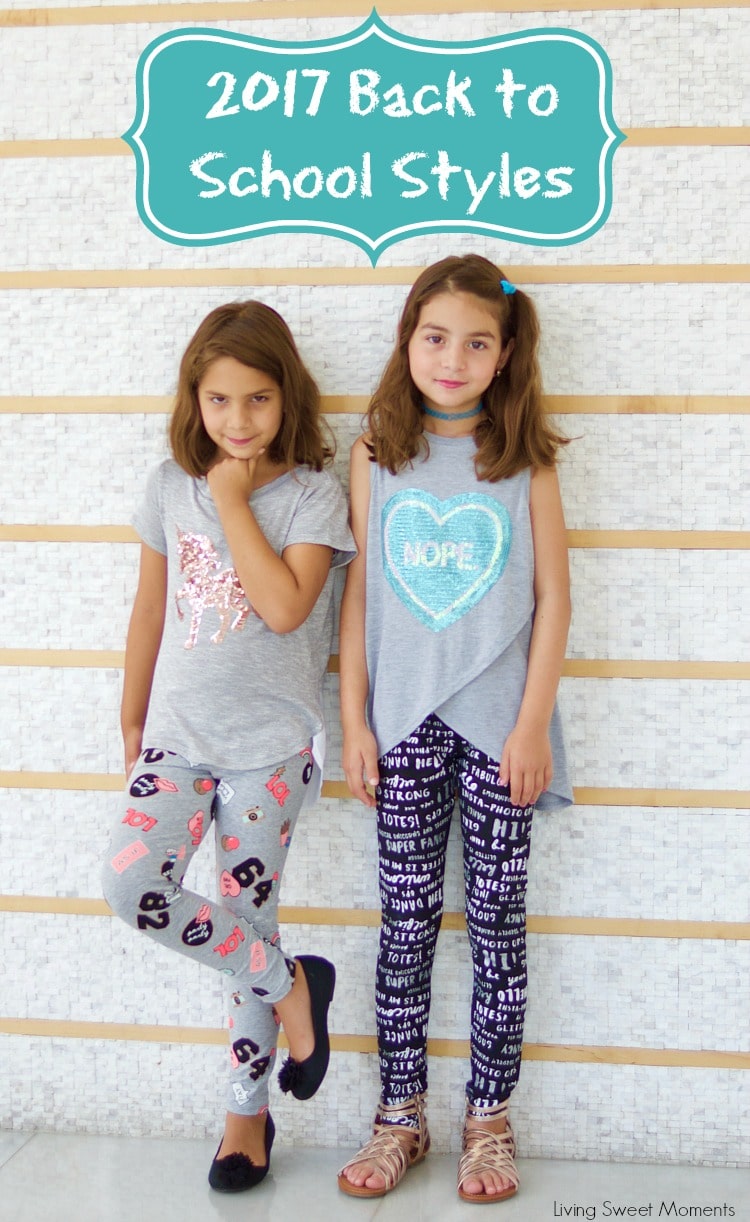 JCPenney's 2017 Back To School Styles
In a matter of weeks, my girls will be starting 4th and 2nd grade respectively. They are both so excited to find out which classroom they will be in as well as who they're classmates will be. I am more excited to get them out of the house and start our routine once again.
To prepare them for this lovely occasion, I took them to our favorite store: JCPenney. It's definitely a one stop shop destination for our back to school needs since they offer trendy and contemporary looks.
We were able to find socks, underwear, shoes, and clothing all at excellent prices. My biggest impression was the huge junior apparel selection.
The girls were running from one section to the next in awe of all the different styles, colors, and cuts. That's the great thing about having girls, I get to play "Barbies" when dressing them up.
If you're unsure on what to buy, I recommend finding articles that can be mixed and matched. One bottom can go with 3-4 tops and vice-versa. It's a great way to save money while creating different looks each day.
Another thing I recommend is to accessorize their clothing with necklaces, bracelets, and hair pieces to enhance their look. Luckily, JCPenney offers tons of shirts with necklaces and chokers included. My oldest girl went crazy for them.
Here are my top 3 favorite JCPenney 2017 Back to School Styles:
Keep in mind that JCPenney offers more than 10 different styles. Head on over to the store and let me know which one is your favorite.
The Romantic Look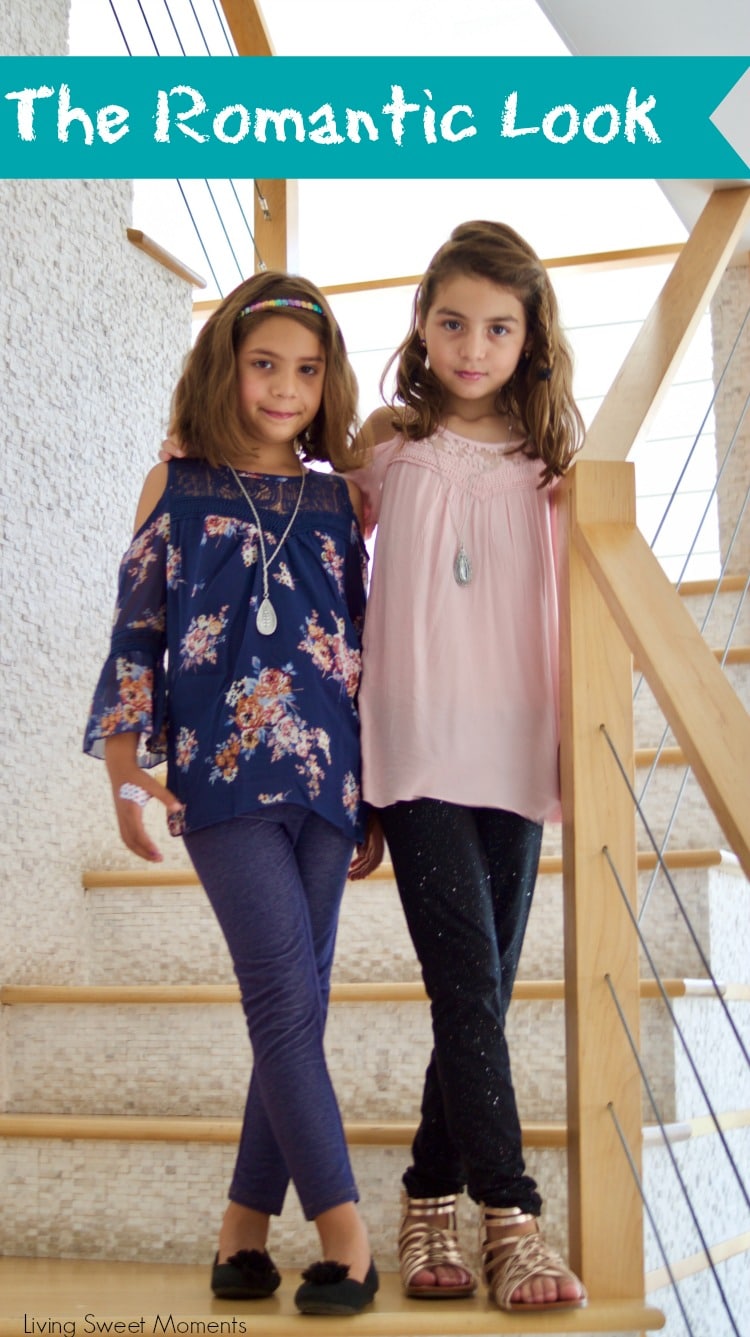 This look includes Femme Tops in feminine shades with ruffles, flutter sleeves and lace details are the perfect way to add elegance to the everyday.
They come in different colors and shades that can be worn with leggings, jeggings, and jeans.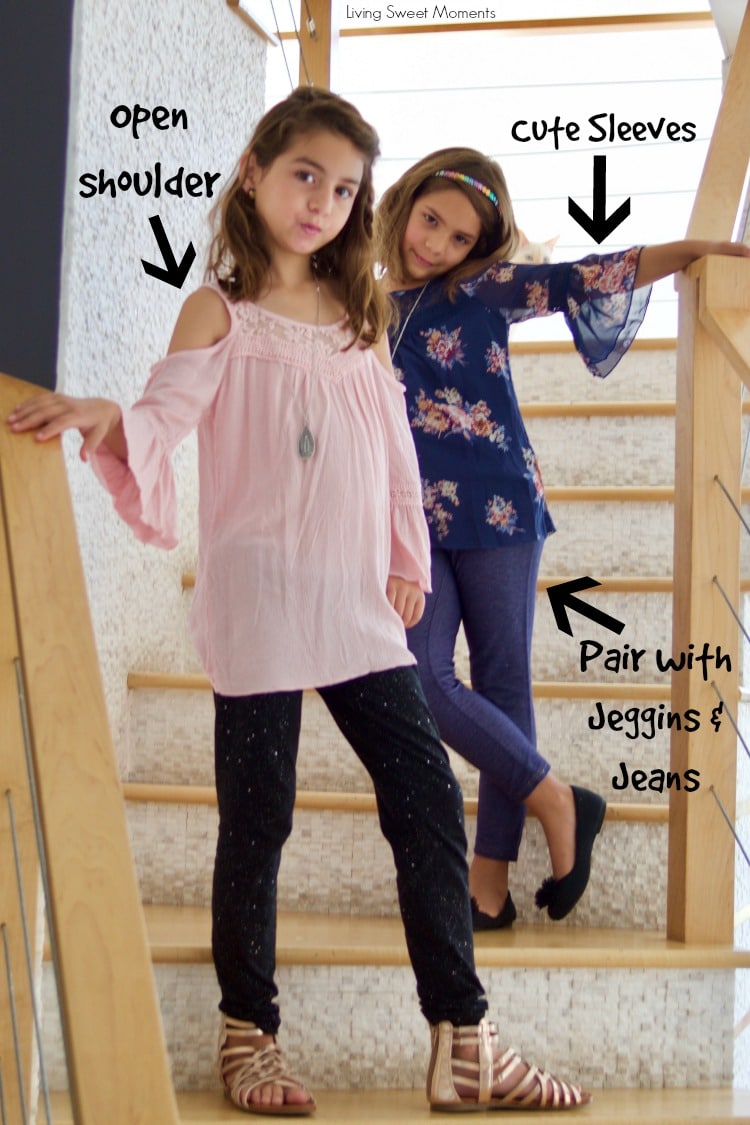 They look beautiful and elegant wherever they go. Match with sandals, closed toe shoes, and sneakers.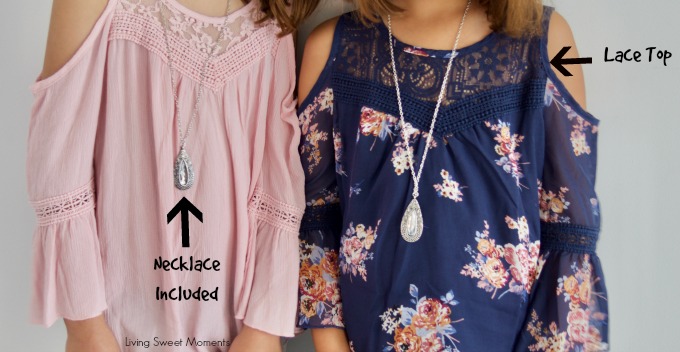 A great detail is that these shirts include a necklace to finish the romantic look.
The Fashion Look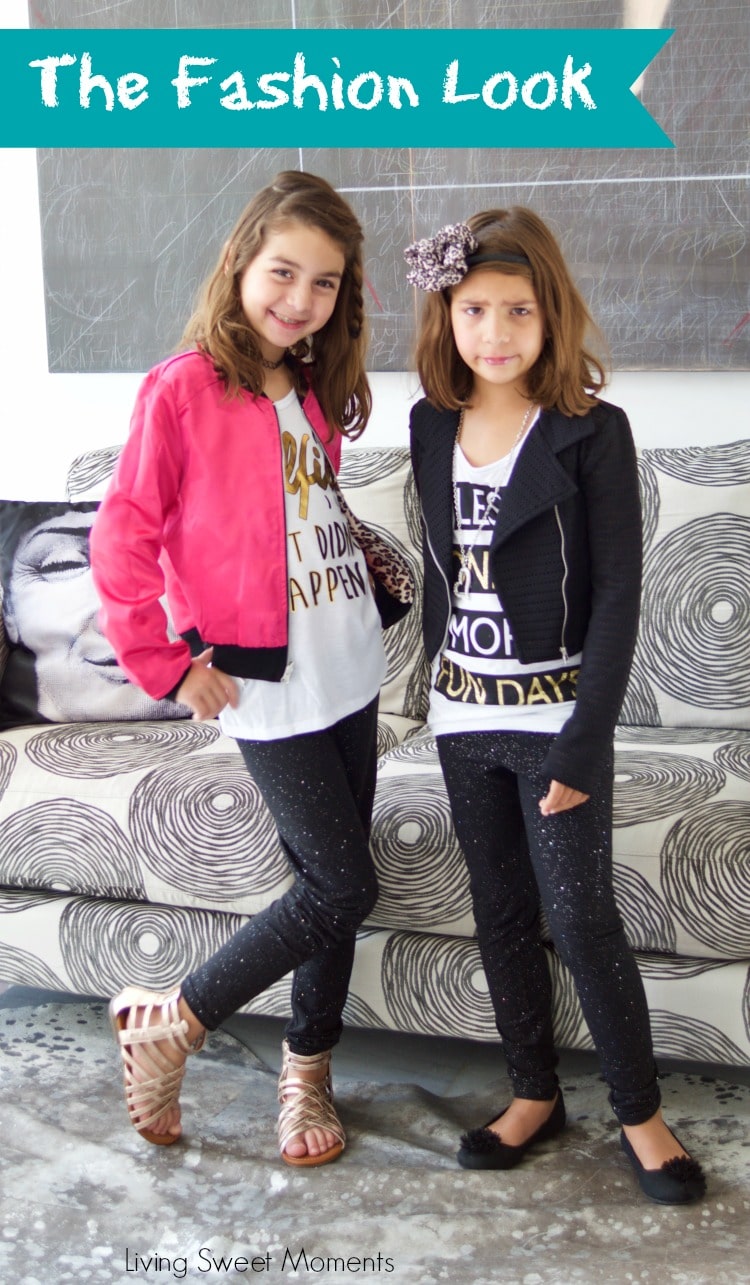 Don't they look like rock stars? This is my personal favorite look and it's all about solid colors and layering. A short modern cut jacket is paired with a long printed t-shirt and leggings or jeans.
Finish the style with some awesome gladiator sandals, booties, or closed toe shoes. It's perfect for school or for a night out on the town.
See the hot pink jacket on the left? It's reversible!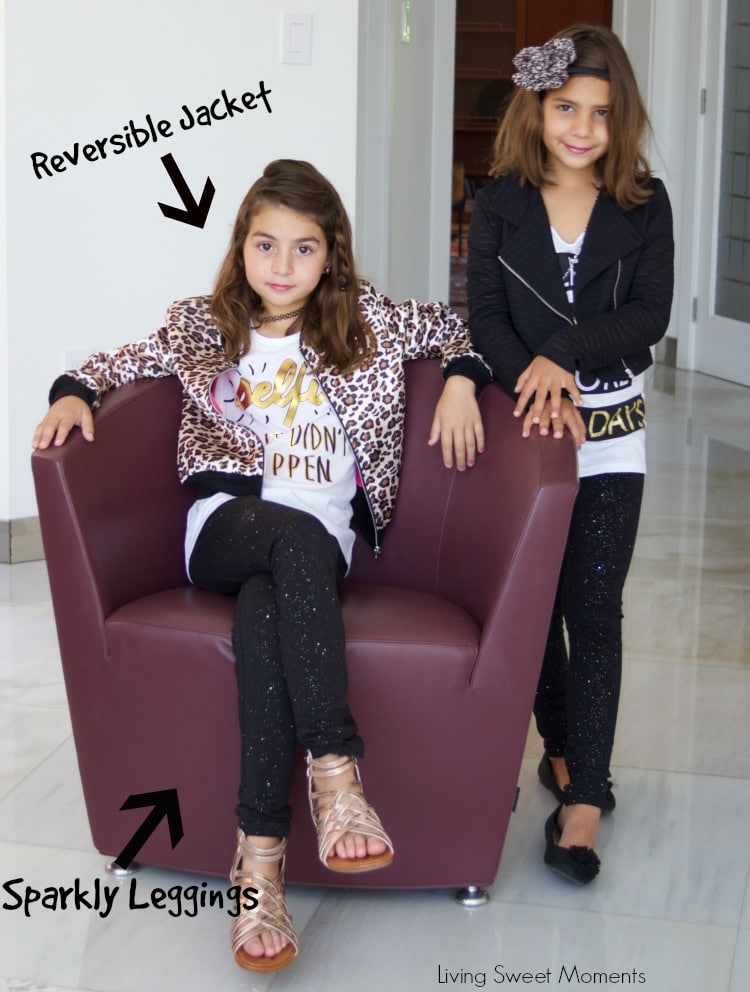 In a matter of seconds, it turns into a leopard print jacket.
What I love about this outfit is that the jacket, the t-shirt, and the choker or necklace all come together. You pay for one and you get all three.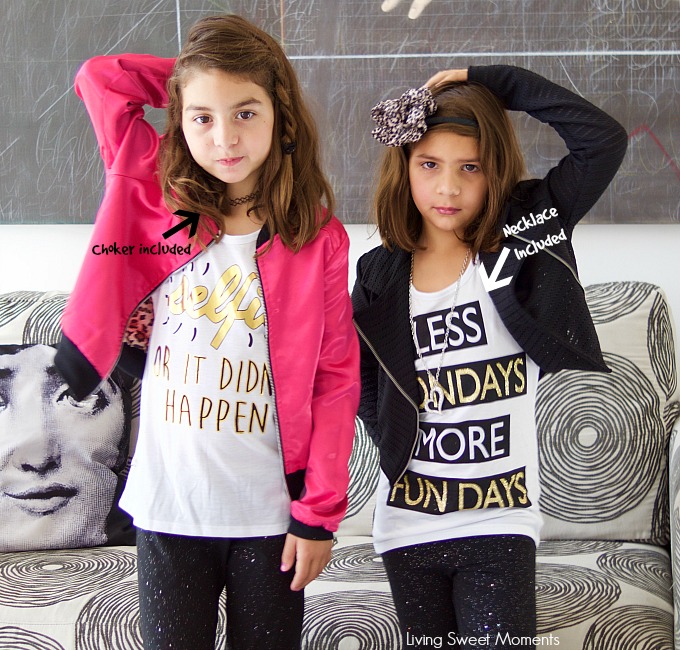 The printed shirts have some great phrases making them a nice conversation starter when they go to school.
Did you notice that my oldest daughter is wearing the same leggings and shoes in both the romantic and fashion look? Not only are they practical, they can be paired off in many different ways.
The Cool Look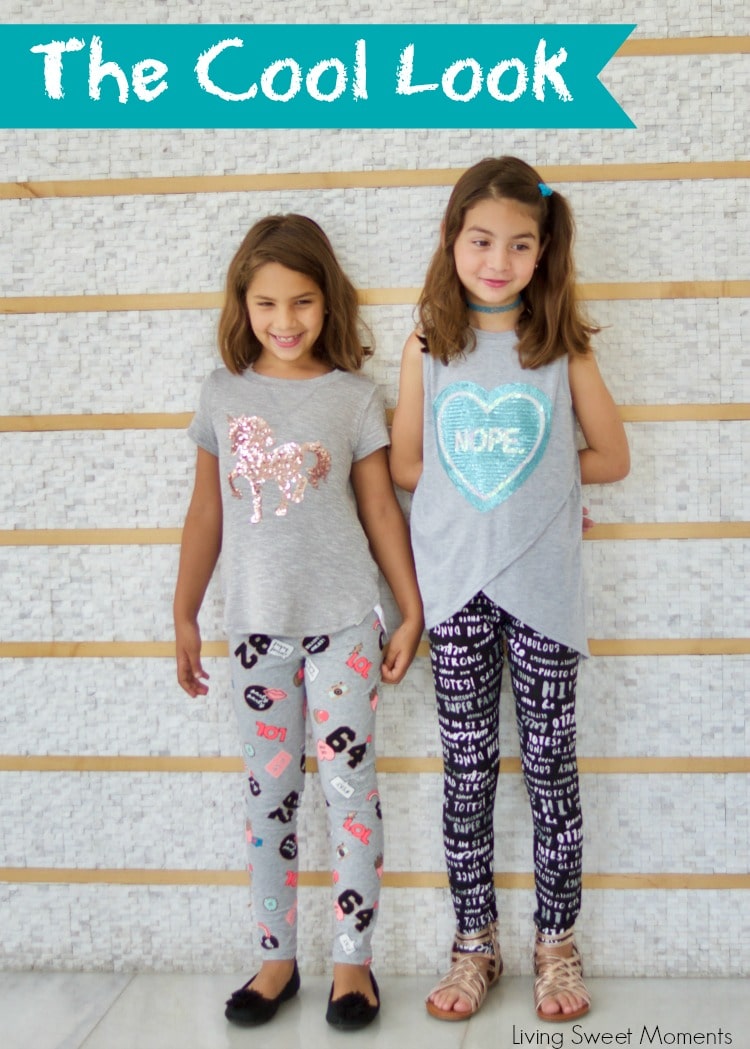 If your girls are into glitter, then they are going to go crazy for these awesome T-shirts.
There are tons of designs to choose from with different finishes on the bottom. See the t-shirt on the right has like a crossed look and the t-shirt on the left is layered in white on the back. Both have modern glitter designs that each girl chose as their favorite.
My youngest daughter is obsessed with unicorns, and she went straight for that t-shirt.
Aside from the t-shirts, the cool look also offers printed leggings that are fun, stylish, and comfortable. Buy a pair with a few t-shirts and create different looks every day of the week.
Here's a closeup on her new favorite pair of sandals. They look beautiful with the both leggings and make the outfits pop.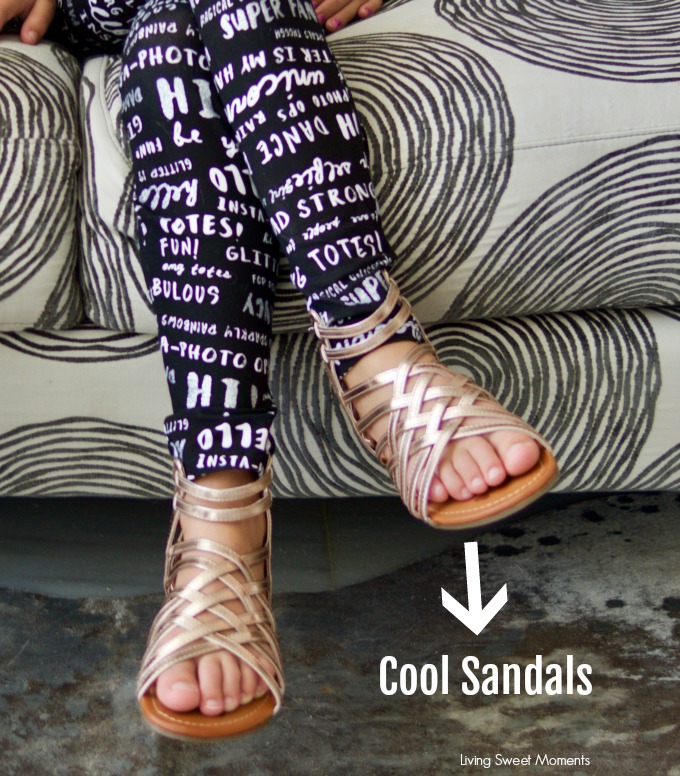 Shopping at JCPenney is always worth your time, money and effort with styles that are priced to buy and guaranteed to love.
My question for you is, did you like any of these styles? If so, which one was your favorite?
JCPenney also offers deconstructed denim, athletic sportswear, and camo outfits that are perfect for Back to School. Head on over HERE to check them out.