This savory shortcrust chicken pie (Polvorosa de Pollo) is made Venezuelan style by filling it with yummy shredded chicken, olives, raisins, and capers.
Thank you to BJ's Wholesale Club for sponsoring this post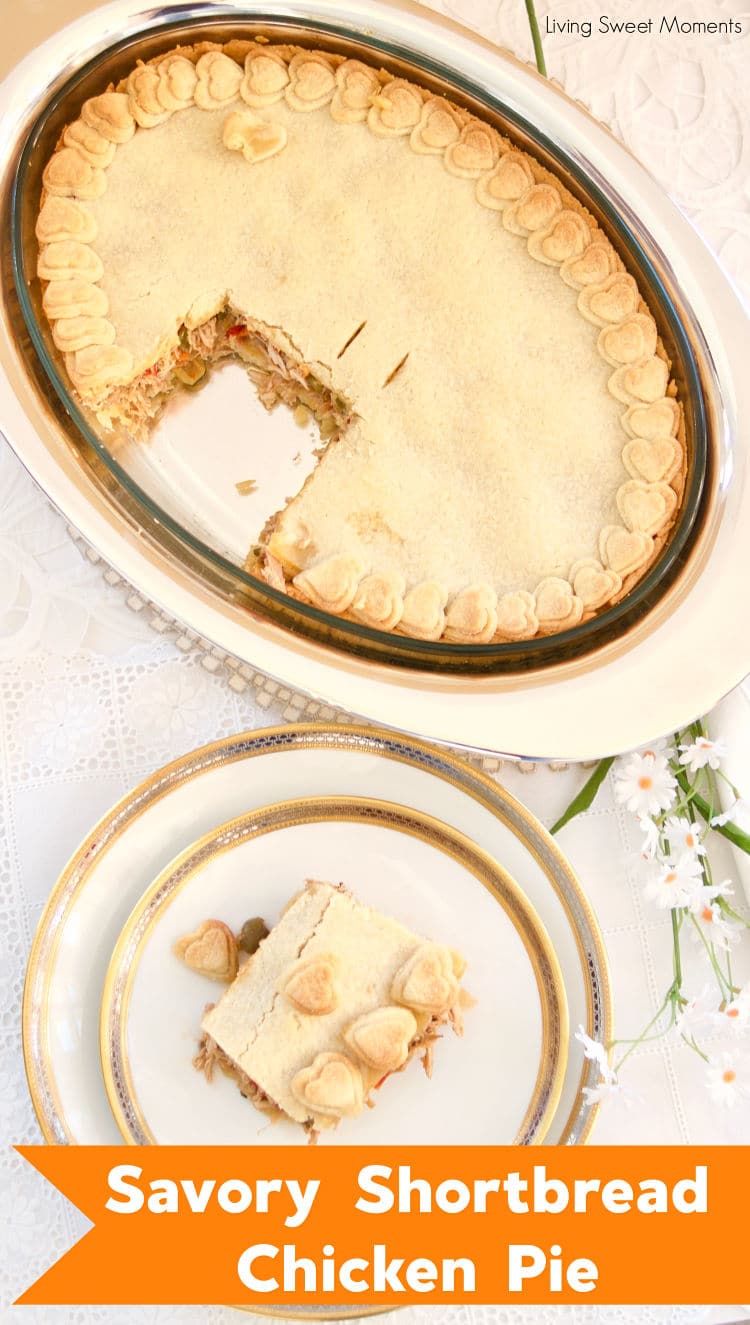 Latin Shortcrust Chicken Pie – (Polvorosa de Pollo)
If you ever need to impress your boss, friends, or in-laws with a dish, this is the one.
Not only is the filling of the pie the most amazing balance of flavors and textures, but the crumbly crust melts in your mouth with every bite. It's delicate, sweet, and salty.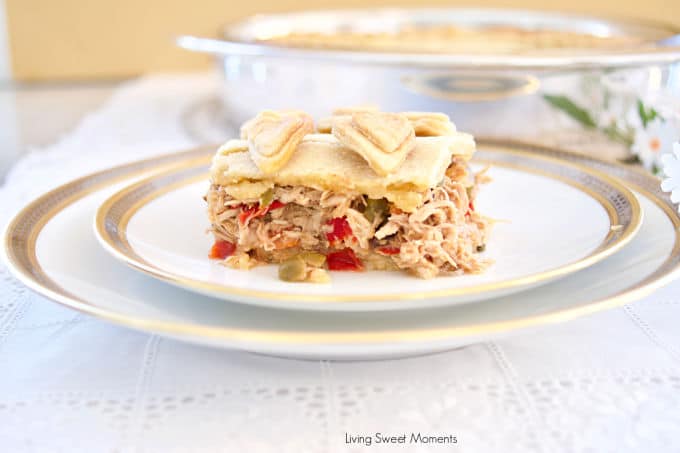 October is Hispanic Heritage month and I've partnered with BJ's wholesale club to showcase all the products they carry to add a little bit of "sazon" to your dishes.
And with BJ's everyday low prices, members can find the ingredients for their favorite traditional Hispanic and Latino recipes at an incredible value.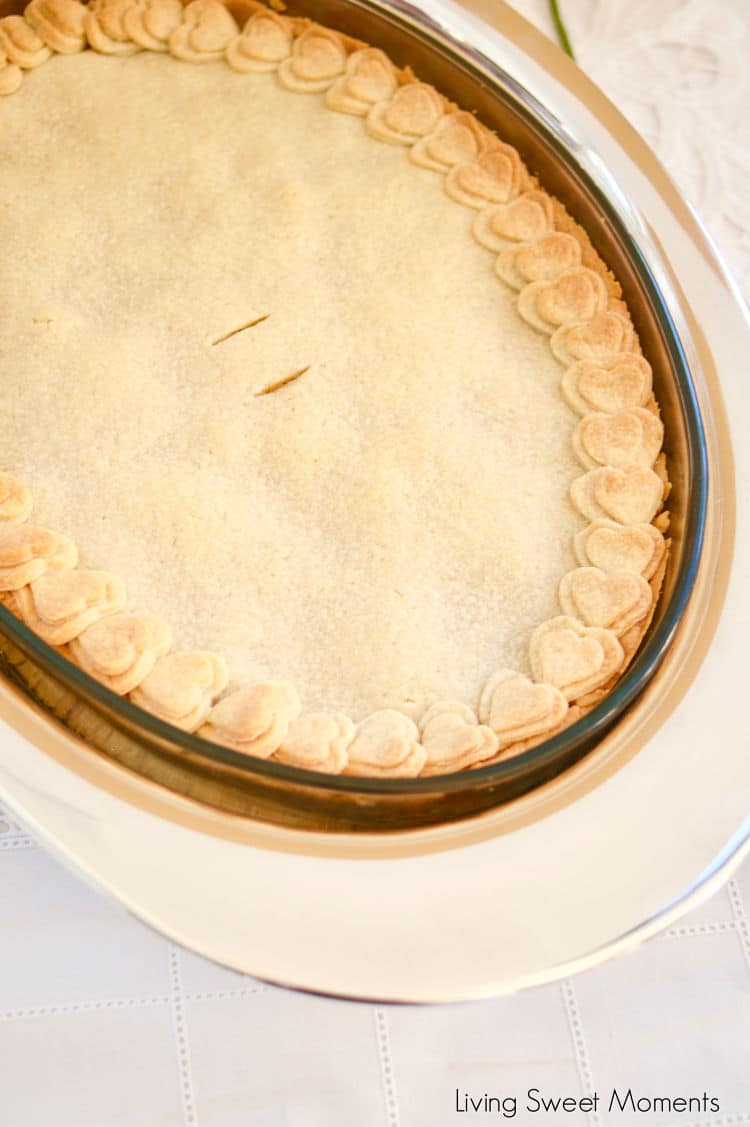 Remember, BJ's has a feature that allows you to add digital coupons directly onto your membership card, so there's no need for clipping. Plus, they're the only major warehouse club to accept manufacturers coupons in addition to their own!
Who doesn't love savings upon savings?
Did you know that you can choose fresh meats cut to your specifications? BJ's butchers will recut and repackage at no charge.
And the Refer-A-Friend promotion is still going on, so you can earn a free $25 gift card just by telling your friends about BJ's.
Simply click HERE and register. Once you become a member you will get a free $25 BJ'S GIFT CARD! – then, you can send it to your friends and family and when they register and you both get a $25 gift card.
Now, back to my Shortcrust Chicken Pie.
Making it requires a few steps, but don't worry, I will walk you through each one.
Here's a tip: this pie can be cooked and frozen, so make a double batch and you'll have a full dinner ready at a moment's notice.
Ready to cook? Put on your apron and let's start.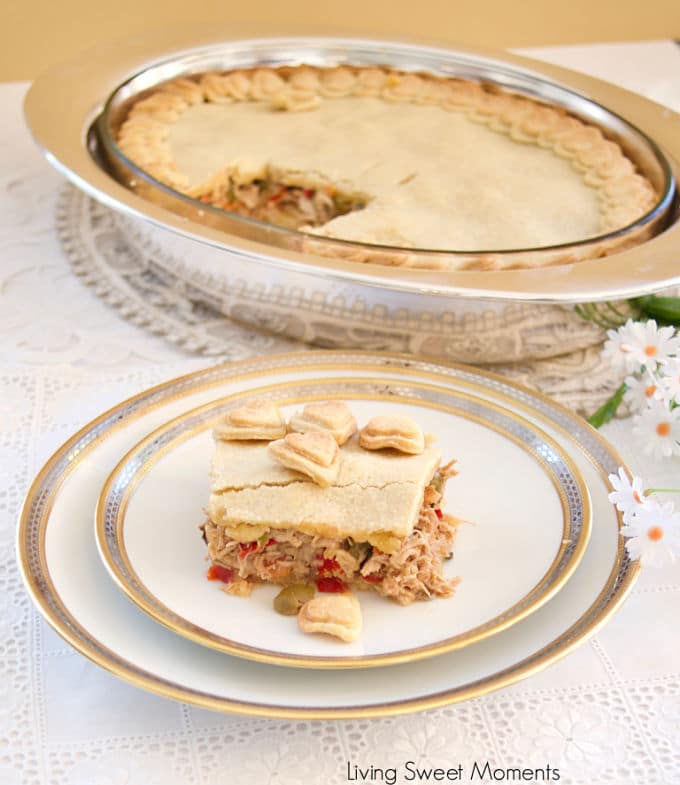 First, make the dough, divide in 2, and refrigerate it. In the meantime, start with the filling.
Saute the veggies, or the "sofrito" until they soften.
HOT TIP: skip the chopping and buy a sofrito bag of frozen vegetables at BJ's (in the freezer section).
I love all the colors!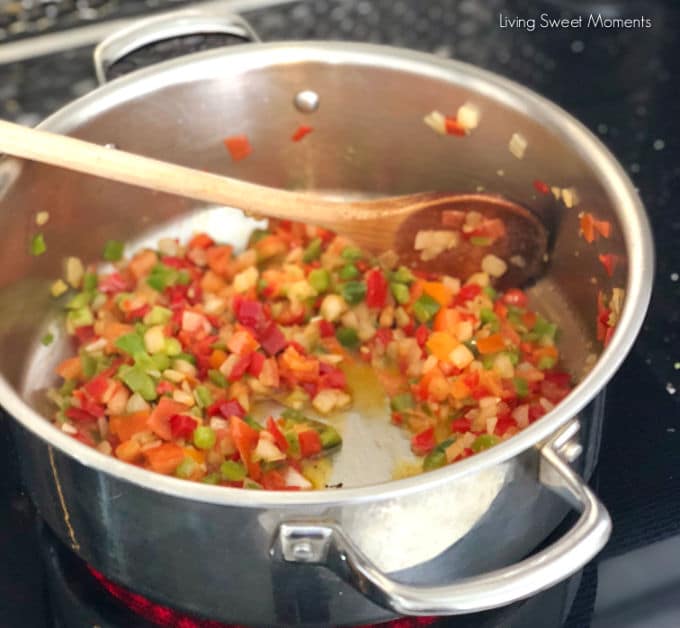 Now add the chicken.
I used a BJ's rotisserie chicken and shredded it. You can opt for leftover chicken.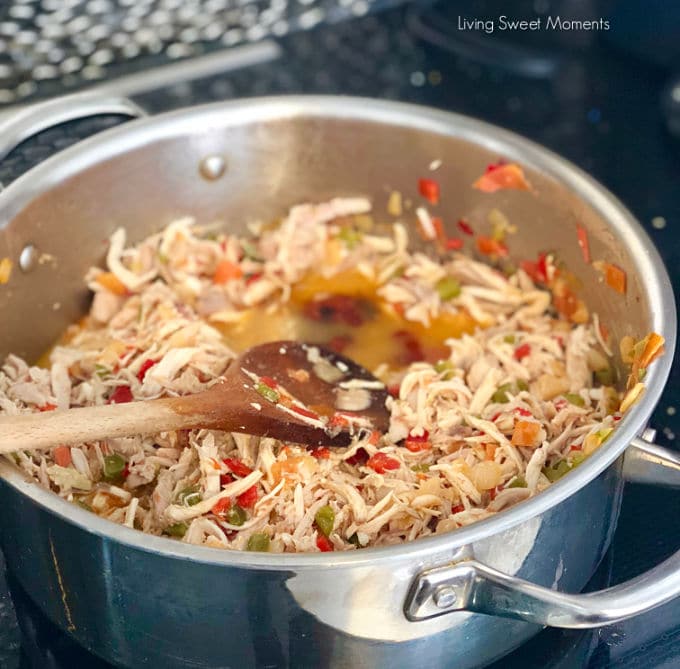 Then we add the sauce ingredients including capers, raisins, and chopped olives.
Our filling is done.
Next, we roll our bottom dough in between 2 pieces of parchment paper. This will make it easier to handle.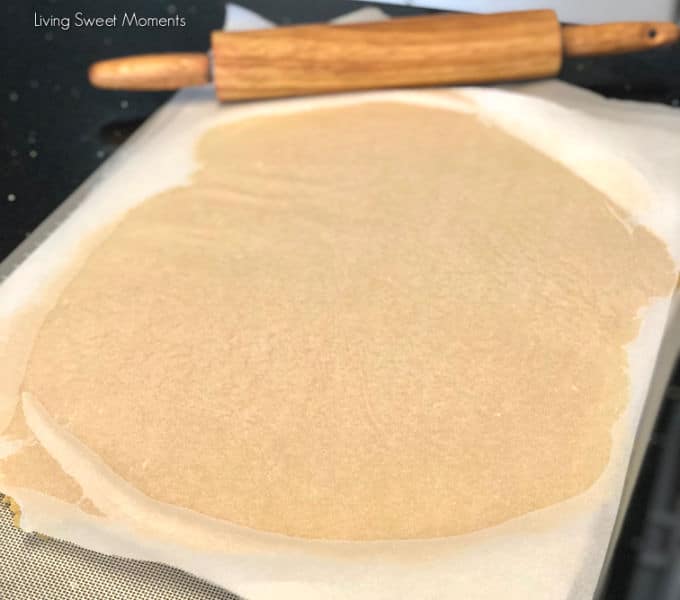 Then we peel off the top paper and invert the bottom paper into a greased baking dish. Use a square, oval, rectangular, or any shape of baking dish you may like.
Peel off the paper and fix any broken parts and cut off the excess dough.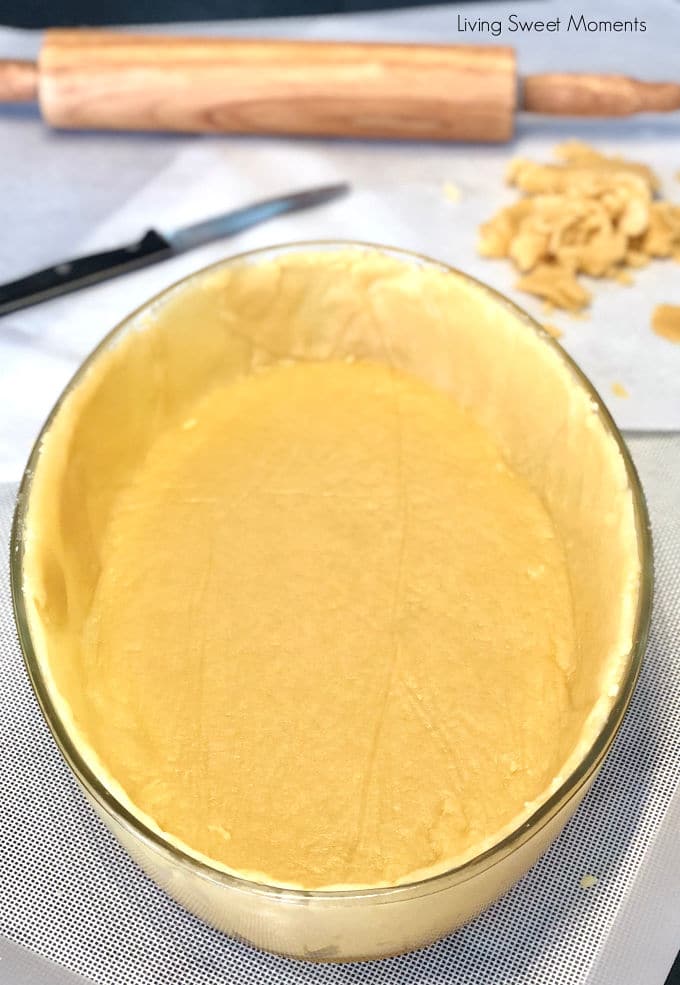 The bottom dough gets baked for 15 minutes at 350 degrees F. This will prevent the crust to get soggy when you add the filling.
When it comes out of the oven, let it cool for 10-20 minutes before adding the filling.
Doesn't that look amazing?
Roll the top layer in between 2 pieces of parchment paper.
Measure the baking dish on top of the dough and with a knife, mark off where to cut, just like a stencil.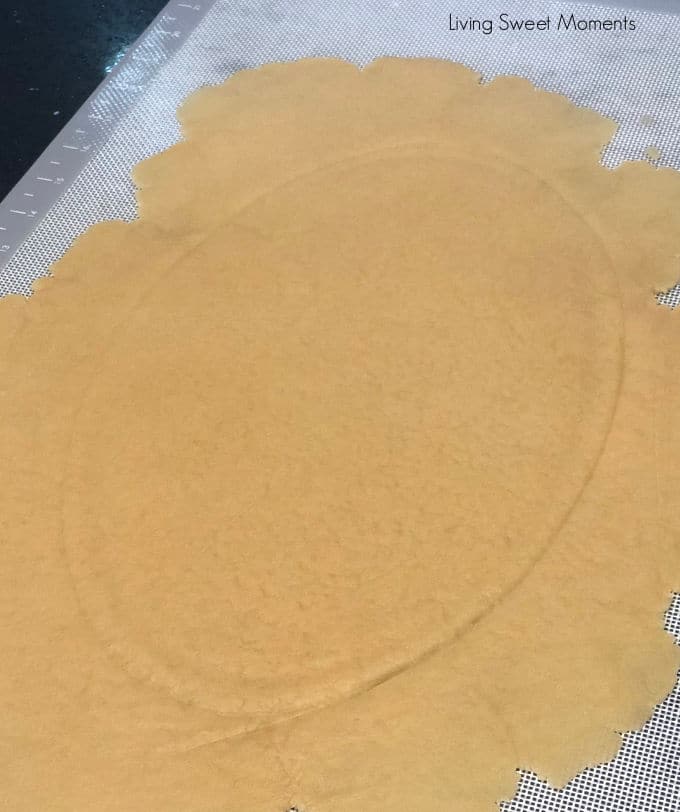 This is what it looks like when I peel off the top parchment paper. With a sharp knife, I cut along the lines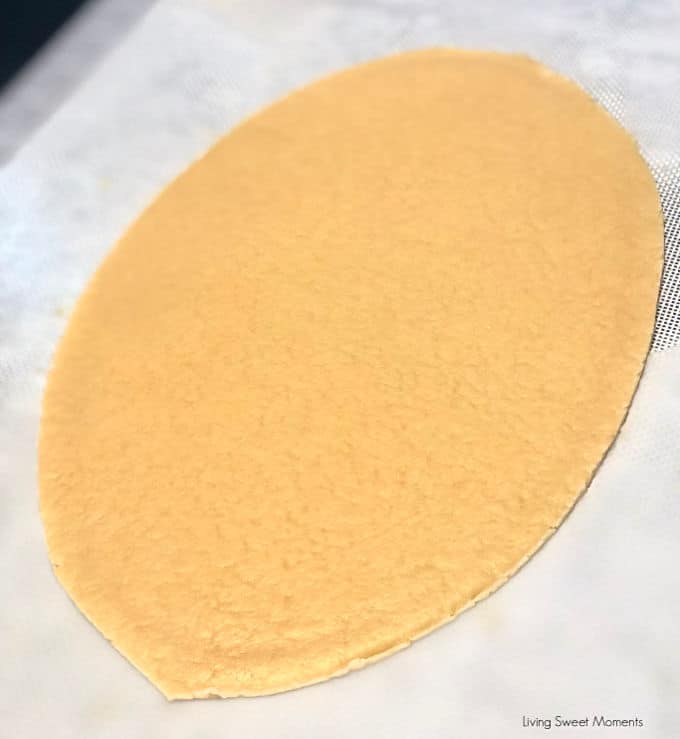 Tada!
Just like we did with the bottom crust, invert the paper on top of the pie.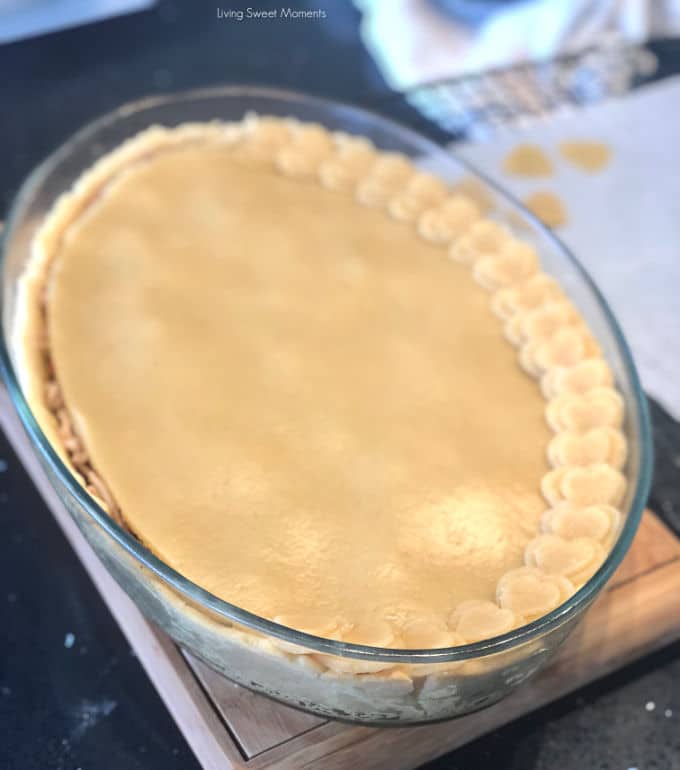 Decorate the borders with the leftover dough.
Honestly, I used heart shapes because it was the only tiny cookie cutter I had, but use whatever you have at home.
Next time, I'll do long braids on the sides.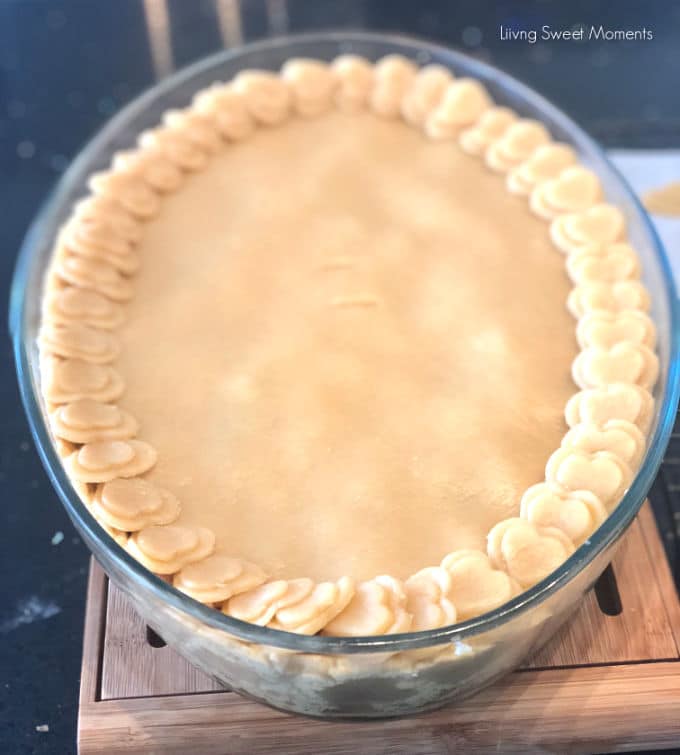 This bad boy is ready to bake. Remember, you can freeze it up to this point.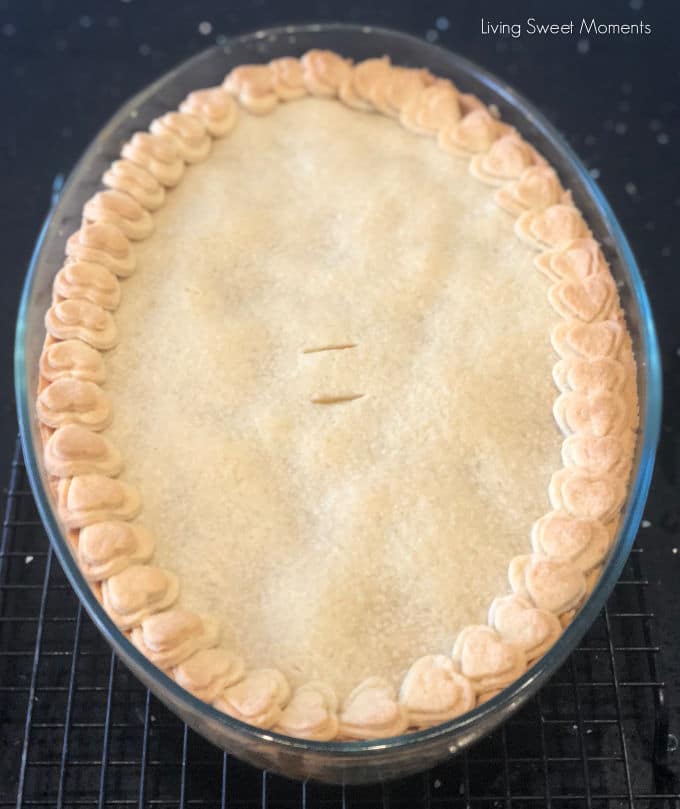 Yum!
By the way, this Shortcrust Chicken Pie feeds an army and doesn't need a side dish. You can serve it alongside a fresh green salad, but it's really up to you.
I hope you can try this delicious Latin Shortcrust Chicken Pie (Polvorosa de Pollo) at home. If you do, please upload a pic on Instagram and tag me @Livingsweetmoments or use the hashtag #LivingSweet.
Shortcrust Chicken Pie
This savory shortcrust chicken pie (Polvorosa de Pollo) is made Venezuelan style by filling it with yummy shredded chicken, olives, raisins, and capers.
Keyword:
chicken pie, fancy chicken dishes, savory shortcrust pie, shortbread pie