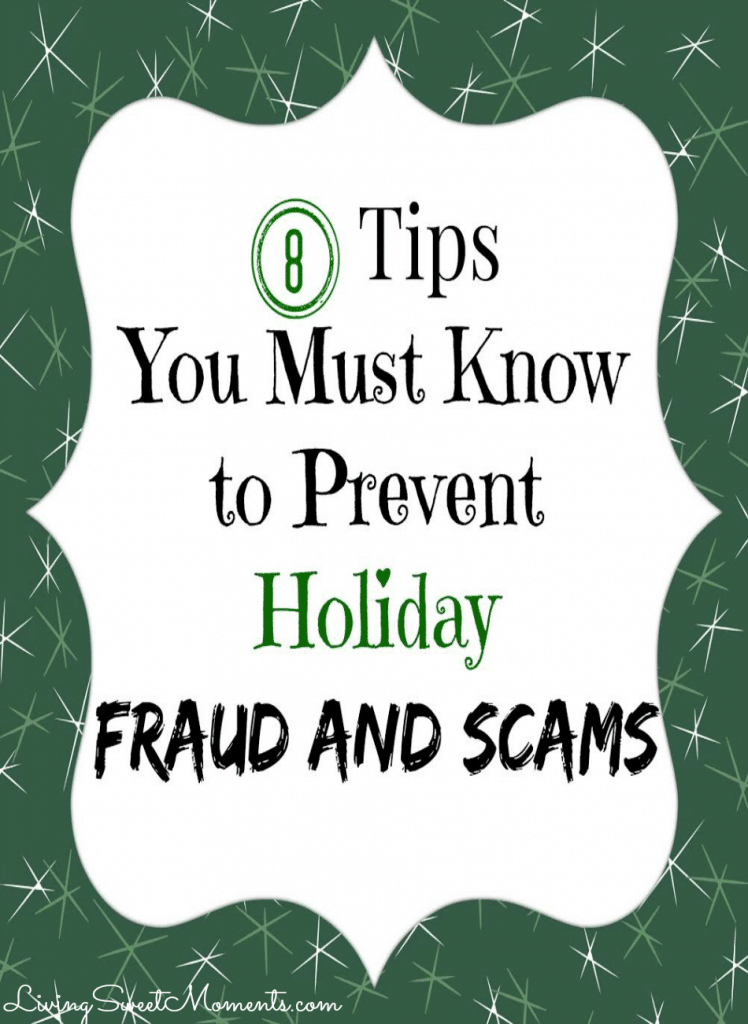 8 Tips You Must Know to Prevent Holiday Fraud and Scams
The holiday season can evoke the best in people. The spirit of kindness and giving fills the air, but that means it's also a prime time for scams and fraud. Experts at the FBI and Consumer Reports state that criminals love to be the Grinch, and become more aggressive in November and December. Be aware that scams are happening online, via phone, and in store. To protect yourself from the creative and sneaky ways crooks are conning shoppers, remember these 8 tips you must know to prevent holiday fraud and scams…
The Scam – Gift Cards are a popular choice during the holidays. Thieves like to steal information from the back of a gift card. After checking to see the card has been activated and loaded with funds, they will then use the card to make purchases online.
Prevention Tip – Retailers are becoming aware of the problem and have started offering more protective packaging. Make sure to pick a card that hides the number and double check to make sure the silver scratch-off coating hasn't been touched. Also, keep your receipt in case a problem arises.
The Scam – Some of those emails about a "shipment issue notice" look legit, but they are actually fake alerts designed to get consumers to give out personal information. You might also get these "notices" via text message.
Prevention Tip – Never ever give out information online or via text. Instead, contact the shipping establishment directly by calling their customer service.
The Scam – Fake sites are becoming a popular tactic for cyber criminals.  You might receive emails, social media messages, or pop-up ads offering exclusive coupons or specials with a link you must follow to score the supposed deal. From there, malware is downloaded onto your computer and it will be begin grabbing every bit of personal information it can find. Other fake retail sites will offer up comparable discounts for hard-to-find items. Always check out retailers with the Better Business Bureau before you buy. A giant red flag might be in the ad or link – look for misspellings or words added on to the retailer's official site address.
Prevention Tip – Don't use the link. Ever. If you think the deal is legitimate, open a new browser and search the name of the store. If the deal is real, it should be on the official retailer's site.
The Scam – Giving to charities is a wonderful thing, but fake charities will take your money and your information. You might experience reputable-sounding causes reach out to you via phone, email, mail or even in-person.
Prevention Tip – If you want to give to a charity, check with the IRS to ensure it's a real foundation. Never give a cash donation; always use a credit card or check to ensure you have a record of the donation.
The Scam – Package delivery is an easy Target for thieves. They will follow delivery trucks around and swipe boxes from doorsteps that aren't quickly collected.
Prevention – Ask for a signature before delivery. If the driver doesn't get one, he/she will take the package back to the warehouse and leave you a note with instructions on how to pick it up. You can request the package simply be shipped to the nearest distribution center/warehouse instead of your home.
The Scam – E-cards are a fun and easy way to reach out to family and friends. They are also a prime opportunity for scammers to get you download malware.
Prevention Tip – Be wary of cards from links that have misspellings or don't come from a reputable company. Also, don't open the card if you have to click a special link to get it or it's from someone you don't normally receive correspondence from.
The Scam – Santa is a great face for criminals fishing or info. Often, swindlers will offer to send your child a letter from Santa, in effort to collect personal info.
Prevention – Have a friend or family member write the letter and don't give out personal info to companies you don't 100% trust and can't find on the Better Business Bureau.
The Scam – There are a growing number of giveaways that encourage "sharing" or "liking" something to score a freebie. Then, surprise, you've won a free gift! That gift is going to be a drain on your bank account and personal information.
Prevention Tip – These scams are easier to spot, but never give out any personal info, especially your mobile phone number. You could easily be wrapped up in a paid text message schemes.