Hazelnut Chocolate Cups – A Copycat Reese's cups but instead of using peanut butter, they are filled with a delicious Nutella cream. Easy and delicious! yum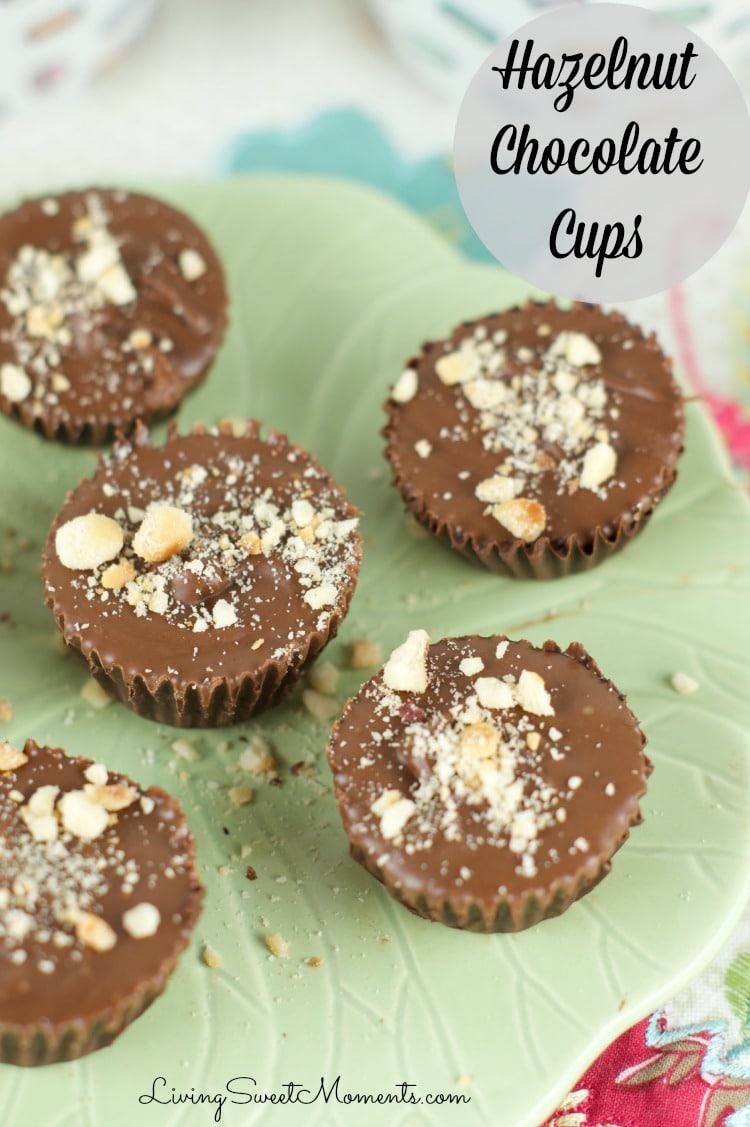 Hazelnut Chocolate Cups (Copycat Reese's)
In Miami it's getting hot outside.. I can't imagine how am I going to survive this summer.. And yes, I say the same thing every year. These Hazelnut Chocolate Cups are perfect since they don't require any baking at all. These Reese's copycat variation are sweet, creamy, delicious and full of nutty flavor.
I love making bom boms, chocolates, and delicate little treats when company comes over. It's a nice touch that makes them feel welcome. These Hazelnut Chocolate Cups are super easy to make! Even if you've never cooked before you will be surprised on how quickly and cool they assemble.
To make it even easier, I am going to show how a step by step guide on how the Hazelnut Chocolate Cups are made:
Start out by lining a small muffin tin with with liners. Then melt some chocolate chips and add a little to each crevice: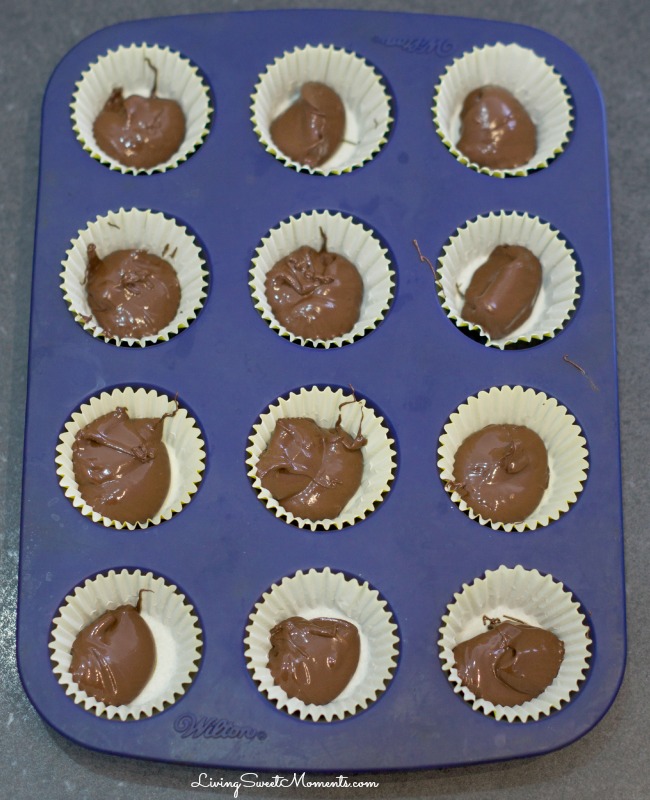 Using your fingers, make a circular motion into each crevice so the sides and bottom are coated. You can also use a spoon or a small spatula. Personally, I like to use my fingers. It gives me more control. The cups should look like this: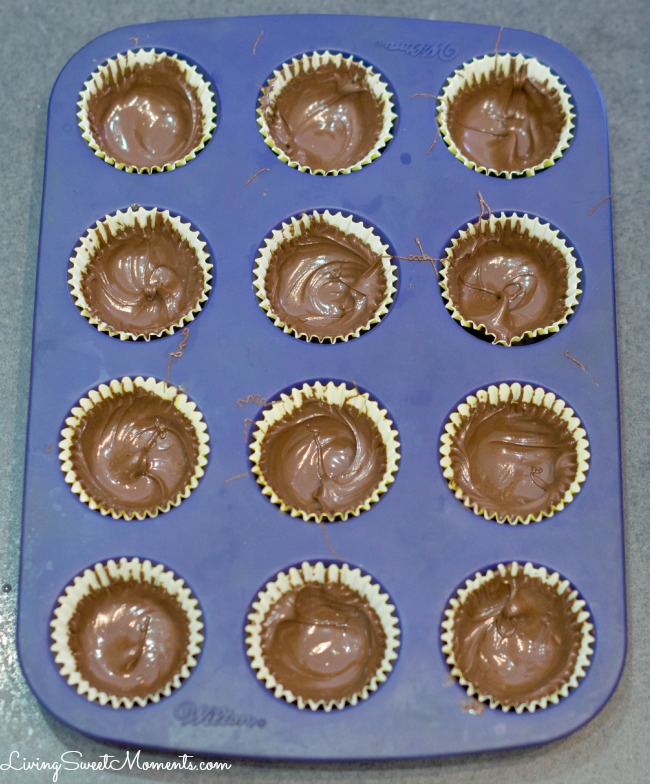 Each cupcake liner is coated on the bottom and sides with the chocolate. After this step, refrigerate it for 10 minutes or so until they harden.
Meanwhile make the filling using Nutella, powdered sugar and a little-melted butter (full recipe on the bottom). Add the filling inside a plastic zip top bag and snip a corner. That will make filling the little cups a little less messy.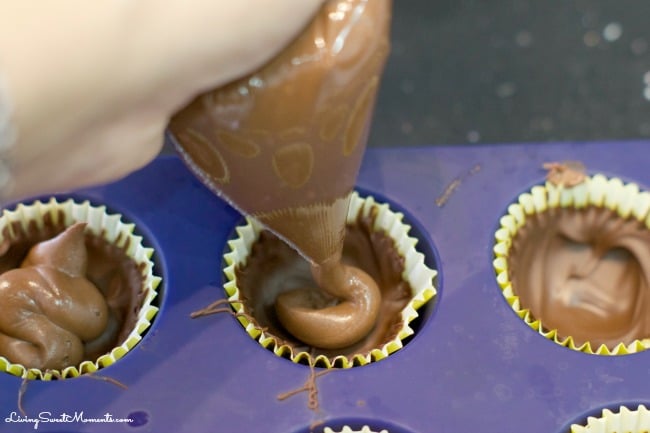 You can add as much or as little as you want. I really love Nutella so I got a little generous with mine. As you can see below, they don't look really pretty but you can use the back of a spoon to flatten them a bit so the filling covers all the sides.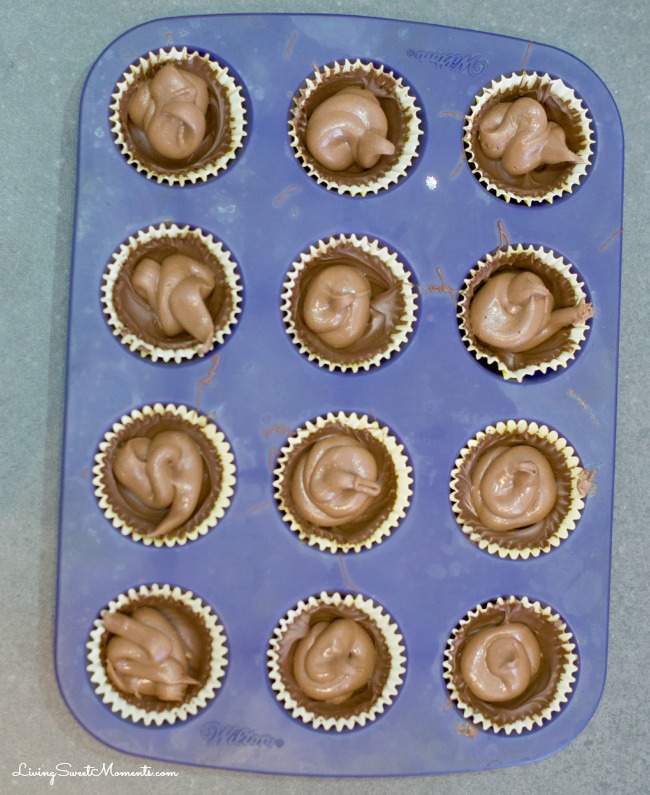 All you have to do right now it to cover with the remaining melted chocolate. Just use a spoon to add a blob on top and make a cute little swirl so they look pretty. Refrigerate 20-30 minutes so they can set up nicely.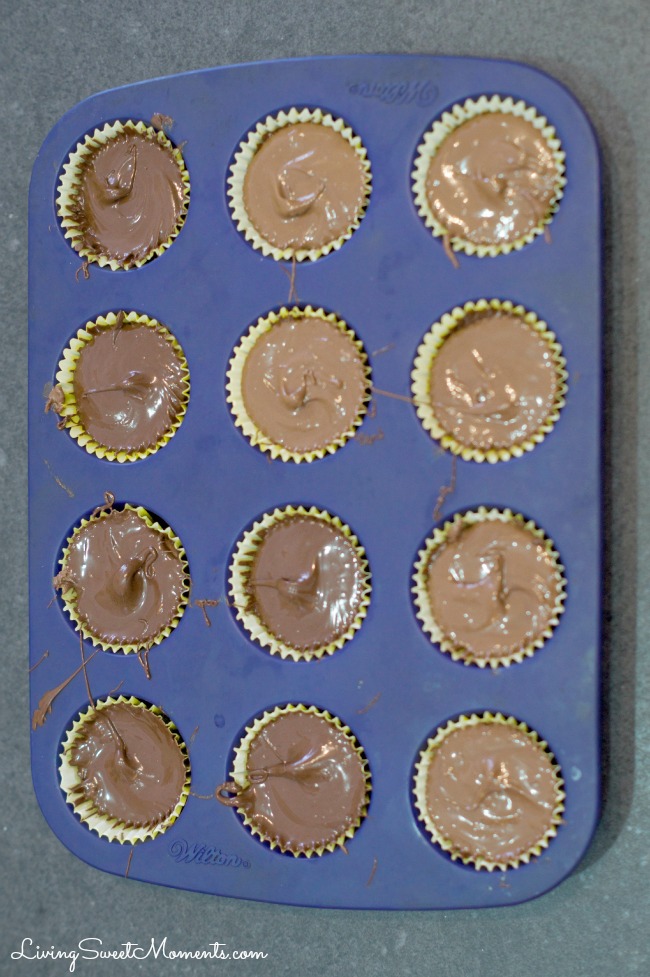 I decorate them with some chopped hazelnuts. You can decorate any way you'd like to: chopped chocolate, more nutella or leave them as they are.
And that's all there is to it! Now time to dig in…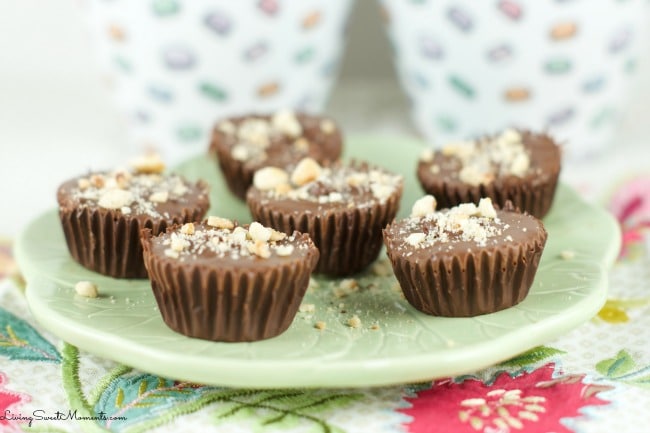 And take a bite: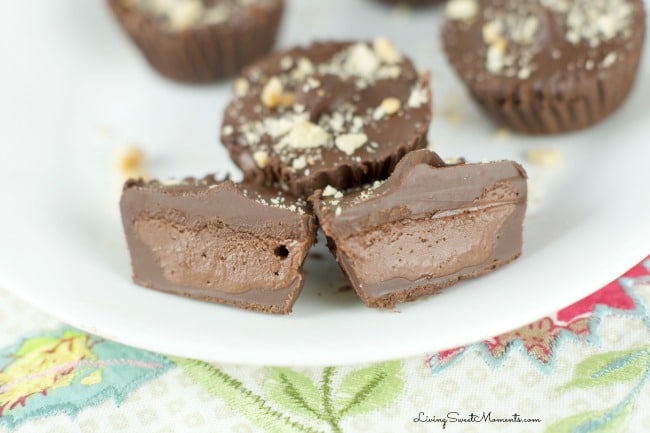 One more for the road: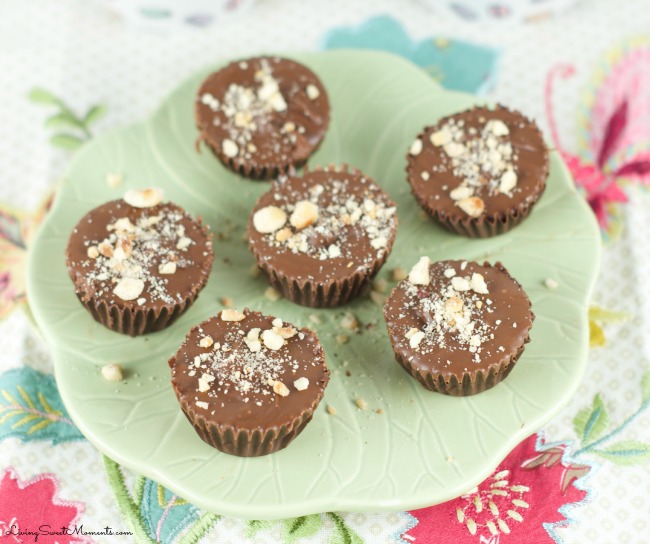 I hope you can make these delicious Hazelnut Chocolate Cups  at home. If you do, please tag me on Instagram @livingsweetmoments and/or use the hashtag #LivingSweet – I promise to Repost it.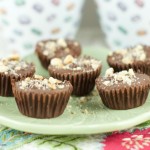 Hazelnut Chocolate Cups (Copycat Reese's)
Hazelnut Chocolate Cups - A Copycat Reese's cups but instead of using peanut butter, they are filled with a delicious Nutella cream. Easy and delicious! yum
Ingredients
2

Cups

of Semi-Sweet Chocolate Chips

1/2

Cup

of Nutella Hazelnut Spread

1/4

Cup

of Powdered Sugar

2

Tablespoons

of Unsalted Butter

melted

Chopped Hazelnuts

optional
Instructions
Melt the chocolate chips by microwaving in 30 second intervals and stirring between each interval (mine took about 90 seconds)

In a small bowl combine the butter, hazelnut and powdered sugar. Stir until combined. If the mixture seems dry and crumbly add a bit more melted butter

Line a muffin tin with paper liners

Add a teaspoon of chocolate into each crevice. With your fingers, cover the sides and bottom with the chocolate and make sure they are completely coated

Refrigerate for 10 minutes or until they are set

Place the Nutella filling inside a zip top bag and snip one corner with scissors. Fill each crevice of the muffin tin with this mixture

With a spoon, cover the filling with the rest of the melted chocolate. Use a circular motion to make a nice design on top

Refrigerate for 20-30 minutes or until completely set

When the cups are set, simply peel the muffin liners off, sprinkle the hazelnuts on top and enjoy!
You may also like: