This sweet crispy Cinnamon Raisin Artisan Bread is easy to make and delicious! Enjoy a toasted slice with butter and jam for breakfast. My fave bread recipe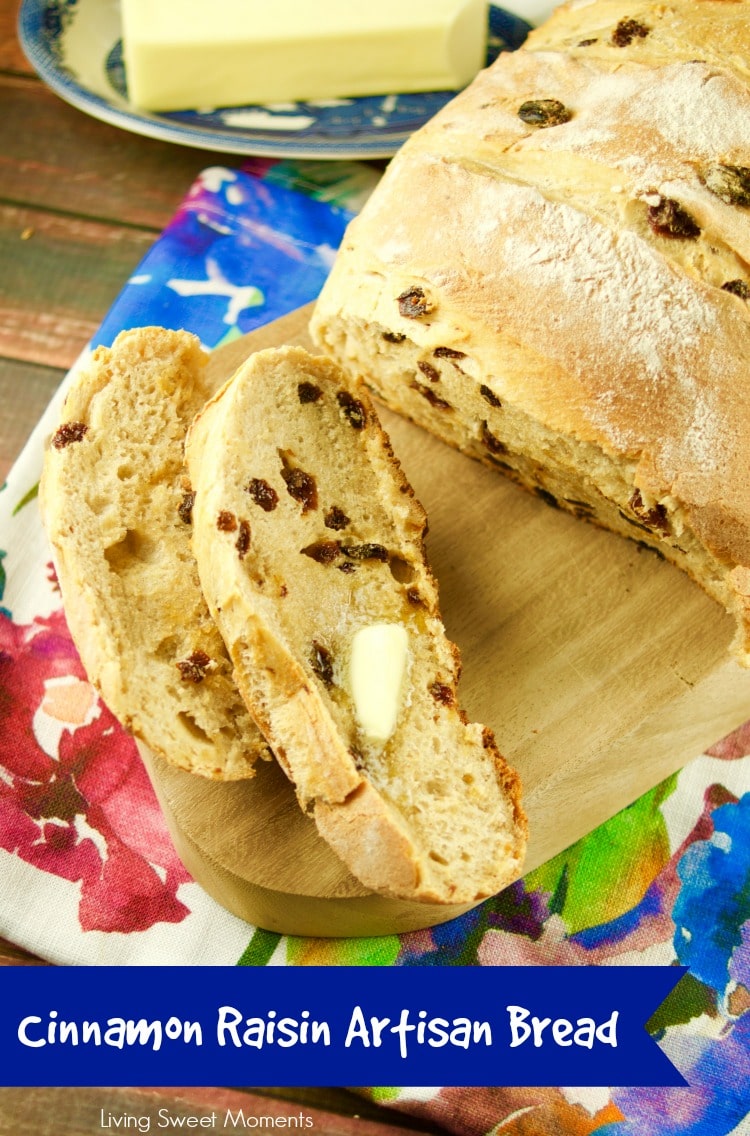 Cinnamon Raisin Artisan Bread
Wait 'till you try this Cinnamon Raisin Artisan Bread, it will be butter's new best friend. It's sweet, flavorful and very crispy on the outside. It is super easy to make and it doesn't require much elbow grease (zero elbow grease if you have a stand mixer). Breakfast will never be the same in my house.
There is nothing more magical than baking bread. To me, the whole process is amazing. You start with some yeast, flour and water and watch how it grows and puffs up into a delicious loaf or bun. If you've never baked with yeast before, you're in for a treat.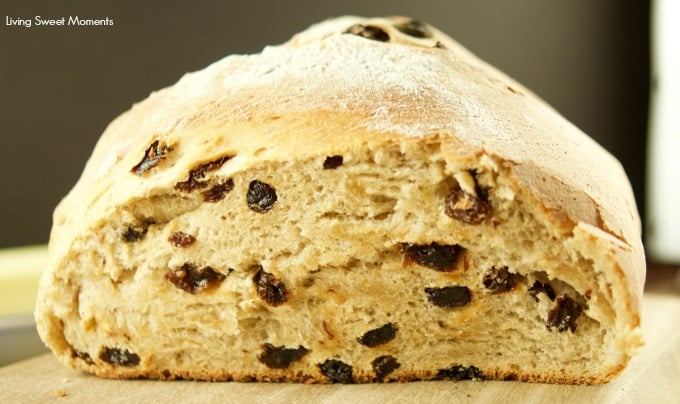 This Cinnamon Raisin Artisan Bread can be shaped into a round, loaf or even small rolls. Perfect for serving during dinner, small sandwiches or just sliced. You can also add some walnuts to give it a crunch on the inside.
To speed up the proofing process, I used my microwave technique. It cuts the proofing time by a third. Here's another great tip: If you would like to start making the bread today and bake it tomorrow, simply make the dough and place it in a greased bowl inside the fridge. The next day, you can continue the proofing process as the recipe indicates.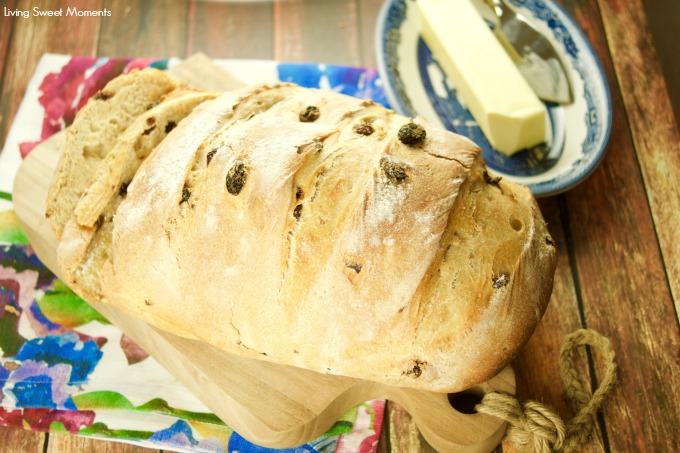 The secret to making this bread crunchy is to use a covered dutch oven and bake it in a very high heat. When you open the lid after it's ready, you'll see how beautiful the loaf is browned and crunchy.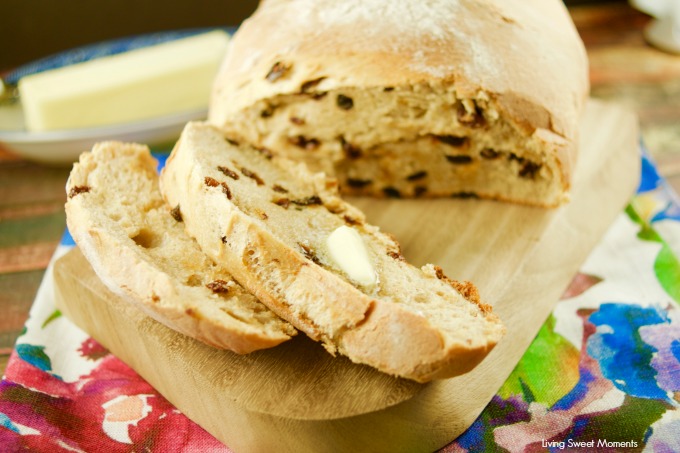 I hope you can try this delicious Cinnamon Raisin Artisan Bread at home. If you do, please upload a pic on Instagram and tag me @Livingsweetmoments or use the hashtag #LivingSweet. I promise to repost it.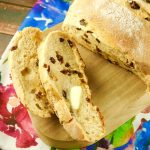 Cinnamon Raisin Artisan Bread
This sweet crispy Cinnamon Raisin Artisan Bread is easy to make and delicious! Enjoy a toasted slice with butter and jam for breakfast. My fave bread recipe
Ingredients
2 1/4

teaspoon

of Instant Yeast

1 packet

1

teaspoon

of Honey

1-1/3

cups

lukewarm water (not too hot

not too cold)

3 1/4

cups

bread flour

1/2

Tablespoon

of salt

1/4

cup

of sugar

1 1/2

teaspoons

of Cinnamon

1

Cup

of raisins

2

Tablespoon

of butter

melted
Instructions
In a small bowl place the honey, water and yeast. Mix and cover with a tea towel until the yeast blooms. About 5 minutes

On the bowl of a standing mixer add the flour, cinnamon, salt, sugar and butter. Mix with the dough hook

Add the bloomed yeast and mix with the dough hook until the dough becomes elastic, pulls away from the sides and the mixing bowl is clean. Add the raisins and mix until they are incorporated.

Grease a bowl with non-cooking spray or oil. Place the dough in the bowl

Cover the bowl with plastic paper and then with a clean kitchen towel

Heat a cup of water in the microwave until it starts boiling

Open the microwave door, move the cup of water to the back and place the bowl with the dough in the middle

Close the microwave door and let the dough proof for 30 minutes (dough should double its size). DO NOT TURN ON THE MICROWAVE

Remove from microwave and place the dough on a floured surface. Shape into a round, rolls or loaf.

Place on a sheet and cover with a tea towel on a dry area for 30 more minutes

Place a dutch oven with lid inside the oven

Preheat oven to 450 degrees Fahrenheit

Place the dough in the preheated dutch oven. Cover with lid

Bake for 20 minutes

Remove the lid and bake for 15 minutes more or until brown on top

Enjoy