These vegan meringue cookies have only 3 ingredients and are super easy to make. The perfect vegan dessert that  crunchy & melts in your mouth. Love cooking with Aquafaba!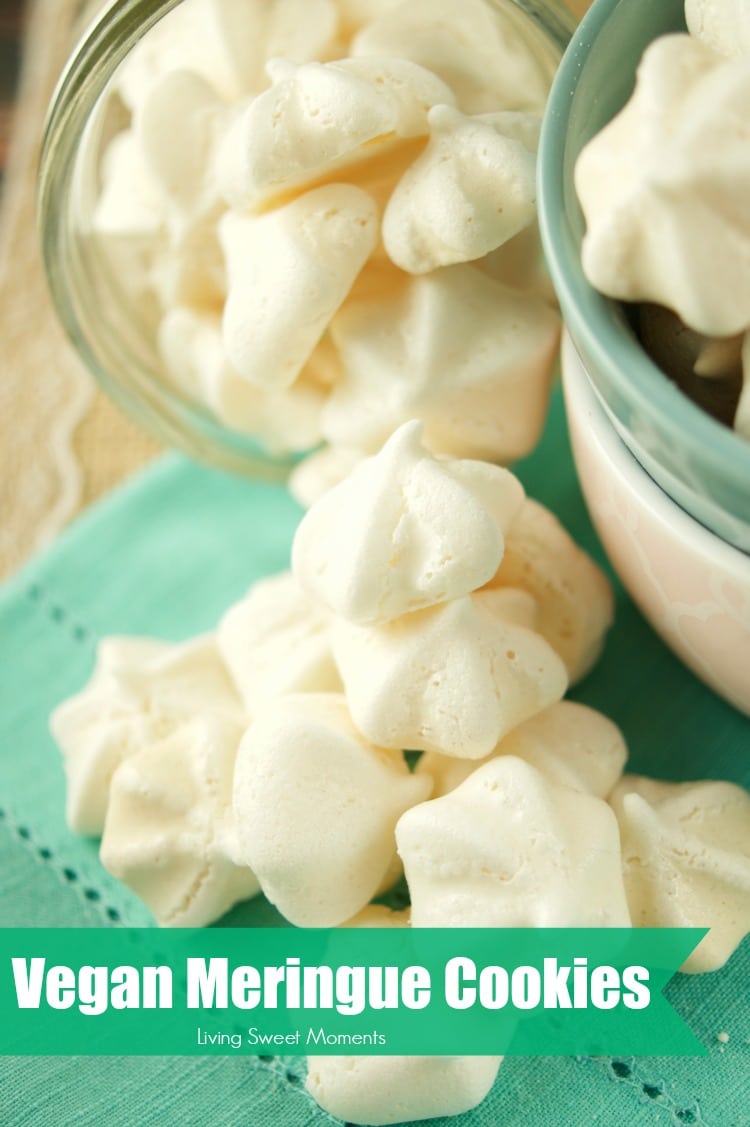 Vegan Meringue Cookies
I achieved cookie Nirvana today. Why? you may ask. I just made these vegan meringue cookies using regular ingredients that you probably have in your pantry and they taste amazing.
You know those meringue cookies that melt in your mouth as soon as you eat them? Yup.. these guys do that too. They taste exactly like the real thing. You wouldn't be able to tell them apart.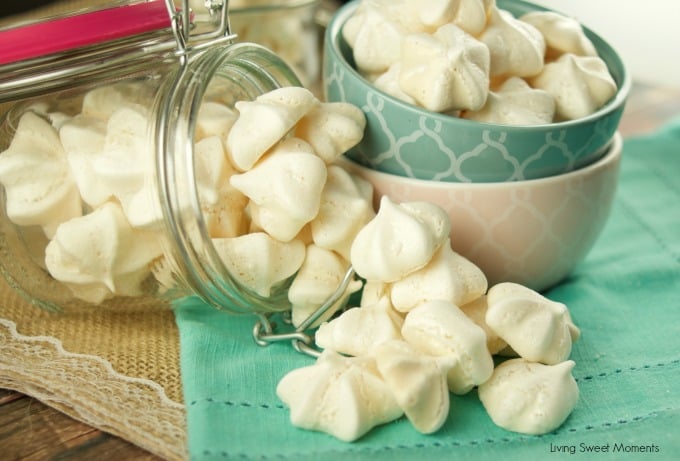 If you are vegan or suffer from egg allergies, then these meringue cookies are for you. They are gluten-free and only require 3 ingredients to prepare.
The first and main element to these Vegan Meringue Cookies is Aquafaba. Don't give me that face. it's not a weird ingredient, you don't have to go to a special store to get it, nor it is expensive. Aquafaba is simply the liquid that comes inside a can of chickpeas.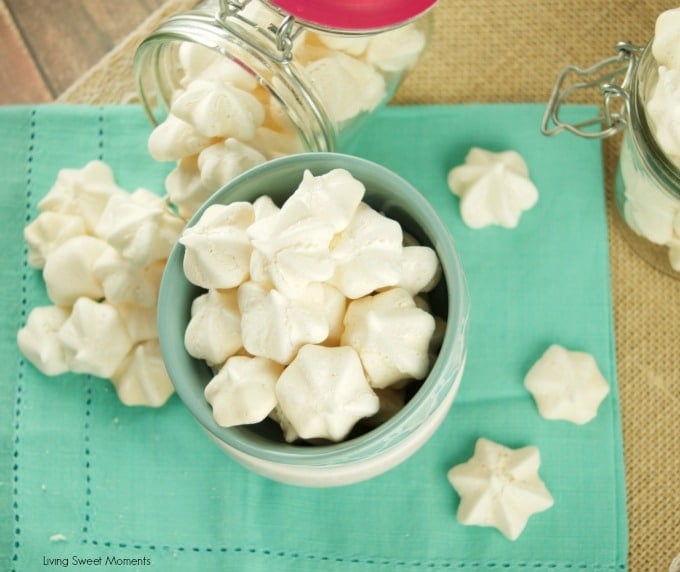 You know, the one you usually throw away when you drain your garbanzo beans (aka Chickpeas) – That liquid is basically gold. It transforms into a beautiful meringue batter that can take on any flavor you add on.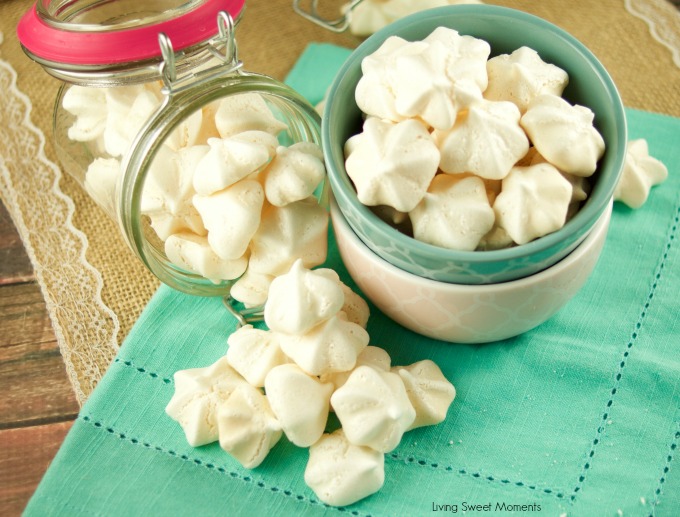 You can shape them into big cookies, little cookies or any size you may like, you can also dip them into melted dark chocolate for a most festive look, or sandwich them together with a little peanut or almond butter. The possibilities for these Vegan Meringue Cookies are endless.
I really had fun baking these today. My husband came home from work and was there when I took them out of the oven. He went on a binging rampage and started eating them all. I was worried I didn't have enough for the pictures. Thankfully, he was generous enough to leave me an untouched cookie sheet. Phew!
By the way, if you don't know what to do with the chickpeas after using the Aquafaba, you can simply make these low-fat Roasted Crispy Chickpeas. They're delicious. I made a new batch today. I am amazed that one can of chickpeas can really go a long way.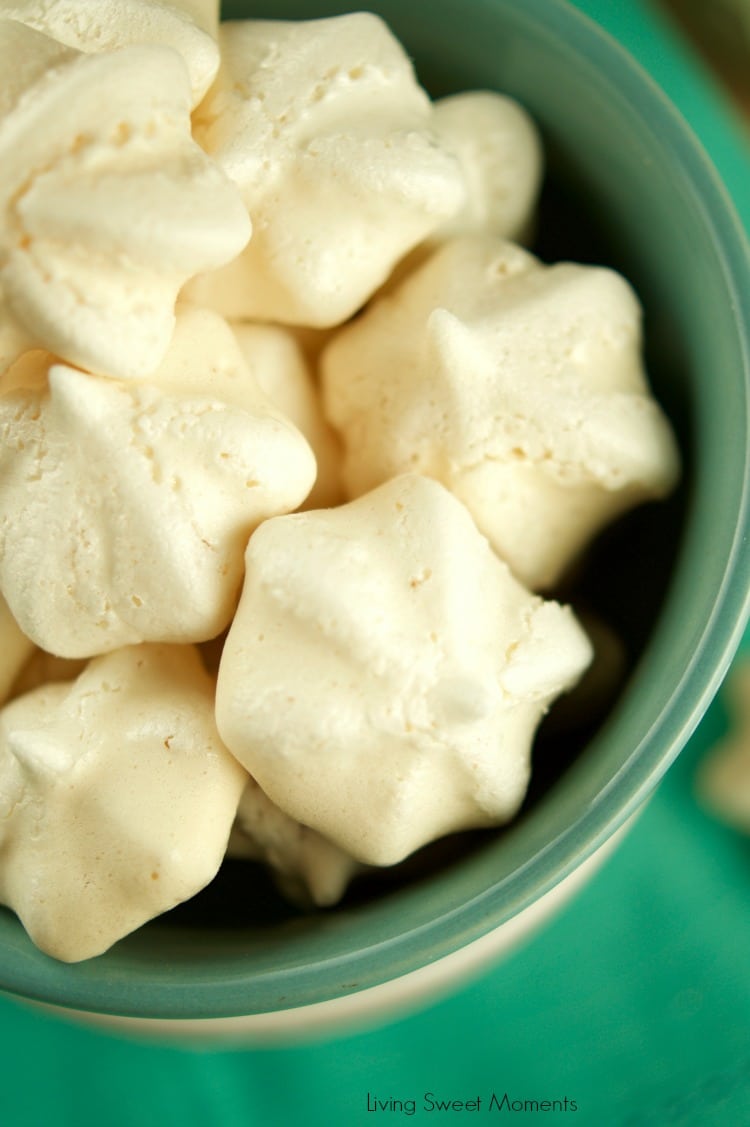 I hope you can try this delicious Chocolate Peanut Butter Cheesecake Cake at home. If you do, please upload a pic on Instagram and tag me @Livingsweetmoments or use the hashtag #LivingSweet. I promise to repost it.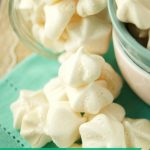 Vegan Meringue Cookies
These vegan meringue cookies have only 3 ingredients and are super easy to make. The perfect vegan dessert that crunchy & melts in your mouth. Love cooking with Aquafaba!
Ingredients
3/4

Cup

Aquafaba*

the liquid from one can of low sodium or unsalted chickpeas

1

Cup

Granulated Sugar

1

Teaspoon

Pure Vanilla Extract
Instructions
Preheat oven to 250 Degrees F.

Line 3-4 sheet pans with parchment paper

In the bowl of a standing mixer pour the Aquafaba

Mix with the whisk attachment on medium-high speed until the mixture turns white and creamy. About 3-5 minutes

Slowly add the sugar and the vanilla

Mix on high speed until stiff peaks form. About 4-5 more minutes

Cut the corner of a zip top bag. Insert a star tip if you'd like

Place the meringue inside the bag

Shape into cookies

Place into the oven at 250˚ F and immediately reduce the heat to 175˚ F

Bake for 2 hours then turn off the heat and let cool in the oven another 45-60 minutes. This prevents them from cracking

Remove and let cool on the baking sheets

They will be light, crisp and airy

Serve or store in an airtight container
Recipe Notes
Aquafaba is the liquid inside a can of chickpeas. Simply drain the can of chickpeas into a container.
Nutrition Facts
Vegan Meringue Cookies
Amount Per Serving (1 cookie)
Calories 7
% Daily Value*
Carbohydrates 2g1%
* Percent Daily Values are based on a 2000 calorie diet.
You may also like:
Chocolate Avocado Tart (Vegan, GF)