Easy Salsa Verde Chicken Enchiladas – Delicious creamy chicken enchiladas baked with a delicious salsa verde sauce. I used store-bought chicken to save time
Easy Salsa Verde Chicken Enchiladas
These Easy Salsa Verde Chicken Enchiladas are delicious, creamy, and cheesy. Perfect for a weeknight dinner but elegant and tasty enough for entertaining and get together's. These will definitely become your favorite Mexican recipe.
I made these enchiladas kid-friendly to celebrate the Mexican Holiday "Dia del Niño"  it is a special day devoted to celebrating the kids in our lives. As there are mother's and father's days, kids should be celebrated as well. And this is the perfect occasion to make their favorite meals and make them feel special.
This recipe is so easy because it uses Herdez Salsa Verde and store-bought a rotisserie chicken. So you'll have them on your table in less than 45 minutes. You can use leftover chicken or if you'd prefer, you can cook it at home.
Salsa verde is made with delicious Tomatillo. Tomatillo is a Mexican tomato that has tons of flavor that you can actually taste in this dish with every bite.  I added a few more ingredients to make it pop.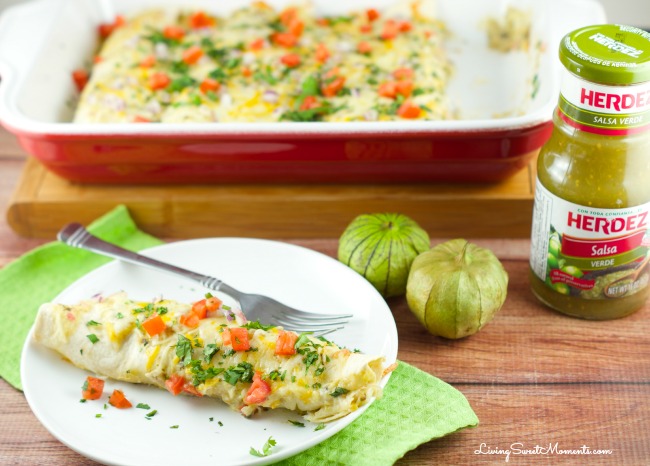 So let's start making these Easy Salsa Verde Chicken Enchiladas..shall we?
We start by sautéing red onions and cilantro in a bit of olive oil until both soften and perfume the whole kitchen. That's when I add Herdez Salsa Verde and a bit of Sour Cream to soften up the flavors and make them kid-friendly.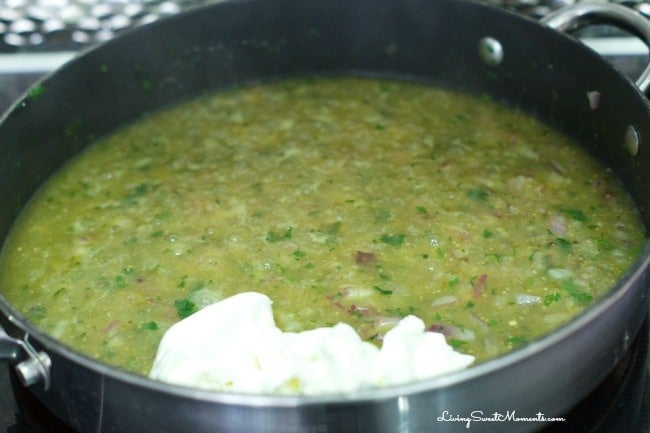 I save a cup of this sauce in a bowl and to the rest of the mixture, I add the shredded rotisserie chicken. This will become the filling for these enchiladas.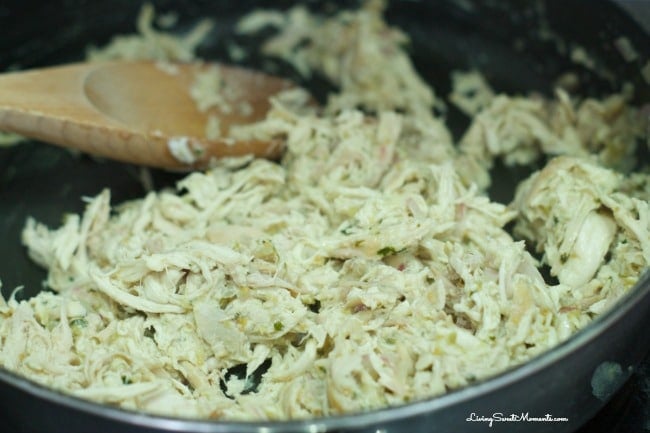 As soon as the chicken is mixed with the salsa verde, it becomes moist and flavorful. Now it's the time to start assembling our enchiladas. I add a chicken and mixed shredded cheese together and roll it up in a flour tortilla.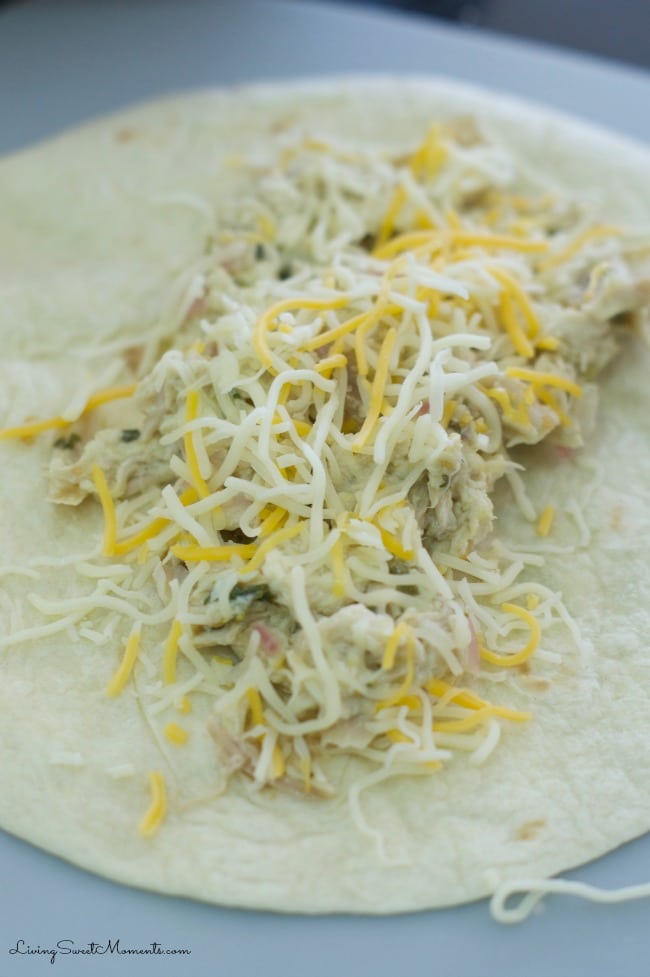 I add each rolled tortilla into a casserole pan and place them side by side.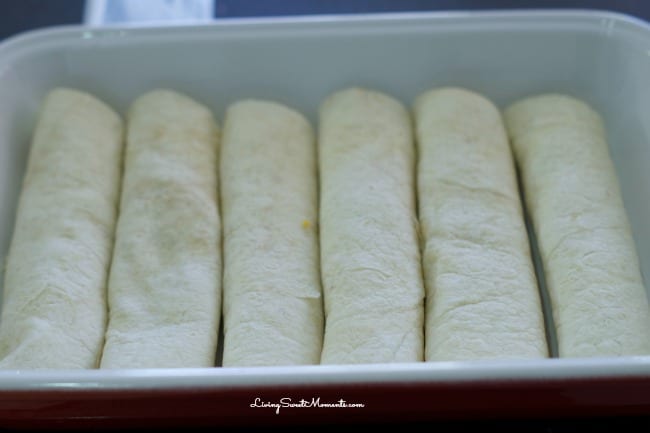 Now our tortillas will get a delicious bath of the Salsa Verde we reserved before and naturally add some more cheese on top because the more, the merrier.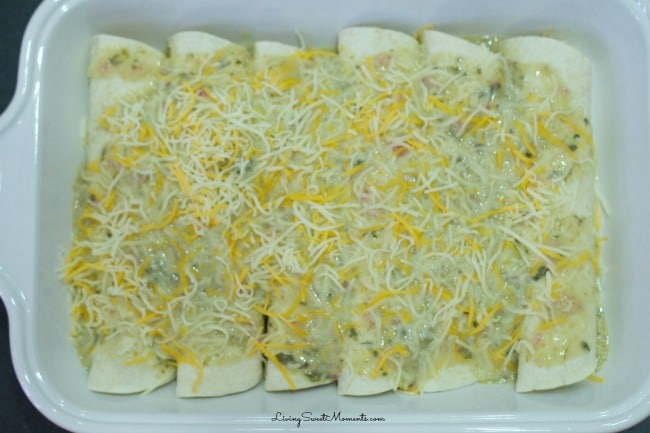 If you're making it in advance you can just cover this with foil and let it sit in the fridge until you are ready to bake. But since I am really hungry, mine went directly to a 350 Degree oven for 20 minutes.
When it came out of the oven, I added some tomatoes, red onion, and cilantro as a garnish. You can certainly add whatever you'd like: avocado, green onion, chives, salsa, etc
And that's it! See? That's all there is to it. Are you ready to dig in??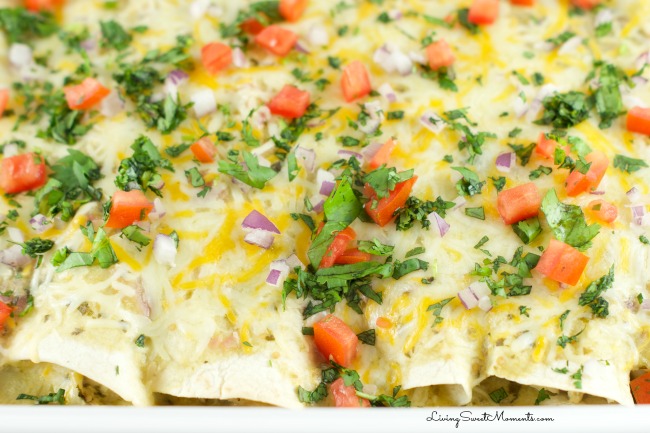 Word of advice: don't be stingy with the filling. If your husband eats like mine, better fill up those bad boys with a lot of meat, otherwise, they will try to steal yours.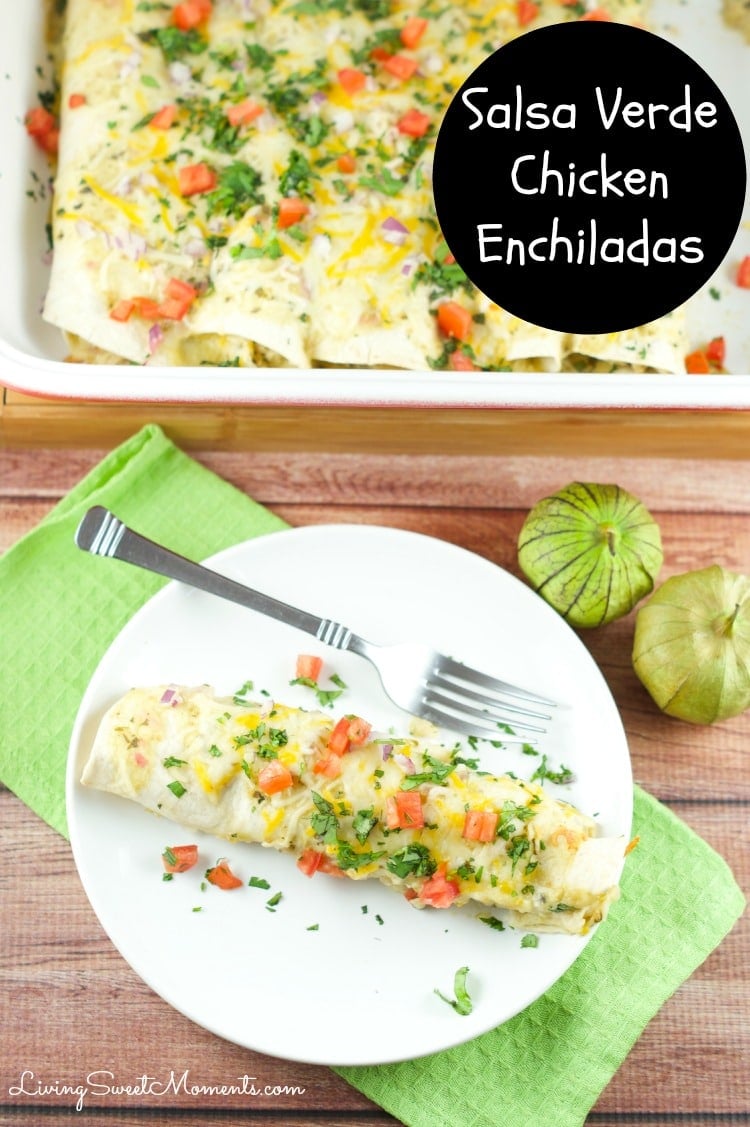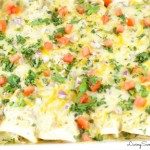 Easy Salsa Verde Chicken Enchiladas
Easy Salsa Verde Chicken Enchiladas - Delicious creamy chicken enchiladas baked with a delicious salsa verde sauce. I used store bought chicken to save time
Ingredients
1

Rotisserie chicken

shredded (or 4 cooked chicken breasts shredded)

2

Cup

of shredded Mexican Cheese

1/2

Red Onion

diced

1/4

Cup

of Cilantro Chopped

2

Teaspoons

of Olive Oil

1/2

Cup

of Sour Cream

2

cups

Salsa Verde

7-8

Flour Tortillas

or corn for gluten free
Garnish (optional)
1

Chopped Tomato

Chopped Cilantro

Red Onion diced
Instructions
Preheat Oven to 350 Degrees Fahrenheit

Heat olive oil in a big mouth sauté pan over medium heat

Add the diced red onion and cilantro. Cook until they both soften. 2-3 minutes

Pour in the salsa verde and let it simmer for 2 minutes

Add the sour cream and mix well

Reserve 1 cup of this sauce for the top <---- DON'T FORGET THIS STEP

To the remaining sauce, add in the shredded chicken and mix until all the chicken is coated in the sauce

To assemble the enchiladas: Grab a tortilla and fill it with 1/4 Cup of the chicken and about 1 tb (or more) or the shredded cheese. Roll it up like a tobacco and place it seam down on a large casserole pan. Continue until the pan is full

Cover with the reserved sauce and shredded cheese

Bake uncovered for 20 minutes or until the cheese is melted and the top is bubbly

Garnish with the onions, cilantro, and tomato

Enjoy!
You may also like: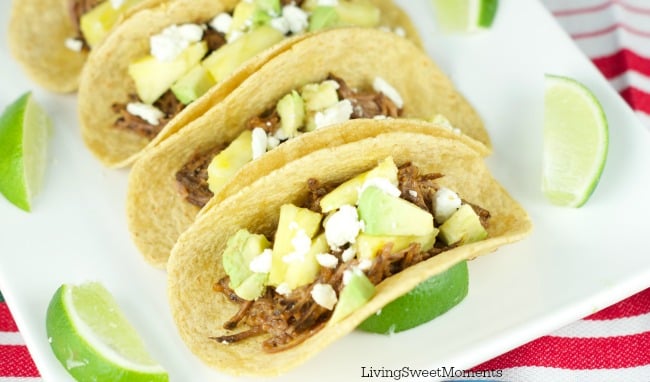 Slow Cooker Chicken and Black Beans