These crunchy Baked Sweet Potato Chips are oven baked to perfection and are great for a snack on the go, especially in the lunchbox. It is also an easy recipe. 
I participated in Mom Blog Tour at the Summer Fancy Food Show on behalf of Wendy's Bloggers and received DOLE Mixations 
products to facilitate my review.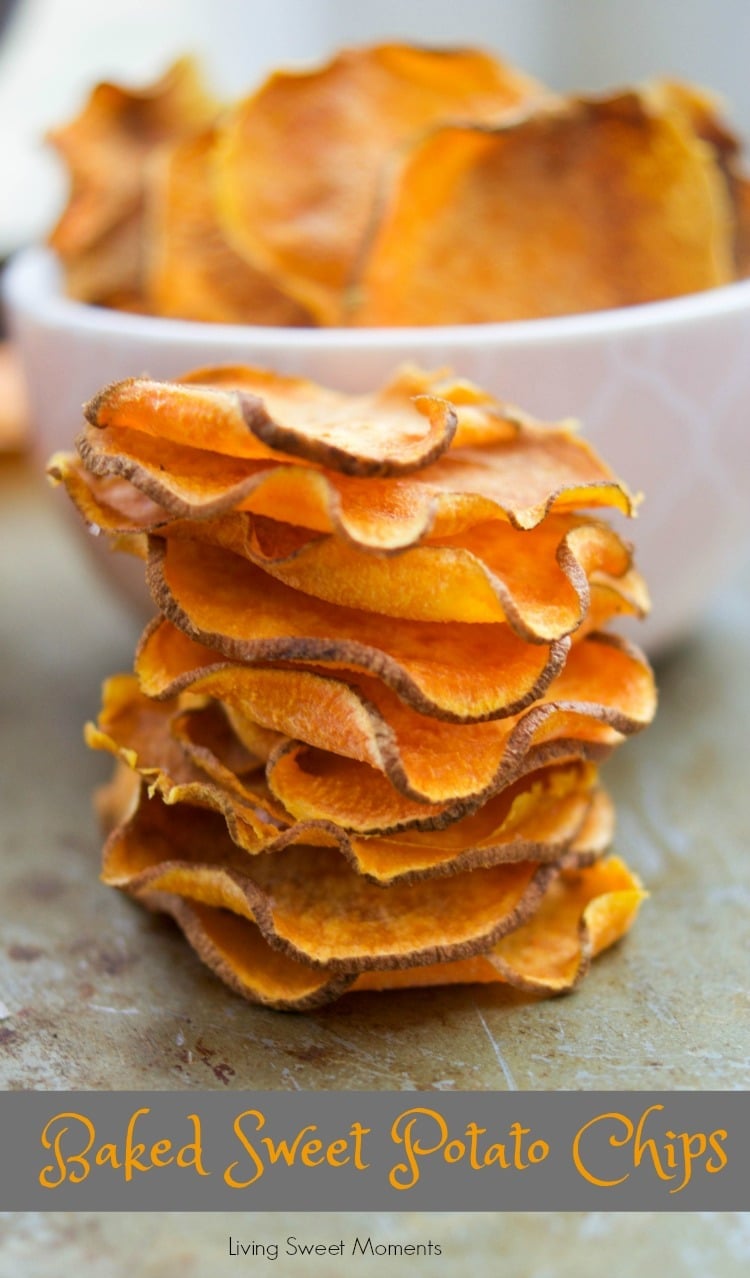 Crunchy Baked Sweet Potato Chips
Remember those Baked Apple Chips I've made a while ago? Believe it or not, it's my number #2 recipe on the blog. Now that fall is here I decided to play around with my veggies and that's how these Baked Sweet Potato Chips were born.
Personally, I love the sweet and salty combination of this snack. The sweet potato has such a delicate flavor that I don't want to mask it or hide it by added seasonings. Coarse salt is enough for me. Of course, you can add some spice if you would prefer.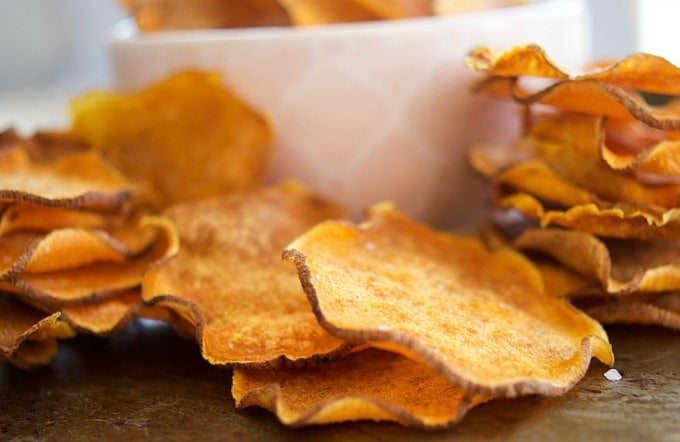 My husband, on the other hand, is a dipper. He can't have chips without a dip. A great pairing for this recipe is ranch dressing, sour cream or any other kind of tangy creamy one.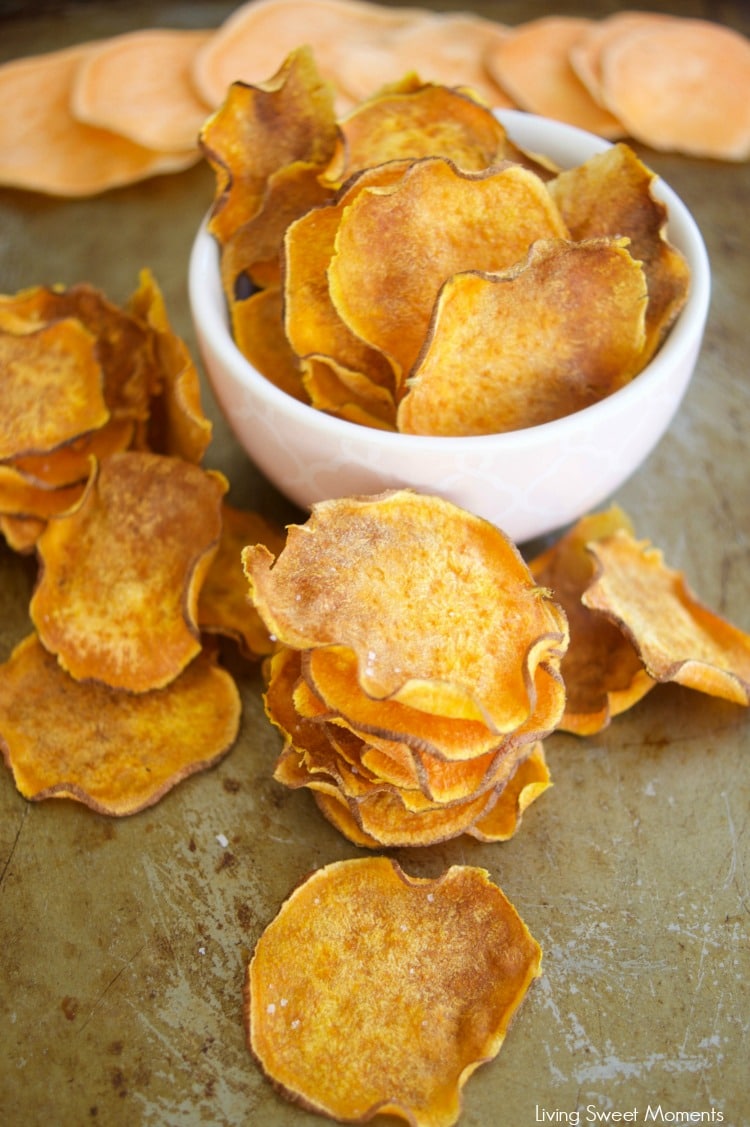 Since the school season is in full gear, your kids might be getting bored or same ol' snacks in the lunch box. Just place some Baked Sweet Potato Chips in a baggie along with a turkey sandwich and a cup of Dole Mixations, and they will be very happy students.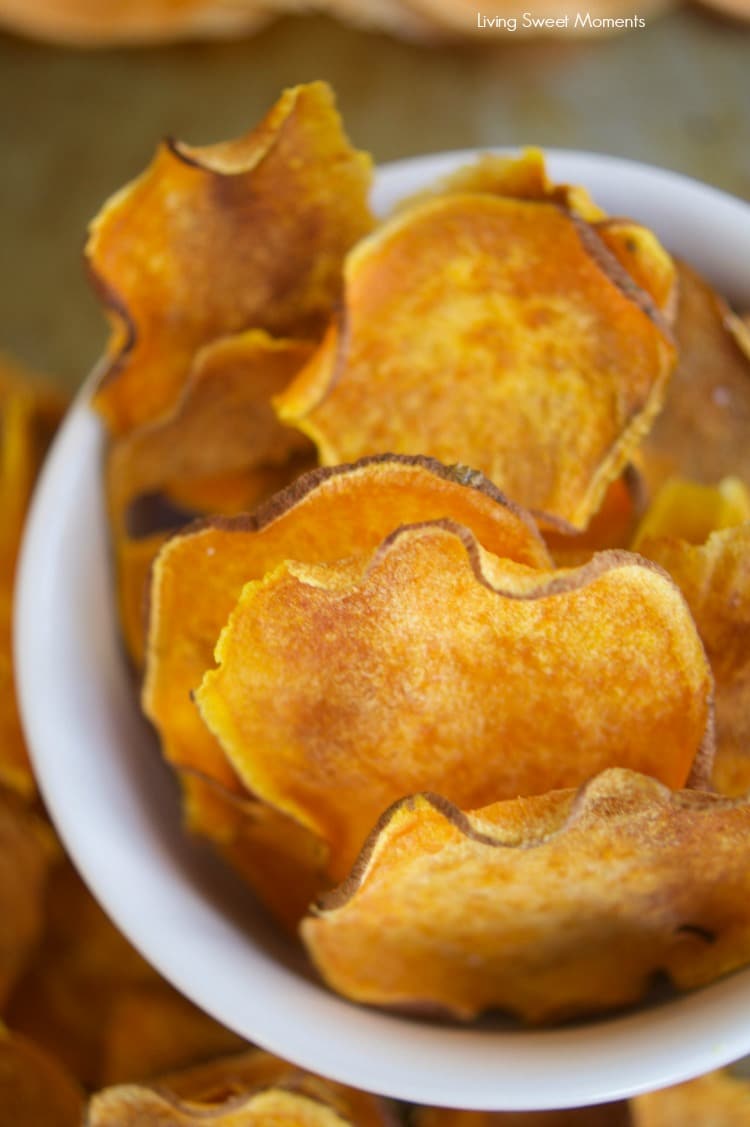 I made a few batches and placed a baggie in the glove compartment of my car in case of traffic or if somebody gets "hangry" during carpool.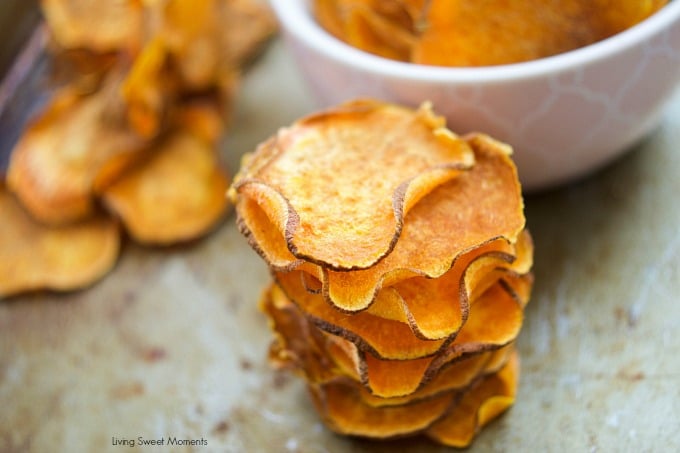 Speaking of Dole Mixations. Have you tried them? They came on the market recently and my kids love it. Each cup has a delicious serving of smooth fruit sauces and juicy chunks of real fruit mixed in.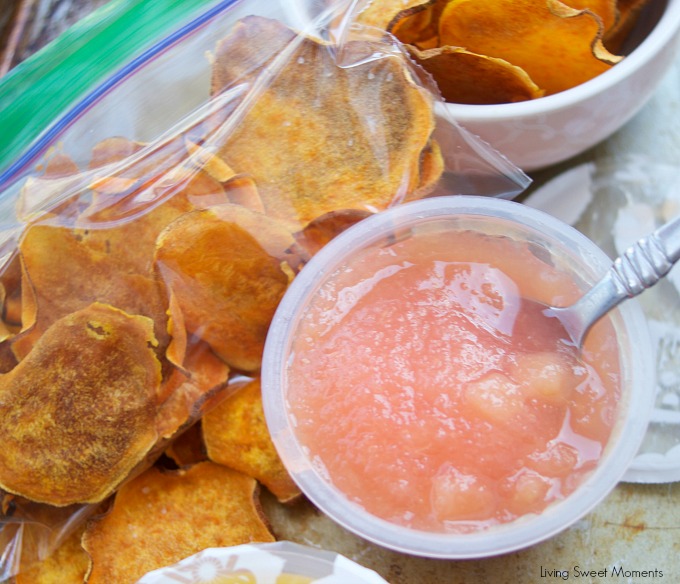 They are available in four varieties, including Apple-Strawberry Sauce with Apple Dices, Pineapple-Mango Sauce with Pineapple Pieces, Peach-Apple Sauce with Pineapple Pieces and Apple-Raspberry Sauce with Apple Dices.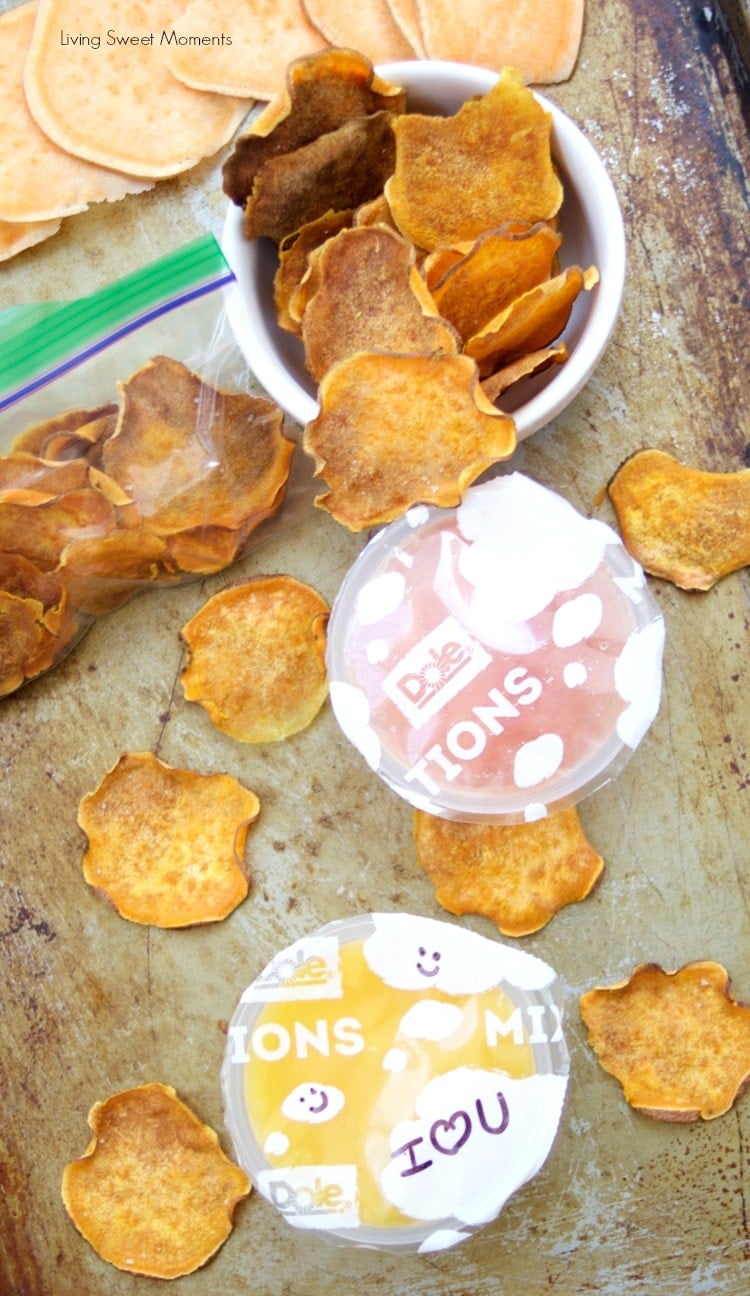 They have great flavor and texture. My youngest one loves the Apple Strawberry flavor the most. They pair very well with my chips.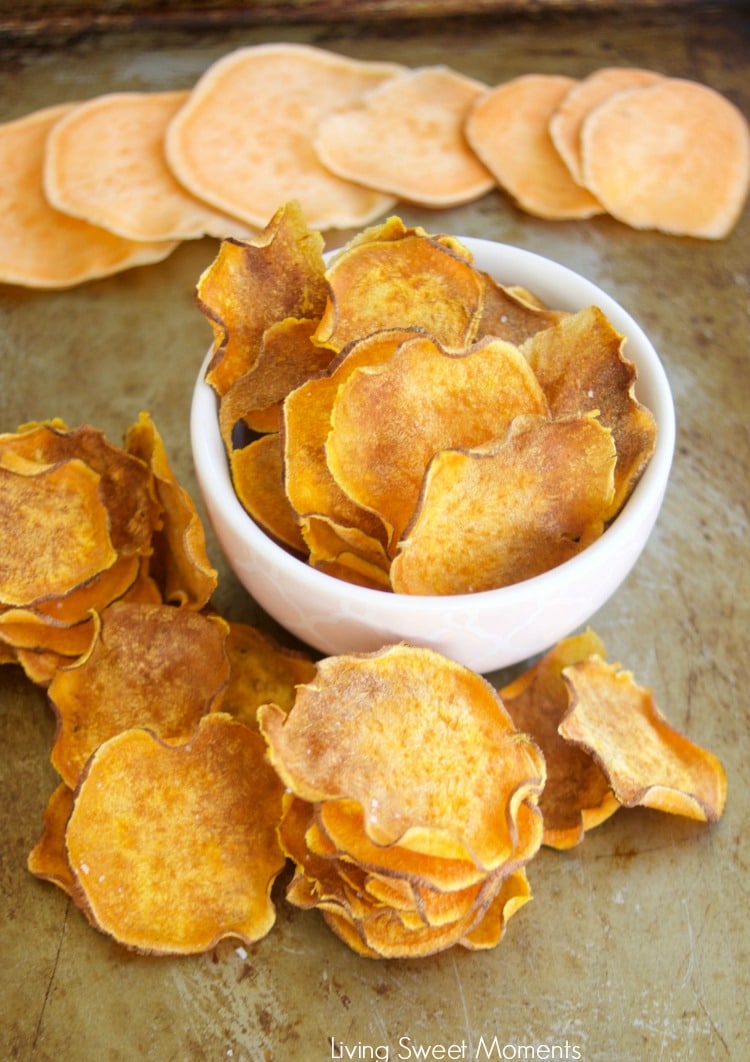 I hope you can try this delicious Crunchy Baked Sweet Potato Chips at home. If you do, please upload a pic on Instagram and tag me @Livingsweetmoments or use the hashtag #LivingSweet. I promise to repost it.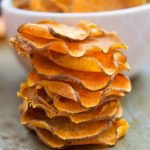 Crunchy Baked Sweet Potato Chips
These crunchy Baked Sweet Potato Chips are oven baked to perfection and are great to snack on the go, especially in the lunchbox. It is also an easy recipe.
Ingredients
1

large sweet potato

washed

2

teaspoon

olive oil

Sea Salt
Instructions
Slice sweet potatoes with peel thinly about 1/6". I recommend using a Mandolin consistent sizes

Soak the sweet potatoes for 5-10 minutes in cold water

Preheat oven to 300 degrees Fahrenheit

Remove potatoes from water, drain and dry off with paper towels

Place the potatoes into a bowl and add the olive oil

Mix thoroughly with your hands until every slice is completely coated with the oil

Place slices in one single layer on a sheet pan (do not line with parchment paper)

Sprinkle with sea salt

Bake for 10 minutes

Remove from the oven and flip them over

Rotate the pans and bake for 10 more minutes

Remove from heat and let the chips cool in the sheet pan (they will continue to crisp up while they're cooling)

Enjoy!
Nutrition Facts
Crunchy Baked Sweet Potato Chips
Amount Per Serving (1 chip)
Calories 3
% Daily Value*
Sodium 1mg0%
Potassium 8mg0%
Vitamin A 370IU7%
Vitamin C 0.1mg0%
Calcium 1mg0%
* Percent Daily Values are based on a 2000 calorie diet.
You may also like: