"Disclosure: We received complimentary products to facilitate our review. However all opinions are 100% ours"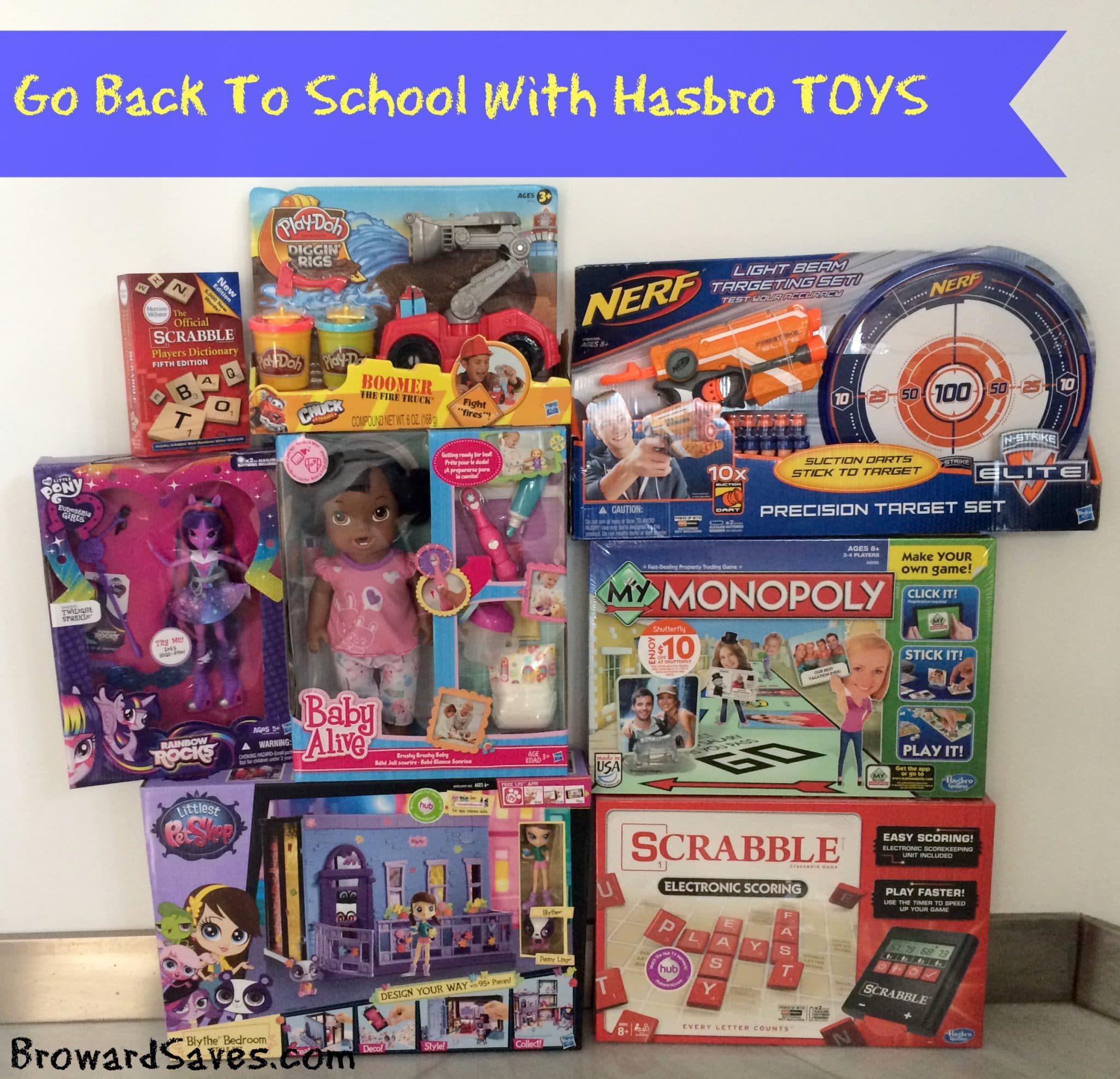 I wished my mom was a blogger when I was growing up.. If you saw my daughters faces when they opened the big box of toys from Hasbro, it was priceless. They were screaming in excitement. Hannukah definitely came early in our house, and just in the nick of the time for Back To School!
Rewards your kids for Back To School with Hasbro toys. Now that they will spending more time indoors they need a distraction after all that homework. Even my 4 year old has homework this year. So I use these toys to entice them.. " Do your homework without complaining and you'll get to play with the toys". Works like a charm. These toys just launched so get 'em while it's HOT. You can now buy them at the Hasbro Online Shop or at any major retailer that sells toys.
A soon as they opened the big box of Hasbro toys, each got to choose what they wanted. My 6 year old picked My Little Pony Equestria Girls. This little cute doll sings when you press a button and even has a microphone with a stand so your child can rock on! She truly enjoys the TV show so having the doll made her feel so special.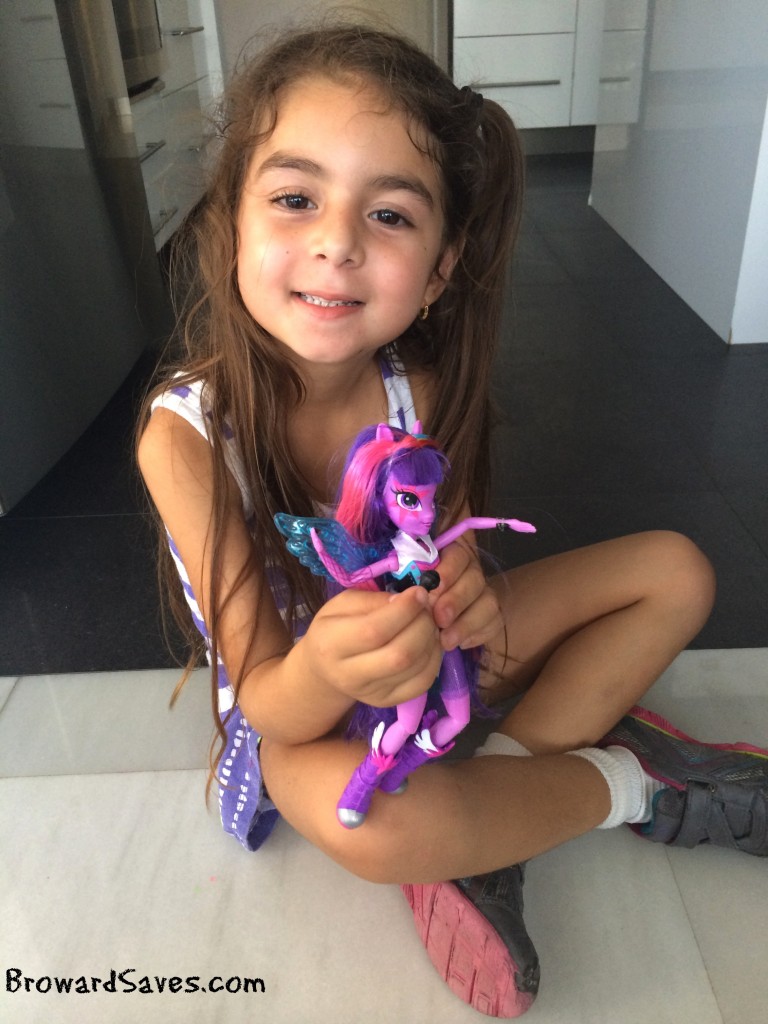 She identifies with her Twilight Sparkle Equestria Doll. They both love purple and performing.
My 4 year old on the other hand, choose the Baby Alive Brushy Brushy Baby which helps her learn a sound bedtime routine. This cute Baby Alive Doll has a baby bottle that you fill with water and feed her every night before going to bed. She also has a "power toothbrush" and toothpaste. Perfect for establishing a dental hygiene routine. Every night before she goes to bed she knows that she has to brush her teeth like her doll. Baby Alive also needs a diaper changing every now and then. What little girl doesn't love to play the "mommy" role. My daughter even takes her Baby Alive to school for nap time. It's a hit with all of her friends.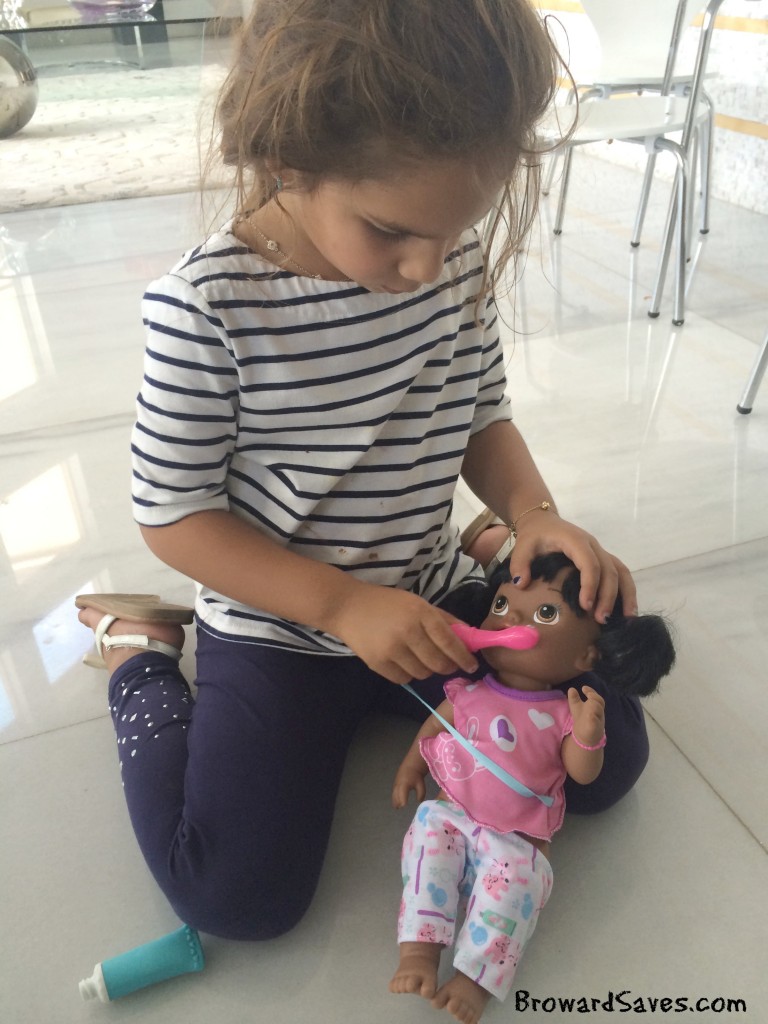 Look how she enjoys brushing her Baby Alive's teeth. She still requires a little help when changing the baby's diaper but I don't mind.
For you Littlest Pet Shop fan there's a HOT Toy you don't want to miss. It's the Blythe's Bedroom Style Set with over 95 accessories to decorate and style Blythe's bedroom any way you'd like. From backdrops to furniture. Set includes the Blythe doll and Penny Ling Panda. My kids will spend hours playing and customizing Blythe's Bedroom. Specially my older one who is very detail oriented.
And let's not forget about boys!
For your toddler there is a new PLAY-DOH Diggin' Rigs Boomer The Fire Truck Playset (ages 3+). I love this one! What boy doesn't dream about being a fireman? Play-Doh let's you create bricks and blocks with the provided molds and then you can shoot "water" to put away the fire. It has a ladder that extends and rotate for hours of fun.
Also there's the Nerf N-Strike Elite Precision Targeting Set (ages 8+). It has a very cool blaster and a Target. So your child can hang (or place) the Target in their bedroom and practice their aim using the provided suction cup darts. The Blaster has a light beam that helps you see when the dart will land. It's safe, easy to use and colorful. My husband and I played this game and unfortunately I lost. I guess I'll have to be practice a bit more when he's at the office.
Hasbro has toys for all ages including the ones I used to play when I was growing up and STILL enjoy playing: Monopoly and Scrabble. The same classics we all know and love but now with a modern twist.
My Monopoly Game ( 8+). This game is very cool because you can CUSTOMIZE it using your own Facebook, Instagram or Shutterfly images. Just print them out and stick them to pieces. Also, property spaces and tokens can be named any way you like. Just use the Monopoly App or their Website. Isn't that great? Marvins Garden can now be named the street you used to live. I need to find a nice pic on Facebook to place it on my character, thankfully I have a few "selfies".
Looking at Monoplogy gave me a nostalgia. My girls are still a bit young to play this game but I know that in the blink on an eye we will be playing together as a family and it will be the same game I used to play with my parents while growing up.
Last but not least Hasbro updated another classic: Scrabble Electronic Scoring Game (8+): The same game we have always known and loved with a simple handheld device that keeps the score of the game without the need for pen & paper. Perfect for older kids who love to learn and connect new words. To use, dial the score on the electronic device and hit enter. The game will  automatically add up the score PLUS now it has a timer option that makes the game harder. Perfect for those players that take an eternity to think up a new word. The timer is optional.
Hasbro even released a Scrabble Dictionary book. So I can study because I play against my hubby.. 🙂
I hope back to school goes smoothly with your kids and that they will be able to play with this new Toy Line. My girls now sit down and do their homework without complaining because they know that after they finish they will enjoy their new toys.