Only 4 ingredients needed to make this yummy Rhubarb Strawberry Compote. Perfect for spreading on toast in the morning or as a special topping for ice cream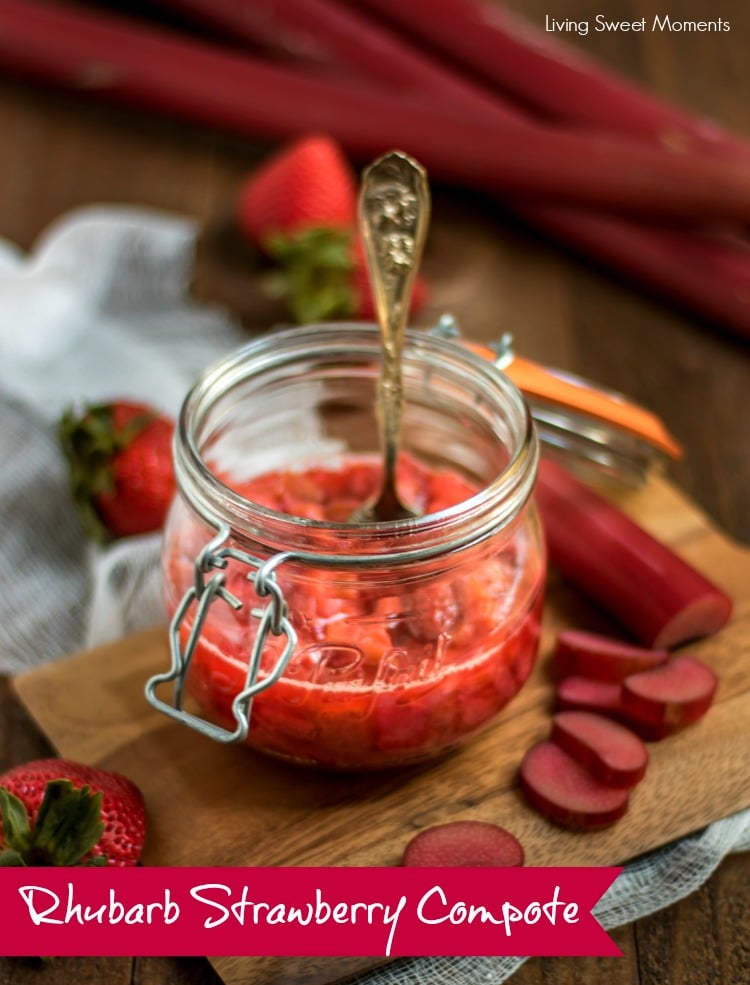 Rhubarb-Strawberry Compote
Summer is the perfect time for compotes! Delicious berries, stone fruit, and rhubarbs are in their season peak. Just the intoxicating aroma of this amazing Rhubarb Strawberry Compote will make you want to cook this over and over.
When rhubarb is paired with strawberry, they make a delicious and harmonious combination. The sweetness of one and the sourness of the other, create a unique flavor that comes together so easily in this compote.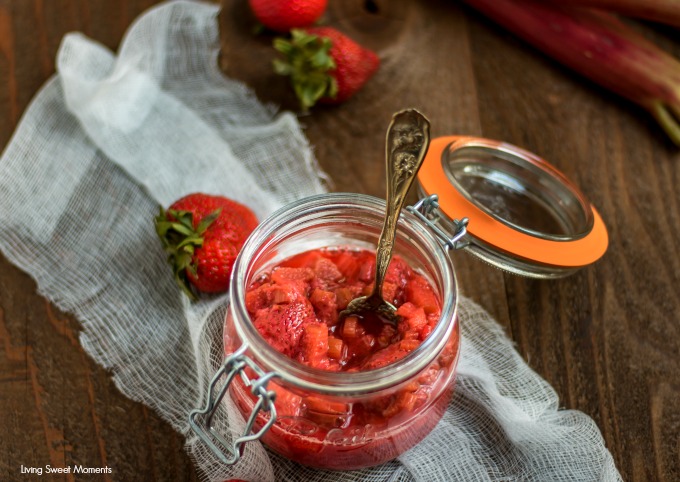 Last year I brought you a berry compote, so this year I wanted to make something different that would represent the summer. My grandmother has always made hers with Rhubarb, so I cooked to take her recipe and added some yummy strawberries.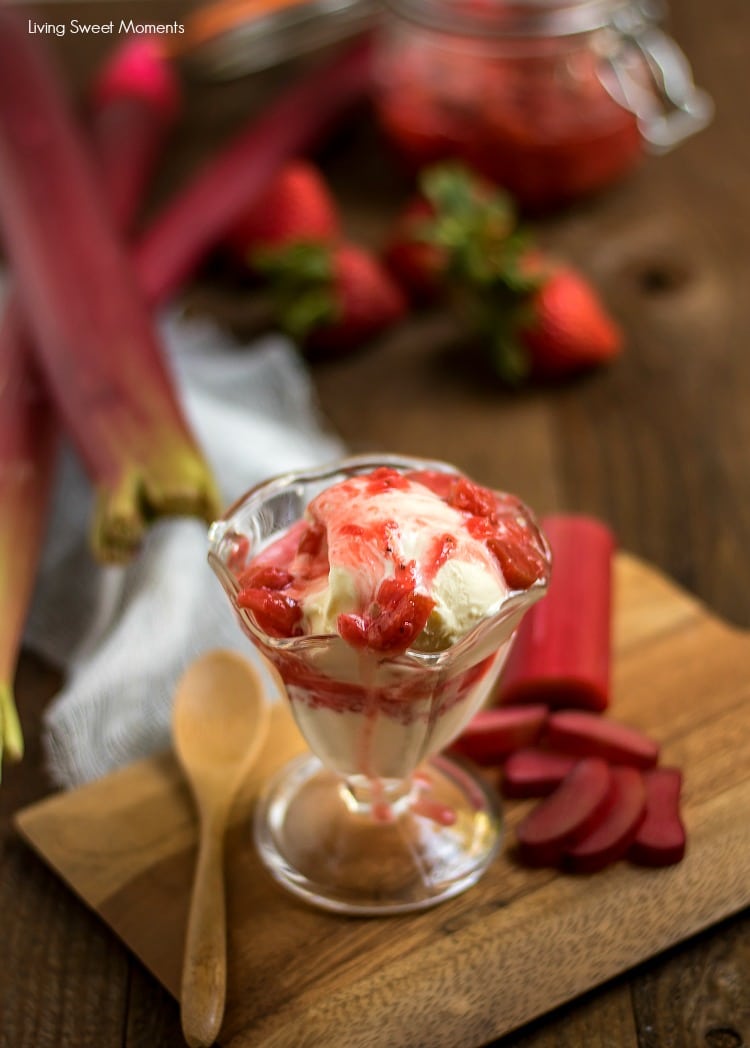 I cannot stop thinking of uses for this Rhubarb Strawberry Compote, here's a few: spread over toast, pancakes, waffles, or English muffins. Pair it with yogurt and nuts for a nice breakfast parfait. Use it over vanilla or strawberry ice cream. Lastly, my favorite: drizzle it over a cheesecake. You'll be in heaven.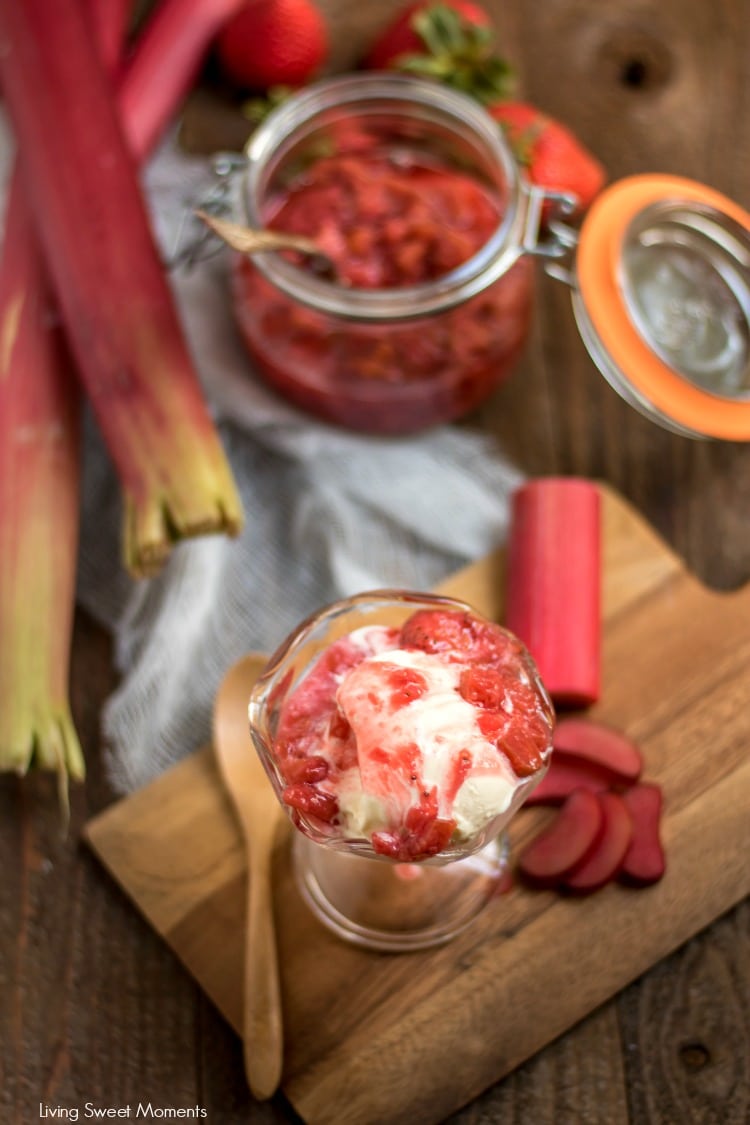 It also works as a base for my rhubarb mojitos. So make a double batch and add it to everything! It's homemade, all natural, and it just requires a few ingredients. I like it to pour it warm into a bowl and add some nuts on top. What a breakfast!

I caught my husband eating out of the fridge the other day, that sneaky guy! He hid inside the door thinking I wouldn't see him.
Anyway, summer in Miami has been very disappointing. We have been rained almost every day and now that summer camp starts tomorrow, my little one is sick. Hoping for a nice sunny day tomorrow.
Finally, I hope you can try this delicious Rhubarb Strawberry Compote at home. If you do, please upload a pic on Instagram and tag me @Livingsweetmoments or use the hashtag #LivingSweet. I promise to repost it.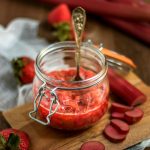 Delicious Rhubarb Strawberry Compote
Only 4 ingredients needed to make this yummy Rhubarb Strawberry Compote. Perfect for spreading on toast in the morning or as a special topping for ice cream
Course:
Breakfast, Dessert
Ingredients
2-3

rhubarb stalks

1/2

lbs

strawberries

juice 1/2 lemon

2

Tbsp

maple syrup

or sugar if preferred
Instructions
Slice the rhubarb in about 1/2 inch thick, cut the strawberries in half and put them in a medium size pan

Add the lemon juice and maple syrup

Bring to a low boil, lower heat and allow to simmer until everything is soft/mushy. Stirring every once in awhile for about 30 minutes

Don't close the pan with a lid, as it will most likely cause the juices to boil over. Just keep it semi-covered.

Allow to cool before storing in an airtight container, or glass jar.