Grilled Yuca with Garlic Mojo Sauce:  delicious yucas are smothered with garlic mojo sauce and then grilled until crispy. Great summer side dish to any meal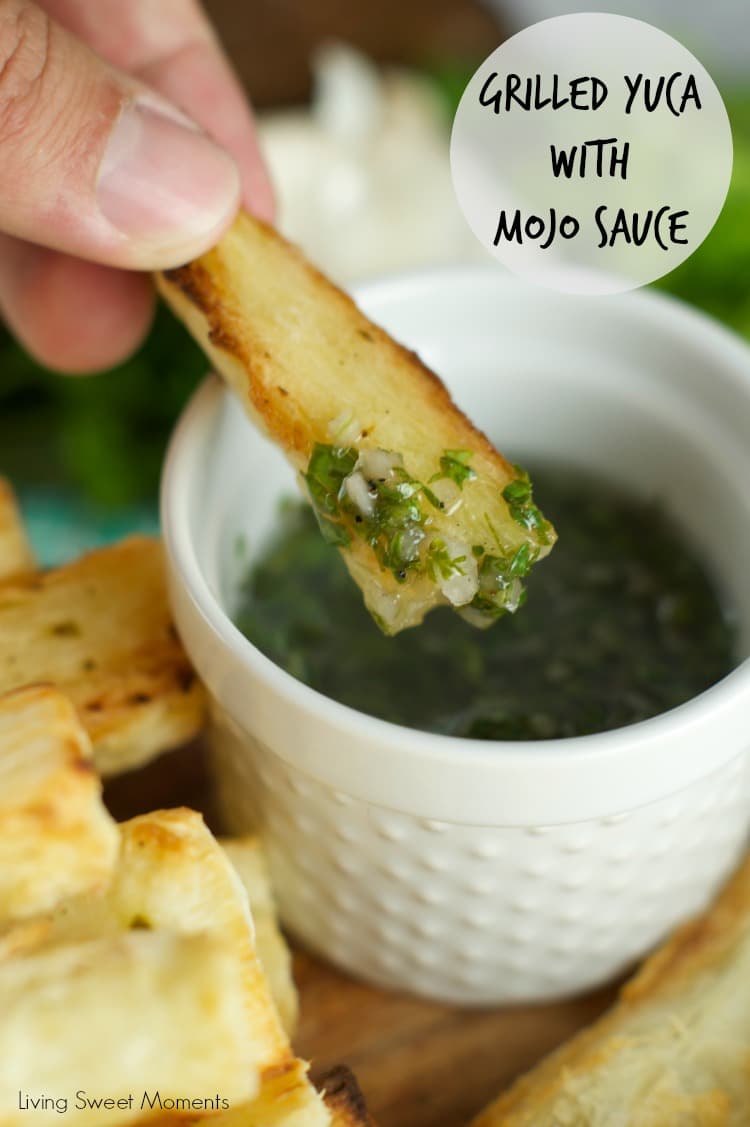 Grilled Yuca with Garlic Mojo Sauce
Move over potatoes! There's a new sheriff in town: Yuca. If you never tried one before, you'll be delighted with amazing flavor and crunch. Yucas are very versatile, they can be boiled, fried, baked, mashed and even grilled.
In this case, I brushed them with a spicy garlic mojo sauce and then grilled until crispy. The extra mojo is used a dipping sauce.
Mojo Sauce is an easy dipping sauce similar to a chimichurri. It's full of herbs, garlic, and onions. For this particular recipe, I added Hot Sauce for an extra kick of spiciness and flavor.
If you're not a fan of spicy food don't worry. The recipe below gives you the awesome flavor without your ears turning red. If you're like my husband and love eating hot foods, just add more sauce.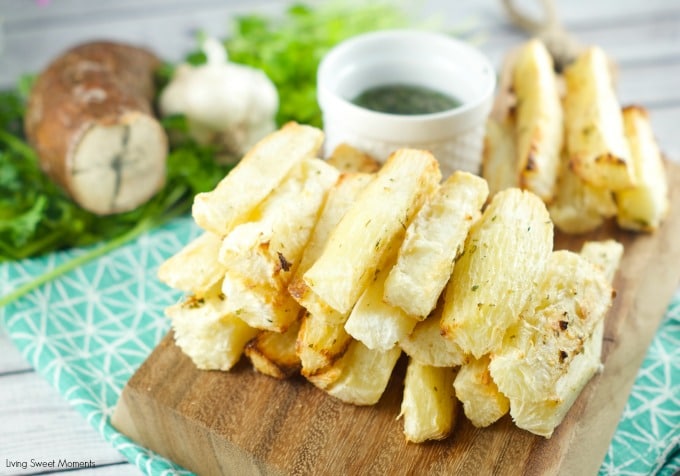 The reason why I grill my yuca, aside from the awesome crispiness. Is because when I am grilling meats, I don't want to use my kitchen at all. The idea is to be outside enjoying company without having to miss out because I am inside in the kitchen.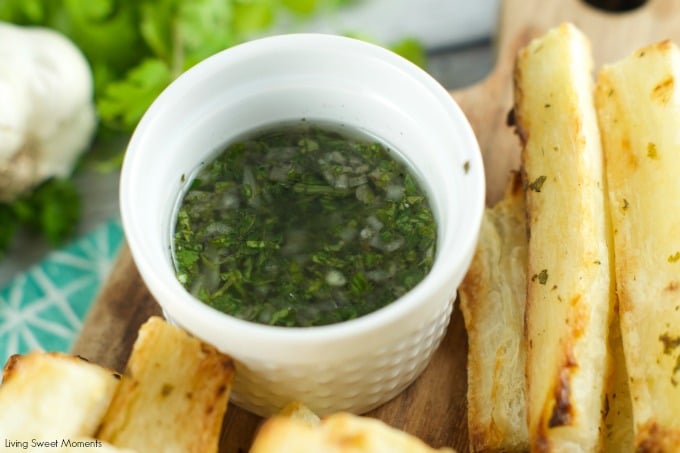 To start out your Grilled Yuca with Garlic Mojo Sauce, you need to peel and boil your yuca until fork tender. Then you cut them into long sticks and give them a nice coating of mojo sauce. You can do this in advance and just grill when needed.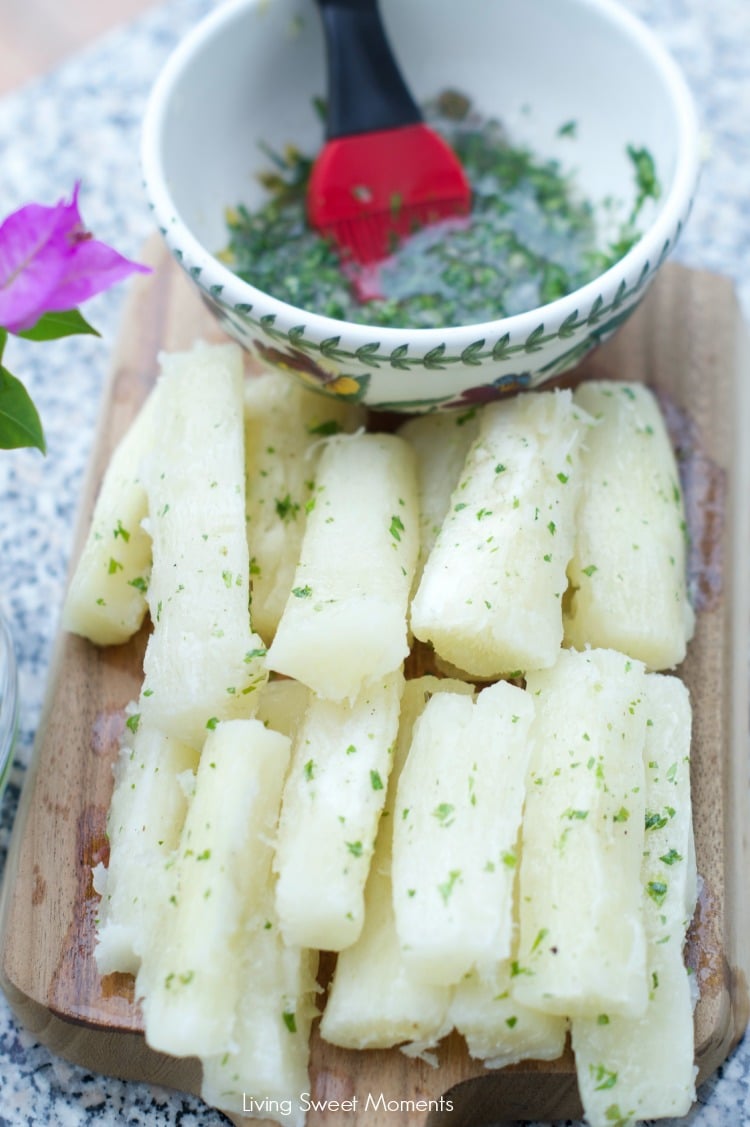 Even though they are ready, resist the urge eat them.. In this case, your patience will be rewarded. Now that your yuccas are nice and smothered, it is time to take the party outside and place them on the grill.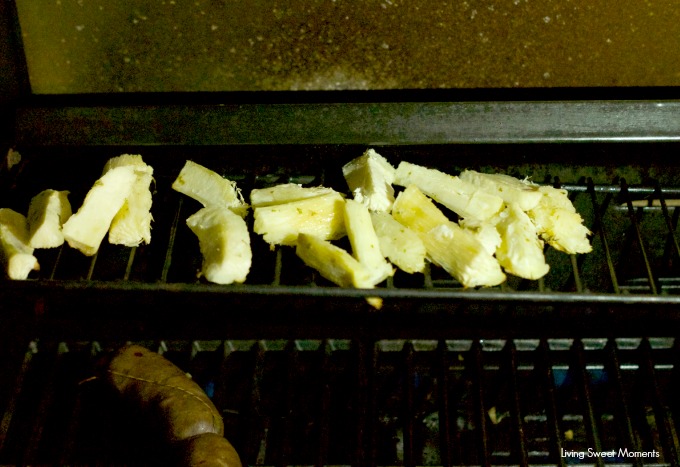 My gas grill has a second rack up top that works perfectly for the yucas. If yours doesn't have one, just place them away for direct flames. On the cold spot of your grill.
Close the lid for a few minutes and voila! Grilled Crispy Yucas that will blow your socks off. Don't forget to save some of that delicious Mojo Sauce for dipping.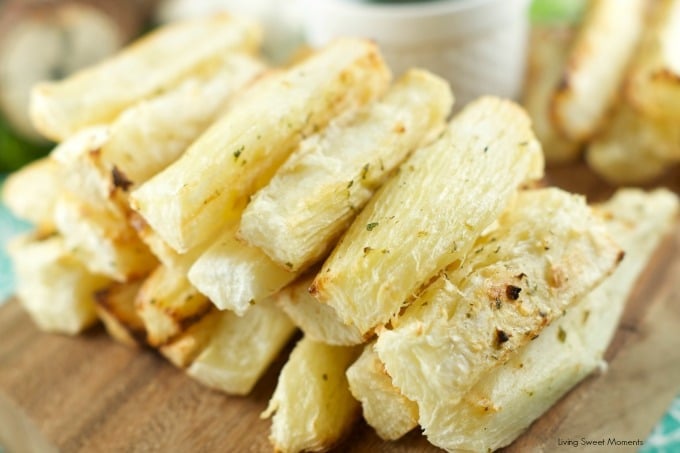 What I love about this dish is that the garlic mojo sauce is impregnated into each yuca before cooking. That gives it much flavor and crunch with every bite. After you try one (or two) you will never go back to potato fries again.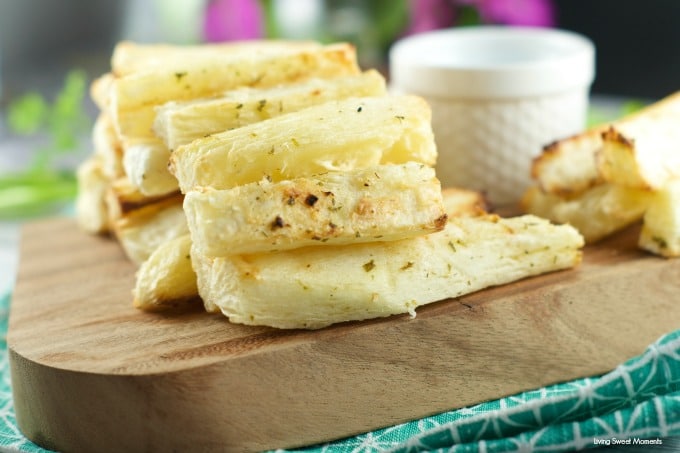 I hope you can give this delicious Grilled Yuca with Garlic Mojo Sauce a try. If you do, please upload a pic on Instagram and tag me @Livingsweetmoments or use the hashtag #LivingSweet.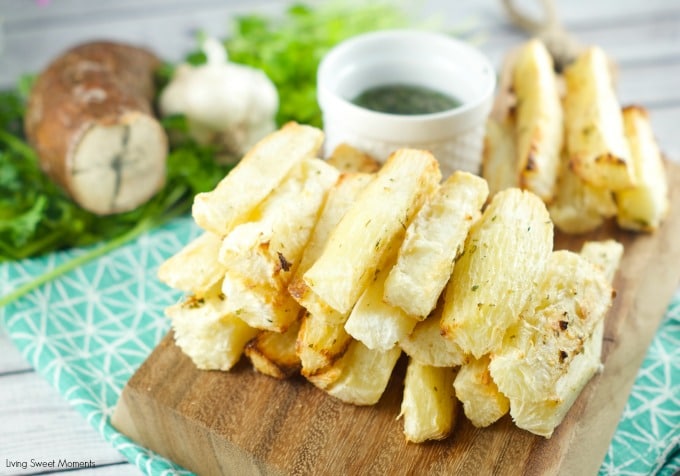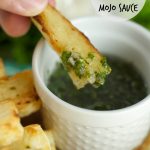 Grilled Yuca with Garlic Mojo Sauce
Grilled Yuca with Garlic Mojo Sauce: delicious yucas are smothered with garlic mojo sauce and then grilled until crispy. Great summer side dish to any meal
Keyword:
bbqs, grilled yuca, side dishes
Ingredients
For Grilled Yuca
5

lbs

Yuca

peeled

Water

Salt
For Garlic Mojo Sauce
3

Tablespoon

Minced Onion

3

Cloves

Garlic

crushed

3

Tablespoon

Parsley

minced

3

Tablespoon

Cilantro

minced

2

Tablespoons

Hot Sauce

1/4

Cup

+ 2 Tablespoons of Red Wine Vinegar

1/2

Cup

+ 1 Tablespoon of Vegetable Oil

Salt And Pepper to taste
Instructions
For Yuca
Boil the peeled Yuca in a large pot of salted water until fork tender (about 15-20 minutes) - Do not overcook or they will turn mushy

Strain the pot and cut the yuca into strips

Remove central vein

Cool
For Mojo Sauce
Place all ingredients together in a bowl and mix until combined. Add more hot sauce if desired
To Grill Yucas
Brush each yuca generously with mojo sauce on all sides

Place them on the grill on indirect heat and close the lid

Grill until crispy (about 15-20 minutes)

Serve with mojo sauce on the side for dipping

Enjoy!
Recipe Notes
If you don't have a grill, you can also bake the mojo smothered yucas at 425 degrees Fahrenheit for 20-25 minutes or until crispy.
*If you prefer it mild. Use less hot sauce
Nutrition Facts
Grilled Yuca with Garlic Mojo Sauce
Amount Per Serving
Calories 384
Calories from Fat 81
% Daily Value*
Fat 9g14%
Sodium 84mg4%
Potassium 527mg15%
Carbohydrates 72g24%
Protein 2g4%
Vitamin A 115IU2%
Vitamin C 42.3mg51%
Calcium 33mg3%
Iron 0.6mg3%
* Percent Daily Values are based on a 2000 calorie diet.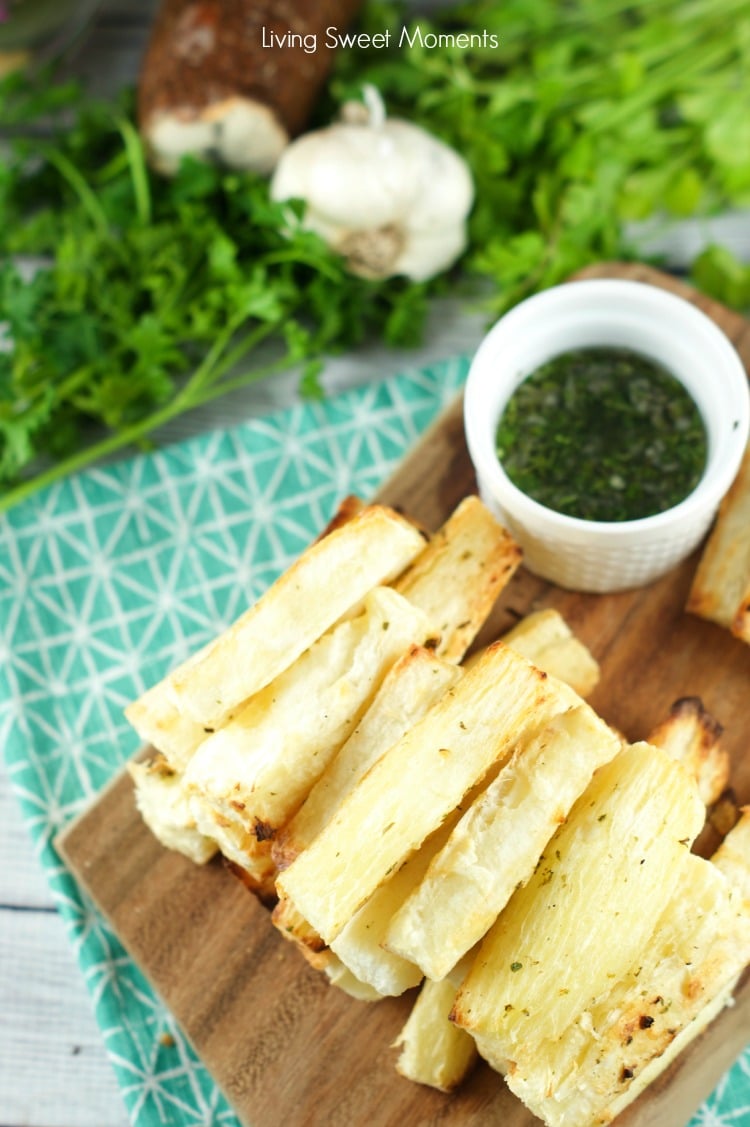 You may also like: