Fried until crispy golden with a cheesy center, try the Best Tequeños Recipe and you won't be disappointed. Brought to you all the way from Venezuela. Ideal appetizer for parties.
Thank you, Tropical Cheese and Dime Media for sponsoring this post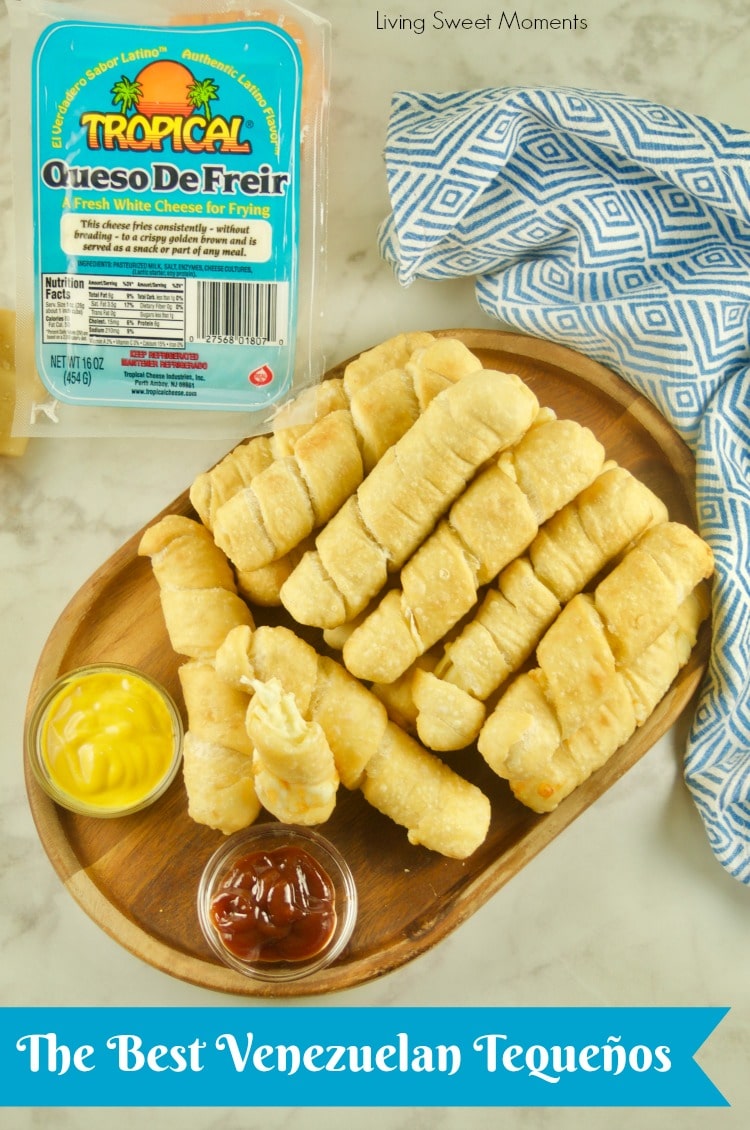 The Best Tequeños Recipe
Well hello there! glad you came by since today I made the cheesiest appetizer you will ever try: Venezuelan Tequeños.
If you've never heard of these, they are basically dough that is wrapped in cheese and fried to golden perfection.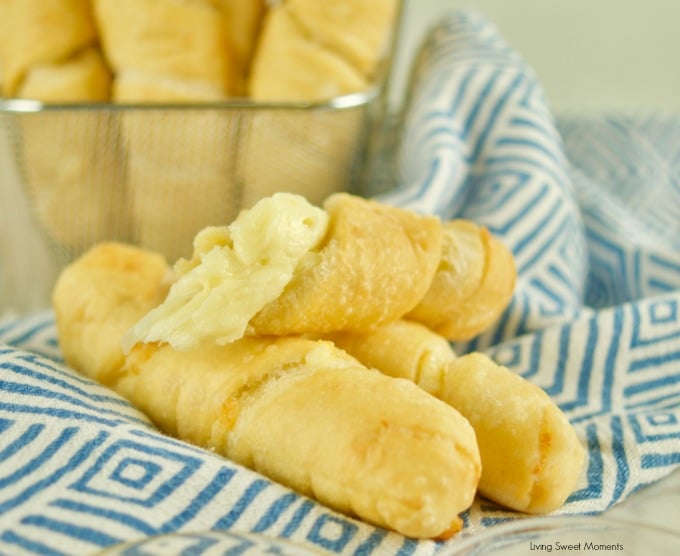 Got your attention now?
Because there's a video below to show you how EASY they are to make fun as well.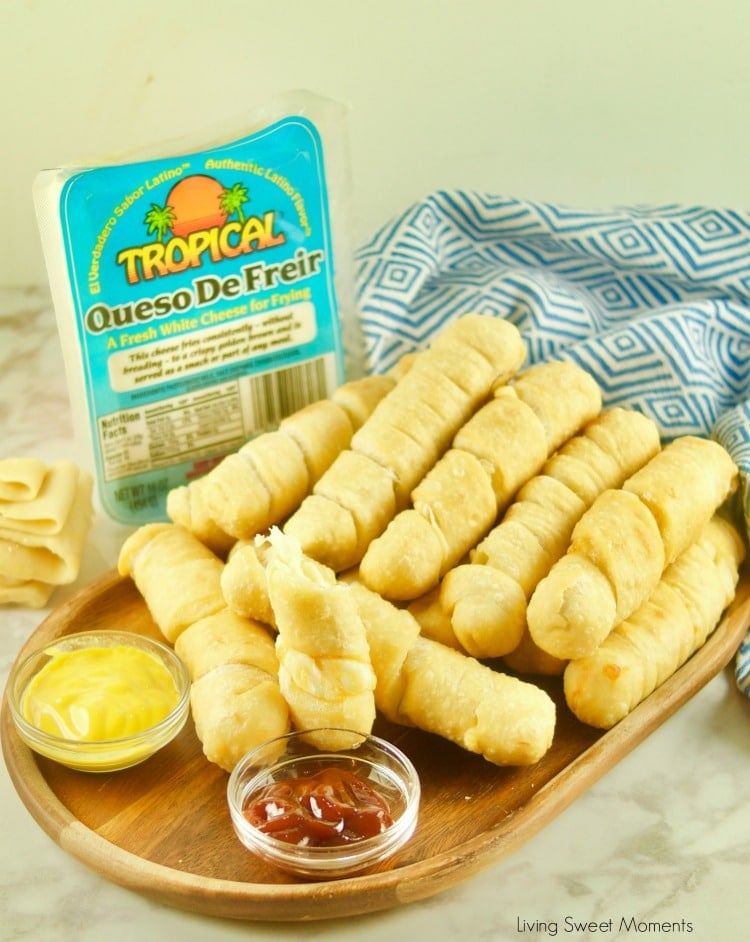 I usually recruit my little ones to help with the wrapping part. They're becoming quite the experts. 🙂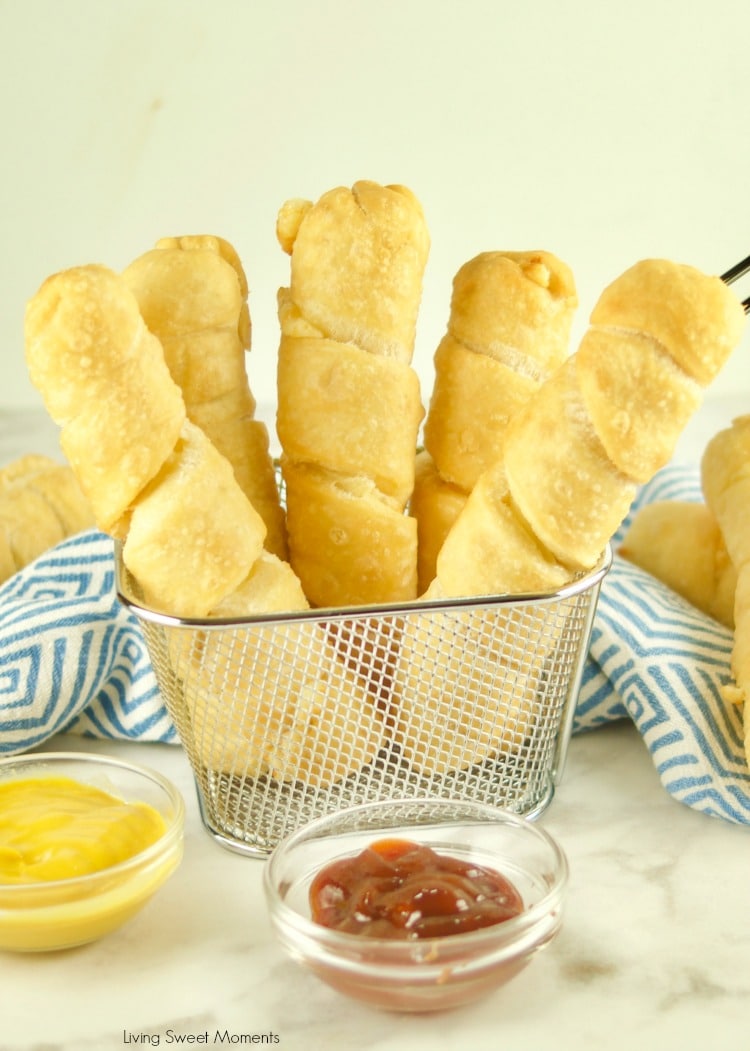 If you grew up in Venezuela, you'd know that there isn't a party, whereas is a kid's birthday or a elegant wedding where Tequeños are not present. To me, it symbolizes joy and celebration.
Obviously we don't need the excuse of a party to make these. My girls love eating them for breakfast, or even a snack while they're doing their homework.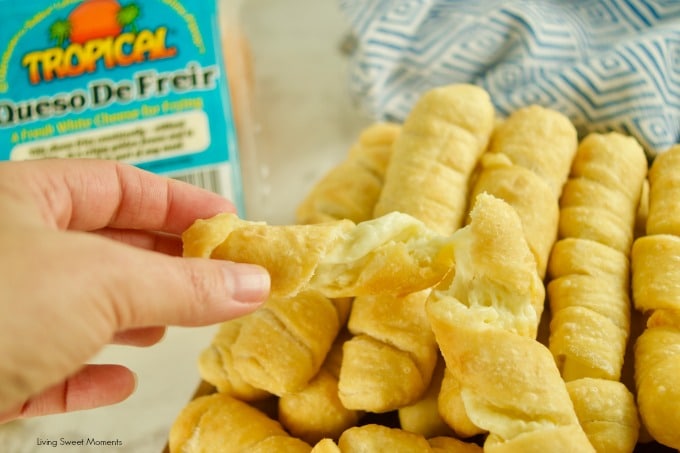 Last year I posted a shortcut Tequeños recipe that only required 3 ingredients. Today I am showing you the real version that is 10000x times better than any other recipe out there.
Why?
Because I've tried them all, and made my own.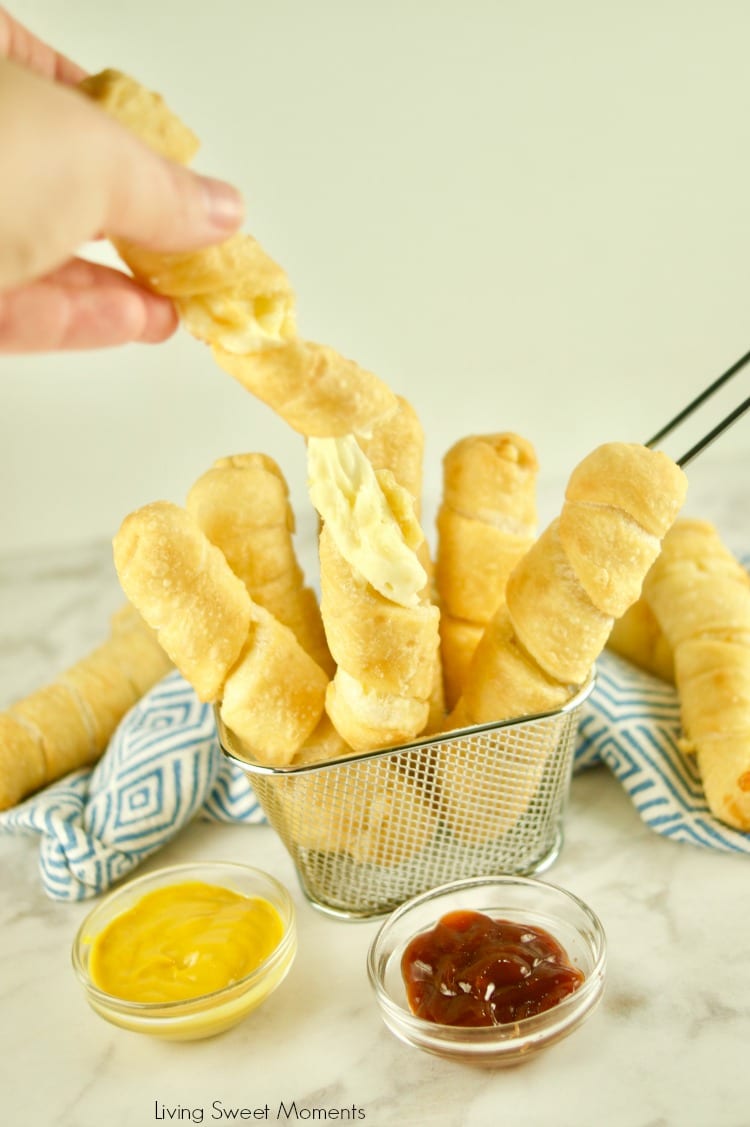 It took me while to come out with the Best Tequeños Recipe. But alas, I finally nailed it!
It was so exciting that I decided to make a video. Check it out below:
Keep in mind that the most important part of this recipe is the CHEESE. You can't use mozzarella, or any other white cheese since it will melt and dissolve away.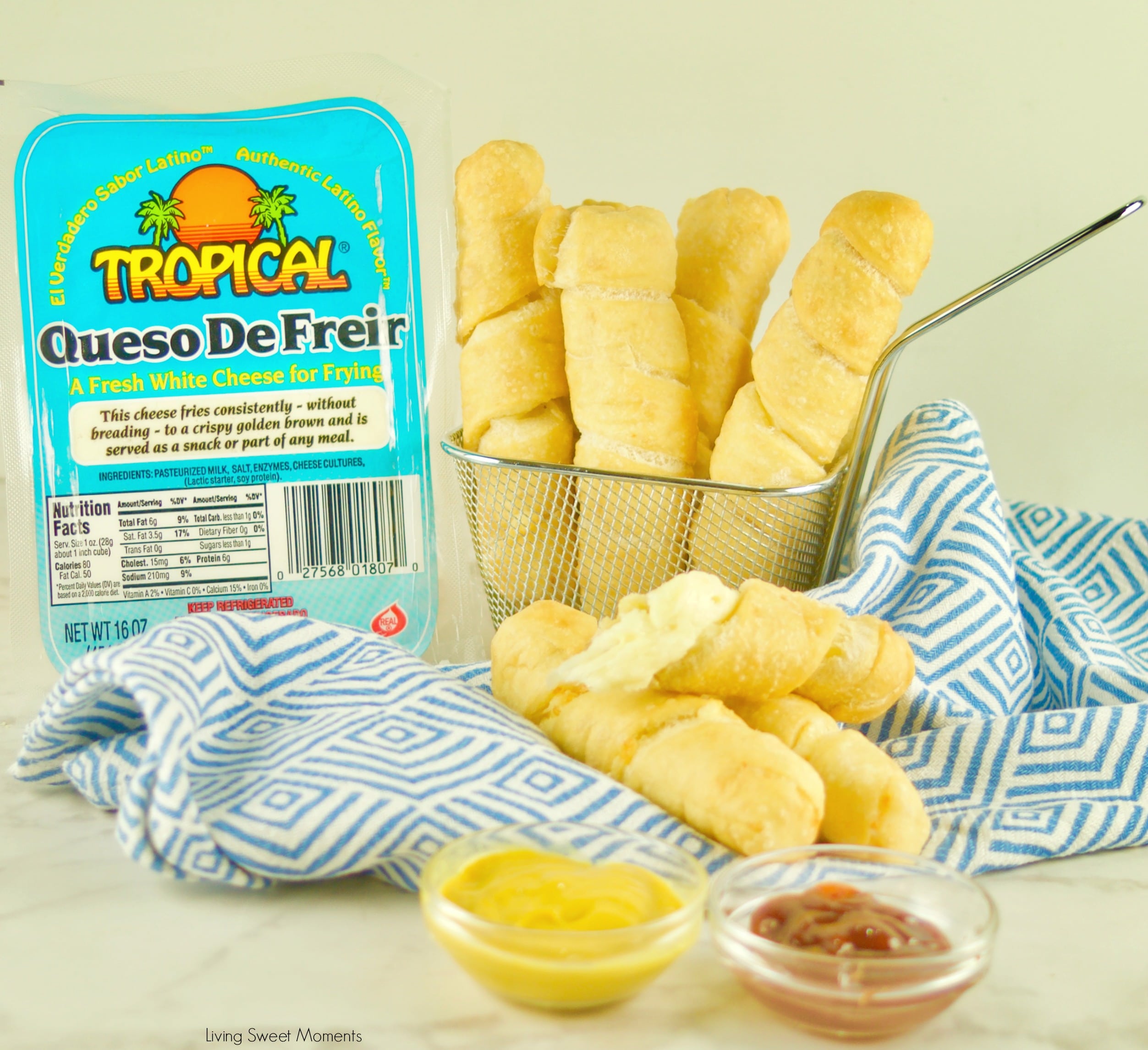 For these Tequeños, I used Tropical Queso de Freir since it withstands the oil while frying and it'll soften without completely melting.
Tropical Queso de Freir can be deep fried, grilled, or pan seared. It can serve as a substitute for sandwich bread or mozzarella sticks, added to a salad in place of croutons, or added to pasta. For more recipes check out Tropical Queso's website.
I hope you can try The Best Tequeños Recipe at home. If you do, please upload a pic on Instagram and tag me @Livingsweetmoments or use the hashtag #LivingSweet. I promise to repost it.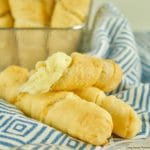 The Best Tequeños
Fried until crispy golden with a cheesy center, try the Best Tequeños Recipe and you won't be disappointed. Brought to you all the way from Venezuela. Ideal appetizer for parties.
Ingredients
16

oz

Semi-Soft White Cheese

3

cups

All Purpose Flour

2

Eggs

2

teaspoons

Salt

1/4

teaspoon

Baking Powder

2

tablespoons

Butter

melted

1/2

cup

Water

warm

1 1/2

cups

Vegetable Oil

for frying
Instructions
Place flour in a bowl. Add the salt and baking powder. Mix

Add the eggs and mix with a wooden spoon

Finally add the warm water and knead with your hands until the dough is smooth

Cover and let it rest for 10 minutes

Meanwhile, cut the cheese into 3/4" sticks

With a rolling pin, roll the dough into a rectangle, 1/4" thick

Use a pizza cutter or knife to slice the rectangle into long strips

One at a time, wrap the cheese stick diagonally using each strip. Make sure that the cheese is completely enrobed. Roll the Tequeño on the table to ensure that the edges are sealed. Repeat with the rest of the cheese and strips

Heat oil to 350 Degrees F

Fry 4-5 Tequeños at a time until golden brown. Remove form the oil and drain with a paper towel.
Recipe Notes
Tequeños can be frozen raw and fried when needed without the thawing them out.
Tequeños can be fried for a few seconds, frozen, and then heated in the toaster oven.
Nutrition Facts
The Best Tequeños
Amount Per Serving (1 Tequeño)
Calories 203
Calories from Fat 90
% Daily Value*
Fat 10g15%
Cholesterol 24mg8%
Sodium 521mg23%
Potassium 38mg1%
Carbohydrates 18g6%
Protein 9g18%
Vitamin A 75IU2%
Calcium 9mg1%
Iron 1.2mg7%
* Percent Daily Values are based on a 2000 calorie diet.