Roasted Red Pepper Burrata Crostini – crispy baguette slices are topped with roasted red peppers, creamy burrata, basil and a splash of balsamic glaze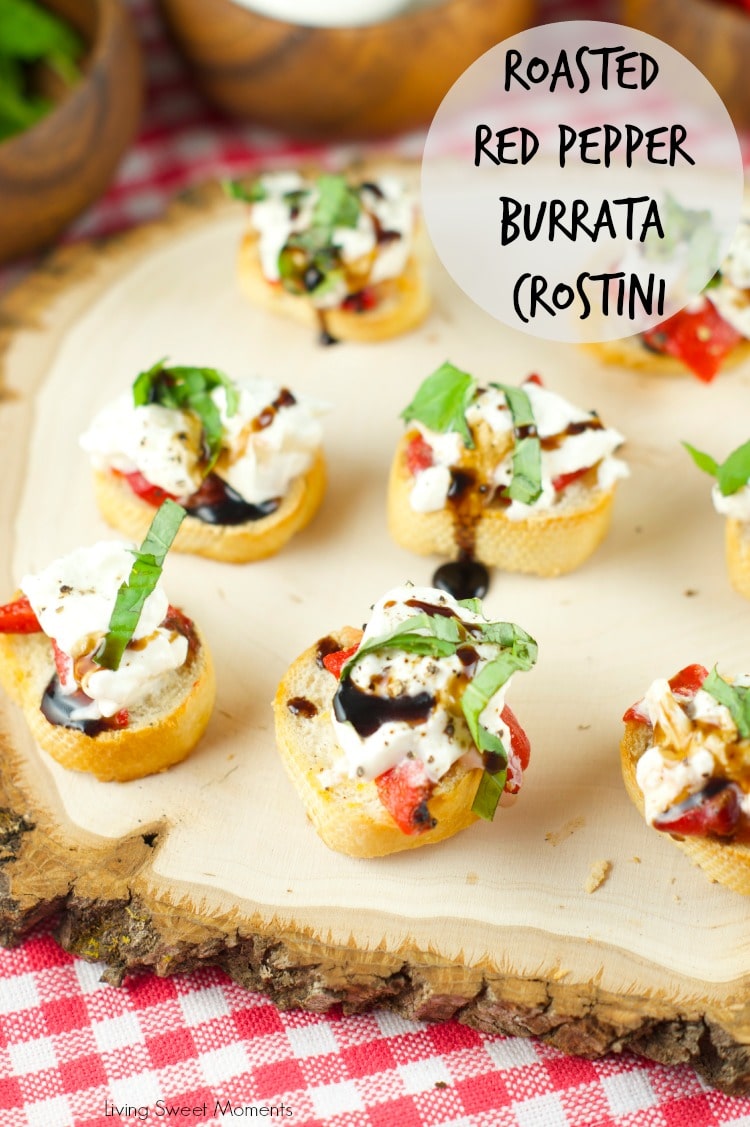 Roasted Red Pepper Burrata Crostini
 This Roasted Red Pepper Burrata Crostini Recipe is super easy to make and delicious. Imagine a garlic infused toasted bread topped with sweet roasted bell peppers, creamy burrata cheese and peppery basil drizzled with sweet and tangy balsamic glaze. Sounds
Sounds fancy, doesn't it? In reality, the ingredients are easy to find and it comes together in minutes! If you're hosting a party or a get-together, these crostini will be perfect as appetizers or finger food.
If you've never tried burrata before, it is a soft version of mozzarella cheese. When you open it, creamy goodness comes out. I had it with balsamic glaze a few years ago and I got hooked.
Then, I found out they were selling them at my regular supermarket and instantly became part of my shopping list.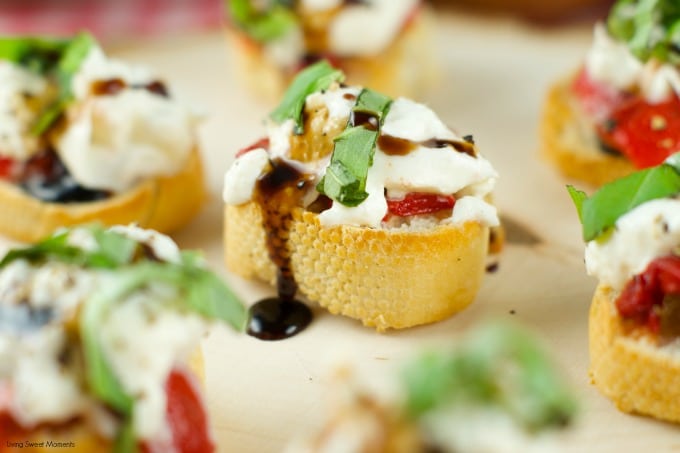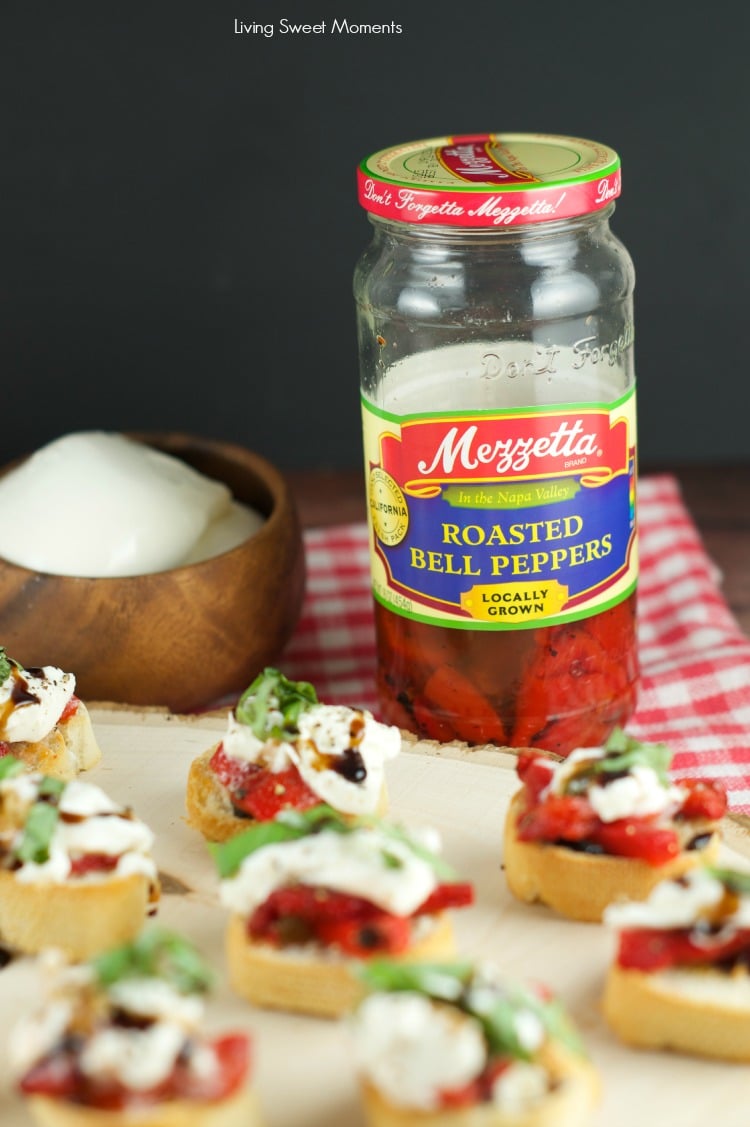 Summer is here and although I am not on vacation, I am on vacation mode. That means that I am not waking up at break of dawn to get my daughters ready for school.
I am still working but also enjoying time outdoors. That's why I am looking for quick and easy ways to entertain. Since these Roasted Red Pepper Burrata Crostini come together in a snap, it's the easiest way to serve a lot of people quickly.
And the flavor, amazing. You need to taste it for yourself.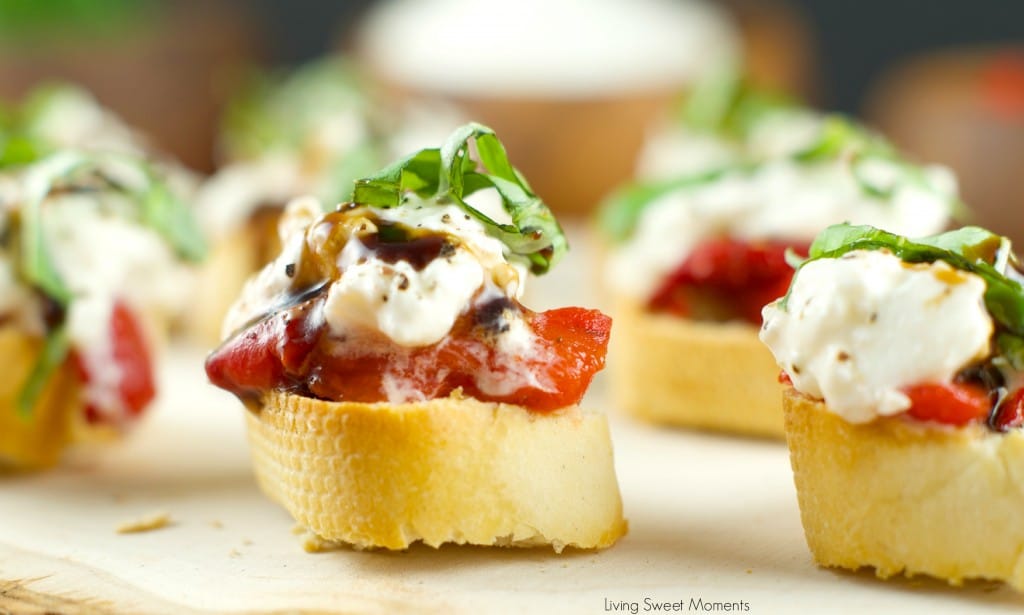 I love how the ingredients are the colors of the Italy Flag. A beautiful homage to their country of birth. There's nothing more delicious that classic Italian cuisine. Absolutely perfection.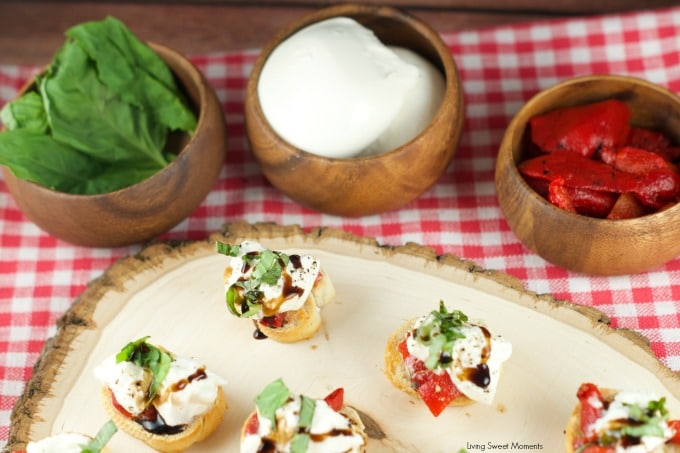 Look at all the colors… representing Italy!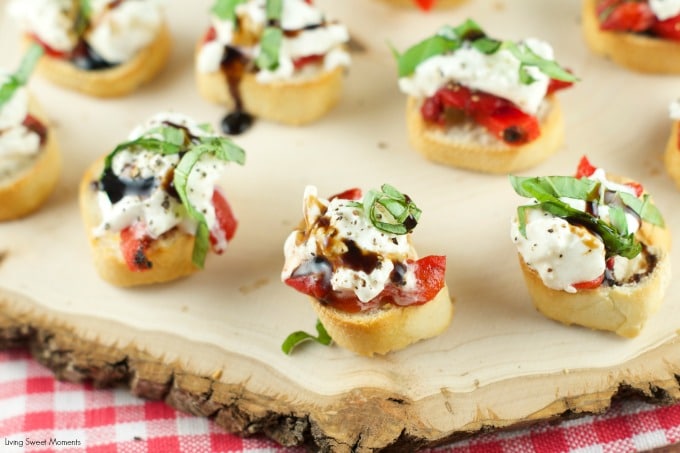 I hope you can try this delicious Roasted Red Pepper Burrata Crostini. If you do, please upload a pic on Instagram and tag me @Livingsweetmoments or use the hashtag #LivingSweet. I promise to repost it.

Roasted Red Pepper Burrata Crostini
Roasted Red Pepper Burrata Crostini - crispy baguette slices are topped with roasted red peppers, creamy burrata, basil and a splash of balsamic glaze
Ingredients
1

Baguette

8-9

Leaves

Basil

2

Roasted Peppers

2

Burrata Balls

Balsamic Glaze

1

Garlic Glove

halved

Olive Oil

Salt & Pepper
Instructions
Preheat Oven to 400 Degrees Fahrenheit

Cut baguette into equal slices. About 1/4 - 1/2 Inch

Brush each slice with a bit of olive oil

Place in the oven for 3-5 minutes or until toasted

Meanwhile, cut the roasted pepper into short strips

Cut the burrata into small pieces

Slice the basil thinly

Remove bread from the oven

Rub the cut side of garlic against each toasted bread

Place 2 slices of roasted peppers onto each slice

Top with burrata cheese and then basil

Add salt and pepper

Drizzle with Balsamic Glaze

Enjoy!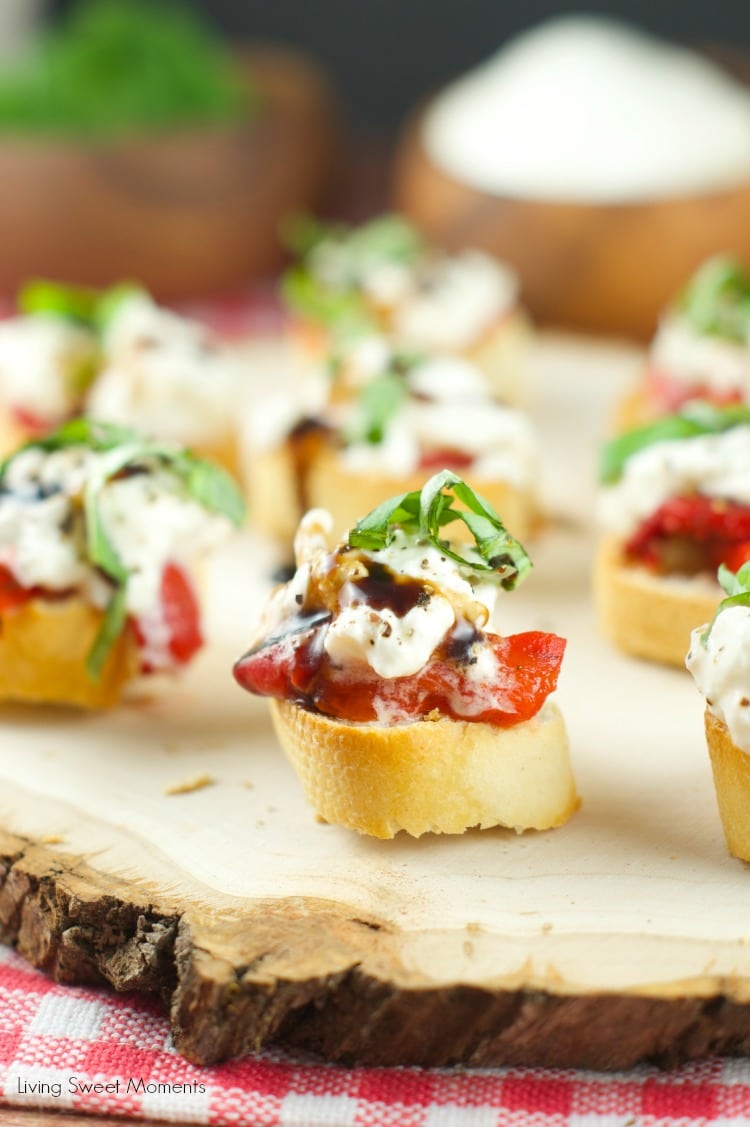 You may also like: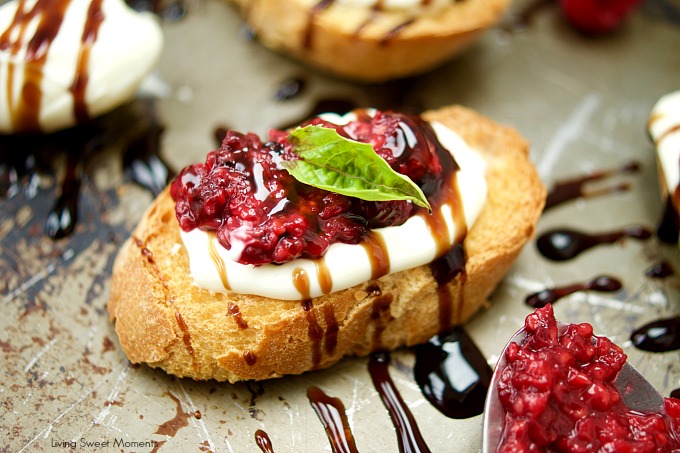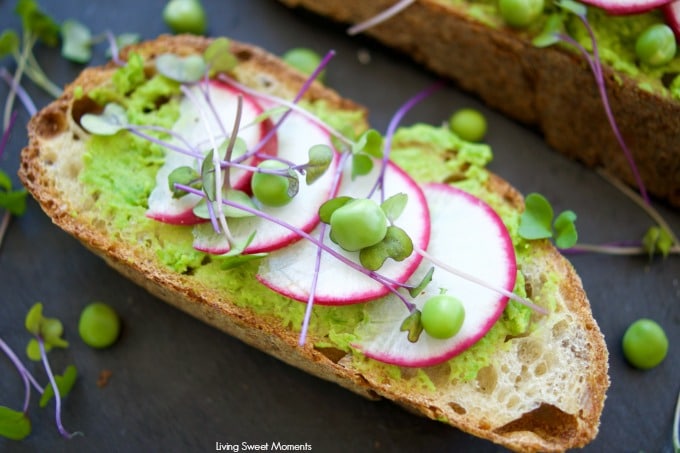 Honey Baked Brie With Figs and Rosemary