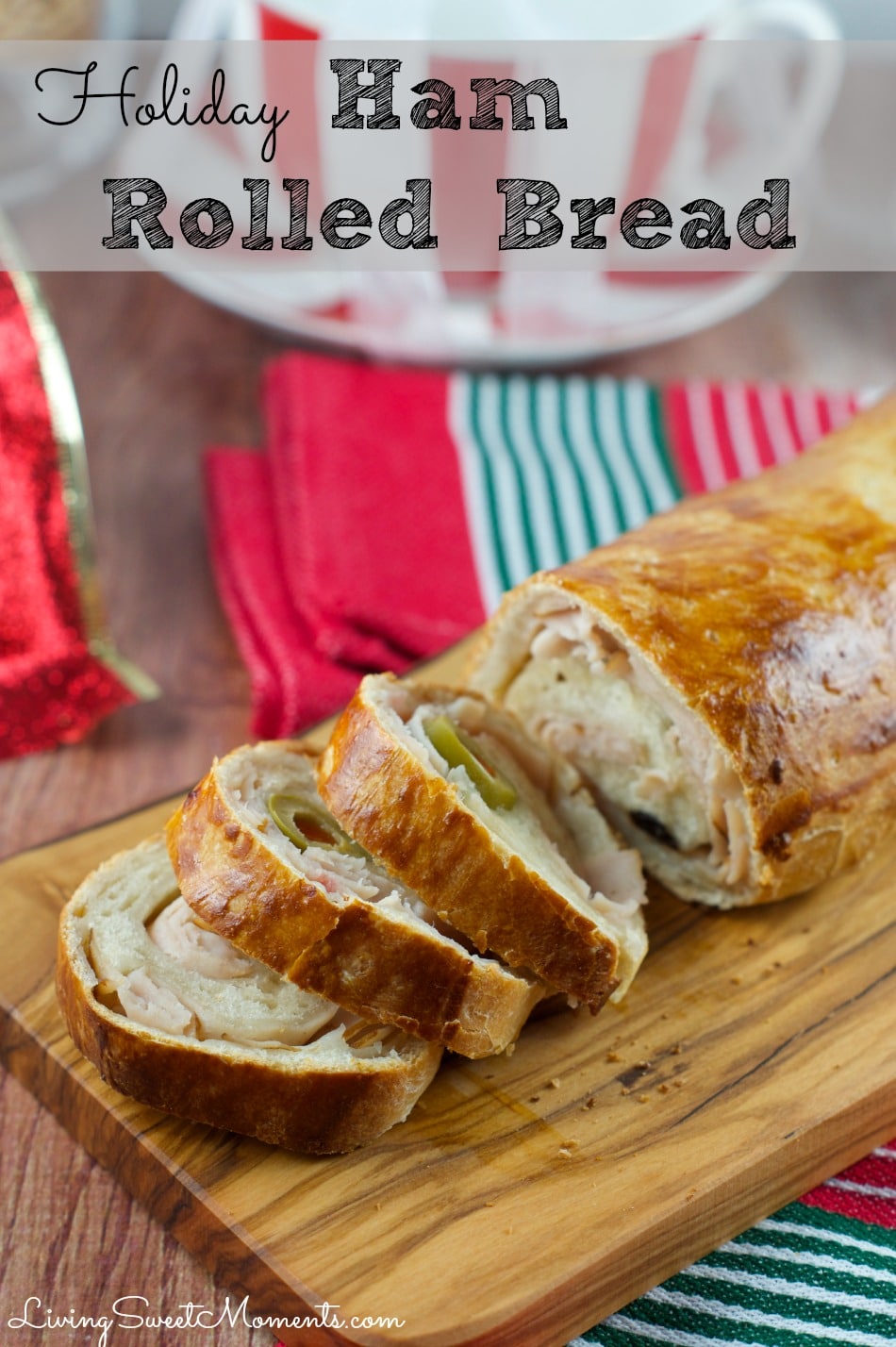 Looks yummy isn't it? I agree. And don't worry, there's no yeast or proofing involved with this one. Like always, I have a shortcut. Since the holidays are here who has the time for yeast fermentation and all of that? This Holiday Ham Rolled Bread Recipe (AKA Pan De Jamon) will surely please any celebration! Serve it as an appetizer or as a side dish during dinner and your guests will surely come back for seconds. So make 2 just in case 😉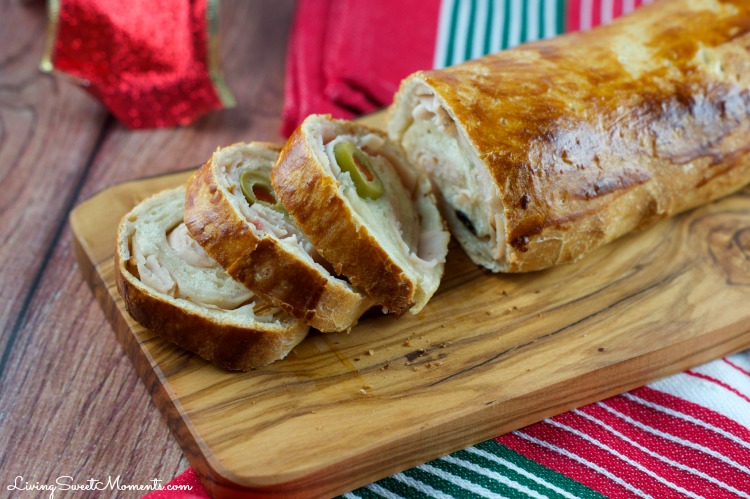 The Ham Rolled Bread or Pan de Jamon is a typical Venezuelan dish usually served around Christmas time. It combines a flavor explosion of ham (I used turkey), olives and raisins all rolled into a bread. It's sweet and salty all in one bite. I make it every year for friends and family and they love receiving their loaf.  Since I am not a huge fan of ham I used turkey but you can certainly use whichever you like best.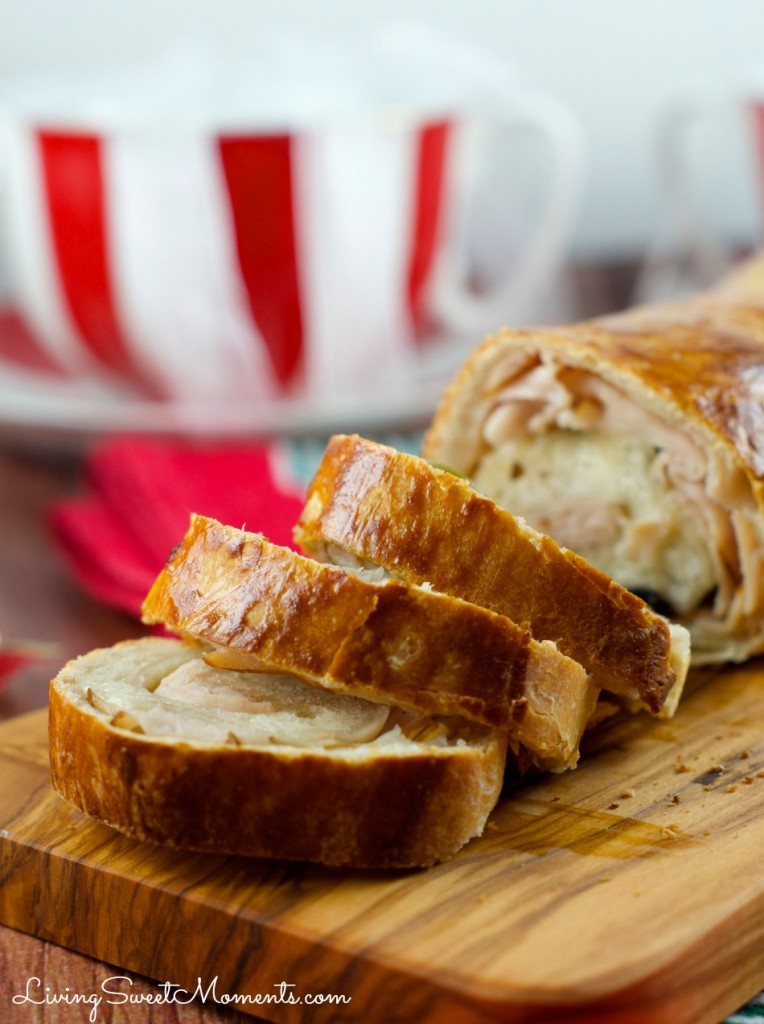 My husband suggested adding turkey bacon to the filling. I will definitely try it and let you know how it turns out. Making this Pan de Jamon is usually a labor of love but this year I decided to do an experiment and surprisingly it worked! (yes, there are tons that don't make it here).
To make this bread I used the French Bread dough that comes in a can and as you can see, the bread turned out beautiful, delicious and you can't even notice the difference. I also brushed the top of the bread with a little yolk and panela (or brown sugar) to give it a nice sheen and sweet taste. The bread that came out is a tad smaller than the usual Ham Rolled Bread which was perfect for me and my family. If you want to make it bigger simply use 2 cans and combine the doughs.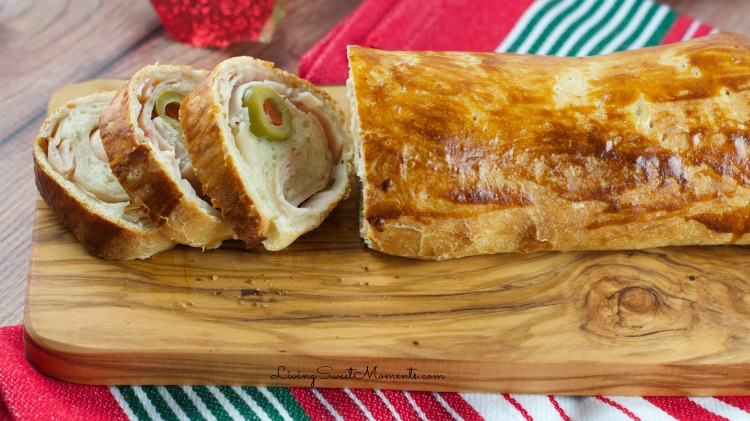 Here's step by step pictures on how to make it.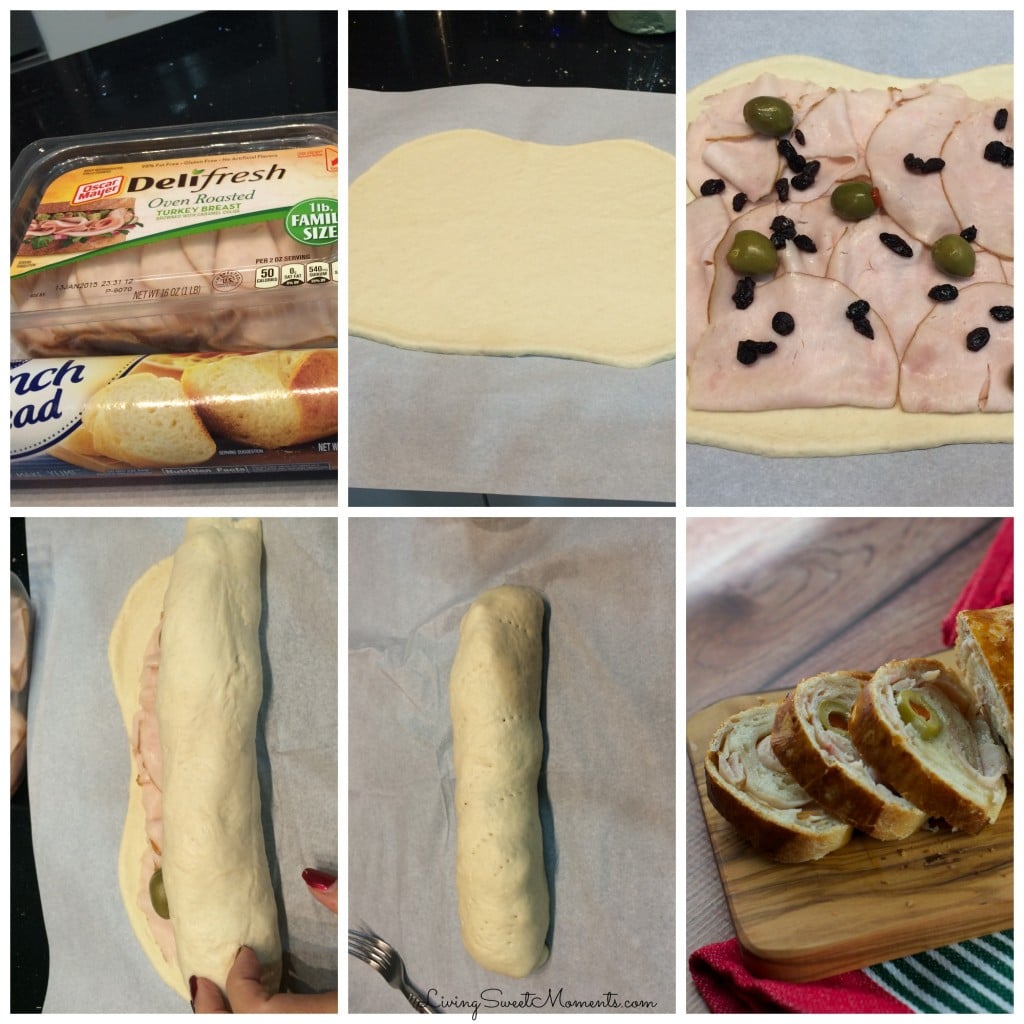 See? it's so easy. Simply stretch, fill, roll and bake! Now that you know this technique, think of all other flavor filling combinations you can do. Maybe add some cheese and make a Croque Monsieur or use leftover beef or chicken with veggies, cheese and a little sauce. There are endless possibilities!
Hope you can make this delicious Holiday Ham Rolled Bread or Pan De Jamon and let this recipe be part of your Holiday Celebrations.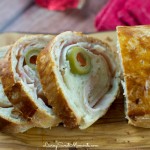 Holiday Ham Rolled Bread Recipe (Pan De Jamon)
Ingredients
1

Can of French Bread Loaf

6-8

oz

of Ham Slices

about 8-12 slices (or turkey)

8-10

Olives

pitted

1/4

Cup

of Raisins

1

Teaspoon

of Sugar

Flour

for dusting

1

Egg Yolk

1

Teaspoon

of panela

or brown sugar
Instructions
Preheat Oven to 350 degrees F.

Open the can of dough and place it on a floured surface. Roll it into a ball using your hands

With the help of a rolling pin, stretch the dough into a rectangle. If dough shrinks back too much, let it rest for 5 minutes and try again

Place the ham slices side by side inside the rectangle leaving a small border of dough exposed

Sprinkle the olives, raisins and sugar all over the ham making sure that they are all spread out

Roll the dough tightly into a log making sure the seam remains at the bottom

Prick the dough with a fork all over the surface to avoid it puffing up

Place the bread in a cookie sheet on lined with parchment paper

Bake for 10 minutes

Meanwhile, mix the egg yolk and brown sugar in a small bowl

After the 10 minutes are up, brush the egg yolk mixture all over the surface of the bread

Bake for 20 more minutes or until browned

Remove from oven and let cool