How to make prime rib roast – This easy step by step method guarantees you a juicy and tender prime rib that will impress your family and friends. Enjoy!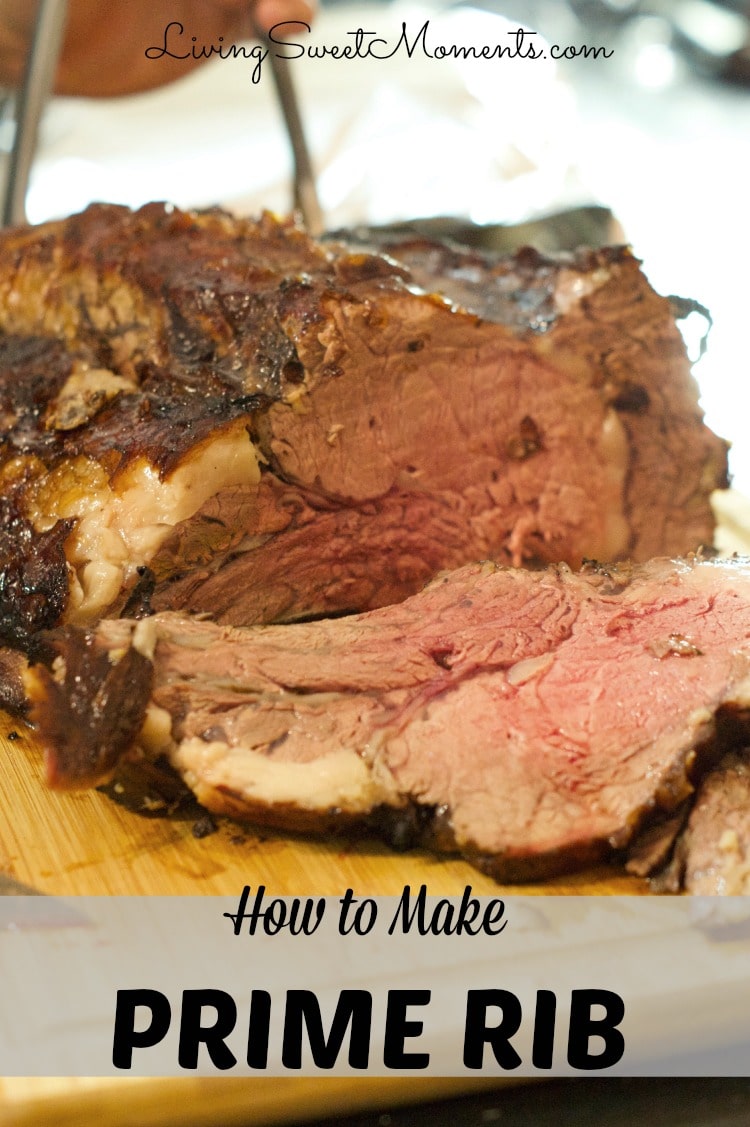 How To Make Prime Rib Roast
First of all, thsis is definitely the king of all beef cuts. The prime rib is flavorful, tender and juicy. Here's an easy step by step tutorial that will guarantee you success
Believe it or not it's super easy to make once you know some little tricks. This post will teach you How To Make Prime Rib Roast.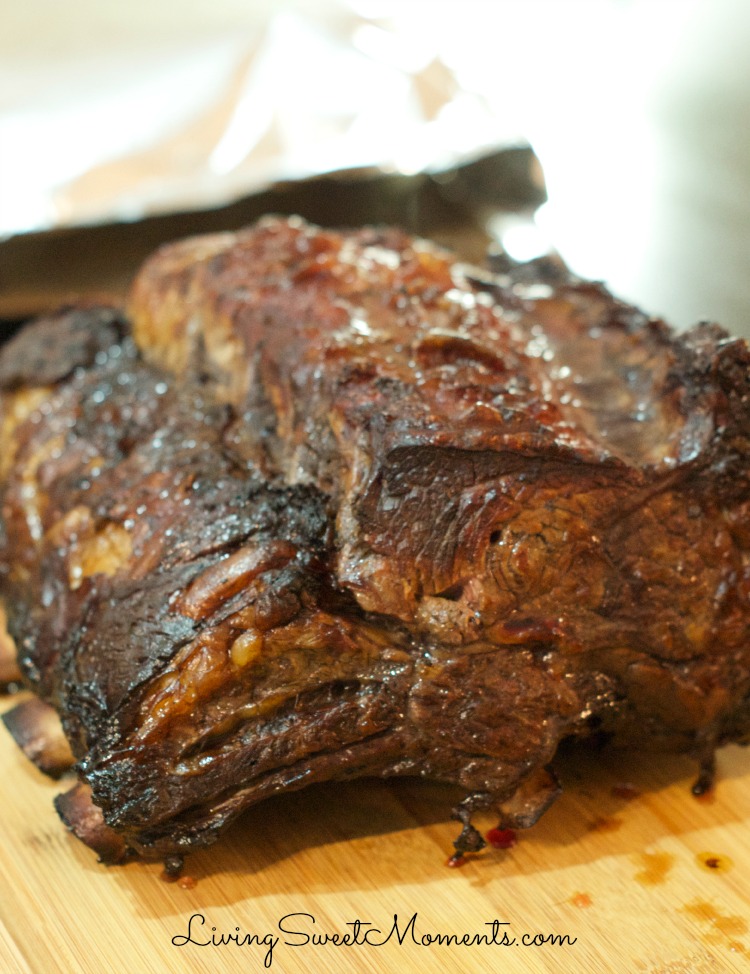 My dad goes crazy for prime rib. He knows exactly which restaurants have it and which don't.He always knows how to differentiate a good one from a poorly made one. This cut of beef is called: Standing Rib Roast and that's how you should order it at your local supermarket or butcher shop.
When it has "prime" attached it's referring to the quality of the beef. Prime is the most expensive and has the best quality. BUT it's hard to find and is very expensive. For this post, I used a standing rib roast since I couldn't actually find the prime rib.
There are 2 kinds of rib roasts available: boneless and bone in. I recommend the bone-in because roasting it with the bone will give your beef much more flavor and it will also less likely to dry out.
To calculate how MUCH beef you will need the rule of thumb is 1 bone = 2 persons. So if you're expecting 8 people for dinner get a roast with 4 bones.
STEP 1: MARINATE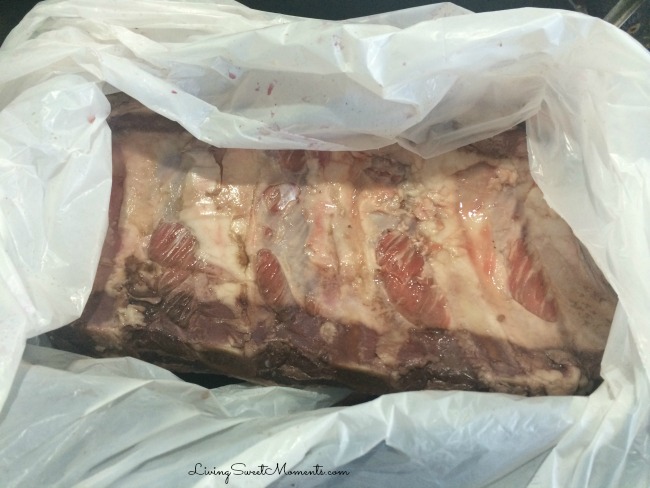 I usually buy the standing rib roast the day before and put inside a big plastic bag over a large baking dish. I add a whole bottle of red wine and 4-5 crushed garlic cloves.
Rub the garlic all over the meat and close the bag. Then I place it in the fridge overnight and take it out about 2-3 before roasting so the beef comes to room temperature.
STEP 2: SEASON AND SEAR
Preheat oven to 500 degrees F.
Remove beef from plastic bag and place it directly WITH the marinate on the baking pan. Add salt and pepper all over the meat. Don't be stingy with the salt.
Place beef in the oven for 15 minutes and REMOVE. This will sear the meat and seal in the delicious juices.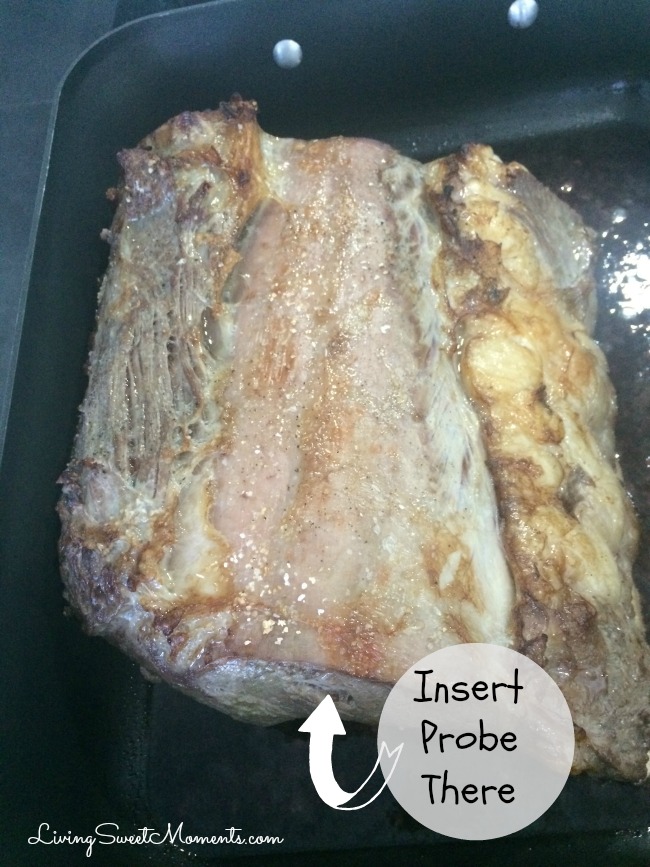 Lower the oven temperature to 375 Degrees Fahrenheit.
For the rest of the baking process, I use a probe thermometer. They are very inexpensive and can be found at many kitchen stores and Amazon.
I like to use these because it has a long probe that perfect when cooking big pieces of meats like turkey and standing rib roast. It basically can tell the temperature of the center of the beef.
The probe needs to be inserted from the SIDE of the beef and not from the top. See the picture above and check out where I inserted mine.
STEP 3: ROAST & BASTE FOR APPROXIMATELY 90 minutes to 2 hours
Before inserting your beef into the oven again, baste it with the wine marinade. If that wine has evaporated, add some more. Roast your beef until you reach your desired temperature. Every 30 minutes or so, add some more wine to the top of your beef.
I personally think that a prime rib should be served MEDIUM RARE so I generally roast it until it's rare. Then I remove from the oven and place foil over it. The meat will keep cooking for 10-15 minutes more outside the oven. If you like your beef with a different temperature. Just leave it longer in the oven and adjust your probe thermometer (if using one)
If you need a temperature reference guide for Beef:
RARE: 120-125  Degrees F.
MED-RARE: 130- 135 Degrees F.
MEDIUM: 140- 145 Degrees F.
MED-WELL: 150 Degrees F.
WELL DONE: 160 Degrees F. and above
The idea is to remove your beef from the oven 10 degrees before your desired temperature. For example: for medium-rare beef cook it until it's rare, remove from oven, cover it with foil and in a few minutes the temperature will reach 130 degrees (for med rare).
STEP 4: REMOVE FROM OVEN AND LET IT REST
When meat comes out of the oven, cover it loosely with tin foil and let it rest for approximately 15 to 20 minutes. This will give a chance for the juices to redistribute and will guarantee you a juicy piece of meat.
STEP 5: CARVE AND ENJOY!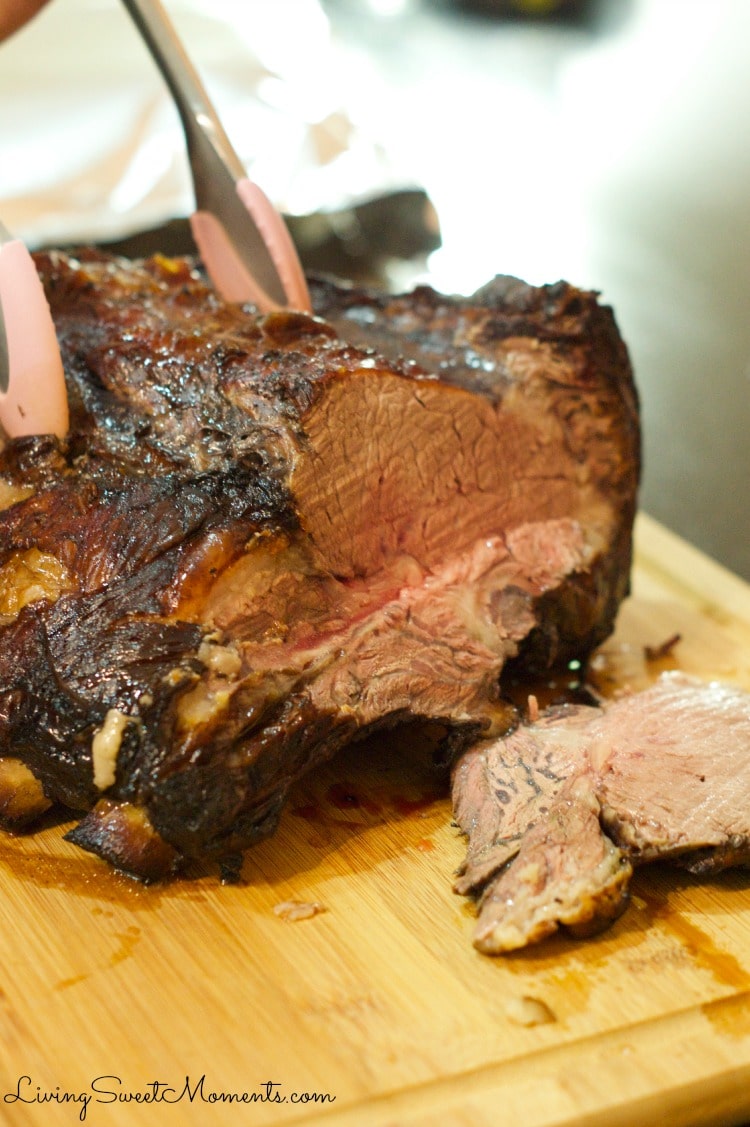 Phew! we made it step 5… I don't know about you but I am hungry! All those smells from oven has got my tummy rumbling (words of my 7-year old)
For carving, use a long fork and a sharp carving knife (the one with a smooth blade). Avoid using a serrated knife for this type of cut. Slice beef into thin strips and discard the bones. Arrange them nicely in a platter and add the juices on top.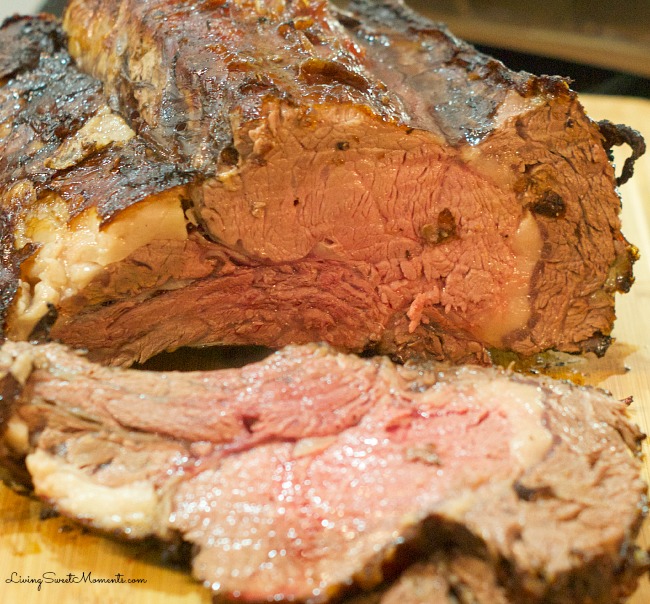 I hope this post taught you How To Make Prime Rib Roast. Don't be afraid to try it out! It's the perfect cut for a very special occasion and it will definitely impress everybody.
Finally, If you have any questions, please let me know. If you make it at home, please tag @livingsweetmoments on Instagram or use the #LivingSweet hashtag.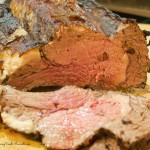 How To Make Prime Rib Roast – A Tutorial
how to make prime rib roast - This easy step by step method guarantees you a juicy and tender prime rib that will impress your family and friends. Enjoy!
Ingredients
6

lbs

Standing Rib Roast

with 4 bones

2

Bottles of Dry Red Wine

5

Cloves

Garlic

crushed

Salt + Pepper
Instructions
Place beef in a large plastic bag. Rub the garlic all over the the top and sides and pour in a bottle of red wine

Place plastic bag inside a large roasting pan. Close the bag

Marinade the beef overnight in the fridge

Remove beef from the fridge 3-4 hours before cooking (if possible)

Preheat Oven to 500 Degrees F.

Remove beef from bag and place it on the large roasting pan with the marinade

Season it liberally with salt and pepper all over

Roast for 15 minutes

Remove from oven

Decrease the temperature of the oven to 375 Degrees F. Wait 5-10 minutes for the oven to cool down a bit

Baste the beef with the marinade. If marinade has evaporated add more wine

Place the beef in the oven to finish cooking. About 90 minutes. Baste it 2-3 times with more wine

Roast until you reach 10 degrees before your ideal temperature

Remove from oven and cover it loosely with aluminum foil for 15-20 minutes. This will allow the beef to cook a little longer outside and to redistribute its juices

Carve

Enjoy!
Nutrition Facts
How To Make Prime Rib Roast – A Tutorial
Amount Per Serving
Calories 941
Calories from Fat 648
% Daily Value*
Fat 72g111%
Cholesterol 164mg55%
Sodium 127mg6%
Potassium 797mg23%
Carbohydrates 4g1%
Protein 37g74%
Vitamin C 0.5mg1%
Calcium 35mg4%
Iron 4.6mg26%
* Percent Daily Values are based on a 2000 calorie diet.
You may also like:
4-Ingredient Mississippi Roast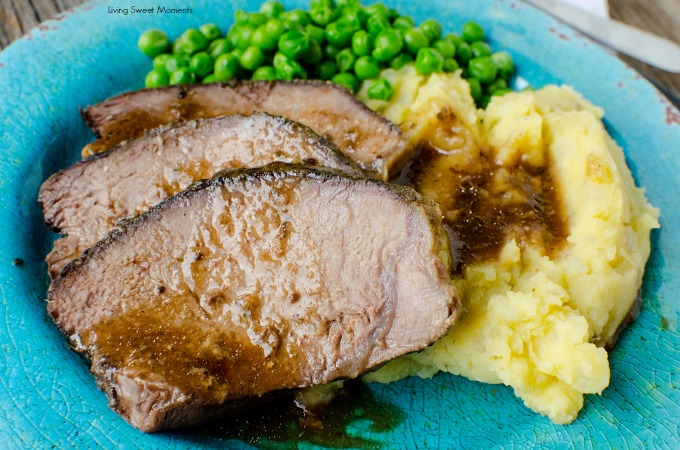 Wine and Pomegranate Brisket Recipe