Roasted Pepper and Avocado Pasta – This vegan simple and delicious pasta dish is perfect for a quick weeknight dinner. Yummy Roasted Peppers & avocado pasta sauce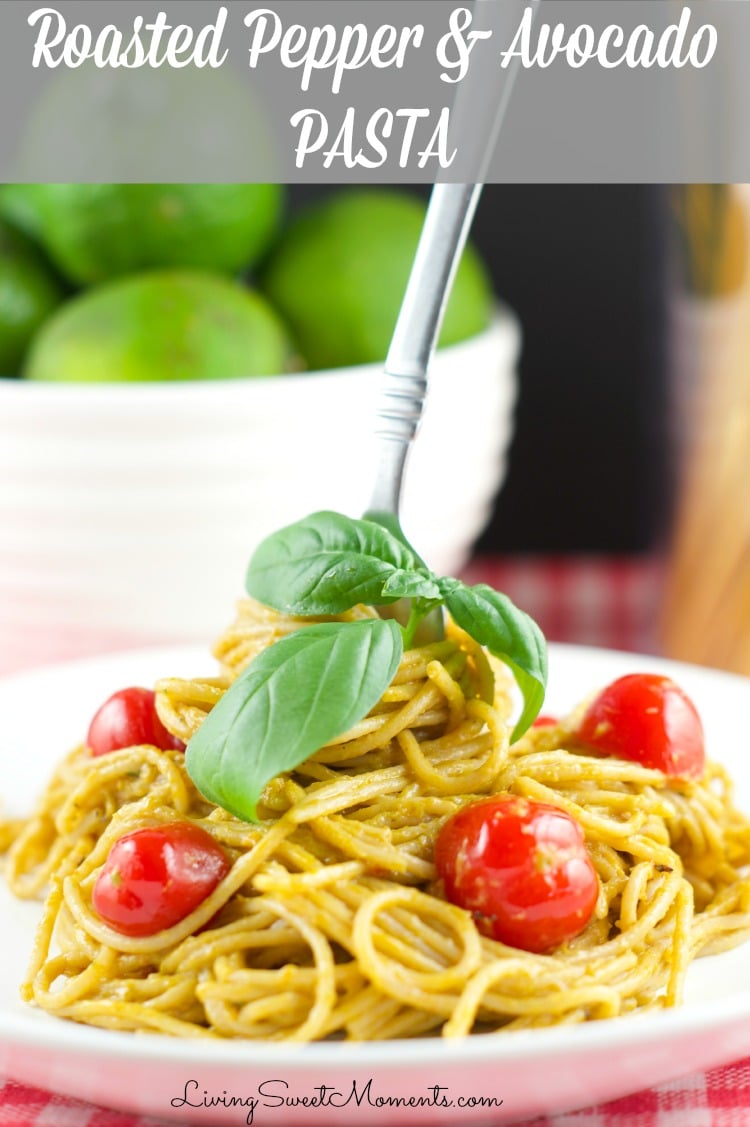 Roasted Pepper And Avocado Pasta
Oh baby! talk about quick and easy dinner idea. This Roasted Pepper And Avocado Pasta is super delicious, hearty and ready in minutes. Throw all the ingredients together in a blender and then toss the sauce with cooked pasta. Even my sister can make this one.. *I hope*
Say you must be thinking: "has this girl gone crazy? doesn't she know that avocados are made for dips?" Well, the answer is no, yes and no.
Avocados make delicious creamy pasta sauce and it's perfect for those people who watch their calories or don't want to add cream to the sauce.
Plus it holds it's weight when paired with something that has such a strong flavor as a roasted red pepper. Weirdly enough, you can ACTUALLY taste the avocado with the pepper.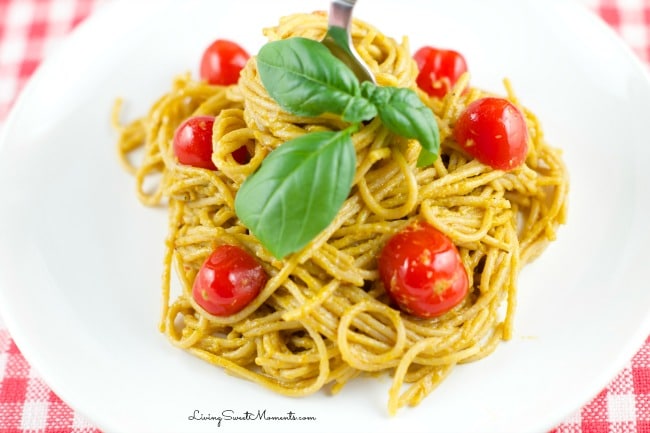 This Roasted Pepper And Avocado Pasta has such a mature and complex taste that is a bit hard for me to describe. You need to taste it for yourself and see.
I added some cherry tomatoes for the flavor and the color. The basil just makes your mouth pop. You can certainly add some red pepper flakes for a hint of spice.
Here's how the whole process starts out: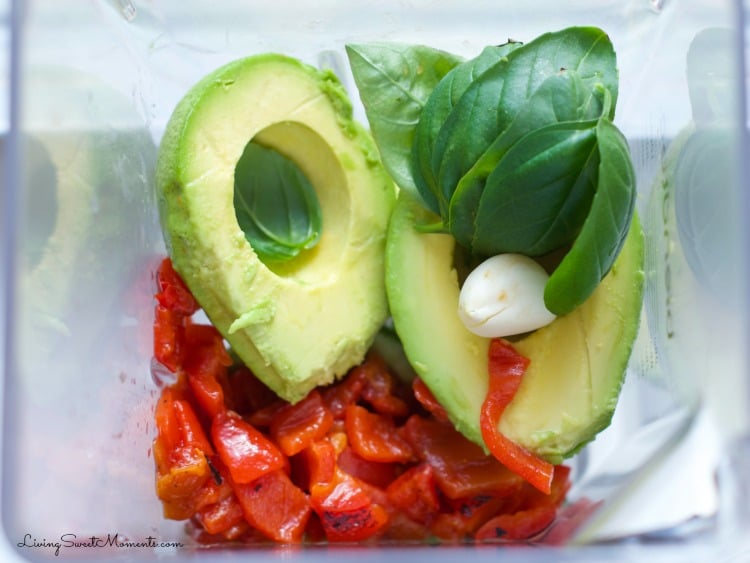 It's that easy… throw everything in the blender or food processor. I use my trusty Blendtec who never fails me. And just let it do its thing.
The result is a creamy delicious mess that you'll want to eat by the spoonful. You can even serve it as a special guacamole for parties and get-togethers.
But let's take this creamy mess a step farther and toss it with some cooked pasta and cherry tomatoes. The result is this flavorful Roasted Pepper And Avocado Pasta that will leave you wanting seconds.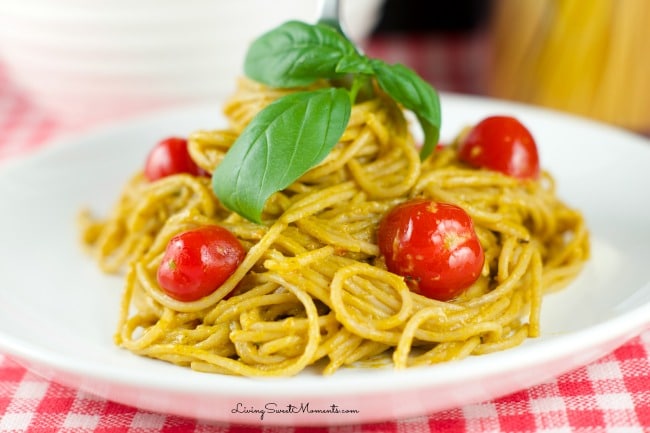 I hope you can make this delicious Roasted Pepper And Avocado Pasta Recipe at home. If you do, please tag me on Instagram @livingsweetmoments and/or use the hashtag #LivingSweet – I promise to Repost it.
Roasted Pepper And Avocado Pasta
Roasted Pepper and Avocado Pasta - This simple and delicious pasta dish is perfect for a quick weeknight dinner. Yummy Roasted Peppers & avocado pasta sauce
Ingredients
1

lb

of Spaghetti

or any pasta

2

Ripe Avocados

sliced and pitted

2

Roasted Red Peppers

chopped (I used the jarred kind)

Juice from 2 limes

1

Clove

Garlic

10

Leaves

Basil

2

Tablespoons

of Olive Oil

Salt + Pepper

1

Pint

of cherry or grape tomatoes
Instructions
Cook the pasta according to the box's directions al dente

Drain pasta in a colander and return to pot

In a blender or food processor, add the olive oil, avocados, lime juice, red peppers, garlic, basil, salt and pepper. Mix until combined

If the mixture is too thick for your food processor, add a tad more olive oil

Add the avocado mixture on the pot and mix until the sauce and pasta are combined. Throw in the cherry tomatoes

Serve and enjoy!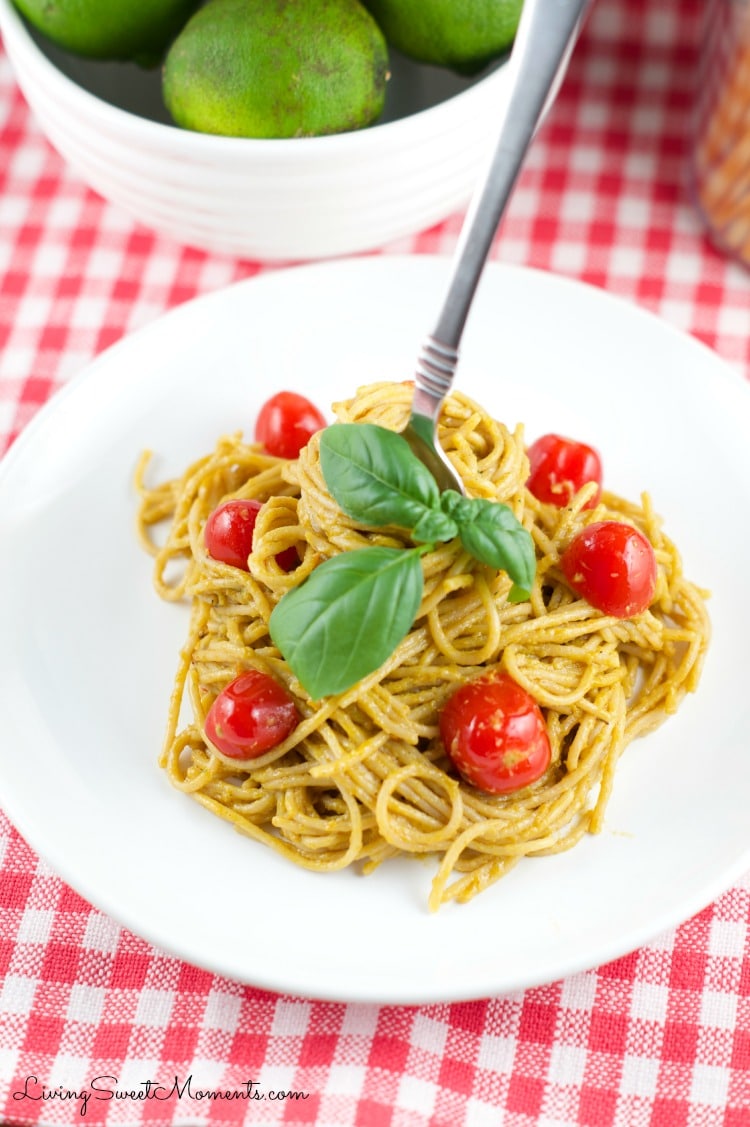 Here are some more easy pasta recipes: