I love soups, from the light broths to the heavy bean style ones. They are warm and comforting, perfect for a chilly night. This Cream Of Mushroom Soup combines 2 big loves of mine, soups and mushrooms. If I see in a restaurant menu "mushrooms" as part of the dish, that's what I order.
Normally these kinds of soups are loaded with butter and cream, let's face it. That's what give the amazing flavor. But when I am making them at home as a regular weeknight meal, adding those 2 ingredients.. it just feels wrong. So thru a lot of trial and error I came it with this amazing Cream Of Mushroom Soup that taste just like their counterparts, thick and creamy without any flour, butter or cream and NO, I am not using any weird ingredient as a substitution. The technique of cooking is the key.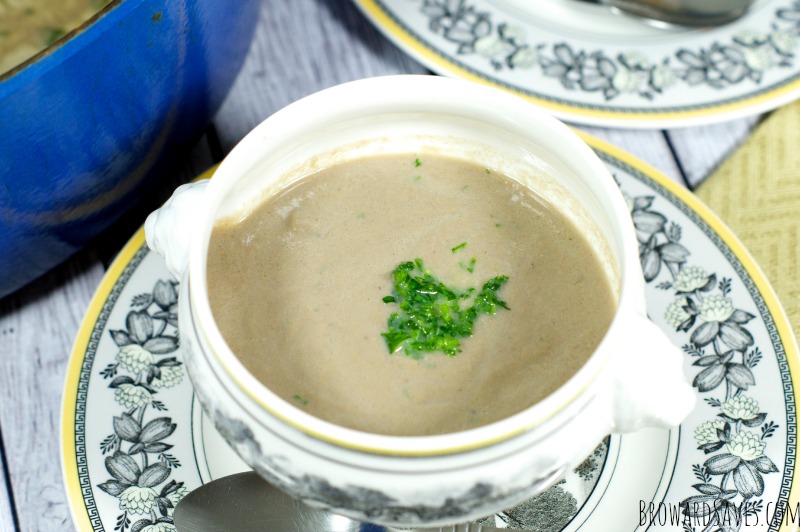 And of course, this soup is nothing like the canned kind that looks all gloopy.  It's made with fresh ingredients that you may already have in your pantry. Fresh cut parsley as a garnish gives this creamy soup a touch of pepperiness and rounds up the flavor nicely. My husband and my oldest little girl gobbled it up! It's a very filling soup that will leave you satisfied.
For this Cream Of Mushroom Soup I only used mushrooms, onions, stock, wine, thyme, olive oil, parsley, salt and pepper. That's it! You would surely think there's cream inside, but since the mushrooms are so meaty that when blended they thicken up instantly. Trust me! Serve it at your next dinner party and your guests will be impressed. Next time I will definitely make extra for leftovers!
You can combine any types of mushrooms you want. I avoid the white buttons one because they lack the flavor that other mushrooms have. You can use a mixture of various mushrooms or even wild ones. For this particular recipe I used baby Portabella. Easily found and delicious.
Try it!
Non Dairy Cream of Mushroom Soup
Author:
Prep time:
Cook time:
Total time:
Ingredients
1 lb of Mushrooms, chopped
1 tablespoon of Olive Oil (or more if needed)
1/2 Onion, Chopped
1 teaspoon of dried thyme
1/2 Cup of Wine Wine (the dryer the better)
4 Cups of Stock (chicken or vegetable)
Parsley, chopped (optional)
Salt and Pepper to taste
Instructions
In a large pot heat 1/2 Teaspoon of olive oil over medium heat. Add the onions and cook until translucent.
Add the thyme and cook for 2-3 minutes more
Insert the mushrooms and let them cook down until soft (about 5 minutes)
Add the wine and stir the liquid reduces in 1/2 the size (3-4 minutes)
Pour the stock and let it simmer for 10-15 minutes
Throw 3/4 of the mixture in the blender and blend until creamy. Careful when blending HOT liquids, do not overfill the blender jar.
Add the blended soup back in the pot with the remaining mushroom chunks. Add salt and check for seasoning. Boil for 2 minutes and serve