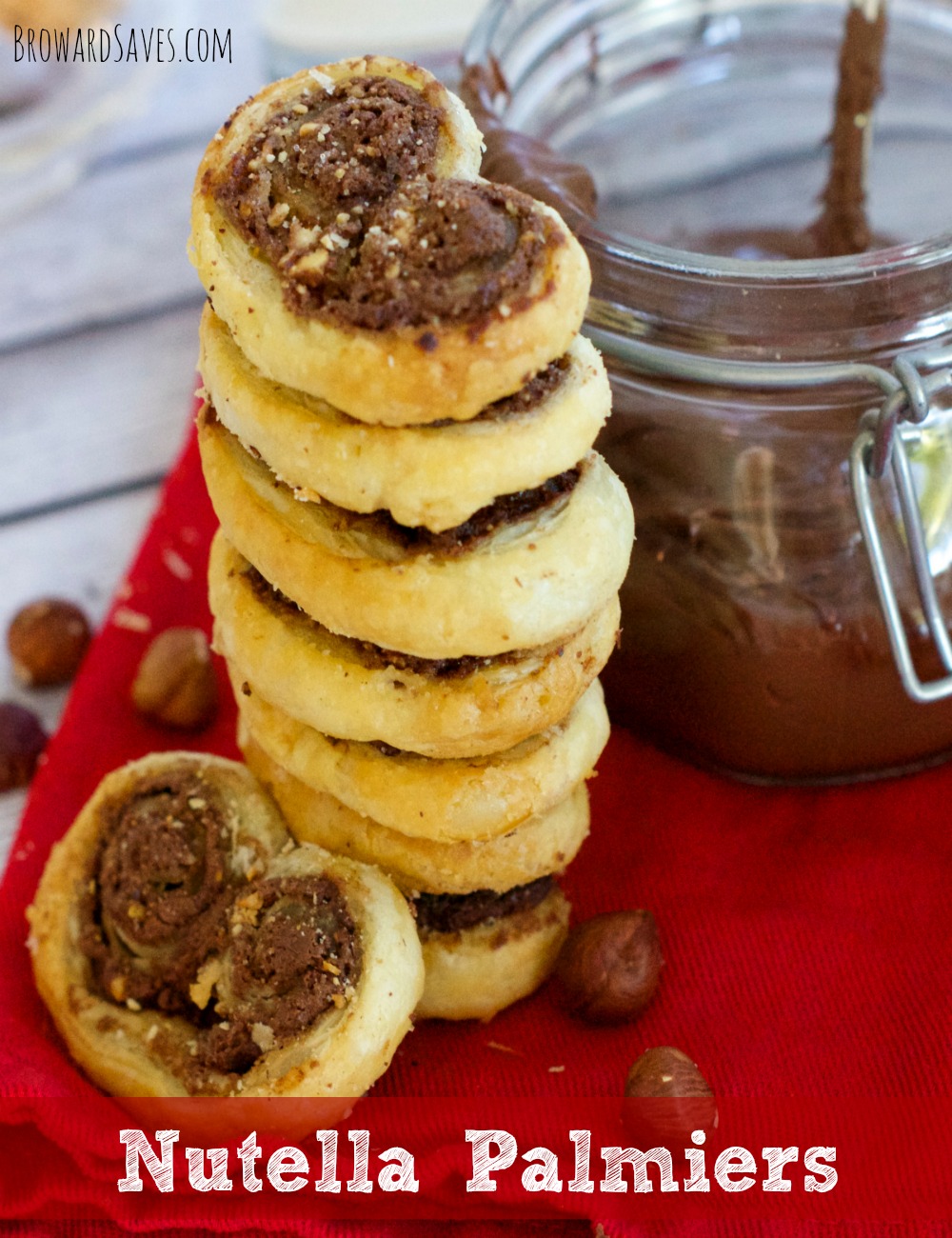 Oh my where do I start with these? Amazingly delicious! I grew up eating Palmiers. There wasn't a Birthday party where they didn't serve them, usually made with just sugar and puff pastry, now add a splash of Nutella and chopped Hazelnuts and they are over the top. My Nutella Palmiers recipe is easy to make, delicious and definitely a crowd pleaser.
Want more chocolaty flavor? When they are done, dip them in some melted chocolate. That will be my next recipe! But for now let's stick to this one. If you're not familiar with Palmiers, they are a french crunchy cookie that's shaped like pinwheel hearts. They are very cute and delicious. Since I am a huge fan of Nutella and Hazelnuts, I decided to combine them and see how it will turn out. The puff pastry is not sweet but it's flaky and crunchy and the filling just warms my heart. Chocolate Hazelnut Heaven! Can't believe this Nutella Palmiers Recipe turned out! Now I have to think of other fillings instead of just plain sugar.
I will show you step by step how to make them and you won't believe how INCREDIBLY easy they are! I used store bought puff pastry and just let it defrost on the counter for about 30 minutes. Then: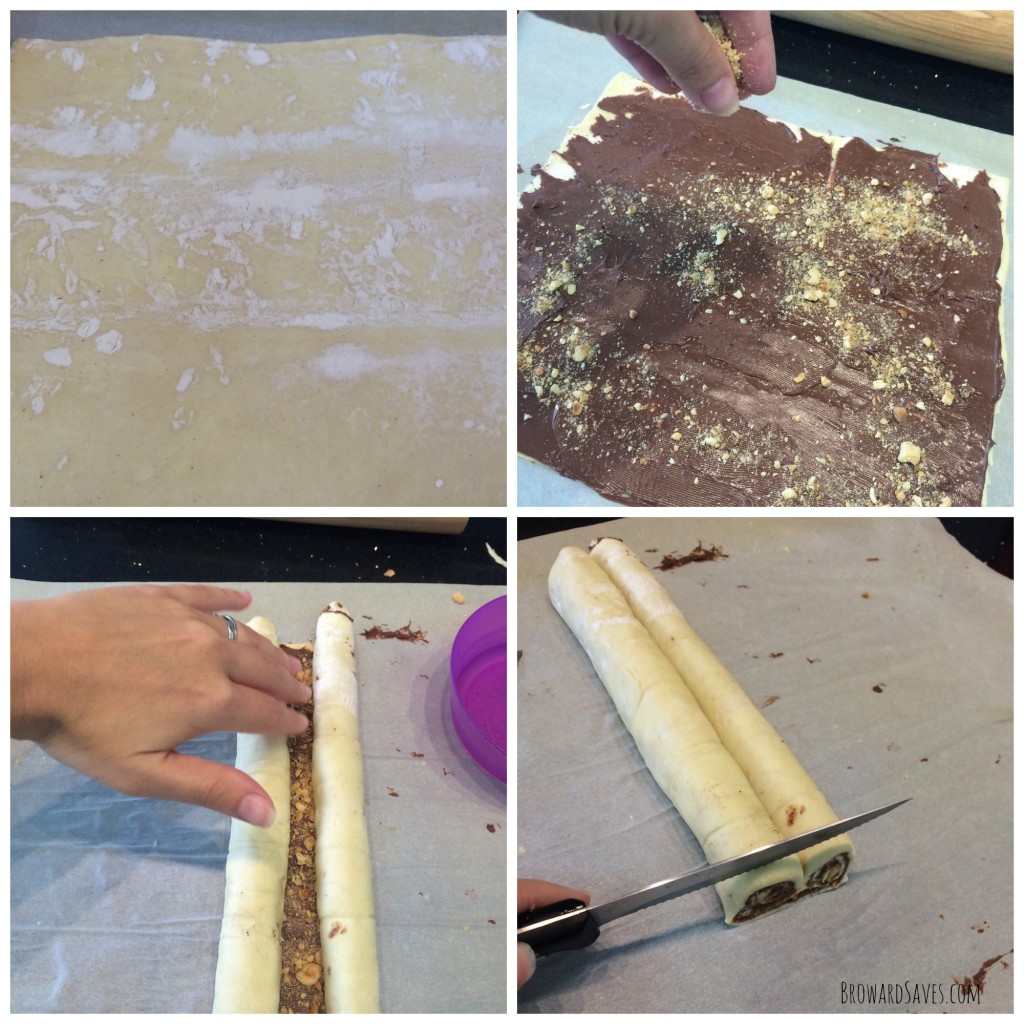 I rolled it out a bit into a rectangle. Filled it with Nutella and chopped toasted Hazelnuts. Roll it on both sides, like a Torah and wet the edges a bit so both rolls could stick together in the middle. Sliced. Sprinkled some sugar on top and baked. If you're a beginner baker then try out this Nutella Palmiers Recipe. Your friends and family will never know that it took you just minutes to make.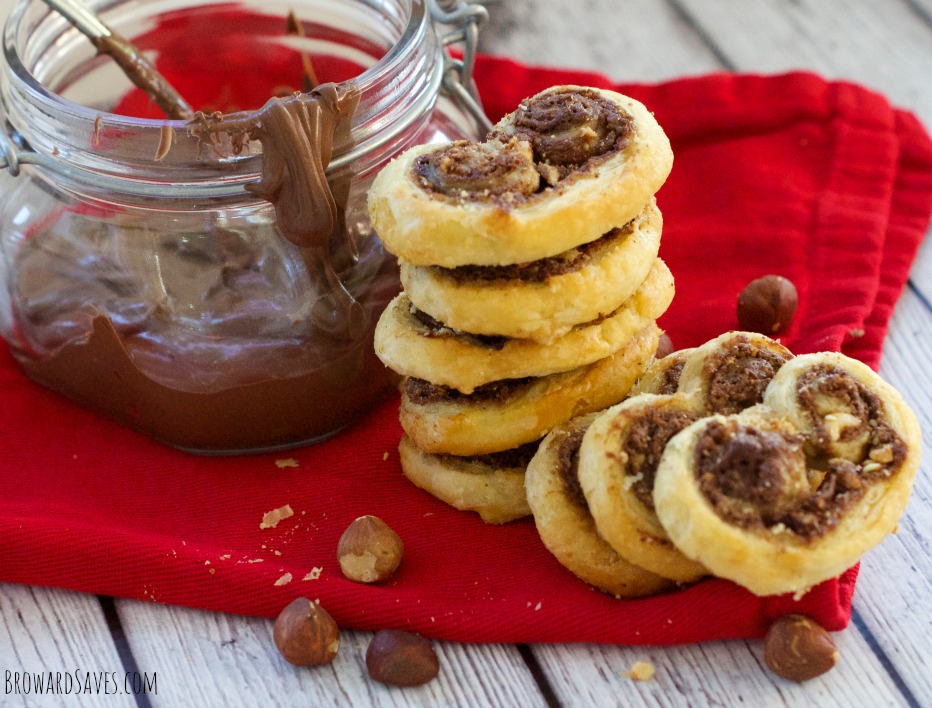 My husband said he would only eat one, and ate 3! I had to get them out of the house for our sakes.. I couldn't resist them. Thankfully there's more puff pastry in the freezer for future inventions.
Hope you can try this at home and let me know how they turned out.
Nutella Palmiers Recipe
Author:
Prep time:
Cook time:
Total time:
Ingredients
1 Puff Pastry Sheet, defrosted
1/4 Cup of Chopped Toasted Hazelnuts
1 Cup of Nutella
2 tablespoons of sugar, for sprinkling
Instructions
Preheat oven to 425 Degrees F.
Line a baking sheet with parchment paper or a silicone mat
In floured surface or on top of parchment paper, roll out the puff pastry into a rectangle
Spread the Nutella all over the surface and sprinkle in the Hazelnuts
Roll tightly on both sides so they can meet in the middle. Dip your finger in water and wet a little bit of the sides of each roll so they can stick together
Slice them into 1/4 inch and place on the cookie sheet. With your hands, flatten them and sprinkle on sugar.
Bake for about 10-15 minutes or until browned
Enjoy