Balsamic Chicken Salad – this easy summer recipe can be enjoyed in a sandwich or alone. Perfect for a quick lunch and a great way to use leftover chicken.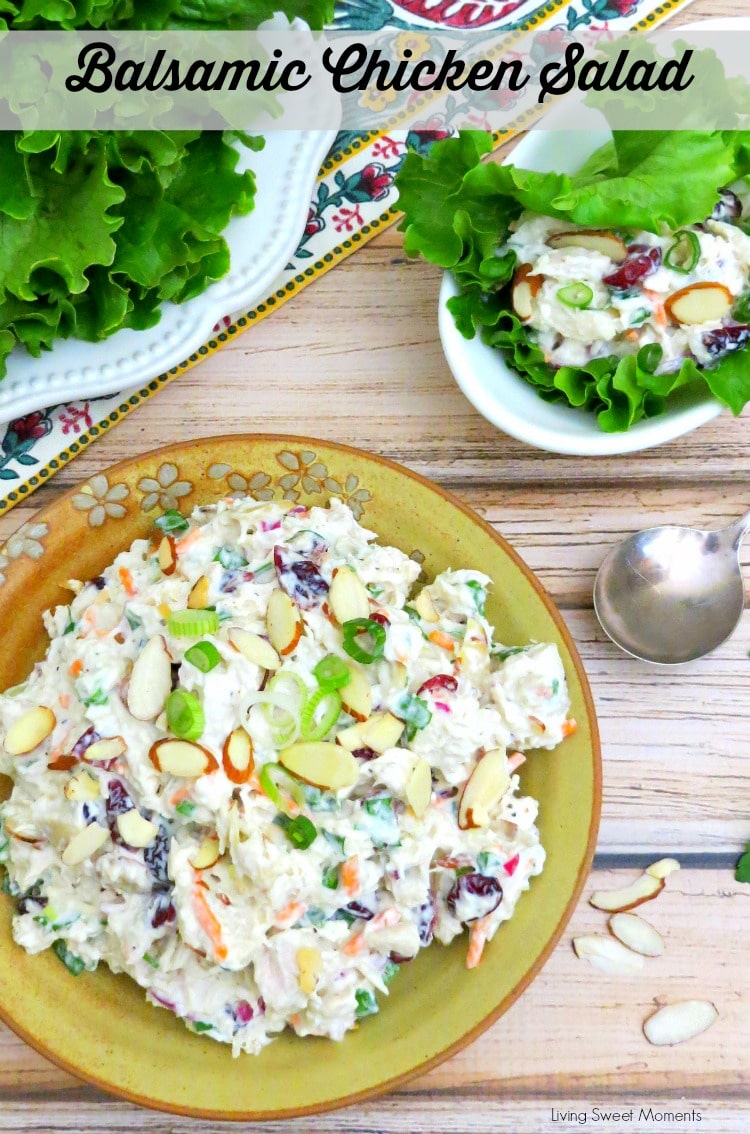 Balsamic Chicken Salad
I absolutely love this Balsamic Chicken Salad recipe! It's creamy, crunchy and full of flavor. You can customize it any way you would like. I also added some cranberries to give it sweetness and tartness. It's absolutely perfect! I love eating by itself and also inside fresh baked bread or a pita.
Summer is the perfect time to enjoy Chicken Salad. It's fresh, cold and made in seconds. I always have leftover chicken in the fridge so it's easy to whip this up. If you don't have any chicken in the fridge, buy a Rotisserie chicken in the supermarket and let it chill.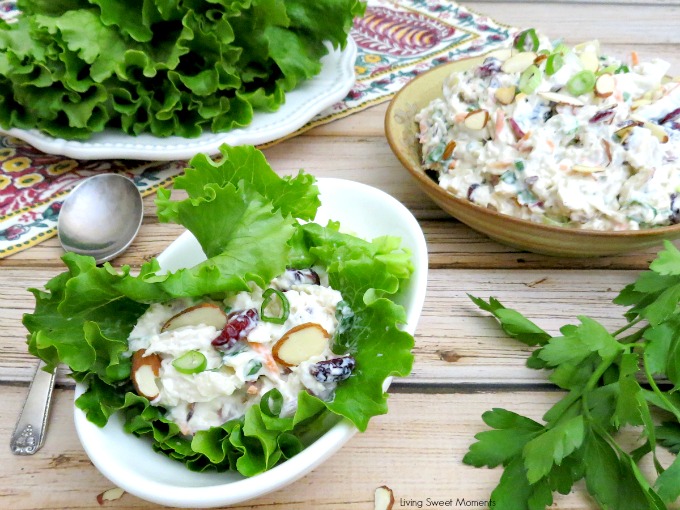 I love making memories in the summer, picnics in the beach, picnics in the lake and cookouts. I like taking this Balsamic Chicken Salad in a big tupperware and people can serve it any way they would like. It's also a great way to use leftover veggies.
There was a place around my house where they sold the best chicken salad in the world (ok, exaggerating a bit). Unfortunately it closed down without notice and I've been craving that dish ever since. So I decided to make it at home and incorporate my favorite parts of the recipe starting with cutting big chunks of chicken instead of little pieces.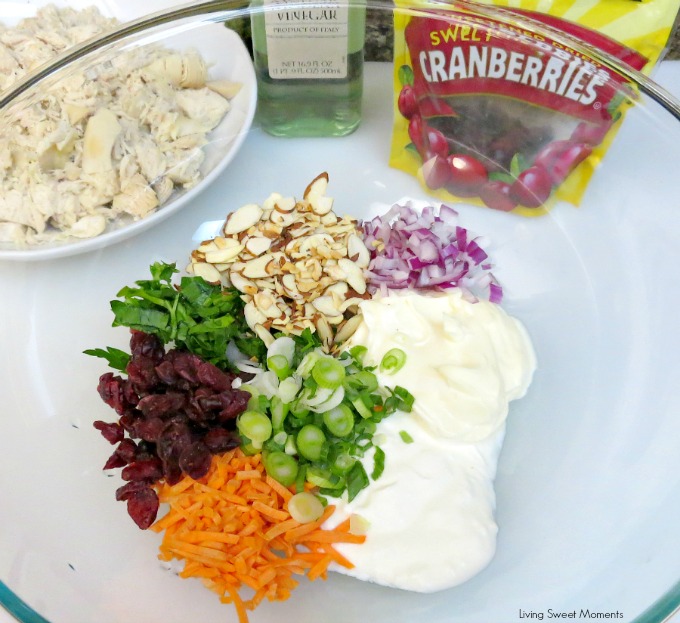 This Balsamic Chicken Salad is also great to add in your child's lunchbox when school starts. Add it inside a wrap and slice it into thin spirals. Kids will definitely love it. And since it assembles in minutes, it's perfect to pack.
I hope you can try this delicious Balsamic Chicken Salad at home. If you do, please upload a pic on Instagram and tag me @Livingsweetmoments or use the hashtag #LivingSweet. I promise to repost it.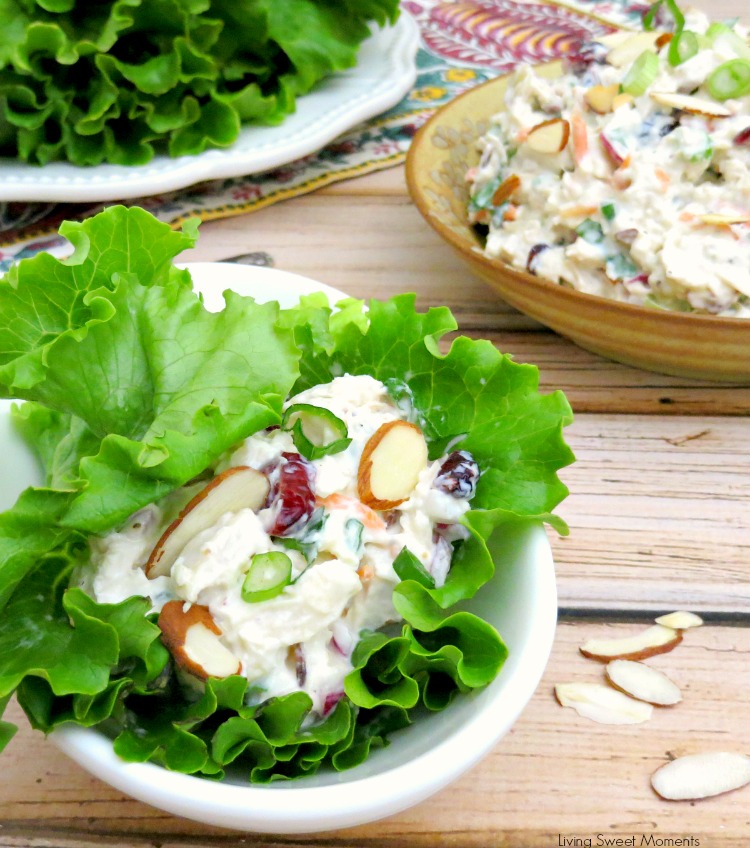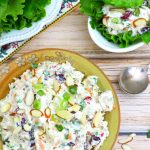 Balsamic Chicken Salad
Balsamic Chicken Salad - this easy summer recipe can be enjoyed in a sandwich or alone. Perfect for a quick lunch and a great way to use leftover chicken.
Ingredients
2

cups

cooked chicken breast

diced (appx. two small breasts)*

1

green onion

sliced

1/4

cup

red onion

finely sliced

1/4

cup

shredded carrots

roughly chopped

1/4

cup

slivered almonds pecans

toasted*

1/4

cup

dried cranberries

1/3

cup

Greek yogurt

2/3

cup

mayonnaise

I used light

1

teaspoon

fresh lemon juice

2

tablespoons

Italian parsley leaves

3-4

tablespoon

white balsamic vinegar

Salt & pepper to taste
Instructions
Set aside a few of the green onions and almonds for garnish

Add the remaining green onions, almonds, red onions, carrots, cranberries, yogurt, lemon, mayonnaise and parsley to a large bowl and stir to combine

Add three tablespoons of the balsamic vinegar and stir to combine

Add the chicken and stir to combine

Taste and adjust seasonings. You can add salt, pepper and/or more vinegar at this point. If you like more dressing, you can also add more yogurt or mayonnaise

Chill for 30 minutes and serve with green leaf or Boston Bibb lettuce to make lettuce cups with the reserved almonds and green onions for garnish
Recipe Notes
To toast the almonds, add them to a small pan over medium heat. Once the pan gets hot, they can burn quick, so watch them close and remove them from the pan as soon as they look lightly toasted (or you start to smell them).
This also makes delicious sandwiches or wraps!
To cook your chicken, you can add it to a small pot, cover with water and simmer for 15 minutes. Remove from the water and let it cool before dicing. When chicken breast goes on sale, I cook a whole package at once and divide it into freezer bags for quick meals.