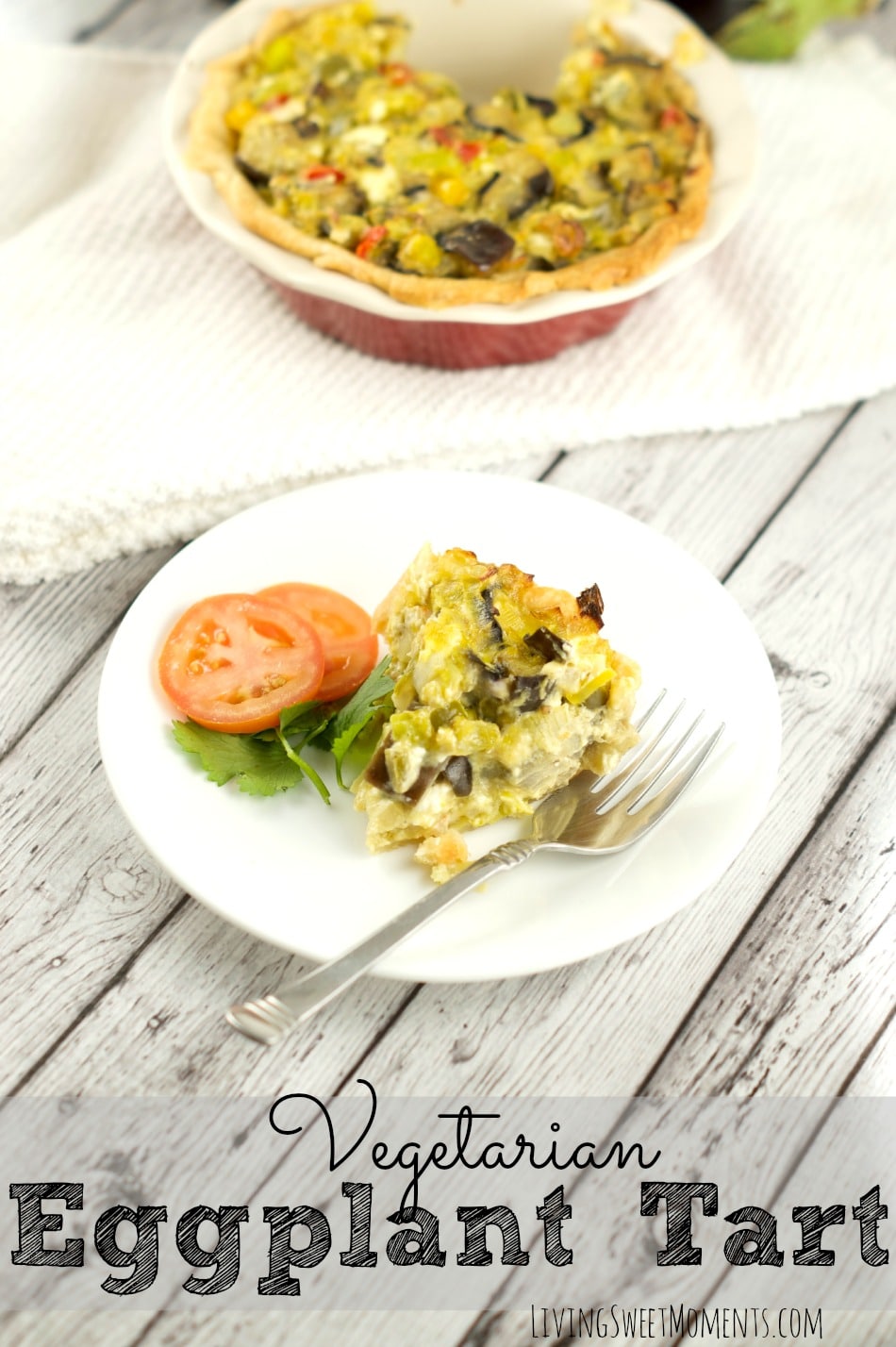 I made these today as a "trial" and now I have to bake some more. This Eggplant Tart Recipe is hearty, delicious and extremely addictive. Did I mention easy to make? If you're hosting a lot dinners this Holiday season, this would be the perfect side dish or entree for your Vegetarian guests.
You can make it with any leftover vegetables you have in your fridge. I love adding different colors and textures that mesh well with a meaty eggplant, creamy center and flaky crust. Today I used 3 different colors of peppers, leeks, onions and of course eggplant but you can certainly use your favorite veggies. Next time I will add some mushrooms, green onions and maybe garlic.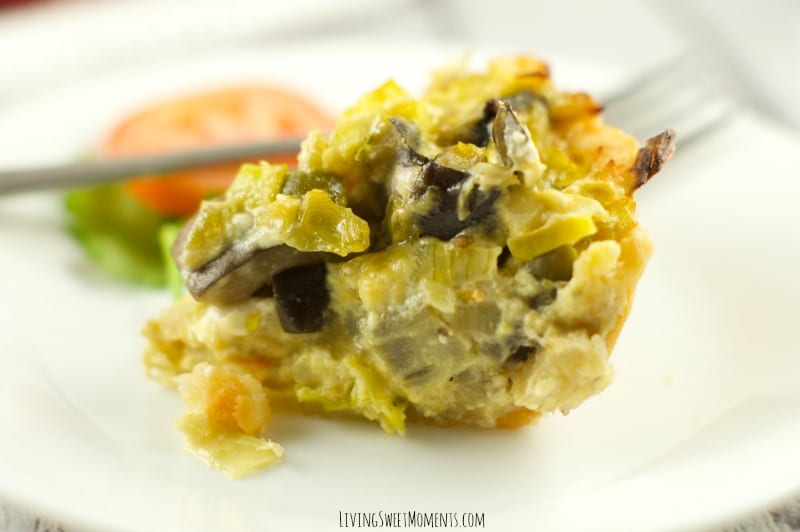 I took a short cut and used refrigerated pie dough to save time. The flavor and texture are delicious and spot on. Prep is fast and easy and all it takes is 30 minutes in the oven to make some magic. Here's how pretty it looks like before it goes inside the oven.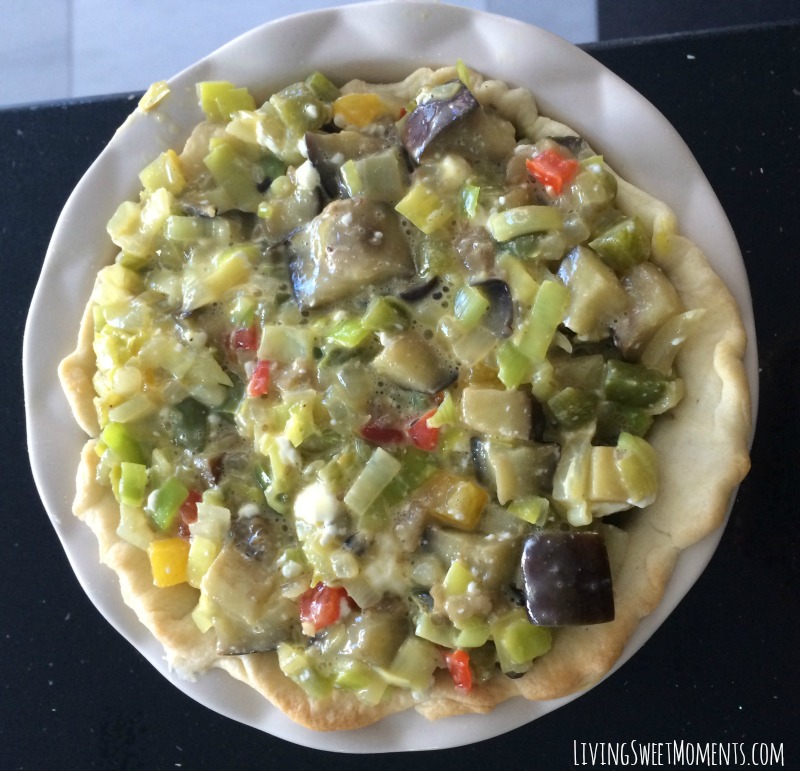 You can make this Eggplant Tart Recipe in advance and just bake it last minute. Perfect when you're hosting a party and want to plan ahead.
What I do to create the perfect crispy crust is to pre-bake the dough without the filling. That will ensure that when you add the eggplant mixture, the crust won't get soggy. Little details like this make a big difference.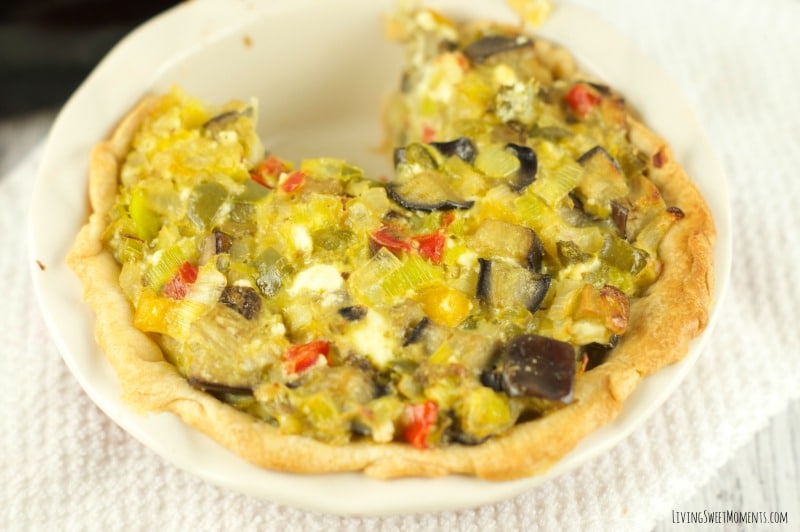 The big flavor inside this concoction is curry. Yes curry. You won't recognize it after it comes out of the oven but it clearly makes the flavor pop and takes it to the next dimension.
I hope you can give this Eggplant Tart Recipe a try and come back to let me know how it came out. I promise you that it will be a hit with your friends and family.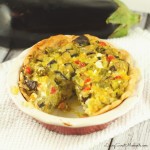 Vegetarian Eggplant Tart Recipe
Ingredients
1

Sheet of Refrigerated Pie Dough

1

Medium Eggplant

diced

1

Medium Onion

diced

1

Leek

chopped

1/2

Cup

of Chopped peppers

1

Teaspoon

of curry

Salt

Pepper

1

Tablespoons

of Olive Oil

2

Eggs

1/2

Cup

of cream cheese

softened
Instructions
Preheat Oven to 350 Degrees F

Roll out pie dough into a greased pie plate, cut out the excess dough and prick all over with a fork to avoid the dough from rising

Bake in the oven for 10 minutes

Meanwhile in a skillet heat the olive oil over medium heat. Add the eggplant and sautee 4-5 minutes until softened. Season with salt. Take them out of the heat and place in a bowl

Add the onions, leeks and peppers and curry to the skillet and cook until softened. Season with salt.

Place this mixture in the eggplant bowl and let it cool for about 5 minutes

When the vegetables cool, mix in the cream cheese and eggs.

Place the veggies in the pie plate and bake for 30 minutes or until the tarte browns and the crust is completely cooked

Let it cool for 5 minutes before slicing. Enjoy!