This Sinful Coconut Cake recipe is made in a slow cooker so it does not need any kind of babysitting at all. Perfect dessert for a busy celebration. Enjoy!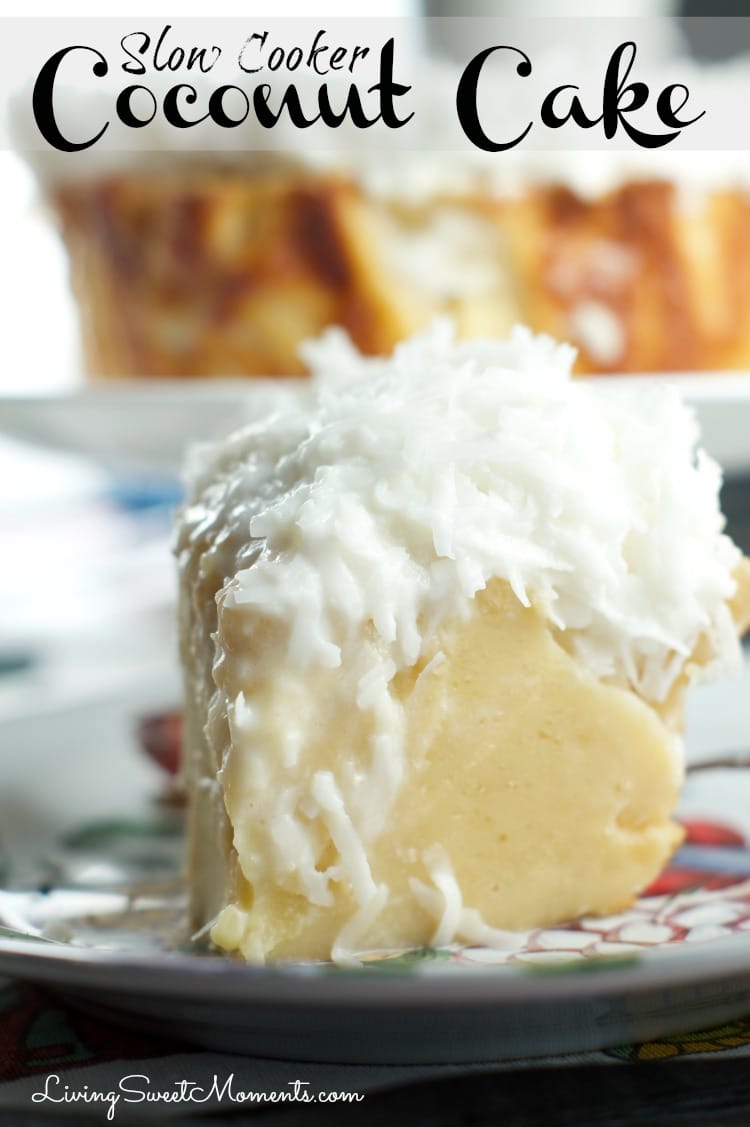 I love dessert. Sometimes i wish I could just skip the boring part of the app and entree and dive straight into the good part..Perks of having a sweet tooth 😉 . This Slow Cooker Coconut Cake is sinfully delicious, silky and exotic.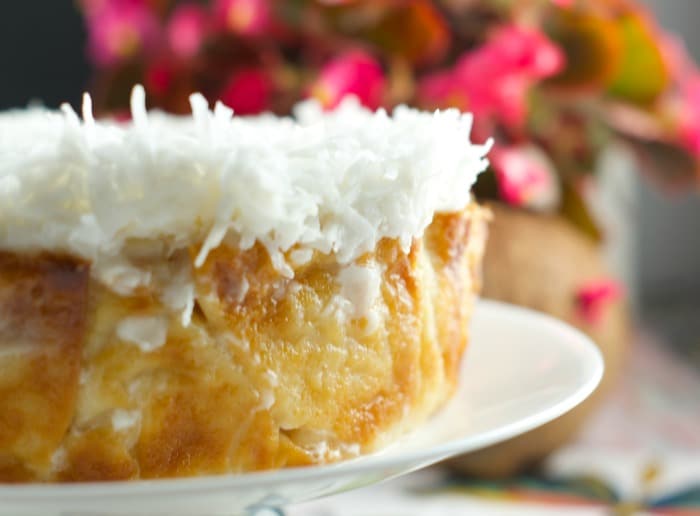 If you've never baked in your slow cooker, it's a great recipe to start out. The perk of this cooking method is that it does not need baby-sitting. Dump the batter in the machine and go on about your day. Which is exactly what I did yesterday. My oldest daughter had a playdate, the other one had early release and we had to do evening errands while my cake was baking.  For those of you that do not own a crock pot, this Coconut Cake Recipe can also be baked in the oven. I decided to slow cook mine because I wanted to show off this alternative technique.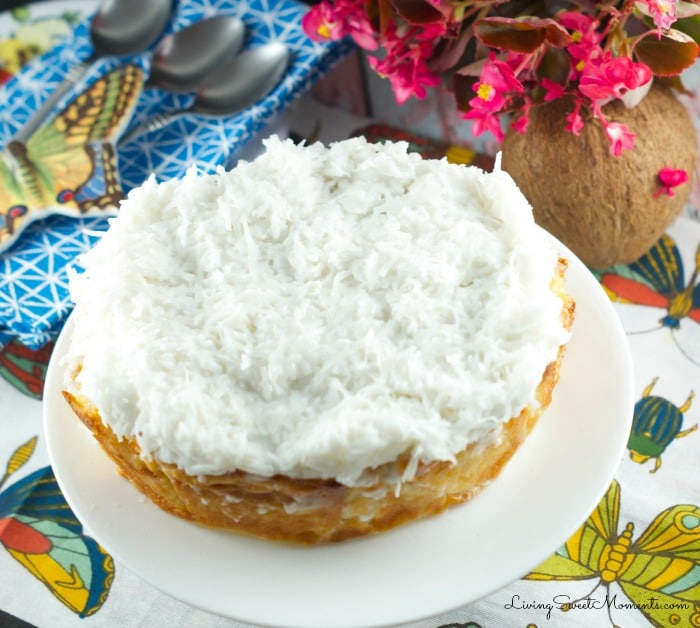 My mother actually send in this recipe last week.. Her note read: "This cake is called Atrapa Marido or Husband Catcher in English. Please make this recipe and send a piece to your sister" I just laughed! You may notice I have a very Jewish Mother. Anyways, the name of this cake is given due to it's great flavor and texture. It's not cakey like but has the texture of a Cheesecake.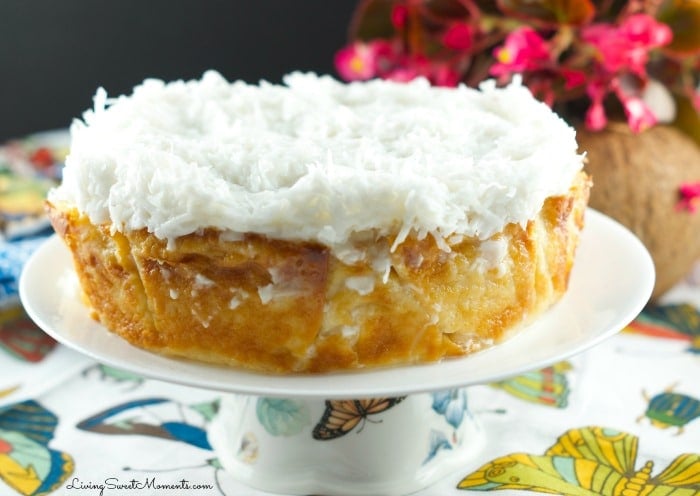 I would say it's a mix between a flan and cheesecake because it's not crumbly, it's smooth and soft but firmer than a flan.. I know it sounds weird, so you have to try it and then you'll see.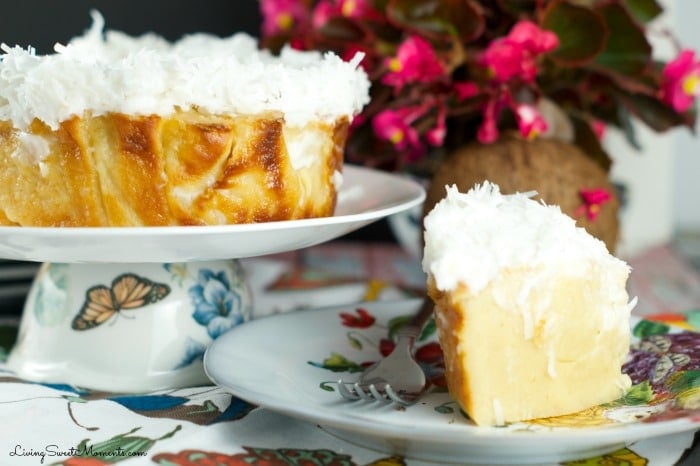 Making this Slow Cooker Coconut Cake it's similar to making a 3 leches. Simply bake, make the "milk" part and just dump it right on the warm cake. Then enjoy. Here's a visual step by step process using the slow cooker. The same would apply if you're making it in the oven. Keep in mind that I have a small slow cooker so you may have to adjust the cooking time to yours.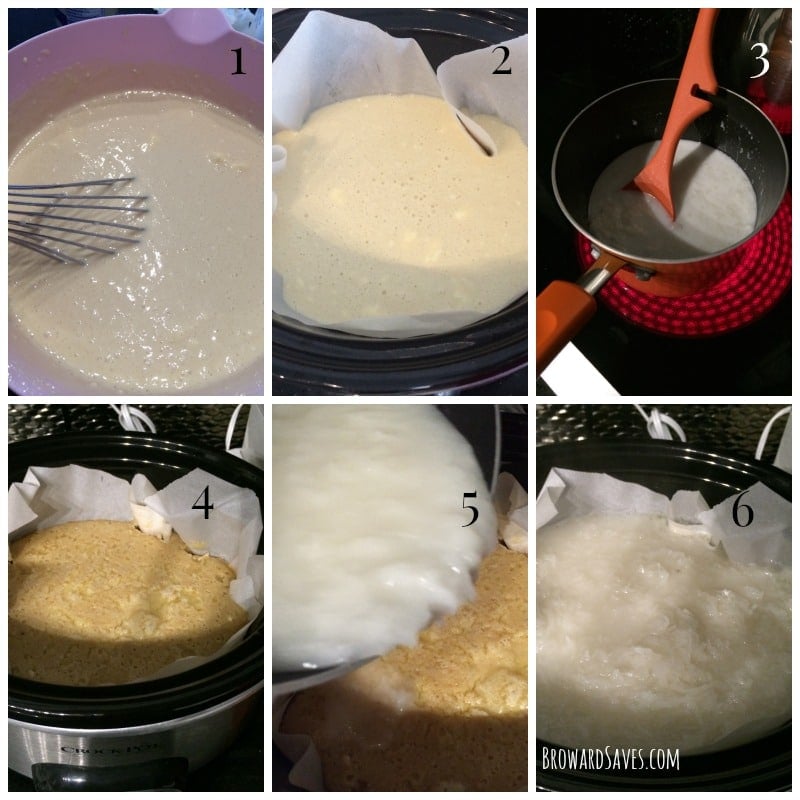 The best way to bake in your slow cooker is to spray it with nonstick spray and then line it with parchment paper. Spray the paper as well and dump in the cake batter. Cover with 2-3 paper towels and place the lid. The paper towels will keep the condensation that forms on the lid to fall back of the cake. Yuck! Nobody likes a mushy top.  Hope you enjoy this Coconut Cake Recipe!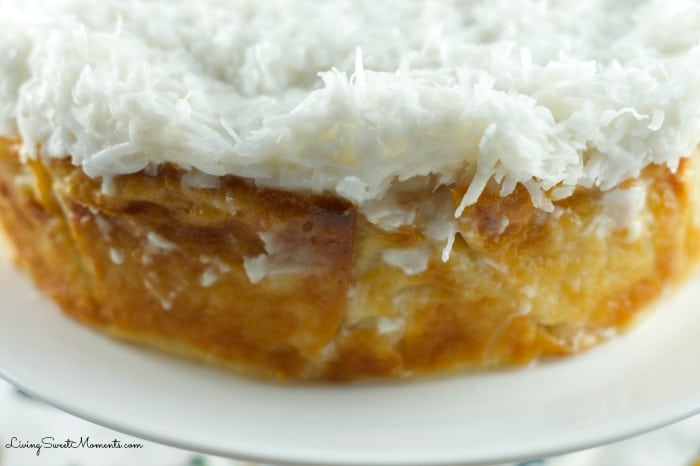 Slow Cooker Coconut Cake Recipe
Author:
Prep time:
Cook time:
Total time:
Ingredients
For Cake
3 Eggs
1 Can of Condensed Milk, 14 oz
1 Can of Evaporated Milk, 12 oz
1 Can of Coconut Milk, 14 oz
2 1/2 Cups of All purpose Flour
3 Tablespoons of Butter, softened
1/4 Cup of Sugar
For Topping
1 Can of Coconut Milk, 14 oz
2 Tablespoons of Sugar
1 1/2 Cups of Coconut, shredded
Instructions
To Bake The Cake
Mix all cake ingredients together
Spray the inside of a crock pot with nonstick spray. Line with parchment paper and spray the paper as well
Dump the cake batter inside the crock pot
Place 3-4 sheets of Paper towels on top of the crock pot and place the lid tightly on top.
Cook on high for 3-4 hours
To make topping
Place all ingredients inside a saucepan. Mix and let the mixture boil on medium heat
Assemble
Dump the topping all over the warm cake inside the slow cooker
Let it absorb all the liquid
Serve warm or cool
Notes
Cake can also be baked at 350 Degrees F on a baking pan for about 30-40 minutes. [br]I use a small cooker for this recipe so if you have a bigger one you may want to reduce the cooking time.
LOVE CAKE??? Me too! Head on over HERE for the Best Cake Recipes