This creamy Coconut Rice Pudding is delicious, sweet and the perfect comfort dessert that will transport you to the islands. Easy to make and Gluten Free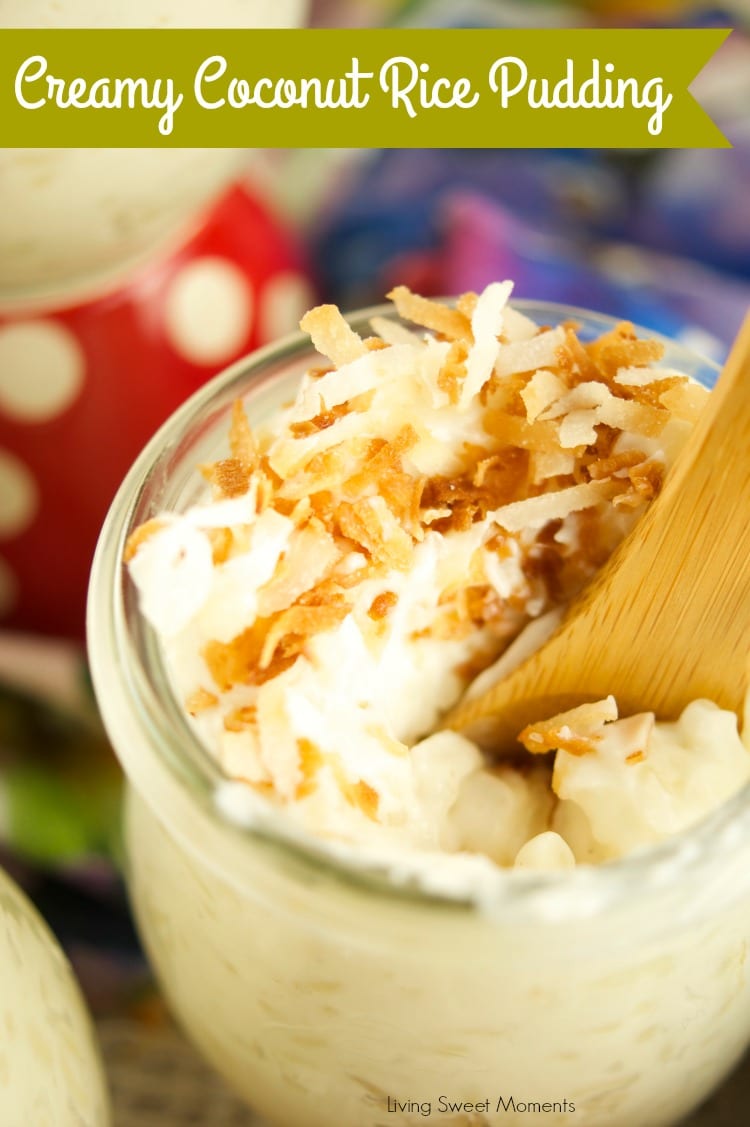 Coconut Rice Pudding
Welcome to paradise with this easy to make, no-bake dessert. All you need is a spoon and an appetite. This Coconut Rice Pudding is the kind of treat you'll be opening the fridge and stealing some spoonfuls. I'll just have one, or 2… make it 3.
If you're a fan of rice puddings, you'll love this tropical upgrade that makes it 10000% much tastier. Add some toasted coconut on top you'll be automatically transported to the big islands.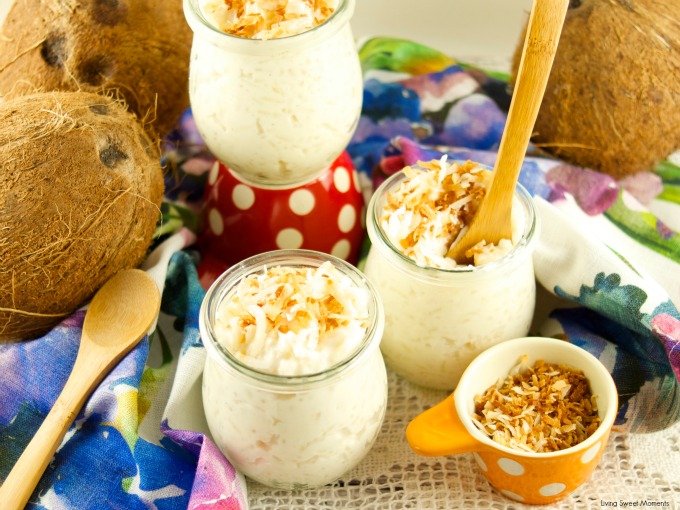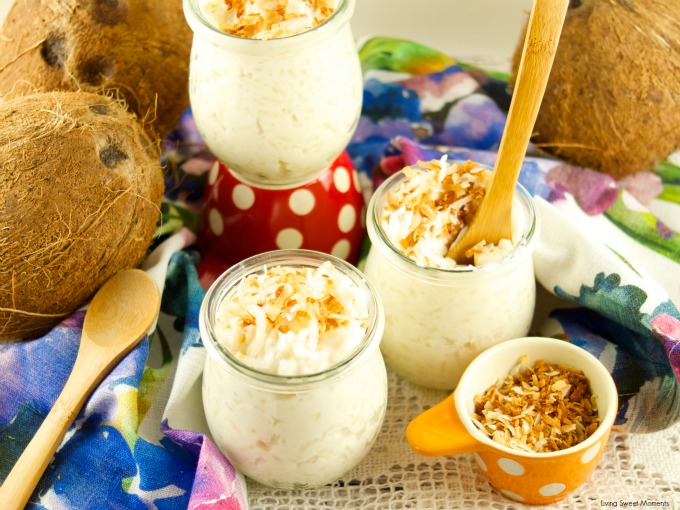 I made it with the fear that it wouldn't work. Thankfully the dessert was flavorful, easy to make and definitely a keeper. Next time I'll make a double batch and divide it in mason jars! Super cute treat to take to parties and get-togethers. Everybody can have their own little Coconut Rice Pudding. Sweet!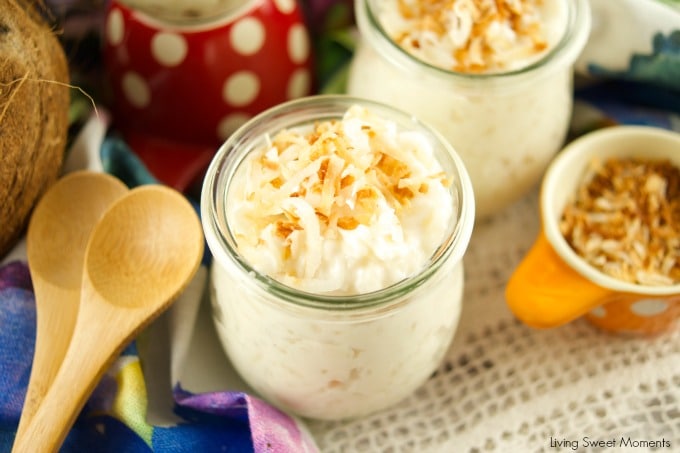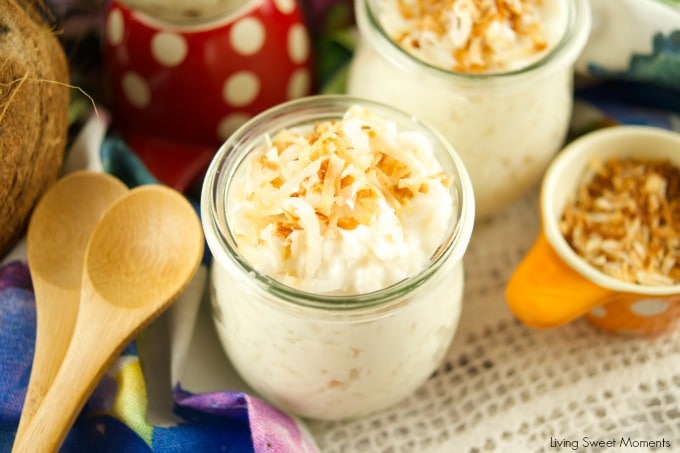 On this post, you will find  step by step pictures of the process, that way, you can guarantee that your Coconut Rice Pudding will be a success.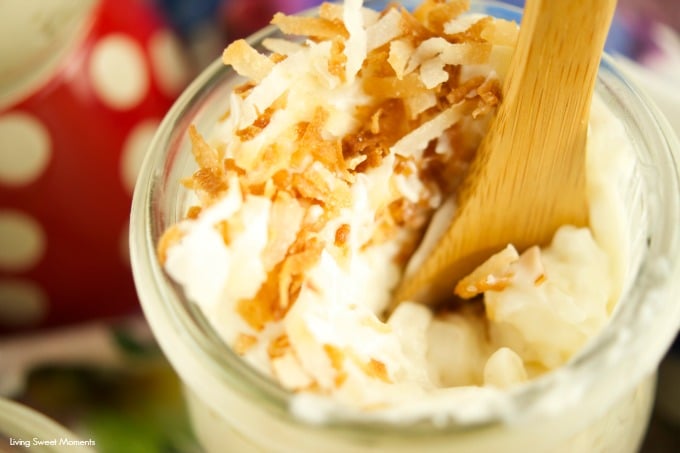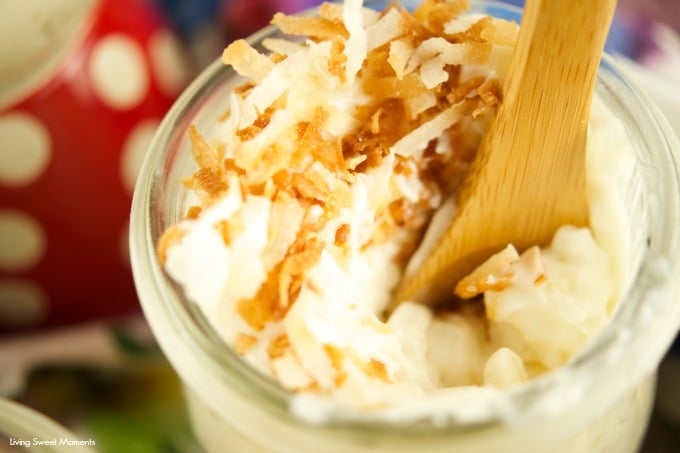 To get started, we boil the rice and water together. When it starts boiling, we place a lid on the pot and reduce the heat low. We cook the rice until the water has completely absorbed and the rice is soft and fluffy.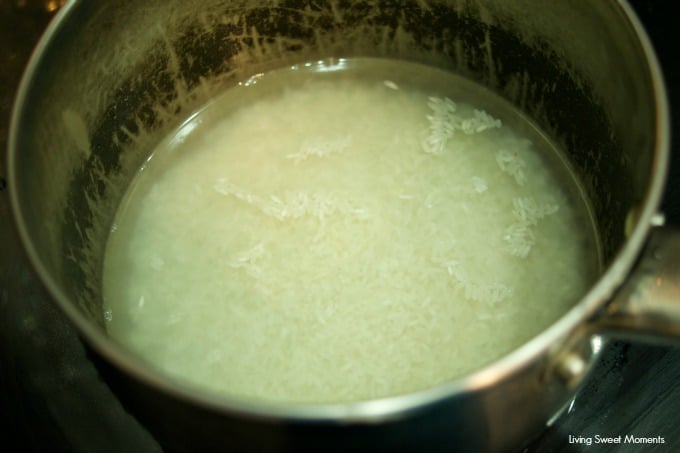 Like this: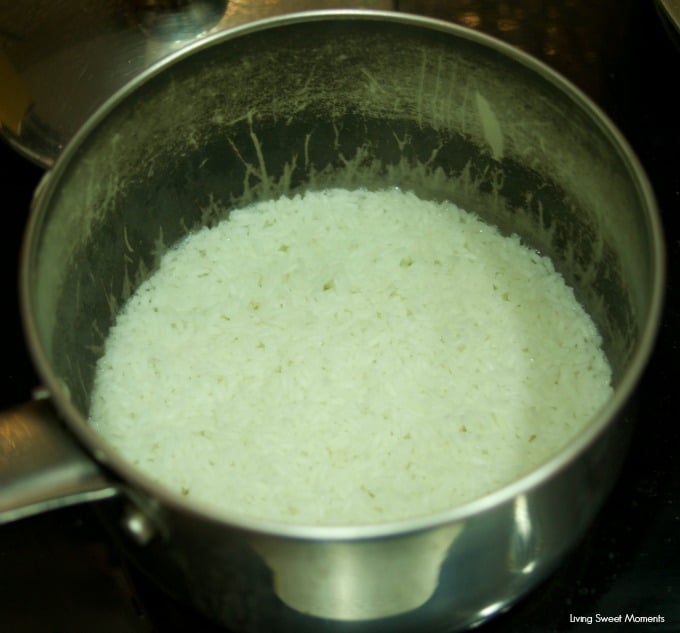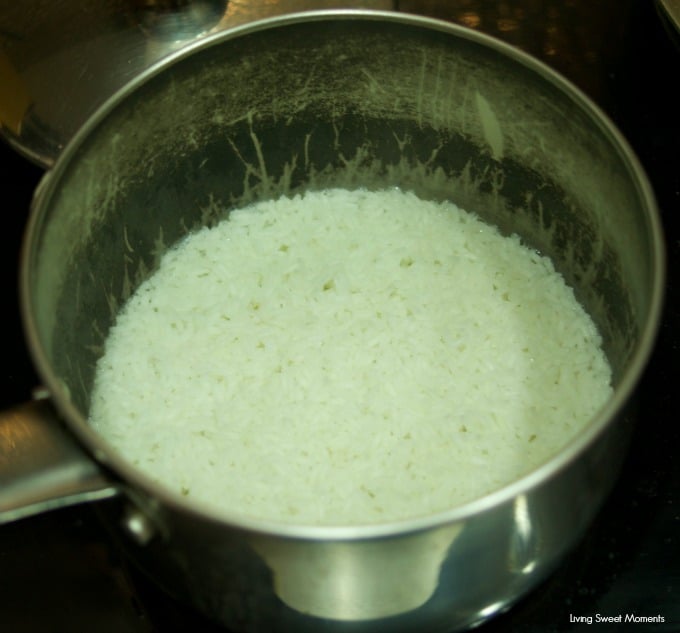 At this point, we add the pinch of cinnamon, condensed milk and coconut milk.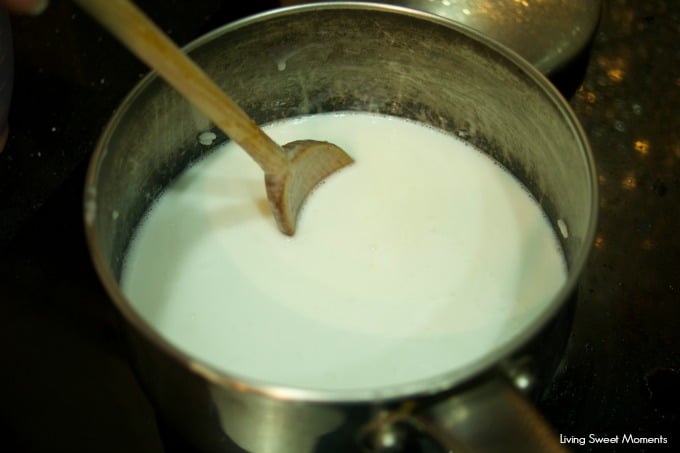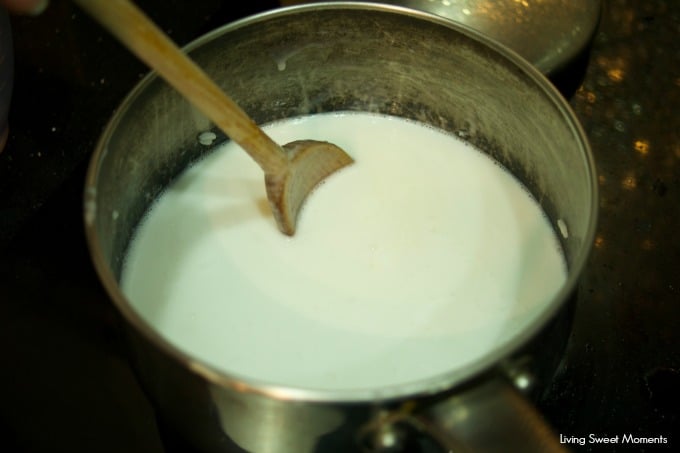 This will cook on low heat for 15-20 minutes or until the mixture thickens. The mixture will boil. Stir constantly so it doesn't stick on the bottom of the pot.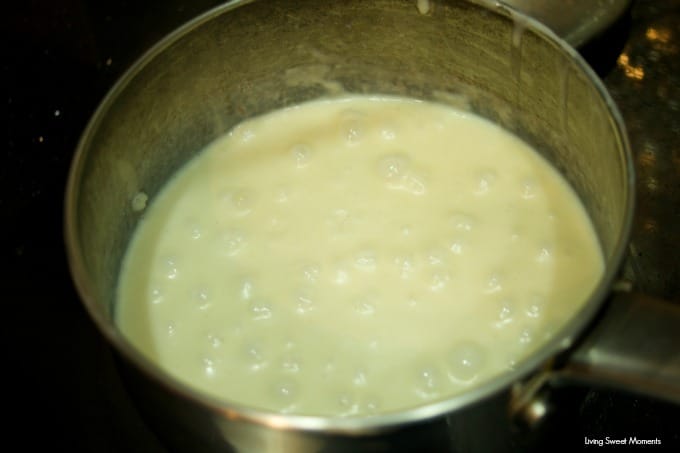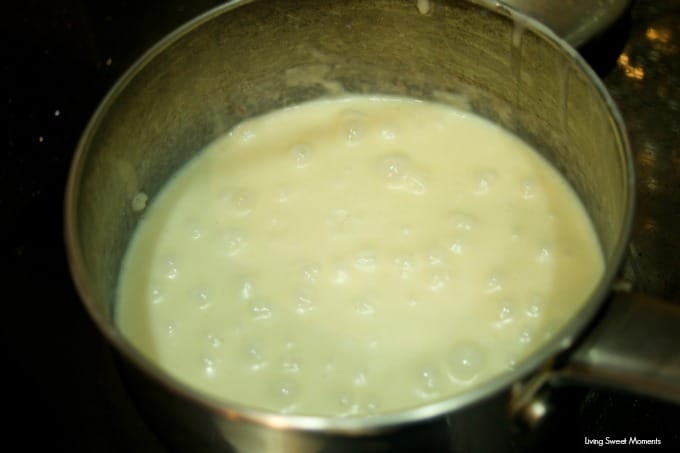 As soon as it starts thickening, your Coconut Rice Pudding is ready. It's important not to overcook the rice since it will get hard when it cools. Remove it from the fire when it looks thick and bit soupy: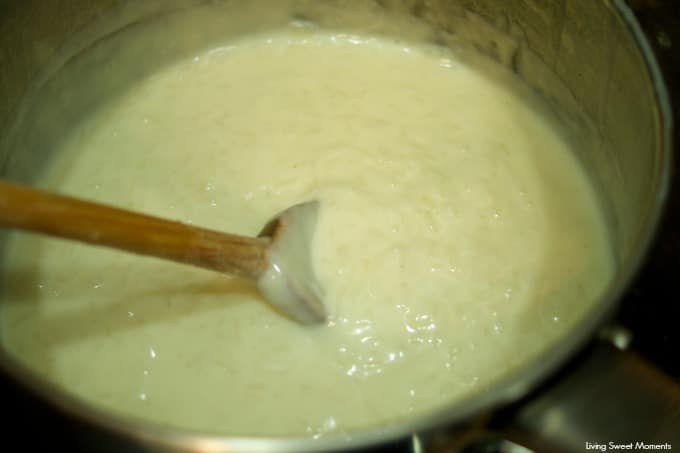 Remove it from the fire and pour it in a bowl. We add the flaked coconut and mix. Let it cool completely and then stick in the fridge for a minimum of 4 hours. That's it! Super easy and delish.
Ready to take a bite?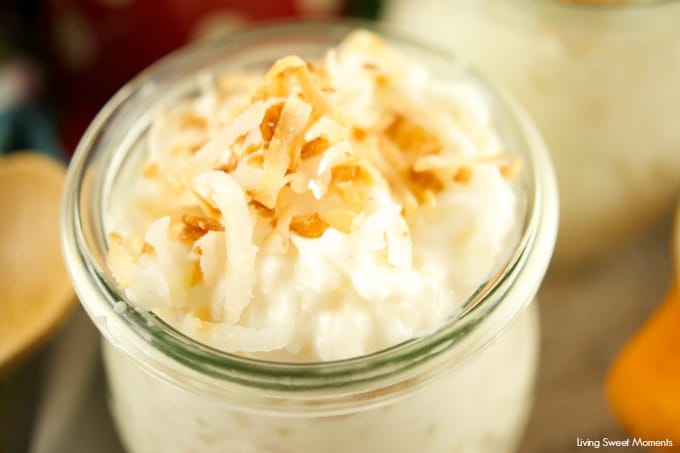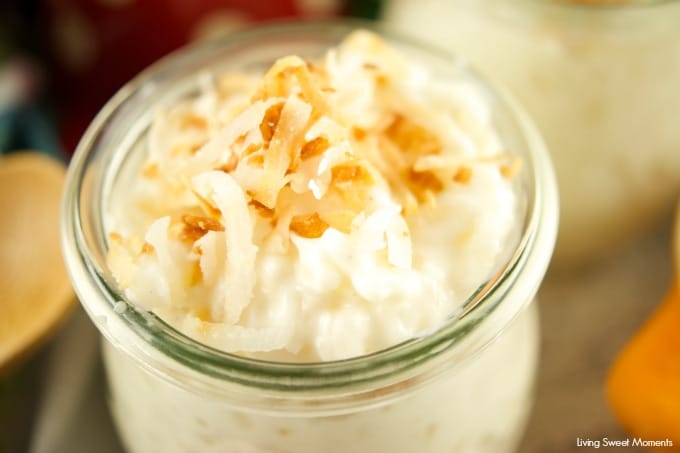 I hope you can try this delicious Coconut Rice Pudding at home. If you do, please upload a pic on Instagram and tag me @Livingsweetmoments or use the hashtag #LivingSweet. I promise to repost it.
Coconut Rice Pudding
This creamy Coconut Rice Pudding is delicious, sweet and the perfect comfort dessert that will transport you to the islands. Easy to make and Gluten Free
Ingredients
1/2

cup

of long grain white rice

1

cup

of water

1 - 13.50

oz

can of coconut milk

1

can of sweetened condensed milk

Pinch of cinnamon

1/2

cup

of coconut flakes

Garnish

optional

1/2

cup

of coconut flakes

toasted
Instructions
In a pot, place the water and rice together on high heat

When the water starts boiling, place the lid and reduce the heat to low

Cook for 10-12 minutes or until the rice is completely cooked

Fluff the rice with a fork

Pour in the condensed milk, the coconut milk and cinnamon. Mix

Cook on low heat for 15- 20 minutes or until the rice has thickened and the mixture is creamy

Remove from the heat and mix in the coconut flakes

Let the rice cool completely

Place in the fridge for a minimum of 4 hours before serving

Enjoy
Recipe Notes
*If you like the pudding sweeter, add more condensed milk
**If your rice gets hard after cooling, just add a half a can of coconut milk and mix. It will turn out creamy
You may also like:
Coconut Panna Cotta With Mango Gelee