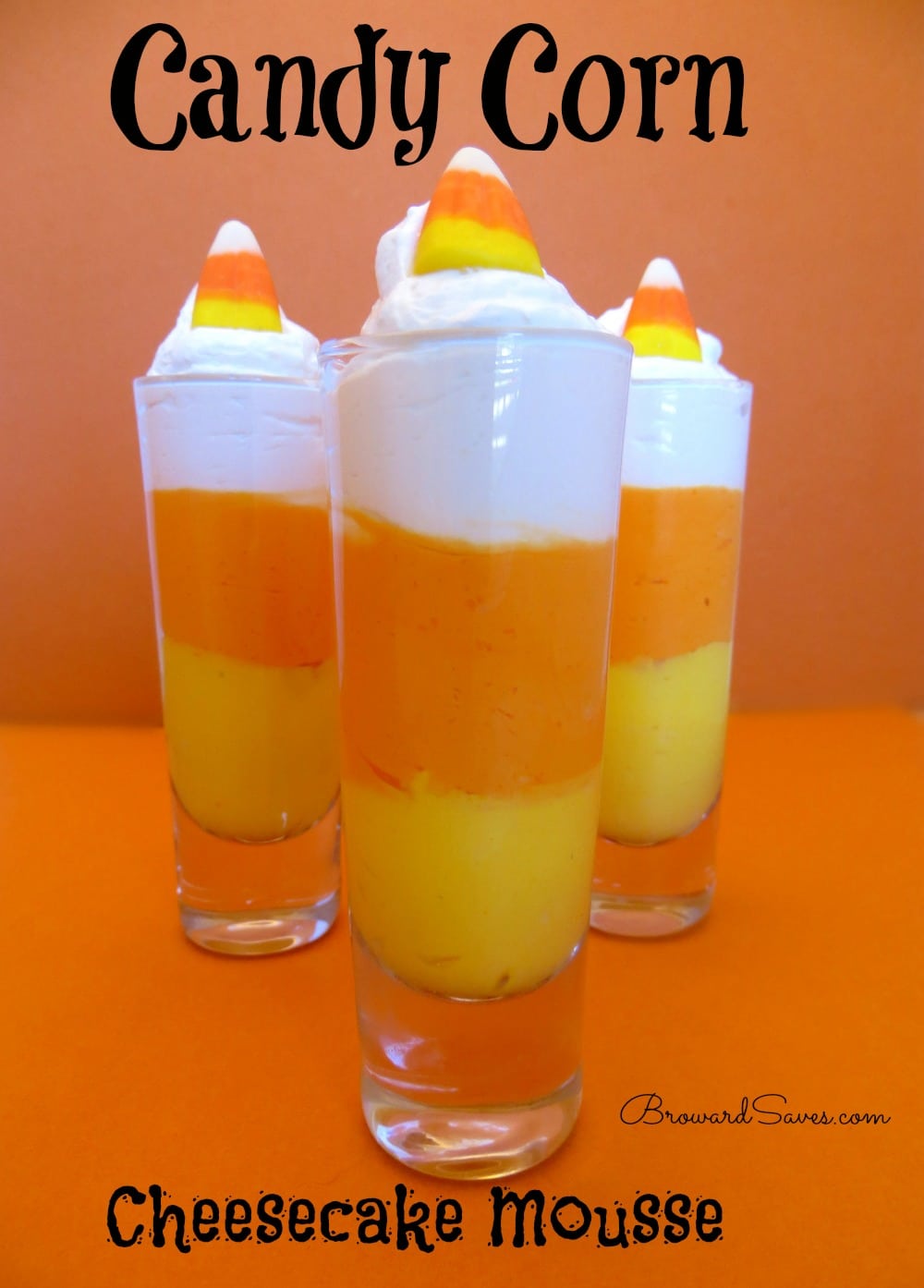 If you love the colors of the candy corn but hate the flavor, then this beautiful Halloween dessert is for you. It's not creepy or crawly like my other Halloween creations, it's sweet, delicious and creamy.  This Candy Corn Cheesecake Mousse does not need baking. You can easily make it and in 30 minutes it will be ready.
Save this technique so you can make other kinds of Cheesecake Mousse. Now you know how to make Vanilla or Chocolate for any other kind of Holiday or even a weeknight dessert for the kiddos. I just LOVE the colors of the Candy Corn. They are so bright and festive.. I am so surprised they eat it on Halloween.
To make your Candy Corn Cheesecake Mousse you need the following: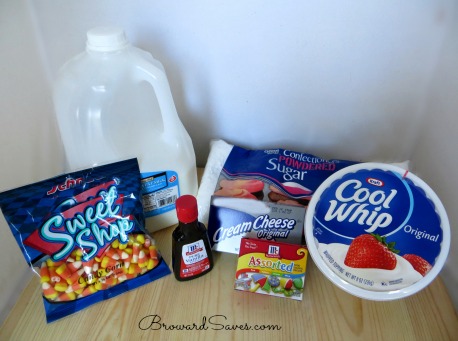 8 oz. package cream cheese
Powdered sugar
Milk
Vanilla
Cool Whip
Orange and yellow food color
Candy corn for garnish
That's it! Aside for the candy corn I am sure you already have these ingredients at home. You can use natural food colors if you feel iffy about artificial coloring.
This Cheesecake Mousse is the perfect dessert to make with kids. They will surely have a ball coloring each mousse with the colors of the Candy Corn. They can help you mix and pour.. Perfect for a boring weekend project or a rainy day activity.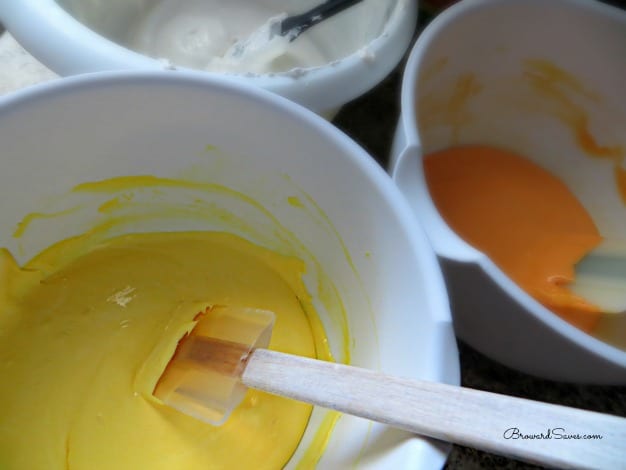 Since I have 2 girls, each one choose a color and I did the white. The boring color according to them. Serve them on a tall shaped glass you have at home.. The important thing is that they are clear so you can see the different color layers.
If you still have those ol' shot glasses from your single days, they would be the perfect container. You can call them Halloween Mousse shooters!  I had a few of these little ones and they look so cute. My next recipe would be to make a Cheesecake Mousse with white, milk and dark chocolate, they would look so elegant for a fancy dinner.
Candy Corn Cheesecake Mousse
Author:
Prep time:
Total time:
Ingredients
1-8 oz. package cream cheese
1⁄2 cup powdered sugar
1⁄4 cup milk
1 teaspoon vanilla
1- 8 oz. container Cool Whip, thawed
Orange and yellow food color
Candy corn for garnish
Instructions
Beat cream cheese in a bowl with an electric mixer until fully smooth. Slowly add powdered sugar, then milk. Add vanilla and continue mixing. Beat about 1 minute on medium to medium-high speed. Fold cool whip into cream cheese mixture, and stir until fully combined.
Scoop about 1/3 of the cheesecake mousse into a bowl, and color orange. Color another third of the
mixture yellow. Leave the remaining third white. One color at a time (starting with yellow), scoop
mixture into a piping bag or large ziplock bag, and squeeze a layer of the cheesecake mousse into
small dessert dishes of your choice. Repeat with orange and then white Mousse.
Refrigerate 30 minutes (or up to 1 day) before serving.
Garnish with candy corn if desired.
Serving size:
6-8 Mini servings
LOVE HALLOWEEN? Me too! Try out these recipes: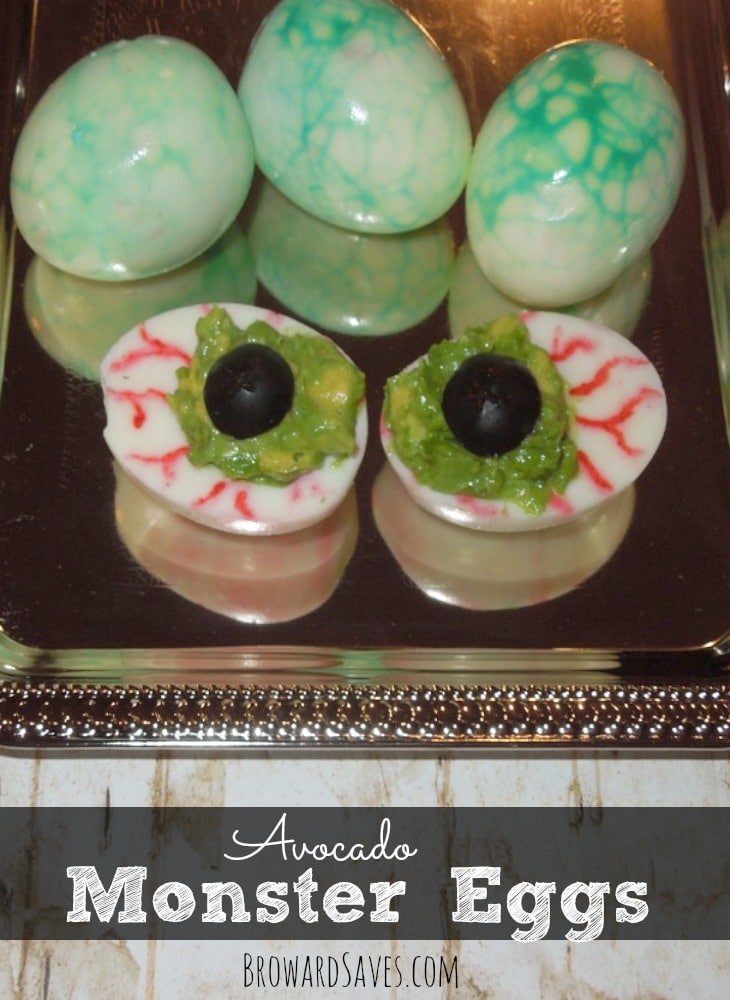 Healthy Candy Corn Bars Recipe