Roasted Butternut Squash and Apple Soup – amazing recipe for the fall. Roasted butternut squash soup is mixed with sage & curry and topped with fried sage. Accompanied with a delicious Arugula salad topped with strawberries, goat cheese and toasted pecans then drizzled with a simple vinaigrette
Disclosure: "I received products and payment from Genuine Thermos Brand as compensation for the post, and Genuine Thermos Brand did not influence any opinion of this product. All views and opinions expressed in the post are my own and no other compensation was provided."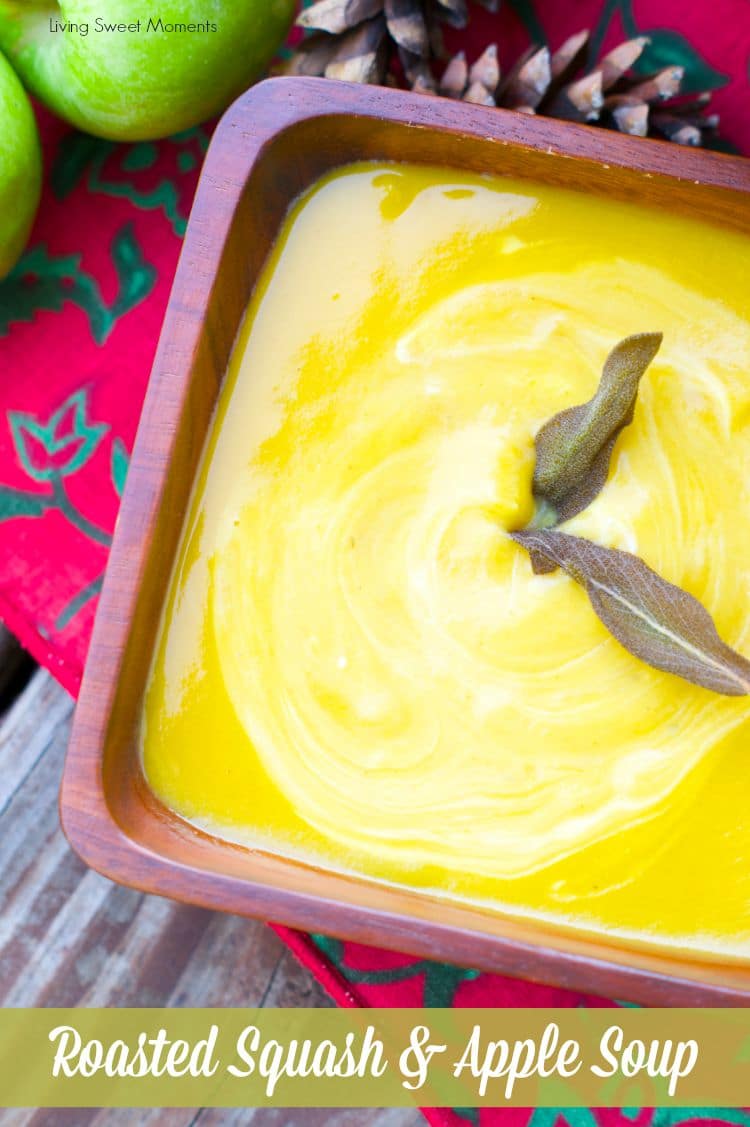 Roasted Butternut Squash and Apple Soup plus Strawberry Salad
Today and I am doing something different. I am posting 2 recipes in 1. Perfect lunch menu idea: a soup and a salad. I chose a butternut squash and apple soup to welcome fall and a tangy strawberry salad to reminisce the last days of summer. It's the perfect combination of flavors, textures and best of all, both are easy to make.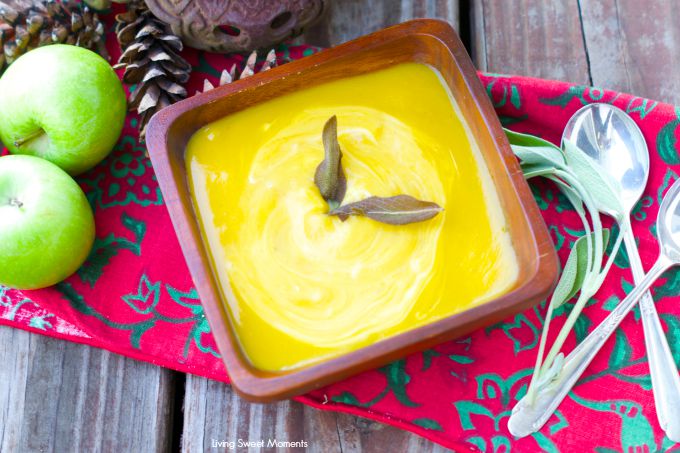 This Roasted Butternut Squash and Apple Soup is creamy and sweet with a hint of spice. I top it with a crunchy sage leaf that compliments the smooth texture.
There are a lot of fall flavors going on with the butternut squash, apple and sage. I added a hint of curry to bring out the soup's natural sweetness and flavor. I chose to roast the apple and butternut squash for even more deeper flavor. So basically, this soup is amazing.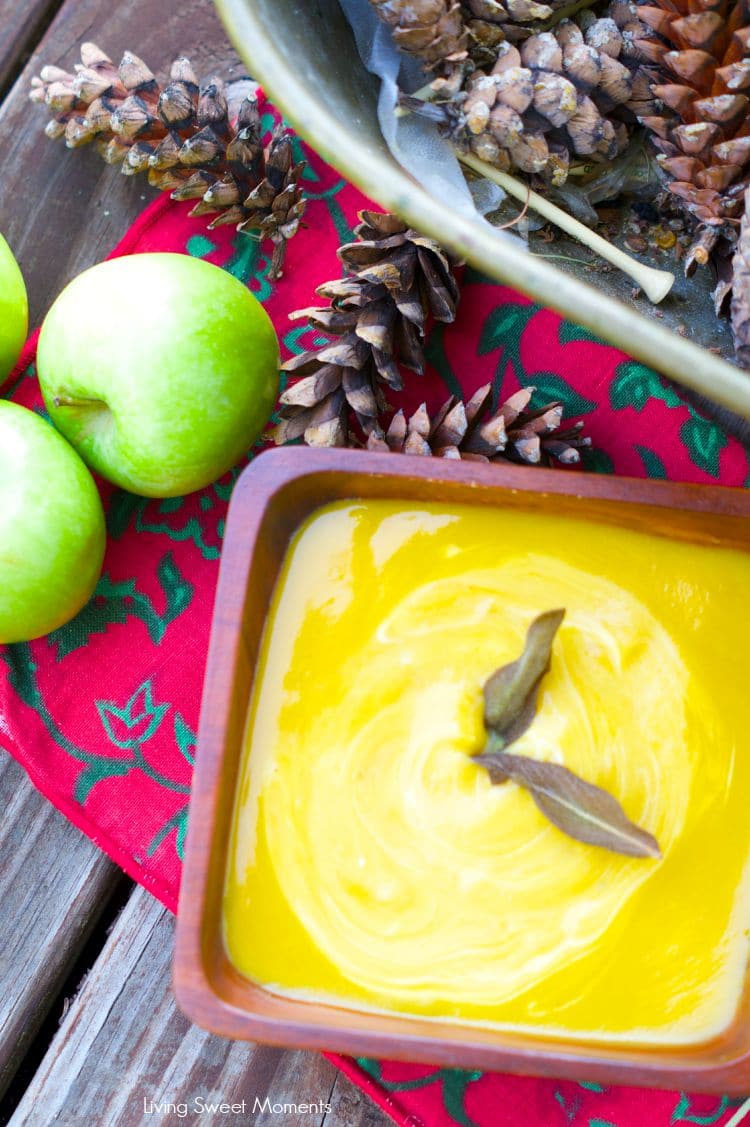 One quick tip: if you can find the butternut squash already peeled and diced, it will save you some time in the kitchen. I recommend doubling the batch for leftovers the next day. You will see below how easy it is to take your soup to work.
And now I introduce you to the second recipe: Summer Strawberry Salad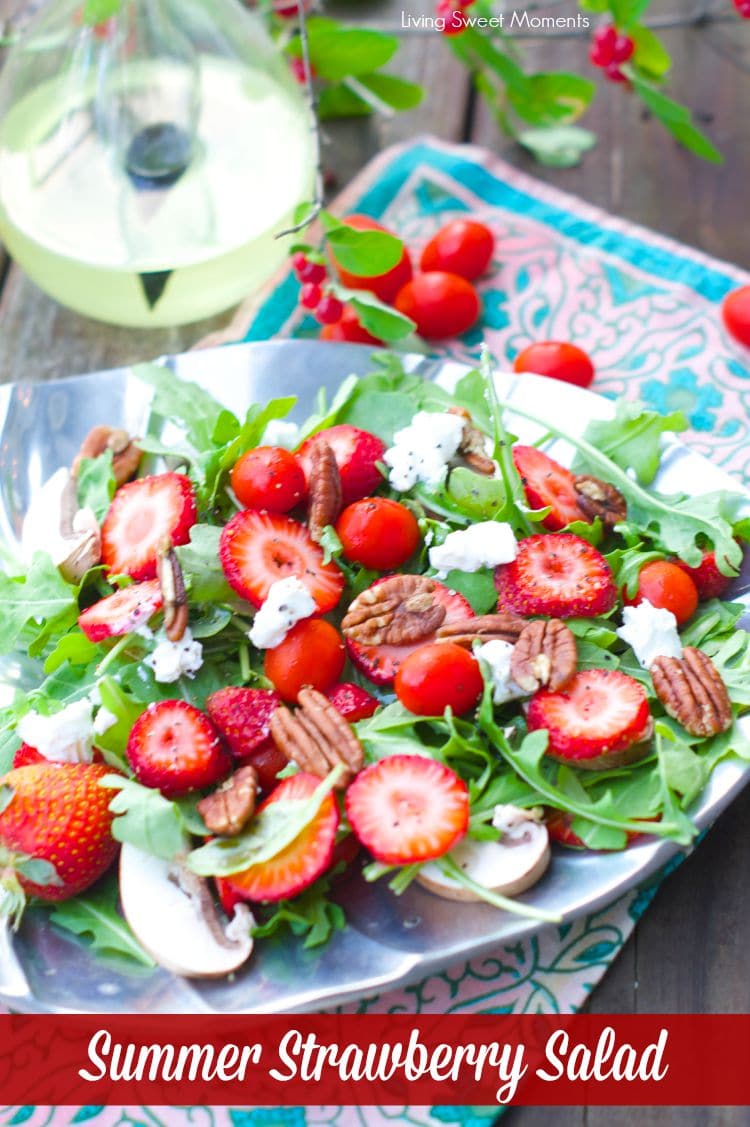 This summer strawberry salad comes together in 10 minutes or less. It requires little chopping. It's more of an assembly thing. Imagine peppery baby arugula, mushrooms, tomatoes, strawberries, goat cheese and toasted pecans drizzled in a simply vinaigrette composed of champagne vinegar and olive oil.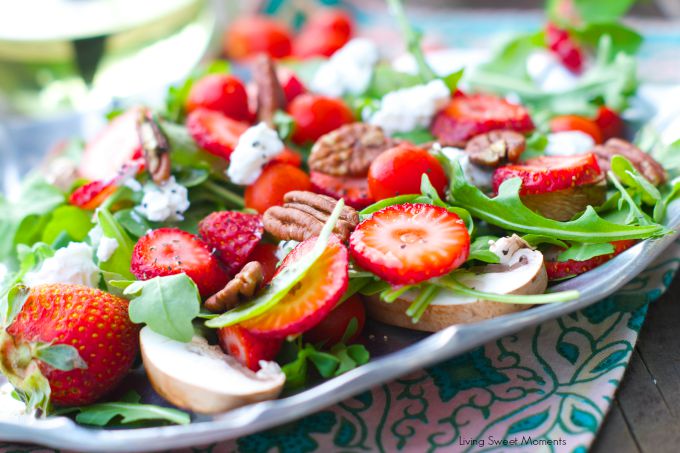 Since summer is coming to and end, I want to to enjoy the last few days by adding a little sweetness to my plate. Incorporating strawberries to a simple salad can really enhance and take it to the next level.
Creamy goat cheese is salty and tangy that balances off the strawberries. Finally, the toasted pecans add the much needed crunch.
My grandmother used to add raw mushrooms to all her salads and you'd be surprised on how good they are.
The champagne vinegar transforms something simple into a sophisticated salad than can be eaten anytime and anywhere. I usually pack it for my husband in the morning and he eats at work. Full recipe at the end of the post.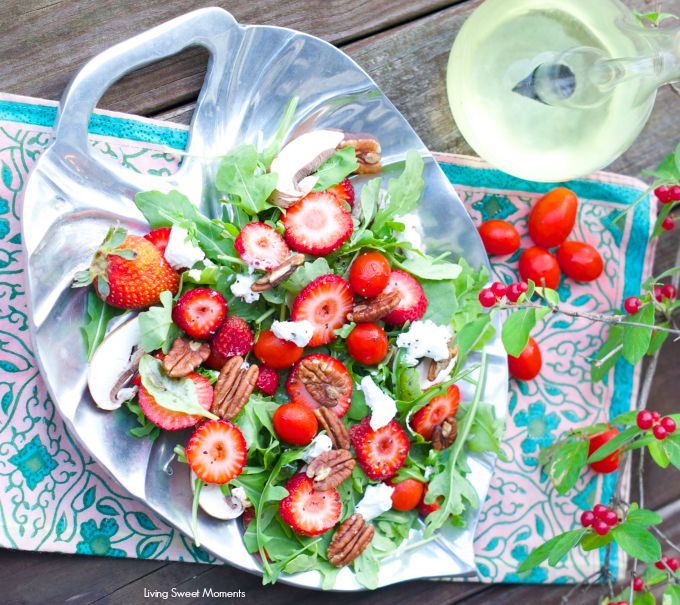 If you usually take your lunch at work, I recommend getting the awesome Genuine Thermos® Brand Dual Compartment Food Jar. Carry 2 dishes at the different temperatures with a single handle.
I placed my hot Roasted Butternut Squash And Apple Soup  in the insulated Vacuum insulated stainless steel jar (the bottom part) that keeps my food my food hot for up to 5 hours or cold for up to 7 hours. My salad looks so beautiful on the BPA-free Eastman Tritan compartment on top.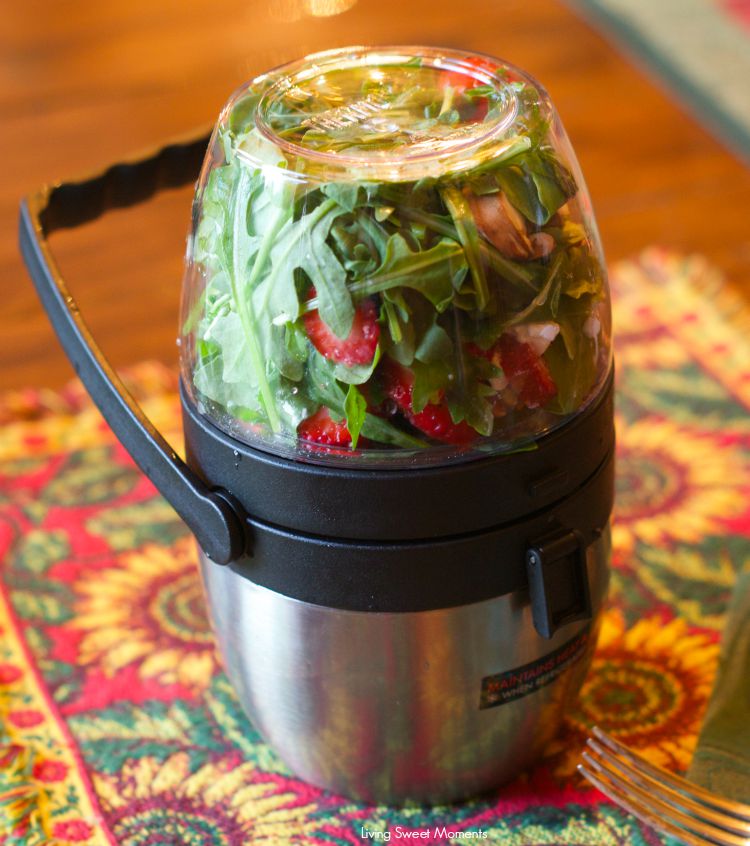 Each part has its own lid to prevent spills. The salad stays fresh on top for hours when the food jar is refrigerated. I add the dressing on the bottom and then mix it before eating.
You can also place the Genuine Thermos Brand Dual Compartment Food Jar in the fridge to keep the salad cold and the soup will still stay hot. How cool is that?
Forget about boring lunches heated in a flimsy plastic container. Eat delicious homemade food that will stay at your desired temperature without the need of warming up in the microwave.
My husband takes his to work and he loves it. This Dual Compartment Food Jar even includes a foldable spork that nestles inside the jar.
I hope you can make these delicious Roasted Butternut Squash and Apple Soup plus Strawberry Salad at home and in the office. If you do, please upload a pic on Instagram and tag me @Livingsweetmoments or use the hashtag #LivingSweet.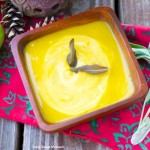 Roasted Butternut Squash
Roasted Butternut Squash And Apple Soup - amazing recipe for the fall. Roasted butternut squash soup is mixed with sage & curry and topped with fried sage.
Ingredients
For Soup

1

Butternut Squash

diced and chopped

4

Granny Smith Apples

peeled, cored and cubed

4-5

Cup

of Stock

chicken or vegetable

4

leaves

Sage

chopped

1

teaspoon

of curry powder

1

medium Onion

chopped

Olive Oil

Salt and Pepper to taste

For Fried Sage

1/4

cup

of olive oil

4-6

leaves

sage

salt and pepper
Instructions
Preheat oven to 425 degrees Fahrenheit

Mix the apples and squash in a sheet pan

Add in 1 tablespoon of olive oil and your desired amount of salt and pepper

Mix with your hands and place the apples and squash in a single layer on the oven for 20-25 minutes until caramelized and softened. Use a spoon for mixing them halfway through baking

Remove from oven and let them cool

Place the mixture in a blender with the stock. Work in batches to puree the squash and apple

Meanwhile, heat 2 teaspoons of olive oil in a pot

Add the onions and sage. Sautee for 3-4 minutes until onions have softened

Pour in the apple and squash puree and mix. If puree is too thick, add in more stock

Add the curry and mix

Let the soup boil and add more salt and pepper if needed

For Fried Sage

Heat olive oil in a small pot over medium high heat

Add in sage and let it fry for 3-4 minutes (2 minutes or each side)

Remove from oil and remove excess oil

Sprinkle salt and pepper

Assembly

Pour soup into bowls and decorate with sage leaves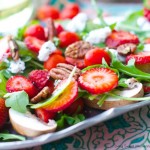 Summer Strawberry Salad
Arugula salad topped with strawberries, goat cheese and toasted pecans then drizzled with a simple vinaigrette
Ingredients
For salad

4

Cups

of Baby Arugula

washed and dried

4-6

mushroom caps

sliced

8

oz

of cherry tomatoes

1

cup

of strawberries

chopped

4

oz

of Goat cheese

in pieces

1/2

cup

of toasted pecans

Salt and pepper

For Vinaigrette

1/2

cup

of olive oil

1/4

cup

of Champagne vinegar

Salt and Pepper
Instructions
For Salad

in a bowl toss all the ingredients together, add salt and pepper

For vinaigrette

Mix all the ingredients together

Assembly

Slowly add the vinaigrette into the salad until desired flavor is achieved. You may not need the entire vinaigrette.