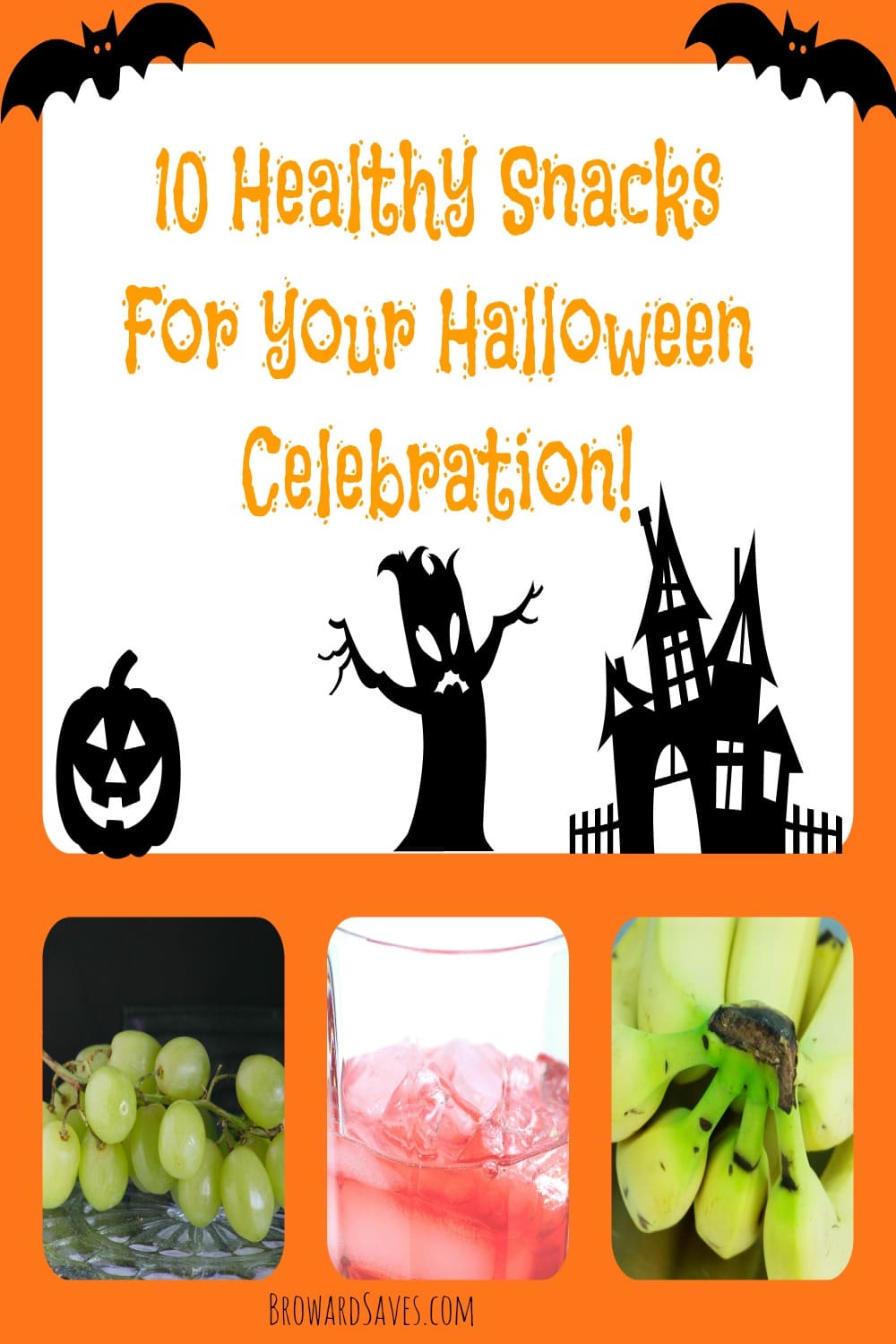 Halloween is just around the corner and with all the allergies in kids these days it has become a concern with many parents on how to celebrate Halloween with healthy snacks. Not all children can have sugar, wheat, lactose, peanut butter, gluten, and many other food items. So when you are planning your next Halloween Celebration think about these kids and plan your snacks accordingly. Asking parents of the guests at your party for a food allergy list early will help insure that you don't have to rearrange or do something different so close to the party time. Here's a list of healthy snacks for Halloween.
Sugar free options for Halloween
There are many parents that are keeping their kids away from sugar, and sugar based snacks. Although fruits and vegetables have sugar in them, it is natural sugars, which is actually healthy for you. Sugar based candies can be harmful to children, especially if they are diabetic, or allergic to it. Many children will respond in a negative way to sugar, so choosing sugar free options for your Halloween snacks is a great way to help those parents out. Here are a few options for some low sugar to sugar free party snacks and drinks that can be Halloween based.
1. Incorporating fruit into your snack bags can make it fun, spooky and healthy at the same time. One way to do this is Spider Eggs. Spider Eggs are so cute and creative. With a little creativity and some little snack bags you can add green grapes to a bag, put a decorative label on top with Spider Eggs labeled on to it and staple the bag together.
2. Make vegetables fun with some creative Halloween creature designs. Vegetable cups are a great option for the dessert table when you have a Halloween Party for your little ones. Using clear plastic shot glasses and filling them with celery and carrots and a side of ranch dipping sauce can provide not only a healthy snack but lots of color to your table. Put a little Halloween sticker on the cups and it becomes Halloween friendly.
3. Bananas are a healthy source of potassium and many kids love them. They are the ultimate finger food. A frozen banana is even great for a teething small one. So this Halloween try and incorporate bananas into your Halloween snack table. One great way of doing that is to make some BOO-nanas and pumpkins out of tangerines. The best way to do this is to use chocolate chip bits to make the eyes and mouth on the half banana slice, then freeze it so that it hardens, you can also dip the banana into yogurt or chocolate to make it harder with a shell. To make the pumpkins all you will need is some tangerines or Clementine's, and stalks of celery or green licorice for the stalk.
4. Spiders are a spooky favorite of Halloween and many people have incorporated spiders into their cupcakes, cake pops, and decorations. One way to bring that spooky favorite into your healthy Halloween snack tray is to use either Banana cubes or marshmallows and pretzel sticks for legs. With just a few simple ingredients you can have a cute little spider to adorn your snack trays and the best part is they are healthy and edible.
5. Monster apple bites are an awesome way to use apples, peanut butter or Nutella, and some little marshmallows. Not only does this provide a great sweet snack, but a salty one as well. These can creatively decorate your snack table at your next Halloween Party.
6. You can also make your own candy corn, but instead of being made out of candy you can use tangerine slices, pineapple, and light whipped cream with a cherry on top. So what you're going to do is layer them in the order that candy corn is in a glass cup or plastic cup that is see through. This creates a delicious treat that will be healthy for your kids and their friends. Your kids will like that it looks just like a candy corn.
7. Maybe you want to have a sandwich platter for your Halloween celebration. Then the best thing to do is to make sure you get some bread that suits all of your guests. Finding the right sandwich combination for your guests is pretty easy, just send out a note with your party invites requesting parents to tell you of any food allergies. Once you have your sandwich options down. You can turn them into spiders. By making sandwiches and then using a round cookie cutter you can make circle sandwiches and add thinly sliced pieces of carrots on each side for legs. This is a cute idea for Halloween parties for school and home.
8. Another healthy snack to have at your Halloween Party is a pita bread pumpkin shaped pizza. These are not only healthy but great fun for the kids. Simply use a pumpkin shaped cookie cutter to cut out the pita bread and then use pizza sauce, cheese, and toppings to help them create their favorite bite size pizzas. This is also a great idea for a school party or for your birthday party with friends and family around the Halloween season.
9. Of course you will need a drink for your Halloween party and what better drink than a green smoothie with gummy worms. Just a little bit of sugar is not going to hurt you and if you check a whole foods store you can probably find some gummy worms that are sugar free or light in sugar. The green smoothie is not only delicious but nutritious for you and your guests. With a few ingredients you can make your green smoothie really delicious.
10. If you aren't able to make the smoothies why not make a ghoulish punch for the kids to drink. The best part about making a punch is that you can pretty much use any drink to make it and if you like sherbet or want to make an adult version it is very customizable. So the easiest recipe is red Hawaiian punch and sprite, this recipe is so simple that you can add fruit to the bowl or sherbet to the bowl. But if you want something really ghoulish try making a Bloody-good cranberry punch. This is something that will have an interesting flavor, be ghoulishly cloudy, and can be customized to be adult and child friendly.
Hopefully all the options that I have given you here will help you with your creative thinking and make your Halloween party snack table look wonderful, and be healthy for all kids attending. There are many different variations to these Halloween snacks, using your own creativity and choosing your favorite healthy foods will help you to set your snack table up to be what's best for you and your guests. Remember, color and texture are a key factor in setting up a dinner or dessert table, so make sure you use all of your color palette options and many different textures. Without color and texture food would not be fun.
*All recipes are located on Pinterest*