Disclosure: This shop has been compensated by Collective Bias, Inc. and its advertiser. All opinions are mine alone. #4MoreWaffles #CollectiveBias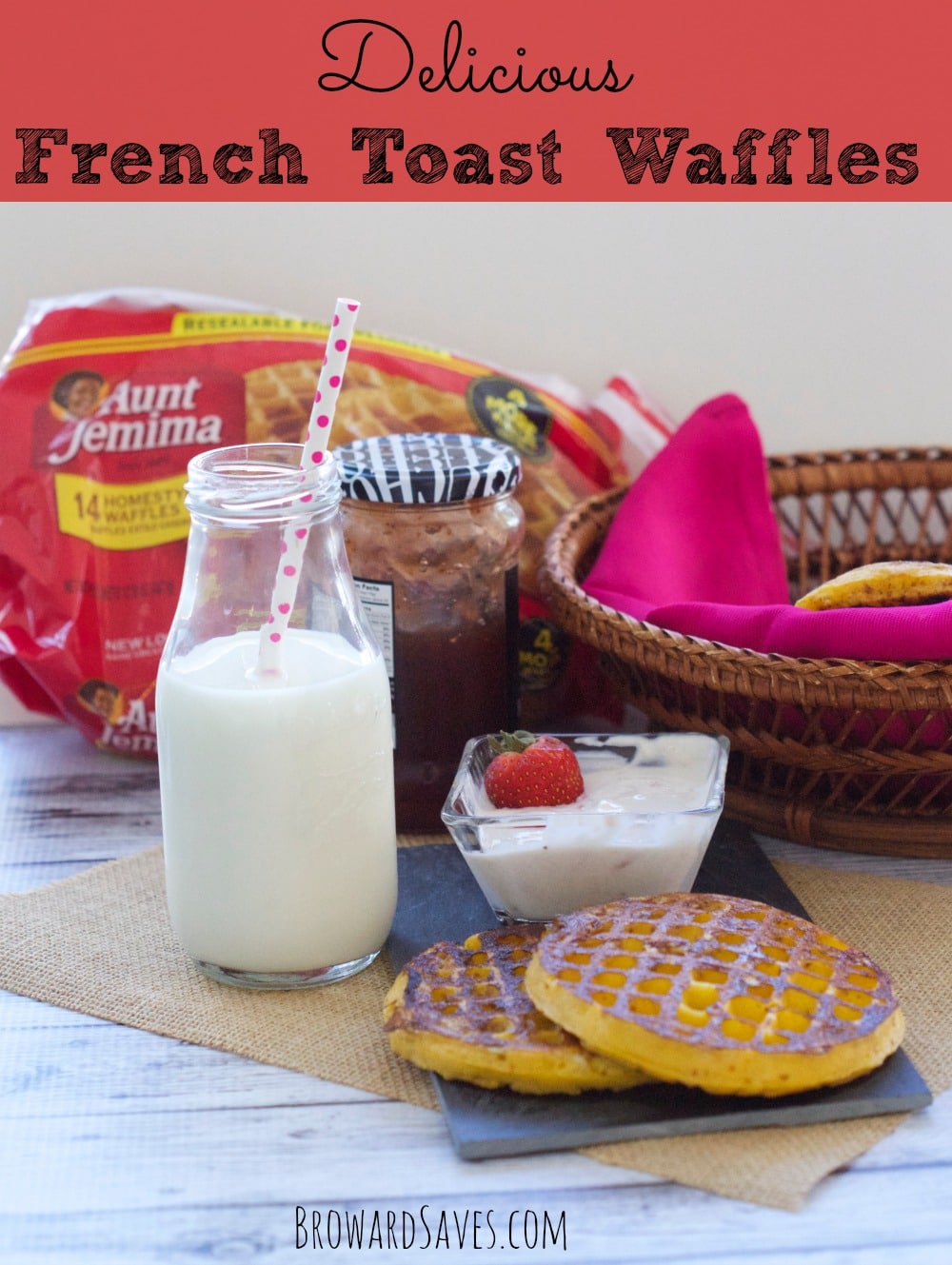 What do you get when you mix french toast and frozen waffles? An amazing breakfast! Not only for the kiddos, but for yourself as well. To me, nutrition is a very important aspect of my children's diet. My secret is to try and sneak in as much super foods as possible. These delicious French Toast Frozen Waffles have flax seed and they are served with a sweet greek yogurt dip.
Believe it or these French Toast Frozen Waffles are made in less than 10 minutes and some parts can even be made in advance, so if you are a busy mom/dad strapped for time in the morning, there's still a way to give a filling and nutritious breakfast to your child without waking at 3:00 am to cook. Aunt Jemima gave me the heads start by cooking the hard part.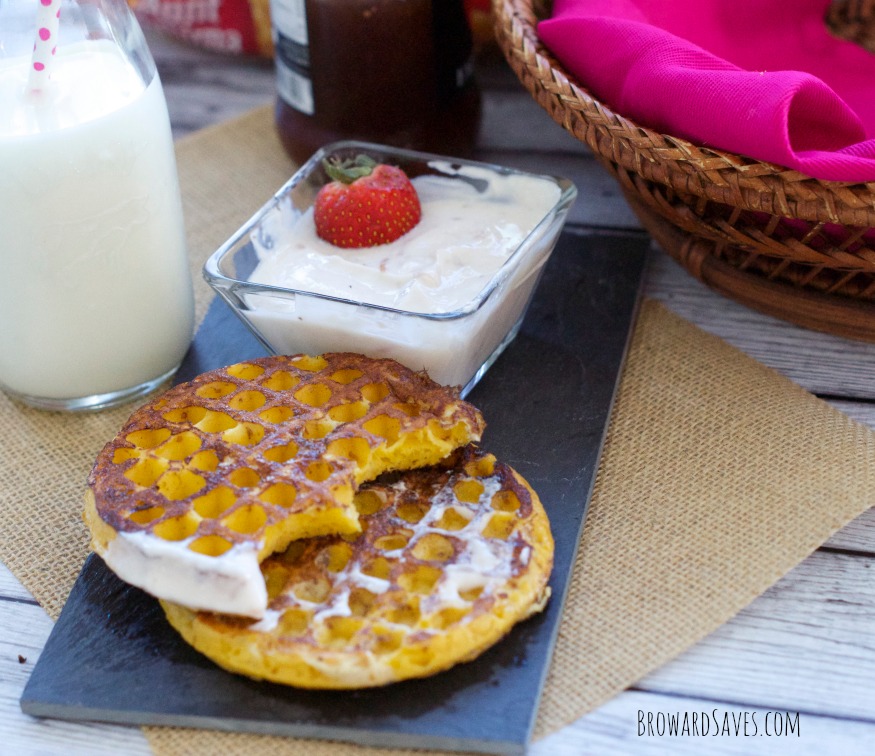 I was so surprised the other day when I went to Publix and found that Aunt Jemima Waffles now come in a resealable bag for freshness and that each bag has 14 waffles instead of 10. So next time you head on over to Publix check the frozen section and get your ingredients ready to make this awesome recipe.
Both of my daughters LOVE waffles, the problem is that they don't like syrup on top and neither of them drink milk. This gave me a great idea: combine eggs, milk and flaxseed in a bowl and make french toast waffles. They just gobbled it up! Thankfully I made extra batter to cook some more tomorrow morning.
Here's the easy 4 step process (recipe below):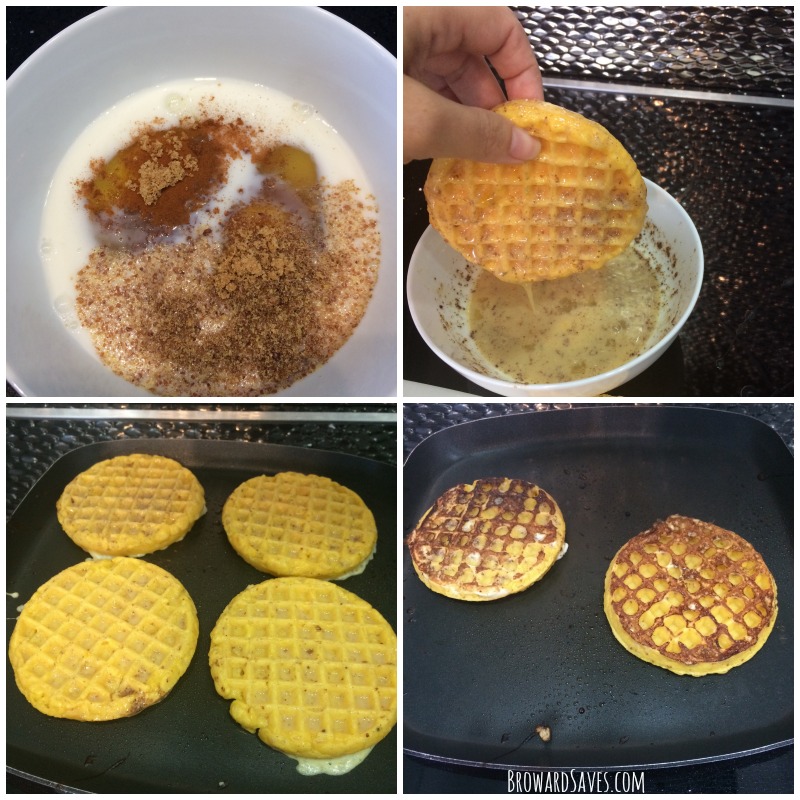 – Make your batter with the eggs, milk, brown sugar, cinnamon and flax seed.
– Dip your waffles quickly on both sides quickly, don't let them get soggy. Shake off excess batter.
– Cook on both sides in a skillet over medium heat. I sprayed the skillet with some cooking spray.
– Serve with fresh berries and greek yogurt mixed in with a little jelly.
Easy! The batter makes about 8 waffles so make 4 today and 4 tomorrow. In less than 5 minutes have a warm cooked breakfast on the table.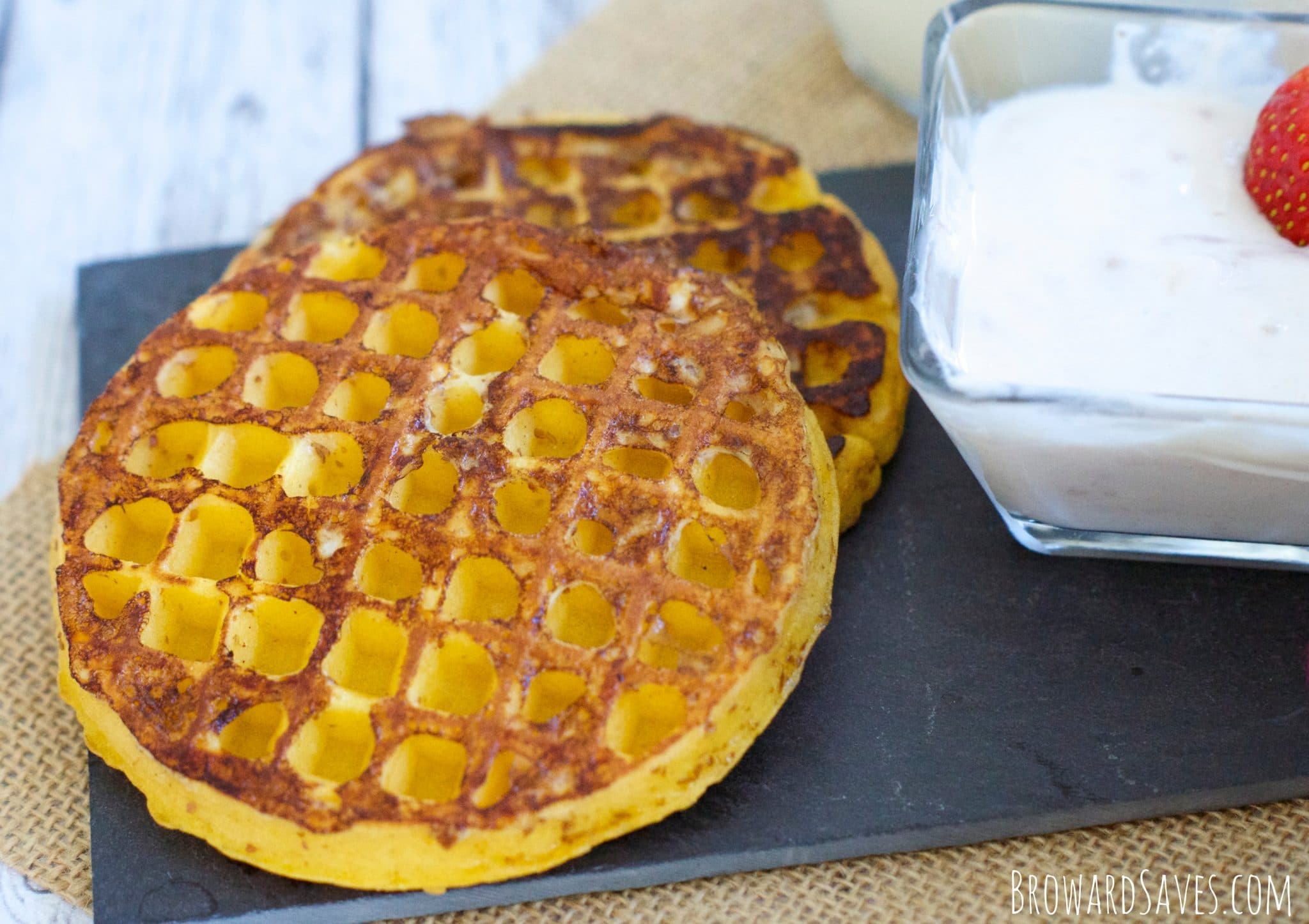 One daughter wanted them sliced in little sticks and the other one wanted to dip them whole. So I've made both versions. I loved them whole too. They are crunchy and golden with a little hint of sweetness and cinnamon.
Hope you can make this at home and that your kids enjoy it too!
French Toast Frozen Waffles Recipe
Author:
Prep time:
Cook time:
Total time:
Ingredients
For French Toast Waffles
8 Frozen Waffles, defrosted
2 Eggs
1/3 Cup of Milk
1 ts. of Cinnamon
1 ts. of Flax Seeds
1 -2 ts. of Brown Sugar
For Yogurt Dip
2 tb. of Nonfat Sugar Free Greek Yogurt
1 ts. of Jelly
1/2 ts. of Chia Seeds (optional)
Instructions
In a bowl, mix the eggs, milk, cinnamon, sugar and flax seeds
Place skillet over medium heat and add with non-stick spray
Dip the waffles on both sides in the egg mixture. Do this process quickly so the waffles do not get soggy. Shake off the excess
Cook on the skillet on both sides until browned. Around 2 minutes on each side
[b]For Dip[/b]
Mix yogurt, jelly and chia seeds
Enjoy!
Notes
The egg mixture and yogurt dip can both be made in advance and kept covered in the refrigerator.